Nice Kicks got to sit down and chat with photographer and designer Cameron Look, better known as Koolmac. After picking up a camera a few years ago without a photography background, Cameron carved out his own lane with his unique color grading and built his way into shooting athletes and artists the likes of Pharrell, Steph Curry, LeBron James, and more. We discussed how his boba-inspired Air Jordan 36 Low PE came together, working retail at Nike, and more. Much thanks to Cameron for taking time out of his busy schedule to talk to us, you can follow him on Instagram via @koolmac. This interview has been edited and condensed for clarity.
NK: Congrats again on the collaboration. It's cool to see Asian-Americans, especially this month, getting some representation. So for you specifically, where did your love for sneakers begin?
CL: Looking at some of my baby pictures, my parents had me in Nikes and Jordans. For as long as I can remember, Nike was the brand I gravitated towards, that's all I knew. As I continued to grow older, I got more and more into sneaker culture. I was reading blogs back when I was in middle school and high school. That was back in the day when online shopping wasn't really as big of a thing.
Then I'd go, hop on BART, go to San Francisco, and I'd walk blocks to stores just to see what they had physically in person, because at that point in time for streetwear, especially hot brands, they didn't have online stores. That was part of the culture, the experience of discovering product and figuring out a way to get it. So I think sneakers and streetwear both kind of went hand in hand for me ever since I was young.
NK: I saw on your Instagram post that you mentioned that you did work at Nike for a minute. For me, as someone who also worked at Foot Locker and Finish Line, I still carry a lot of the stuff that I learned from working in sneaker retail to my job today. Is there anything from that working in retail, specifically sneaker retail that you still carry with you, as a renowned photographer now?
CL: Yeah, I think that experience was great. When you're young and you're a fan of a brand, just working for them feels empowering, right? Just being associated and affiliated with a name like that makes you proud. So it was a great experience for me to work, be surrounded by products, and absorb knowledge. I learned to not only like products for their aesthetic, but became educated about the tech and the design behind the silhouettes as well. The different types of Zoom, Flywire, all the tech that you kind of just take for granted. If you don't even know it's there, you just put a shoe on and it feels good or it doesn't. But when you start to learn about all those different aspects you appreciate the shoe as a work of art.
I worked in Newport Beach, Fashion Island. It was very bougie, customers with a lot of money. There were times when I was just treated like trash by consumers. They would be super condescending and even stick their foot in my face without asking me to tie their shoe, they'd expect me to do it for them. Sometimes influencers and important people would come in too and we'd have to cater to them. It's funny to look back at those times, but it makes me even more thankful to be in the position I'm in today.
I always try to stay grounded and keep the same humility that I used to feel when I was working retail. Even though people support what I do now and they're fans of my work, I always try to be really nice to everybody I meet. I take time out of my day to talk to people when they approach me because one of the worst feelings you can get is when you meet somebody and you can tell they didn't care about a word that came out of your mouth. I know there are people that have made me feel like that before. So that's one thing I think I've carried with me for the rest of my life.
NK: As far as the sneaker itself, how did this all kind of come together? It kind of came out of left field, there were no leaks or anything. So how did it kind of come together and when did you process start for your for you and Jordan Brand?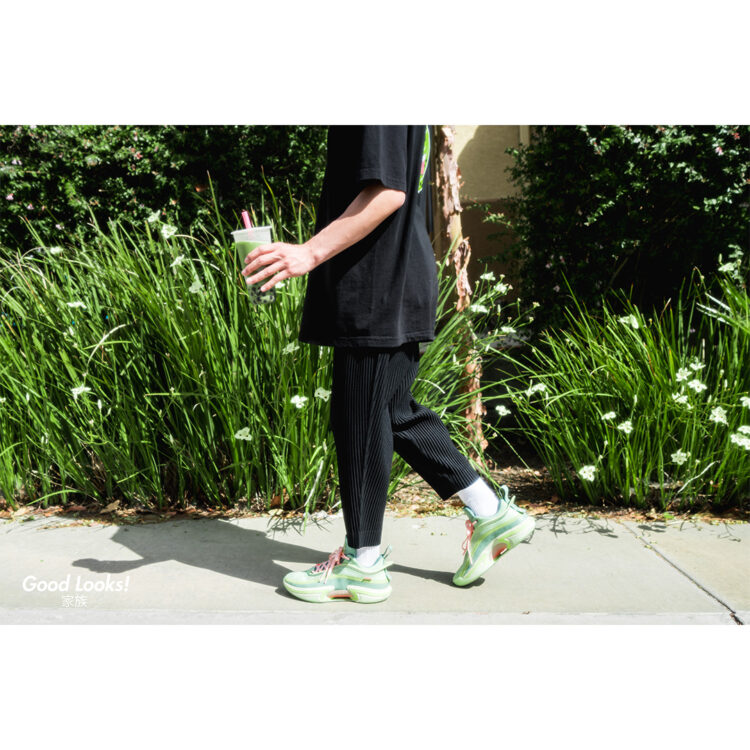 CL: So this has been actually in the works for quite some time, I've just kept it on the low. I believe we started our conversations back in September of last year, that's when the initial pitch or project was brought to me. I didn't have too much info at first.
My good friend Sobe from Jordan Brand said he had a project that he wanted me to be a part of, and he thought it was a good opportunity. Of course, once I came to realize what it was, I was all in. To work for Nike already was like a dream come true at one point in my life, so now to align directly with them and to collaborate on something is definitely something I'll tell my kids about one day.
Basically, I pitched to them multiple different themes and ideas, just like a mood board for things like silhouettes that I liked, colorways that I like, materials that I like, etc. To design a shoe is just cool in general, but for my first one, I really wanted it to be something that was going to catch people's attention, that was going to stand for something and be something that I could look back on and be very proud that that was kind of my "foot in the door" moment.
So I thought, people that know me personally know I'm always drinking boba. I eat so much matcha stuff, my go-to drink is basically a matcha smoothie. So that's how the Boba cup came about. I felt like it was a huge theme that could resonate with a lot of people and I felt like it was a great way to be creative. As far as I knew, I'd never heard of a big brand making a boba-themed sneaker. Luckily, Jordan Brand heard what I was saying, their team put together some mock-ups, and the end product was beautiful.
NK: And to go into more detail about that process, once you decided, "Hey, we're going to run with this boba theme," what was the sampling process like? When you think of Jordan Brand PEs, the first person that comes to mind is Kelsey Amy, who is a Senior Designer at Jordan Brand and does a lot of PEs for Jordan Brand athletes. Did you work with her at all in any capacity since it's a PE?
CL: Yeah, Kelsey was the main designer on the shoe. She was on the very first call we had where I showed my mood board and their team took it from there.
When they came back, they had a mockup. As a creative myself, of course I had specific colors and preferences that I wanted to see reflected on the shoe, but simultaneously as a brand, Jordan has objectives and goals that they wanted to accomplish through this project as well.
What the world ended up seeing was a mix of what both parties wanted, and it worked out beautifully. Just like they trusted me to give them an idea and a vision for the shoe, I had to trust them when it came to different colors and materials that they felt were perfect for the silhouette and the moment.
The Boba cup, Kelsey killed that. The cup is a little animated cartoon character, but we were able to put the Swoosh on top of the cup to represent the lid. To use the swoosh in unorthodox ways is so powerful and the fact that we were able to get approval directly from Jordan and Nike, that was really amazing.
NK: think you kind of touched on it, is there a favorite design detail or Easter egg you have in the sneaker?
CL: Definitely the boba cup. It's green, I always get a pink straw if they have a pink straw. This shoe really just symbolizes me. Everything that I've done in the past few years, I feel like it's led to this moment. I think it represents not only me and my photography journey but our food, our Asian culture.
It's so much bigger than just a shoe or my project, I think what this stands for is so powerful. I want to show people that you don't even have to go to school or be a designer to get opportunities to work on design projects. I'm really trying to redefine what it means to be a photographer.
I think in the past, go back ten years, a lot of people thought sports photographers were a certain stereotype. It wasn't "cool" to be a photographer, they didn't dress nice. People didn't want to hangout with them and invite them into their homes. They just had a bunch of equipment on them and they didn't talk to anyone, they just did their job and went home. My goal when I work with athletes is really to break down those walls. Not only can we hangout as friends but you can simultaneously get content, photography, and visual storytelling at the highest level.
NK: And you being a photographer, photoshoots, they could last forever. They go over, people show up late, and most of the time it's tiring. So what are your go-to sneakers when it comes to a photoshoot? Is there a specific shoe that you break out because you know you're in for a long shoot or do you just wear whatever you're feeling that day?
CL: When I go do a gig and if it's a shoot with a brand, of course I'm going to try throwing on a nice pair, but I don't really have a go-to sneaker. I think I'm pretty good about wearing my sneakers and rotating them. I don't beat them into the dirt and run them through the mud, but wearing them when I'm shooting, I'm creasing them. I'm crouching down, getting different angles without minding about my shoe, so I don't really say I have a go-to silhouette. I do really like just white shoes. So I will say that I wear my Air Jordan 1 "Neutral Grey" and my White Cement Air Jordan 4s lot. But I'm just a white shoe, white sock kind of guy.
NK: The last question for you is Jayson Tatum broke these out during the playoffs so what is it like to see one of, if not the face of Jordan Brand basketball right now wearing your PE during the playoffs?
CL: I'm very very grateful. But simultaneously, I know Jayson on a personal level, I've shot him when he trains in the summer in LA with Drew Hanlen for maybe the past three years. I'm excited, I'm happy that it happened, but it wasn't like super crazy out of this world, it wasn't like something that didn't make sense and just happened randomly. I think it made the most sense.
That's why it was our first unveiling moment, just because of the relationship I have with him, he plays for Boston, the shoes are green, it made perfect sense. But I really love the irony in it too, Jayson Tatum wearing a Boba Cup on his shoe. I haven't asked Jayson myself, but I'm pretty sure he hasn't had a matcha smoothie with boba before. But as an artist that's the irony, like in my work. I could care less if you like or dislike my work as long as you're stopping, staring, and having to think about it.
It's cool for people to be amazed by what I do, but it's simultaneously just as intriguing for me to hear the responses of people like, "why are these photos so bright?" Or in this case, "why the hell is Jason wearing a boba cup? Does he even drink boba?" And if the answer is no, then that's even crazier, you know? That's fun for me. It's just breaking down barriers in terms of culture too, you have an NBA player, one of the faces of Jordan Brand, the face of the Boston Celtics, wearing a Boba cup. So to be able to combine my culture with art as well as the sport that I love and bring those together, and then to personally get to shoot it myself and tell the story the way that I want, I just don't know what more I could ask for in a project, it was really cool. As amazing as this project is, I'm really just hoping it leads to more opportunities in the future. I have so many ideas in my head that I can't wait to share with the world.