Hooper designed, tested, and worn across the globe, we spoke to Eric Porter, founder of Stria Sport, an independent performance basketball brand on how their highly-reviewed 107 Series sneaker came to be and what it's like being an independent performance brand today. This interview has been edited and condensed for clarity.
NK: Can you just go into detail about how Stria got started and how it got off the ground?
EP: Yeah, I guess Stria really started when I was a 12 year old. As a lifelong sneakerhead and basketball player, I grew up doodling my own shoe designs in the margins of my notebooks. I dreamed of playing professionally and designing my own shoe. I think every sneakerhead had at some point, like "God, I'd love to design my own shoe." So really, I think the idea came when I was a 12 year old and then it became a reality once I finished my playing career in college in 2018, and once I was done playing, I really thought about what it would be pretty cool if we could design a shoe and I'll come up with a new brand. I found myself wishing for a shoe that was comfortable, lightweight, durable, and affordable. I tried hundreds of pairs over the years, but none checked all my boxes. After graduating from college, I decided to try to fill the void in the marketplace. I teamed up with a few other former collegiate players and, with the help of shoe industry professionals, we spent two years designing and developing our perfect shoe based on our collective years of playing experience.
NK: With the sneaker, with the 107 Series, what was the sample and the wear testing process like? How many samples did you get back and forth? How long did that take?
EP: So I think the beauty for kind of what we were doing was there wasn't a timetable or deadline we had to meet. We're a small startup group where we really had the flexibility to do it at our own pace so we didn't want to rush the process at all. And we took our time because we really just didn't want to go to market with a shoe that wasn't up to our standard for what we wanted.
We spent about a year and a half going through samples and going through that development phase where I think we went through about 11 sample rounds, really just nitpicking. The process was we were just getting shipments from Asia, we get the shoe, we'd wear test it, and we analyze it. Then I would get some of my buddies who also played, whether they're pro athletes or just other guys in pickup games in the city of Chicago. Then we'd really just beat the hell out of the shoe, really just so we could break it down. After about a month, maybe or a couple of weeks with each shoe, we'd look at the shoe, and then we'd send it back, really just nitpicking and just continuing to improve it.
NK: What would you say is your favorite feature about this sneaker?
EP: For me, I love the form of the shoe, we don't have a flat bottom on the outsole of the shoe. We call it Forward Momentum Design where the shoe is kind of upward so, with each step, it kind of propels it to a fluid motion.
I mean, I've worn many basketball shoes and I think everyone has worn shoes that are just fully flat and there isn't a ton of rhythm when you walk. You can definitely notice a difference when every step has fluidity and it's just an easy motion. So I think for us, that was a really big part of going to market with one of those shoes that really just helped propel your step to the next one with a very comfortable rhythm. And I love the comfort of our shoe, and I think that's what really has helped our shoe gain some traction, that it's just very comfortable.
NK: I think this is just something on my end, which I'm always curious about when it comes to new performance basketball sneakers is the cushioning. Cushioning systems from the big brands are patented and trademarked, and as an independent brand, how did you guys find and settle on the cushioning? How does that come about?
EP: We worked with our developer who had a ton of knowledge and experience in the performance area, and that was his background, which was in running. I've seen random players and I've even seen NBA players when they work out, more often than not they're working out in running shoes and that was always fascinating to me. And running shoes are pretty comfortable. That's a lot of the focus in running shoes over basketball shoes is comfort.
So we really looked at a lot of running shoes and a lot of the materials that they used because running in basketball shoes, there's a lot of force and high pressure in each step so we looked at a lot of running shoe materials. And using our developer's background, we really honed in on what could we do for a basketball shoe, really to focus on performance and comfort. We use our own compounds for rubber to really just create our own special Stria foam. I mean, obviously, we're not a major brand. We can't put millions of dollars into a new breakthrough technology so we really just looked at other brands and other stuff out there. And once we found a rubber that we really were confident with, we just ran with that, then we tweaked it a little bit so it fit our shoe.
NK: I know you've recently been approved to be worn in the NBA last year, are there any guys in the NBA, G League, or overseas players wearing these on court?
EP: So most recently, we had Keifer Sykes wearing our shoe when he was in Australia, but he also just got signed by the Indiana Pacers. I don't know if he's worn them as of recent, but we've done a lot of stuff with Keifer, a Chicago guy. Milton Doyle, who was in and out of the NBA and G League the last couple of years, just signed to go overseas instead, and he's been wearing our shoe. A guy named Xavier Rathan-Mays, who played at Florida State and then played on the Knicks, he's now in the NBL and Australia, who's been wearing our shoe almost every game, and we just did an exclusive colorway drop with him actually a couple of weeks ago. And then, there's probably about 20 guys who've worn our shoe in the last year and a half overseas. A lot of my former Loyola teammates as well wear them as they're playing overseas, a lot of those guys from the Final Four run like Donte Ingram.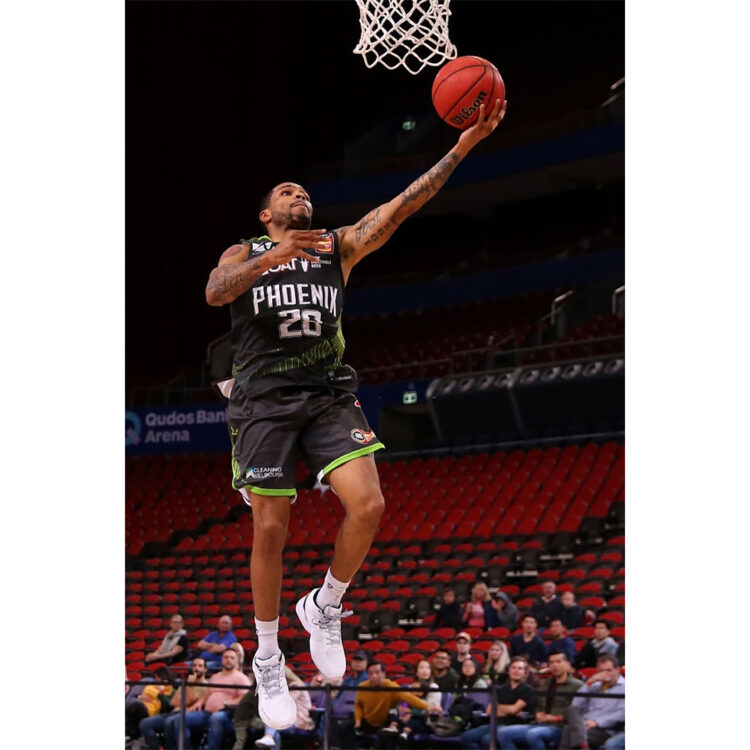 NK: Is there another sneaker in the works or dropping anytime soon or are you guys just focusing on the 107?
EP: We're definitely focusing on our shoe that's out right now, but we also have a lot of stuff in the works for the next couple of months, whether it's another basketball shoe or even a running shoe that could come out. Our biggest focus is really just continuing to grow the brand, whether it's some more sneakers or some more apparel as well, and just to keep growing.
Much thanks to Eric for chopping it up with us and the Stria 107 Series is available for purchase on Striasport.com, retailing for $120.