Starting your own independent sneaker brand can be a daunting endeavor but Michael Franz is embracing all of it, the good and bad, with his brand Franz 'n Family Footwear.
Started during the pandemic, Michael and Franz 'n Family Footwear are coming in with a new and fresh perspective on the sneaker industry, and we chatted with Michael about his love of sneakers, and how Franz 'n Family came together, and more.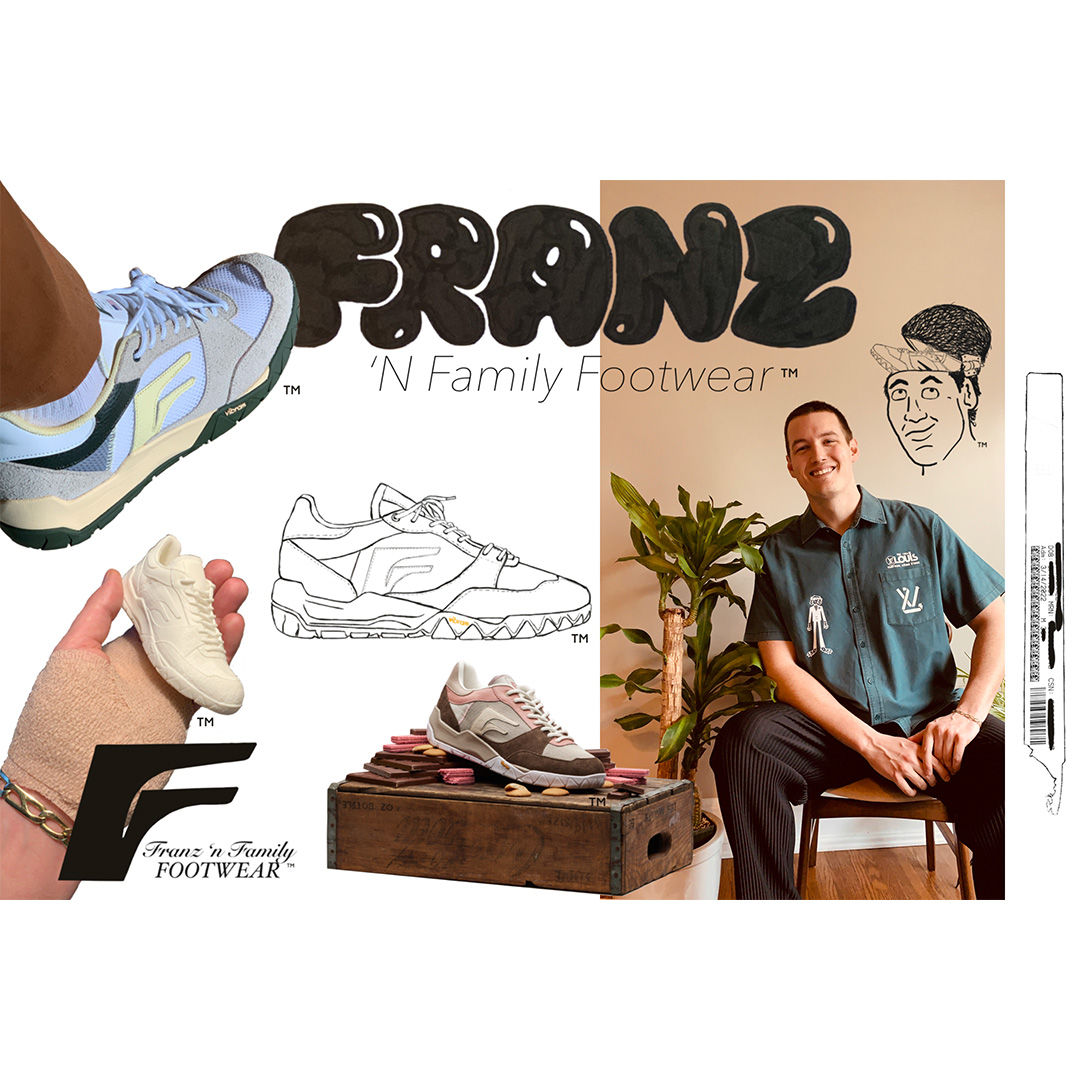 Nice Kicks: So for those unfamiliar, if you want to do a quick introduction of yourself and your history with sneakers.
Michael Franz: My name is Michael Franz. I've been delving into sneakers my whole life since I was really young, around 13 or 14, and always wanted my own brand. I called it F-Bomb at that time, being heavily influenced by Bobby Hundreds as a kid.
Creativity took a backseat when swimming became the main focus soon after that. Swimming was a full-time grind through college at TCU, but even then I was using my meal stipend to buy sneakers like the Yeezy Roshe Run and getting slightly used Jordan's from friends on the basketball team.
Growing up, I didn't have a lot of shoes. I had a lot of pictures on the wall of the shoes I wanted and aspirations to one day own them for real. But it took a lot longer than I expected. When I moved to Atlanta in 2016, I was surrounded by creatives and again inspired to pursue what I loved. I delved into garment making and t-shirt printing before tinkering with shoe customs in 2017-2018, starting with dip dyes of Yeezy's and Air Force 1's along with vinyl-cutting and application. I participated in the Cultivator x Nike Program and got a taste of what it was like to design, market, and launch a sneaker collection and was smitten with the process. My collection consisted of an Air Force 1 Low, Air Force 1 High, and an Air Max 95.


That led to a capsule of customs with Martell USA for Sneaker Ball ATL, and a spot on MTV Wild 'N Out's Youtube Show Sneaker Wars. I customized a pair of Vans under a time crunch head-to-head against a guy who is fantastic at what he does, a master oil painter. So he destroyed me on the execution of his shoe. But it was fun to be given the opportunity and Sean Wotherspoon of Round 2 was a judge. It was a really interesting scene and I was the only one who had flown from out of state. I had met and become friends with the show creator during my travels at Art Basel one year. It was just another example of when taking a leap pays off. I was always trying to be present and to learn at these events and ask the right questions.
After those experiences, I sought a more structured approach to learning the ins and outs of the footwear industry. Yellow Brick Learn in partnership with Fashion Institute of Technology offered a course in Sneaker Essentials and a good friend highly recommended it. I was able to learn the foreground work on the basis of manufacturing, lasting, building briefs, tech packs, they offered a look behind the curtain. And so that's where this brand was founded, along the lines of enjoying being educated on the basics of footwear design and the joy of building a brand and creating a shoe. I enjoyed that process so much. It was really a labor of love for me. The thing I have enjoyed most in my life so far, was going through the ups and downs of this creative process. Even though it's been really hard.
NK: You started this pretty much during the pandemic lockdown. A lot of creatives seemed to bet on themselves during that time and it seems like this was always kind of on the back of your mind. What kickstarted it all for you to take action?
MF: I was in a traveling job for an automotive manufacturer, managing 17 dealerships in 3 states and 2 time zones, and was constantly on the road. And when the pandemic hit, they said, "no reps in the dealerships anymore for the foreseeable future until this thing dies down and we can approve travel again." So while travel was dead, the meetings that would normally take hours to get there were now online. In the time between those meetings that I hadn't had for the previous 4 years, I was really able to pursue the skills and tools that I could add to myself as an individual to level up during the Pandemic. Using that time that was given to me as a gift and did not want to waste it!

One of those big things was using the bank of travel points I had saved during the course of the job and using them to buy an Apple iPad and Apple Pencil, and then I downloaded Procreate and taught myself graphic design, always having been fond of sketching on paper growing up. Doing some initial sketching of shoes and being like, "I really like the shoe that I drew, what would it look like to get it done? How hard is that to do?
Nike Bespoke in NYC had just closed. I was nearing turning 30 and the big gift I had in my head was my own pair of bespoke's. I still wanted to chase that experience.

I said to myself what if I created a shoe and just made that the pursuit and should a brand be birthed as a result of the journey here, that's great; if not at the end of it, I've got a pair of shoes that are truly me and nobody else has. And that was a beautiful thing in itself, enough for me to be like, take the leap again and see what happens. So, I'm really hustling every day to try and do this thing myself while at the same time amplifying this to as big as an audience as I can.
NK: You pretty much had a render of what you had as far as the upper and the midsole. Working with Garrixon Studios, what was that like? Because you're handing it over to them as far as the midsole.
MF: They were fantastic. The candor from the jump was so refreshing and appreciated, they said "Hey, we're going to be real with you. You are not going to find an affordable way to produce your custom outsole, even with the 3D Render that you prepared them. So here is a catalog of some Soles that we do have available, find one you like and we can get started!"

I found one I liked but it was a much slimmer profile than my original design, which meant I had to go back to the drawing board to retool the design completely. In the insole of the production pair, all four of the sketches that the shoe went through before it became the final silhouette are printed on the insole.
NK: There, that's cool to see. That's pretty much the progression and the evolution of your process. Going back to working with Garrixon, do you remember how many midsoles give or take there were?
MF: I mean, they probably gave me 30 to choose from which were the ones that they were sure were in stock and had access to. But Vibram has hundreds of SKUs in their portfolio and doing some crazy things. Renewable materials and doing their own version of Nike Regrind.
NK: Were there any designers or people you were looking for inspiration leading up to delving into graphic design?
MF: It's funny you ask that. I don't think there is a particular footwear designer I look to when I start drawing. But what I will say in the graphics, because I do all that content as well, is reminiscent of Shel Silverstein. I loved his books and illustrations growing up and still do. I'm doing all these variations of caricatures of myself hand-drawn in just black-and-white, like the one of my head opening and the shoe coming out of it. The whimsical but intentional feel is what I'm trying to hone in on.
NK: I can totally see that now.
MF: And his Line drawing style is so interesting to me. The lack of color is something you don't see anymore. Especially in the wild world of web3 and NFTs, all you see is colorful explosions. Everybody is doing 3D, AR, VR, and yes I'm delving into those fields, but I'm trying to keep it lo-fi and nostalgic. I want to onboard my community to an experience that doesn't feel like Ready Player One necessarily.
NK: And the colorways, what was that like as far as going through the tech packs and the sampling process?
MF: The tech packs were an interesting learning curve. Visualizing materials on your sketch and approving swatches trying to find a match for something that doesn't exist in reality yet is invigorating. We went through two rounds of sampling on the first colorway, the F direction being the primary concern because the factory ended up stitching the logos to be legible from any side, whereas I wanted the points of the letters facing forward on the outside, and inward on the inside panel. With the logos faced forward on the outside, it looked much faster and more athletic. On the second colorway, there were some color hue issues for the faded salmon color I was looking for that we corrected swiftly.
It was definitely a long thought process of then how to bring the shoe to market with only 2 physical pairs in hand. I could not afford to part with them or gift them out in multiples to my Franz 'N Family, so how do you reach your audience? How do you get their hands on the silhouette early and get them to touch and feel and spend time with your design before it's even available to be sold?
So that's where the 3D Printed Miniature models come into the picture. I think that they're going to create a genuine connection with the brand in the process of getting to draw out the tech pack and then also get to use acrylic paints on the PLA model. They really can get wild with it, and use materials in the home to accessorize, display, stage, etc. Lately, I have been playing with different ideas. I have a really, really small 2" x 2" projector my old traveling job gave me as a rep to perform sales meetings and now I am using it for lo-fi projection mapping. I'm taking the product photos I have of the first 2 colorways and projecting them onto the model, resulting in the warm light wrapping it to almost look like the actual product.

And because it is so portable, I can take this aspect of the process on my tour, and let students and participants project their idea onto the model prior to painting, so they can make final tweaks as needed. I'm constantly thinking of new creative ways to present the idea and educate during my tour!
NK: So cool. And you did mention there's an NFT tie into all of this, and can you go into more detail about all that?
MF: Yeah, of course. The participants who complete 3D models on my tour, as well as the individuals selected who have one mailed to their home, will return the models to me to be scanned professionally. Once these are all scanned and cataloged, each one will be minted as an NFT with proceeds going in a split between the brand, the creator, and a charity that we are still deliberating on. At the same time, people who mint the NFTs from these creators will be given exclusive utility in the form of limited merchandise available and a guaranteed spot for future drops.
If you're in the greater Portland area, Michael is going to be at Concourse Coffee on June 30th from 3-7 PM for a workshop activation featuring his upcoming sneaker with more cities to come. The Franz 'n Family Footwear 001 is scheduled to drop on August 15th for $250 in the "Morning Ritual" and "Nightly Indulgence" colorways. Check out @franznfamilyfootwear for more information and download the free zine at franznfamilyzine.com.
Copr. 2022 Michael Franz D/B/A Franz 'N Family Footwear, Oregon. All Trademarks, Trade Dress, Copyrights, Patents, (Intellectual Property) are owned by Michael Franz D/B/A Franz 'N Family Footwear. ALL RIGHTS RESERVED. All other brands and marks and/or Intellectual Property belong to the respective owners.