Jordan Brand exclusively dropped the Air Jordan 1 "Rebellionaire" a week early at 6 select NBHD (Neighborhood) stores and the midwest representative is Cincinnati's Corporate.
Corporate had a week-long activation, with giving back to the community at the forefront and workshops and seminars to inspire the city. Cincinnati has a special connection to Jordan Brand that still resonates today and we got to sit down and chat with Cincinnati native and Corporate owner Matt Tomamichel. We talked about the rollout for the release, putting on for Cincinnati, and more. This interview has been edited and condensed for clarity.
NK: For those that don't know the significance of Jordan Brand and Cincinnati, can you explain the relationship between the two and the impact that has had on you and Corporate as a whole?
MT: When you think of mid-90s college basketball, it's Jordan Brand and the Bearcats for a lot of us, so there's a lot of pride with the brand. There are a lot of people here that grew up on the game and grew up on the brand and still have that loyalty to this day. And in Cincinnati, you even say Jordan Brand people are ready to go crazy. So for me, I just wanted to take that time and really celebrate my city, my community and really show the neighborhood for what the neighborhood is. You know, there's a lot of talk about this being the first NBHD exclusive release. To be one of those six that were the partners, I really wanted to blow this thing up, I wanted to show my city, my community, and the people and obviously show how exciting retail can be from this level.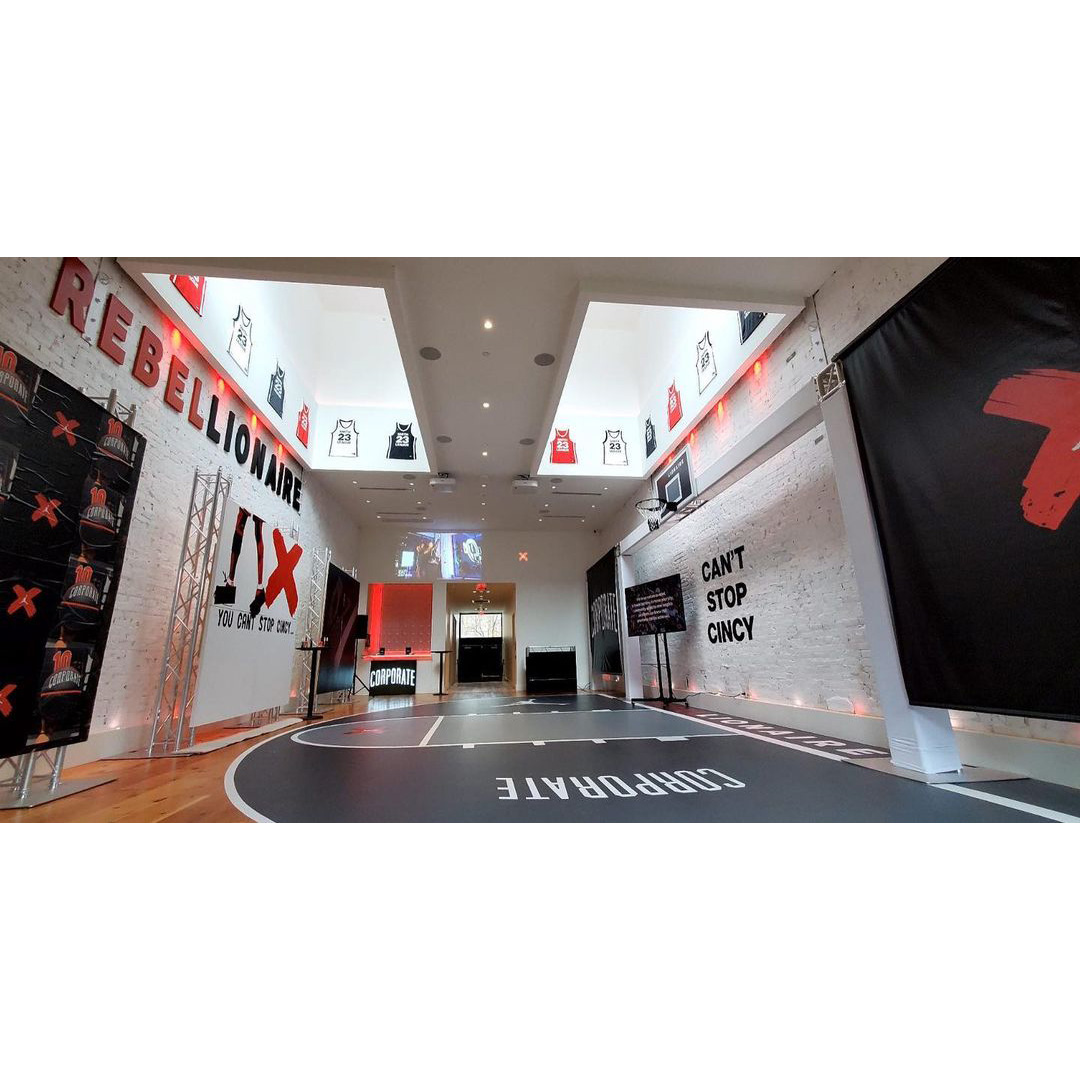 NK: When did the planning start for the Rebellionaire activations? Can you go through the brainstorming and planning process?
MT: Oh man. It honestly started on February 10th, we got the call that we were chosen to represent the Midwest, quick to action as soon as I got off the call. I had a production team that I wanted to work with, which is Press Go. Two days later, we scouted the venue, and these guys brought it to life, man. We had meetings, two or three times a week, up until last week to execute on what we wanted and what we wanted to do. So you're talking about six hours worth of meetings for three weeks, 18 hours and then in between, me and these guys, we've grown very close with just texting and bouncing ideas off each other, things that we wanted to see, audibles that need to be made. We landed on a week's worth of activations which we started on Monday. We gave our community influencers a little bit of time in the space. We just tried to tell them what we were trying to accomplish here, which was we wanted to inspire people of the community to be a part of this.
We wanted them to see what was possible and we wanted them to bring their families out, man. The space was open between sessions and a lot of people came through. They did their photo thing for the Gram, they tagged the space. The workshops were catered towards the entrepreneurs of the community. I had Erikka Gray of District 78, Allen Woods of Mortar, who was a Jordan Brand grant recipient last year, so they have a tie to the brand. And then I had Payton Smith, the owner and operator of the Smith League here, which is an NCAA-certified Pro-Am league, there's only 12 of those in the country. Jordan Brand asked us to identify a Rebellionaire there in your market. And this is a kid that I saw grow up since he was like 11 in my shop, and I felt like this was the time to highlight him.
NK: Giving back is a theme that is constantly revisited through these activations and always seems to be a point of emphasis for you guys over at Corporate. Is there a reason why it's so important to you guys? It does seem like it's always at the forefront whenever there's a big drop or something going on with the sneaker community.
MT: If you have heard of our non-profit, Bigger Than Sneakers, our whole goal is to have success and have significance. So we really just try to make sure that not only are we having success, but we're bringing significance to our community as well. During the campaign, we teamed up with five local nonprofits. Bigger Than Sneakers, Sole Bros Inc, Girls Health Period, Cincinnati Youth Collaborative, and Saturday Hoops. We asked each partner to identify what they needed for their program, and we had the release, but we gave VIP access to those that had a band. And to get a band, you had to donate an item to these five nonprofits and we ran through a hundred bands at each location within an hour.
I know what our influence can do and I'm always trying to be conscious of that. So I want to make sure that I'm doing the community work as well because man, if I'm not, then I'm just having you line up for a shoe, and I felt like that wasn't doing the release justice. Because this whole plan of NBHD is to engage your neighborhood, it's something different. It's not Tier Zero, it's more like, "Hey, these are the guys that really can do things in the neighborhood." So when I read that in the original deck, you know, I took that as, "Man, this is my time to shine" you know? There are guys I look up to like James Whitner.
If you know the story of James, James basically had to rent a yacht to save Art Basel, with those two Jordan 1s. And after that, it was James' time. I always tell him, "Man, I want my yacht moment" and this is my yacht moment. Jordan Brand, they've been blowing us up too telling us, you guys did a hell of a job but I want next.
NK: Outside of this, you guys have done collabs with Jordan Brand in the past but if there's an offer on the table for a collaboration in the near future, what would it be?
MT: We've done the Chris Paul shoes twice, but we brought one to retail and we sold out. I'd love to do a signature shoe, my favorite is the Jordan 4.
But I feel like right now we could do, the 16, 17, 18, whatever just gives us an opportunity to continue to build on what we have and continue to show, globally what we have here in Cincinnati, not just nationwide. I want to show you guys globally, where I come from, and what I hope to build here and in my community.
NK: The turnout for these events and activations has been packed. How did you feel leading up to it and how do you feel now after?
MT: Dude, it was amazing. First off, we launched rebellionairecincy.com for our ticketing because we want to make sure that people got an experience. Also, the website featured posts that people made throughout the week. We actually sold out all of the shows, all the workshops in about eight hours. So now the pressure was off there, I just had to make sure that our guest speakers did an amazing job. We did have Eric Sandy here who was the lead on this project and he is from the Tri-state (Ohio/Indiana/Kentucky), so that was our secret weapon at the end, too.
Man, they just kept getting bigger. On Wednesday, obviously sold out, but still felt like we could have had more people in the room. Thursday, we had to add chairs because people were at the door and we felt we can accommodate them. Then Friday morning came, we had our workshop, we had kids coming in from the inner city or the school districts, right? Well, on Friday, we actually had three busloads of kids, I guess there was just a miscommunication between them and leadership. So we were already cramped because one school, they brought 100 kids while we got another 125 kids in there.
I just couldn't believe it, that they've become this thing because it just made my heart so full because of these kids. I never went to a Jordan event during school, I skipped school to go to Cleveland to go see the Love Truck when the Jordan 18 campaign happened.
I've been to L.A., I've been to Chicago, I've been to New York when all these big events were going on, and to bring it home, it was amazing. Not even just because it was Jordan Brand, but we went above and beyond with this. We had a budget and we actually tripled that budget because I believe in it and I believe that we were going to set the tone again for the NBHD release and the accountants that are going to have this opportunity next. Now you got to follow me up and that's just what I want to do.
My Jordan rep knows how I get down and they know how serious I am with this. Last week, I would bet I only got like three hours of sleep each night because I just want to make sure that we were right for the next day or even coming up to the release. We sold those shoes from 8 AM to about 4:30. And everybody in my city got them.
NK: That's always the best part to hear whenever these activations are going on is that people got pairs. It's not like they only had 20 pairs there.
MT: I had to comment to somebody earlier when they were like, "Man, I ain't get them." Did you really try? Because I feel like as you have been there, we would have had a pair for you.
NK: What's next for Corporate? I know you guys have the one-year anniversary for the Indianapolis store and are just coming off that Indiana Pacers collab.
MT: I just want you to tell everybody, this isn't the end for me, this is just opening the door to my next opportunity. And I think my next opportunity, I would hope, is again a project that the brand can know that I'm going to exceed all expectations.
Much thanks to Matt to sit down and chat with us.