Pushing the wave of socially conscious product while riding the boom of Boost, the Parley x adidas partnership has seen success in the oceans, on the track and at retail. Proving doing good can be both conscious and cool, fresh and functional, the two parties turned all their R&D work into an IRL experience with last weekend's Run for the Oceans event out in California.
On the beach and on the move, we caught up with Matthais Amm to discuss the humble beginnings of the partnership, the rapid success reached with the first release and the possibility of an industry without plastic.
Nice Kicks: To begin, take us back to how the Parley and adidas partnership started.
Matthais Amm: When we started, it was all open source. We knew that we didn't know all the answers so let's open it up to beyond our world. At that time, we were looking for organizations and consumer insights to get the answers. We had to ask, are were looking for more than just shoes? Are we looking for something was having a bigger contribution or a bigger cause?
At that time, we reached out to several organizations and we found Parley. In 2015, we announced it with the United Nations and that's when we created the first shoe. That was the very first prototype.
Nice Kicks: Not long after, the formal retail launch followed and the response was crazy.
Matthais Amm: What makes the shoe so amazing is that this is not just a shoe. We released the friends and family versions of them first. We put out 50 pairs of them and the response was very good so we quickly followed up in November 2016 with the Uncaged model. We made 7,000 pairs and NYC sold out in a day.
Nice Kicks: It was certainly a moment to see them move like that.
Matthais Amm: In the past, consumers were only hype about models like the "Triple Black" Ultra Boosts but now they are hype about something that makes a difference in the world. It's both buying shoes and doing something good.
Nice Kicks: How has the partnership grown since that launch?
Matthais Amm: In 2017 we did 1 million pairs, in 2018, we are doing 5 million pairs. Every Ultra Boost that was made since last December features Parley construction. That's going to be the standard from now on because it's just the right thing to do. We want to get where we don't even think about plastic anymore and you get the same performance benefits without doing any harm to the oceans.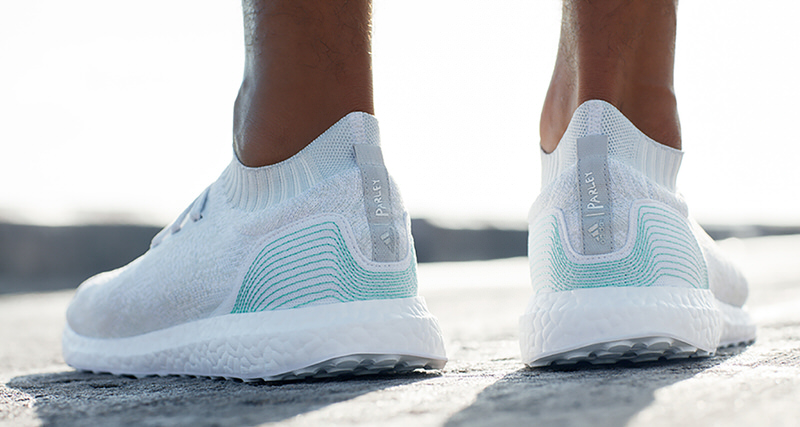 Nice Kicks: Over the course of the partnership, what have been the biggest challenges of the two parties working together and what were the biggest breakthroughs?
Matthais Amm: The biggest challenge was to start the supply chain. Once we found out we were onto something good after we announced it we needed to scale up and scale up. It was super challenging to ramp it up to our needs then, but now we've normalized it to reach the desire of the consumer. It's a race against the oceans dying so we couldn't just take a step back and take it easy.
Nice Kicks: The Parley collabs have lived mostly in the space of performance running. Are there any plans to open the collab to other categories?
Matthais Amm: Originals did something with Parley, but while running is in front we are planning to expand into other categories. We are getting into apparel as well. We're on a mission: everything is an ocean plastic or no plastic at all.
Nice Kicks: Lastly, what's next for adidas and Parley?
Matthais Amm: We want to expand our business and make Parley a standardized material. We are always innovating. We want to change the mindset so that whenever we innovate we're also focused on sustainability.