Stephen Curry and the Golden State Warriors are on a run that no one expected but everyone wants to stop. With 29 teams trading, tanking and tooling up to take out the Dub Dynasty and even reports of conflict within, the defending champs and their winning ways are the sole target of every squad in the League and the talking point of every sensational headline.
Somehow, the man in the middle of it all is unphased.
Appearing at the Golden State Warriors practice facility in Oakland to a room full of global media, Steph is all smirks as he sits down with former teammate Kelenna Azubuike to unveil the Under Armour Curry 6.
While the world debates just who will be playing in San Fran next season and has fun with Steph's moon landing musings, it's clear the outside noise doesn't mean much to Steph. The pint-sized point guard who's long been grounded in his faith, family and the game appears equal parts focused and laid back, and it's clear when he's talking about his new kicks.
"It's a collaborative effort with my family," Steph says on his sneakers. "They don't come to the product meetings but I do bring pictures back home. Especially my wife, I get her input and preferences on colorways and stories and they influence it for sure. On the outsole, I have all of the names from my family – that's part of the signature process. They're important and definitely part of the process. You don't want to come home with ugly kicks! [Laughs]"
While previous pairs like the "Triple White" Curry 2 Low may have been subject to Milhouse memes, the Curry 6 is Steph's most modern design yet, evolving the edge introduced on the Curry 5 with a balance of wearability and intrigue unmatched by its predecessors.
"With the 4, 5 and the 6, it starts with just a random sketch then I get to influence it with my team," Steph notes on the design process led by Under Armour's Leon Gu. "We influence the innovation around my game so that it has things to make me better on the floor. Whether you play like me or you don't, you can still get the benefit."
For hoopers that heave half-court depth three-pointers or play the point they're training for a track meet, those benefits are full-length HOVR cushioning and a top-notch traction pattern inspired by the house he grew up in as a kid in Charlotte. Full-length HOVR – typically seen in the brand's marquee running shoes – is a first for the Curry line and likely a concept that will help him on his rampant run of signatures.
"Currently, I've had three or four meetings on the Curry 8," Steph tells us at the launch event for the 6. "I heard somebody say how many players have gotten to eight signature shoes and it's a very exclusive list. I'm trying to be on that. It's a privilege to be in this situation so I just wanna continue to innovate and make dope product. I'm all in on it from a participation standpoint because I want people to have a piece of me with the shoe."
For fans, a piece of Steph will be more than just innovative tech and a hot shoe. Each colorway of the Curry 6 will connect to a story of Steph's ranging from his love of fans in Oakland to his unruly college days at Davidson. Thanks to the League's new dress code, he'll be able to lace up each pair in games, too.
"The freedom of color choice lets me wear the retail stuff on court and show how much the stories really mean to me. Especially when we move forward to the 7 and 8 knowing about that rule change going into it. I'm gonna rock all the bold colors, even if they don't match I think it still looks dope. It's a statement. With the 6, 7 and 8 we'll see a lot of that."
Though stories provide the heartbeat of the 6, science informs the innovation. Leon Gu and the Under Armour team's discovery that Steph runs roughly 2.3 miles per game and ranks in the 95th percentile for average distance covered per game informed both the innovation and direction of the Curry 6.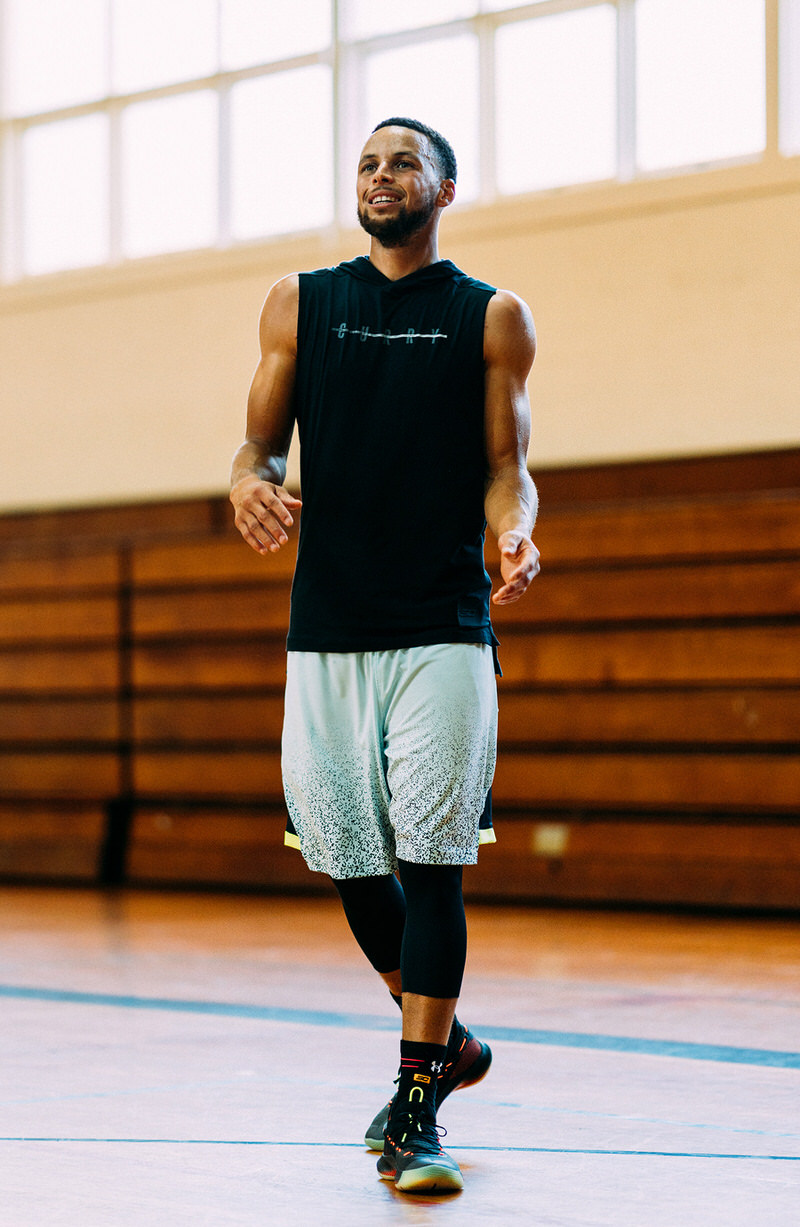 "That was the biggest science behind this shoe," Steph says regarding his mileage. "I didn't know that stat at first actually, but I wanted to address the wear and tear on my body. So when it comes to the traction, the HOVR component and the speed plate, it actually encourages me to run more. If I was doing all that running before we addressed it then I should be all the more lethal in these. If I'm at the free throw line and a defender says, 'Man, you've gotta stop moving!' That's the biggest compliment I can get."
The run continues.
The Under Armour Curry 6 "Fox Theater" drops worldwide on UA.com, at UA Brand Houses and at select retailers for $130 on January 4, 2019.