words & interview // Nick DePaula:
Just when his year couldn't seemingly get any better, World Champion Chicago Cubs 3rd baseman and reigning NL MVP Kris Bryant has agreed to terms on a new multi-year endorsement deal extension with adidas.
The footwear and apparel deal, negotiated by agent Scott Boras and dubbed a "historic agreement," was signed yesterday by Kris Bryant in Portland, Oregon. Building off of his Rookie of the Year entry to Major League Baseball in 2015 and his championship run to an iconic World Series win this fall, Bryant will be heavily featured in all adidas Baseball marketing campaigns, engaged and involved in the product creation process and aligned with the brand long into his career.
"Kris Bryant is an incredible player," beams Mark King, President of adidas Group North America. "What I love about him is just how humble and appreciative he is to be playing the game of baseball. In so many ways, he's just a regular kid who loves talking about little league games and hitting homeruns off his dad… Kris is creating history right before our eyes and what sets him apart is his love of the game and mindset."
Nice Kicks sat down with the 24 year-old Las Vegas native yesterday evening in Portland, just after he inked the deal, for a full conversation about the new landmark extension and his relationship with the brand.
Read ahead as Bryant details some of his favorite moments with adidas to date, starring in their newest fall campaign alongside a billy goat, and later reversing the curse by fielding the final out of the Cubs' historic World Series win.
Nick DePaula: To start out, what's it like to be signing a new long-term extension with adidas that'll make you the face of adidas Baseball going forward?
Kris Bryant: It's refreshing knowing that we've built a lot in three years. We've done so much in three years, and now we've got even more years and I'm excited. There's been nothing but good things from adidas when I first signed. It's been like a flip of a switch. Everything is heading in the right direction, and I'm excited to play a role in that.
NDP: From the start, the brand has been pretty big on disruptive marketing. Take me back to when they were running the "Worth The Wait" campaign when you were in limbo for those 12 days before you first got called up to the Majors? Did that add any pressure on you at the time, or was it more about being excited to have the brand behind you during the next step of your career?
KB: For me, being in that situation, I'd be lying – I don't want to say pressure, but there were some nerves, and you want to get [called] up, do good and live up to a billboard like that. The first time I saw it, Anthony Rizzo and Dexter Fowler took a selfie with their car's sunroof open right in front of it. I was just like, "What!?" [laughs]
Once I saw it, I went, "Oh man, this is cool." Obviously, they were behind me from the very get go and doing cool stuff like that and creating a buzz. You don't really see that as often as some fans or players may like, so I loved it. It was a great way to get started.
NDP: When you talked to Nice Kicks at the All-Star Game, there was a ton of foreshadowing in that interview, and you told us how the whole team read their goals aloud to eachother during training camp. What was that atmosphere like while that was going on, and how confident were you guys on the season ahead?
KB: Going into this last year, especially from our manager on down, it was about, "Embrace this target." We're kind of the team to beat now, and our goal was really, "Win the whole thing." We did it, and now looking back on it, it just makes it more satisfying knowing that we achieved and checked every box that we could. We had a lot of guys do well individually and we did something that hasn't been done in 108 years. We have a lot to be proud of, and now we set our sights to next year and can hopefully do it again.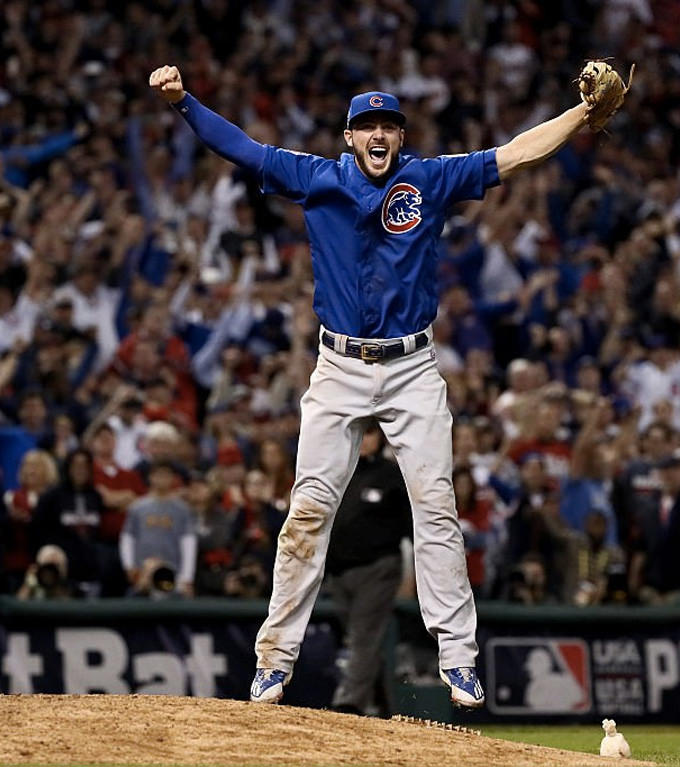 NDP: Coming into the league, what did you think you had a better shot of winning – MVP or a World Series?
KB: I never did. [laughs] I won a ton of individual awards in college and high school, but I never played a part of a winning team really. Obviously growing up in club baseball and with my dad being my coach, we won a lot of tournaments, but nothing beats winning on a bigger stage.
I was never able to do that in high school or college or any of that. I guess I saved all that up to win at the most important time for a team that hasn't won in 108 years. [laughs] I wouldn't trade that for anything.
NDP: We talked about the "Worth The Wait" campaign, and then we saw the brand once again be real aggressive with their marketing campaign during the playoffs and the Curses campaign. Adidas even was saying, "We believe in Chicago." Did you have any visibility to that campaign, what was your reaction and was it something you and your teammates talked about?
KB: I saw it all along the way actually. [laughs]
NDP: I guess after the first one, maybe you said, "Hey, you've gotta show me all this stuff first!"
KB: [laughs] Yeah, and just how they flooded all of social media with that, I think it really just built up an extra energy all around the city. There was a buzz that you could feel walking out. You saw so much Cubs gear, but also all of the Curses t-shirts with adidas backing us along the way. All of that played into the success that we had. Looking back on it, I don't know if I could ever top the feeling of playing this whole year. It was just so much, and it kind of stinks that it's happened so early and I'm spoiled with it. It's been the best time of my life.
NDP: When you go back to the last game of the World Series – what was racing through your mind as that last grounder was headed to you for the final out?
KB: You grow up thinking about playing in the World Series when you're in the street. Bottom of the 9th. Obviously, you're up to bat and the bases are loaded too. [laughs] For me to have to have that moment and the chance to make the last out in the World Series – you don't want to be the guy that messes up. [laughs] A lot was going through my head, and you could see the play play out.
It was a slow roller, and there was a lot of time to think about it when you slow everything down. Usually, the last out of the World Series happens so quick, and that one just happened so slow to me. My foot slipped and there was so much to it, and it's probably the best out that I've ever made of my life, obviously.
NDP: Yeah, I'd say so. [laughs] When you joined the brand a few years back, it was really at the start of this huge wave of momentum that you're now on. What's it been like to see the trajectory things have headed for the brand in general and for adidas Baseball?
KB: It's been huge. Not just for baseball, but for the whole brand. We've seen Kanye West doing his whole Yeezy thing, and I have friends telling me, "Man, I go online, and I can't find these shoes anywhere." Well, that's how it's supposed to be. [laughs]
It's not just that too, I have friends in the league texting me that they're wanting to switch over to adidas, and they're asking, "Is it hard to get this shoe?" I always say, "No, they'll give you whatever shoe you want if you're with them!"
NDP: My college roommate will hit me once or twice a year for the past seven years or so, and it had been other stuff for awhile, until the last two years. Now, he's hitting me about a random NMD, or Yeezys or other Boost stuff. [laughs] That's when I really knew there was a shift kind of taking place.
KB: Yeah, exactly. [laughs] And my buddy with the Yankees, Chasen Shreve, we went to high school together and now he's switching over to the brand too. He just texted me a whole page of shoes from Instagram and was asking if I could help get them for him. [laughs] I go, "Well, I got all those!" [laughs] They'll probably send you too much of what you want sometimes.
NDP: On that note, the last time you spoke with Nice Kicks, you said you had all the Yeezys to that point except for the Black 750s – so have you been able to track those down?
KB: I got 'em! I wore them on Jimmy Kimmel actually with my black suit. You couldn't really see them on TV, but I got them, and I was hounding the guys – "I need those!" [laughs] They're my favorite ones, and they're probably my dirtiest ones now too.
NDP: The brand has really been pushing this whole concept of being a Creator in the last couple years. How do you think you represent that through the lens of baseball?
KB: For me, it's important to be your own individual and do stuff, not that's against the grain just because, but to be yourself. Adidas lets me do that, like the commercial with the billy goat, or saying there's no such thing as curses. You believe what you want to believe. That's exactly who I am as a person.
I don't believe in any superstition, and I think that you create your own luck. That's a huge thing for me. I always find myself in games, and I can go 5-5 and then say, "Ok, I'll change my shoes and my underwear." I won't wear the same thing or think that those things play into me doing what I do on the field.
NDP: And almost everybody else in baseball is the opposite.
KB: Everybody! [laughs] There's a lot of superstition in baseball, and I try to find ways to not do that.
NDP: I heard this classic story of Ken Griffey Jr. and how there was this cleat that he was supposed to break out and start wearing that they had a whole campaign for. He went 0-4 the first game in them, throws them off and yells at everyone, "There's no hits in these!" He didn't want to wear them after that.
KB: See, I can't do that! [laughs] Give it a chance and see what happens. You might have your best game, the next game.
NDP: What was it like being apart of the newest Creator commercial?
KB: Man, it was so much fun. To be alongside the other athletes in the final product, and then it aired on Thursday Night Football. I was sitting down on the couch looking for the commercial. [laughs] It's something different, and that's what the brand is really focusing on.
Being different, being yourself and creating your own look. Not believing in any of those curses that happen to be associated with the Cubs, that type of thing. None of us as athletes like to look into that stuff, so for me, it was a lot of fun to do something different and I'm always in on anything that's able to promote that. You could see the personalities of everyone really come out.
NDP: Well, James' outfit in particular was exactly as ridiculous as you'd want. [laughs]
KB: Yeah, and I'm there with the goat. [laughs] We actually had a black cat too, but the cat wasn't cooperating. It was something that everyone in Chicago saw and got behind, and now there's no goat. [laughs]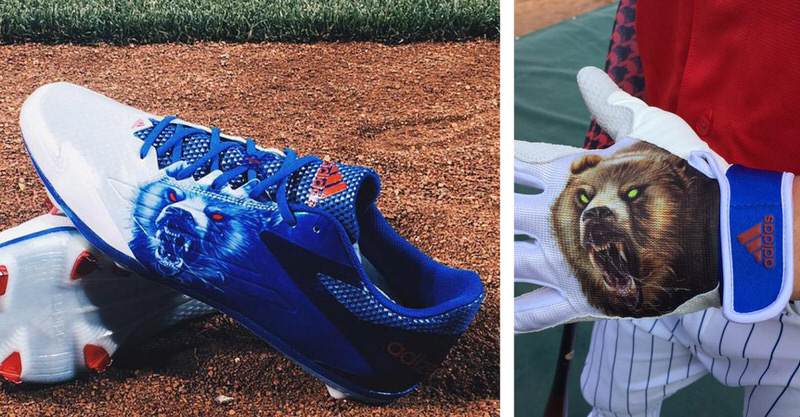 NDP: You've worn a bunch of energy stuff from the brand, but one of the ones that really stuck out to me was the growling bear custom cleats and gloves.
KB: Yeah, at All-Star last year!
NDP: Exactly. Is there anything in particular you've told the brand you want to highlight or feature in the future on your gear?
KB: I haven't yet, but that might change tomorrow in my meeting, so I won't ruin the surprise. [laughs] But that was my first All-Star game, and to show up with super cool cleats and batting gloves, everyone was looking at me, "This kid's really gonna wear that?" [laughs] I thought it was so cool, and I liked it so much that I wore the cleats in games afterwards too. I love that stuff, and I like to be different, but still subtle and not in your face.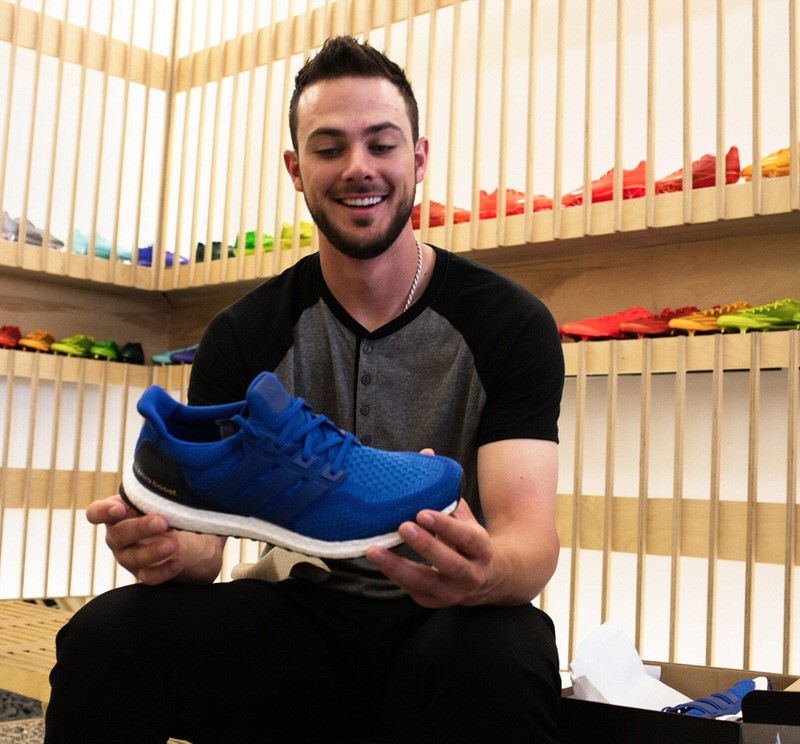 NDP: This past season, your cleats all had Boost in it – and this is such an easy question, because everyone says, "Well, they're just so comfortable" – but what'd you think when you first started wearing Boost?
KB: The first Boost cleats were great. Then, the Boost Icon cleat this last year, not only did they look great on my feet, but it's been something I've seen in the brand for the past three years, where everything just is looking cool and getting better.
I just loved the feel, and as baseball players, you're playing 162 games and you need something that feels good on your feet. Boost is like you're walking on a cloud, so just imagine playing baseball in those on a cleat. If you're on the 20th game in a 21-day stretch or something crazy, you're dragging, but if your feet feel good, then you can be ready for it and you'll have that extra energy.
NDP: We've been doing this thing called #BoostWeek all week long – so what are some of your favorite Boost models to wear around?
KB: Man, they're all so good. That's what I've liked about all of the shoes off the field. When you look at the style, like with the UltraBoost, there's so many different colors and you can wear them with anything. I have guys in the clubhouse that are with other brands, and they'll come to me and say, "Don't tell anybody, but let me get some of those." [laughs] I won't call them out, of course, but they're just so comfortable. The greatest part of it is there's now so many styles and there's a color for everybody. Every adidas shoe that I put on has been super comfortable for me, whether that's on the field or off the field.
NDP: Another thing Matt had asked you about that was kind of eerie, was what would you do with your Game 7 cleats if you walked off the field with a World Series win, which is exactly how it went. You said you'd "take them home and not let anyone get close to them." So – where are they at and how do you have them displayed?
KB: If you go through my dad's batting cage that I hit in growing up, there's so many cleats there. There's framed cleats from big games or moments, and cleats that I just will still hit in. That's the cool thing about this game, is there's so many cool things that you can save, whether it's a jersey or a cleat. You can sign a cleat and give it to a fan and that type of thing has a lot of meaning behind it.
The pair that I really wanted to hang onto is my Opening Day custom pair too, and those tell a story. It's not just that I wore them in an important game. It tells who I am as a person, my family and how I got to where I am. Those are the ones I actually like to display even moreso.
NDP: After you won Rookie of the Year, adidas did the huge truck dropoff like they did with James Harden. Then after the World Series, you got some rare stuff and a bottle of champagne in a pretty cool case. Is there a moment in time with adidas so far that really sticks out as being something that you'll always remember?
KB: Man, the truck dump, oh my gosh. [laughs] My neighbors at home were looking and seeing all of these shoes come out of this truck, and going, "What is going on over there!" Then, I walked into our batting cage, and I don't know how many more shoes there were there. They told me how many pairs it was and I just went, "No way."  [laughs] Seeing so many boxes, I just had no idea where I was going to put all of these shoes.
That sticks out, and then the All-Star Game this year too with the Dipped cleats. Doing something that nobody has done, since nobody has really changed cleats like that. Switching into crazy colors and wearing things that we're not necessarily allowed to do during the season, but they stick out at an All-Star Game. The Tiffany blue, the red and the bright orange ones were great. That whole experience was a lot of fun, and any time you get into a big event, adidas does some really cool things for me. That was something that sticks out to me for sure.
NDP: Like you said earlier, this has all happened so soon for you, so it's hard to even top. Now that you know you're locked in with the brand for the long term, what are the next milestones that you can envision and hope to reach with the brand?
KB: Continuing to build myself and build the brand. I think both of us do a pretty good job of associating us with one another, so I look forward to continuing that. Something that I'd really like to do is give back more, and adidas has given me more than enough opportunities to do that. They're willing to do anything I want to help out, whether that be giving my dad uniforms for his scout teams that he coaches.
Or, something as small as how for Christmas, I like to make shoes for my neighbors. They have four boys, and they all play basketball – and hopefully they don't see this [laughs] – but I went onto miadidas and customized them each a pair of the new DRose 7s myself. I was picking out all their colors and put their names on them. I had to make myself a pair while I was at it too. [laughs] I'm sure I could've gotten somebody at the brand to do all that, but that's stuff that I enjoy doing and I love to help out people along the way, moreso than getting stuff for myself. I got enough. [laughs] I look forward to doing that every year.