What's next for Migos?
Top the charts? Done that. Silence the critics? Can't even hear 'em anymore. So, since the Culture album is no longer coming soon — it's here and bigger than anyone could ever imagine — what really is next?
"We're bringing the flavor," Takeoff attests. Yup. New flows, new adlibs, new songs, the group on top of hip-hop stays working, but make no mistake, they have fun doing it. Flashy yet humble, grateful but still going for it, the same energy that got them this far continues to propel their upward wave but their new success is also bringing new opportunities beyond music.
Teaming up with Champs Sports, Julio Jones and Under Armour, the flyest crew from Atlanta is scoring and styling "The Moment" in the soon to release Under Armour Threadborne Shift. Talking with the trio as they continue to go the only direction they know — which is up (yeah, datway) — hear how they stay motivated, who inspired them artistically and how they want to spark the young generation to have fun and be themselves.
Nice Kicks: Showing out with kicks and clothes is nothing new for the Migos, but partnering with Under Armour and Champs is. What can the people expect?
Quavo: This is our second time working with Under Armour and Champs, so it's more of a family thing. Expect to see growth, good swag, good culture. We're trying to bring something the new generation will like and something crazy for the lifestyle.
Takeoff: Under Armour is the under dog, they're coming up. We're bringing the major pain, baby! We're bringing the flavor! You dig? We're coming out with the Under Armour Threadborne Shift, the new shift, you dig?
Offset: Which will be the cultural shift!
Nice Kicks: You guys are the hottest group out right now. How do you enjoy that moment, but also what are your future goals and how do you work towards them?
Offset: We appreciate that. We take accomplishments and keep we going and keep grinding and doing what we love.
Takeoff: We stay humble, keep God first and just stay humble and keep grinding.
Quavo: Like my man said, we don't normally try to set goals, we try to work hard towards the little things and the big things will come. We learned from the great Julio Jones.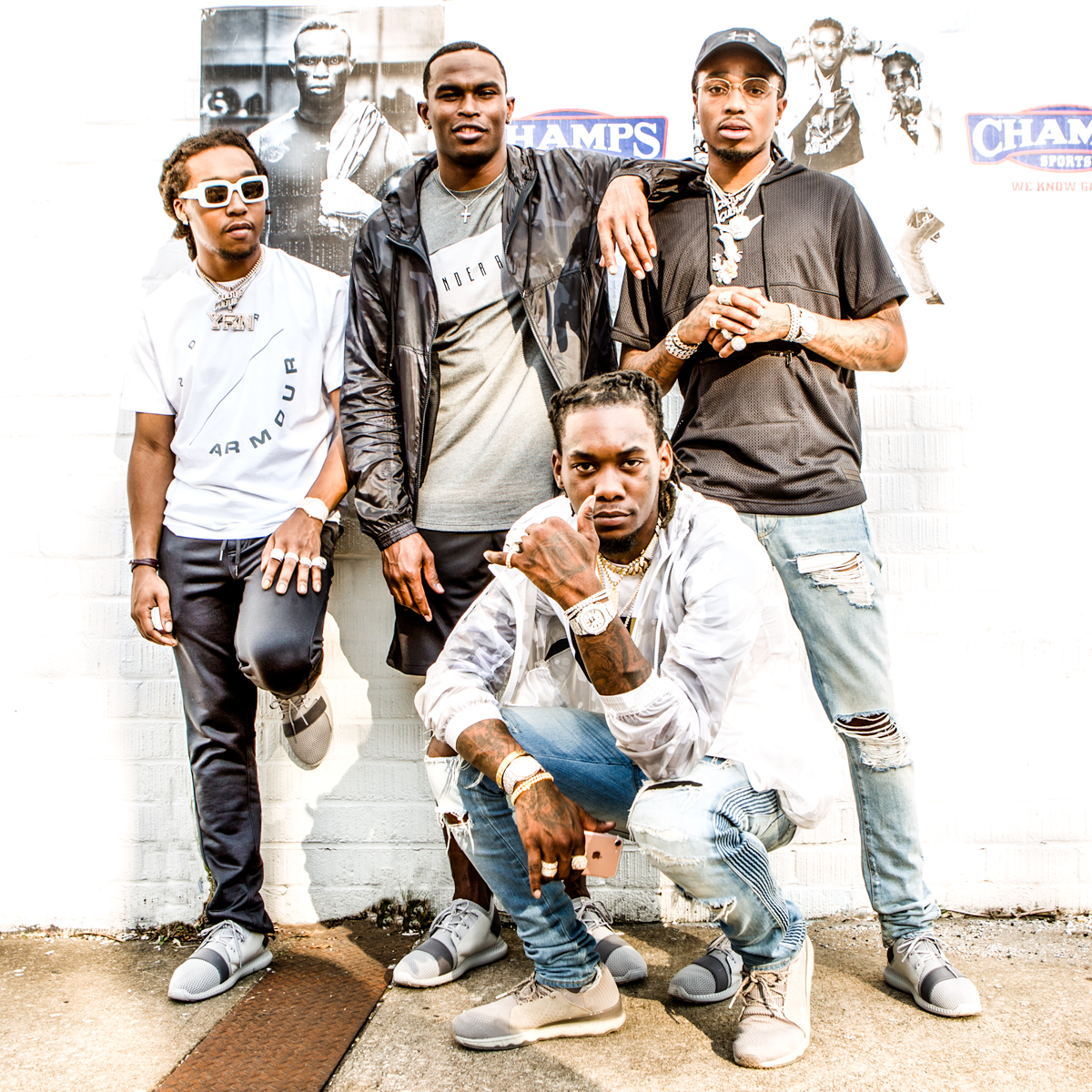 Nice Kicks: As a group, your flows are incredibly influential to both hip hop culture and pop music. How do you continue to innovate and bring about new flows and styles?
Quavo: It's a blessing to see people that we used to look up to and to see them be inspired by us. Everybody needs some type inspiration. The people that inspired us growing up were Gucci Mane, TI, Outkast, and the Hot Boy$. As we grow up you can see the styles, different flavors and different cadences in the sound. Now to see the way it's transformed with the OGs reaching back to the young generation and just taking different pieces and keep their wave going? We like it.
Nice Kicks: As far as work ethic, Under Armour is known for athletes giving it all they got in regards to training and performance. As artists, what are some examples of the work ethic that make you succeed as a group and the risks you take on the daily to succeed?
Quavo: Always grinding, always practicing, always recording songs. Just always thinking ahead, always trying to figure out ways to make our group better and ourselves better. Like the offseason when the album is already out? People think they can go on vacation, but we're still working in the offseason.
Offset: Like my man said, just working even when it's not album time. Working whenever we feel like it, working 24/7. We make so many songs that the songs become old to us because we've made so many new songs. We lose a lot of songs too in the hard drive just because we do so many songs. You always feel like you develop and can do something better, that's why the next song always sounds better than the last song.
Nice Kicks: The new campaign is about going against the norm, what are some current examples of how you guys go against the norm on a daily basis whether it's music or fashion?
Offset: We want you to be you and know that it's okay to be you and do what you feel is your style or your opinion. We've got a young generation that we want to stick together and stand for whatever they believe in.
Takeoff: Just live your life and have fun, that's what it's all about.
Nice Kicks: Lastly, what do you like most about the new Under Armour Threadborne Shift and how can we expect you to rock it?
Quavo: The comfortable way! The Threadborne Shift! Skkrrrr! And they look good outside of athletic gear, that's what I like about.
Offset: And I've got my Off-White jeans on with the Shifts at the bottom, yeah, Under Armour!
Takeoff: You can make 'em fashionable, they're not just an athletic type shoe. You can do whatever you want with them, they feel real good.
Quavo: Datway!
Takeoff: I just got me a lovely lady with these shoes on, I don't know if it was the shoes.
Offset: Nah, it was the shoes.
Takeoff: It'd definitely have to be the shoes.
The Under Armour Threadborne Shift releases tomorrow at Champs Sports. Keep it locked to Nice Kicks for more from Champs, Migos and UA.