words, interview & images // Nick DePaula:
Over a year in the making, James Harden's very first adidas signature shoe is finally a finished product. The brand is currently throwing a grand unveil party for him in Houston, complete with a full fashion show and music performance from the likes of Travis Scott.
Now is the fun part. The non-stop journey to get here and create a signature collection of both footwear and apparel has been in the works for over a year, ever since James Harden inked his unprecedented 13-year endorsement deal with adidas on last October 1st. The deal was reported as being worth $200 Million, but that's with all incentives met, like meeting lofty sales thresholds and him winning Finals MVP in every single year of the contract. "Hey, we'd love to pay him the full two hundred," joked one adidas executive after the deal was announced. If Harden is able to meet all the incentives, of course, that'd mean he was one of the greatest players to ever play the game.
From the onset, the word "different" was thrown around often in describing how Harden's product could take shape. He's taken that word to heart over the years, in both his demeanor and persona, his ridiculously oversized beard, and of course, his flashy off-court style. It's a seemingly unquantifiable thing to picture for footwear, but it's undeniably something that drove the process. "People always ask me, 'How are you different?' It's hard to explain how you're different, but the shoe explains it for me," Harden says, pretty matter of factly.
The shoe features both full-length Boost and a Primeknit upper, showcasing two of adidas' best-in-class current technologies. From there, the proportions and flows of the shoe get bendy, quirky and yes — "different." It's asymmetrical in parts, slanted in others and still retains a familiar and wearable look at first glance.
"This was my first time creating a shoe from the ground up," begins Harden. "We're open to each other's opinions and we weren't going to just put shoes on the shelves and say 'This is James Harden.' It's built for how I play and you'll see my style, different moods, the little details and stories that represent who I am."
To hear about every last detail of the process (seriously, all of them), Nice Kicks caught up with Brian Foresta, adidas VP of Basketball Design and Corey Allen, adidas Basketball Product Manager at the brand's Portland, Oregon-based Village headquarters. Read ahead for the in-depth interview, and let us know your thoughts in the comments section below on James Harden's debut signature sneaker. They'll first release on December 3rd in the "Pioneer" colorway — the Black / White / Red version seen above — which honors his high school mascot and the two state championships that first put him on the map as an emerging star.
BUILDING A SIGNATURE LOOK ///
Nick DePaula: When you guys signed James, it was such a big headline in terms of the number of years and the money involved. It was different than when you sign a rookie, because they have to earn their signature shoe. With James, signature was the expectation from Day 1. What were some of those early conversations like, and what were some of the things he mentioned he was looking for in his first collection?
Brian Foresta: The nice thing about when the relationship started, is you had someone who was already developed in the league. He already had a sense about who he was as a person. Coming to us seemed like a natural place for a brand and a true creator to collab up. What I thought was really good about it, was the first time we sat down, I said, "I can show you what we've worked on, but I can't show you anything for you, unless you're a part of this process."
Right away, we got a temperature gauge on how much he was into product and how much he wanted to be involved, and he jumped at the opportunity. That was great for us, because now we've got somebody who really wants to build and create something new. The expectation around it was huge. It also shows the reset we're having as a company in the game of basketball, and he's definitely the sharp point of that.
NDP: Since it's a 13-year deal, and you knew it wasn't going to be just one shoe and would be a really long franchise, what were some of the big picture things you guys put down that could be building blocks and items that frame his series for the next decade?
Corey Allen: It was kind of unprecedented how a player of James' stature and the things that he's achieved in the league, could come to our brand with no signature shoe attached to him. Internally, we were going through a restructure, and it was a perfect time for the partnership. Bringing him into the creation process, it couldn't have timed up any more perfectly.
As far as the contract goes, we know we have a long time with him, and that's great because right now we're on Volume 1, and we named it that way because you can start to think about chapters and how you can evolve the storytelling. We're just in the beginning phases of scratching the surface of what James' story means for him and what he wants to bring to life.
NDP: When you guys signed him, we were seeing on social media that the expectation was that he would have a shoe magically within the first couple of months. [laughs] Were there any talks initially to launch his signature shoe on a quicker timeline, just because of all of the momentum at the start? Or were you always committed to that typical 12-18 month timeline?
BF: Absolutely, we're building longterm. For a contract that long, we knew we needed to start in the right place. I can't stress enough how you have to develop that trust and relationship so that you can have honest conversations about the product. I don't think at any point we had conversations about rushing or moving it forward. All the way from the start, it was about doing it correctly. That's a hard thing to do, when you really want to push what basketball means. The market has been a little stale for awhile, and if you really want to step out and do something different, you have to really think it through.
CA: It was great to also get his buy-in and his team's buy-in from Day 1 in knowing how long the creation process takes. Obviously, we were seeing social media comments and any product that we came out with that was a PE, people wanted to know, "Well, where is his signature product at?" It's important to consider that not only with James, but for all of our marketing and brand communications teams, it was really important to have that full timeline so that we could create that holistic storytelling around Project Harden and trying to explain the whole process. We wanted to let people in earlier than we have before into the creation process, to answer those questions and educate people on how long the process is.
TECHNOLOGY & INSPIRATION ///
NDP: When you guys started out, was it always locked in that Boost and PrimeKnit would be the two pinnacle innovations for his first shoe?
BF: We were open to the product and wanted to see where it led us, but we also wanted to make sure we included the best of the best. We used both technologies in places where we really felt they'd offer the most performance. In other places, we brought in other material mixtures into the upper, just to push it. It wasn't that we had to tie it down to one thing, we started to look at what materials or executions could be the best for each detail.
NDP: What were some of the early things he was looking for that drove you on the initial design? There's of course a focus on versatility and it working casually.
CA: One of the biggest things was how all of the materials picked ended up being very intentional. Boost and Primeknit are things that are resonating right now, but they also have a direct insight into why we picked them. We know that full-length Boost is huge for James because of the energy return and because he's always one of the top guys in minutes played. To be able to play a whole game and not lose that cushioning or have the shoe break down, made that a no brainer.
For the engineered knits and asymmetrical lacing, we looked at how he shifts and how he plays. That really helps to provide the type of support that he needs for his style of play. Sitting down and talking to him, some of the things that became pretty clear are that he has a style to him, and he was very big on both on and off-court looks. With the leathers and the Primeknits, it lends itself to both.
BF: What was interesting about James, is he always tries to find that grey area between the rules and how to play the game. It set a great challenge for the design team, because we were tasked to take functional insights and raw data from the lab about how he plays, and then interpret that into a new aesthetic. As we show the shoe to people, there's definitely this tug and pull of the aesthetic being too casual.
But you can really break down why every piece is based on him and how he plays the game. It's really similar to how in our everyday lives there's so much technology around us, but you don't stop to think about GPS systems, you're just like, "That's on my phone." It's the same thing with the shoe, because we want to do something that's all based in function, but aesthetically pushes it.
NDP: Did you guys go through the classic object exercise, where you looked at cars or other things that maybe had a parallel to his style, personality or game?
BF: It's interesting, he's not that guy. He's very aware of what's been done beforehand, and I think he's always seen himself as somebody very different in the league. I baited him early on some of that stuff, and he just looked at me, kind of like, "That's not what we're doing, right?" If you look back to when he was younger and going toe-to-toe with Kobe at the Drew League or how he developed his game into a style that's unlike anyone else, he wants to just keep going and going and do his own thing. And that takes a lot of self belief.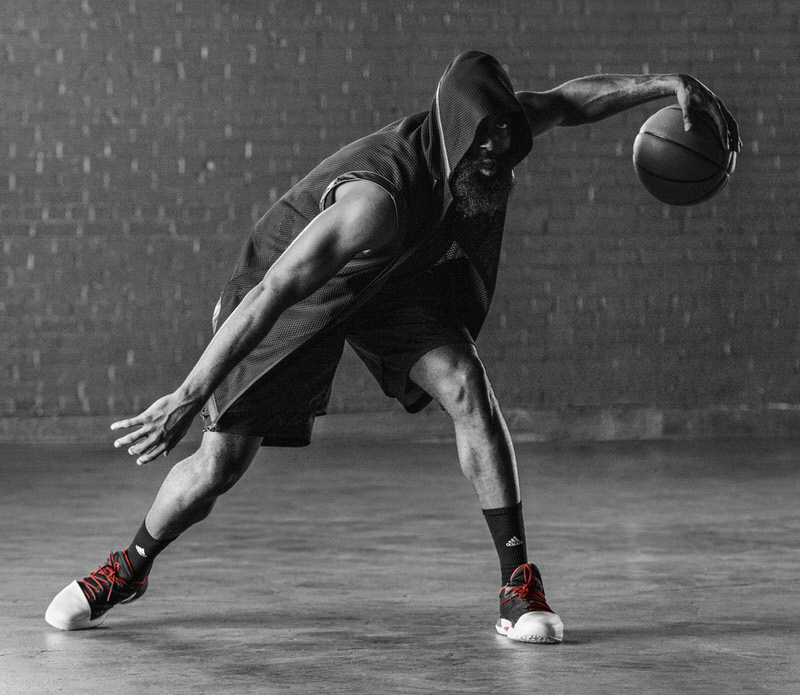 DESIGNING FOR JAMES' GAME ///
NDP: How did his style of play inform some of the performance elements like the toe cap and the outsole?
BF: If you remember the game he played in Portland, he wore a white Crazy Light with a dot pattern on it. Earlier that week, he was doing all kinds of drills in our lab. Essentially, dots on the upper create a dispersion pattern, so you can see where there's stress and strain on his shoes. We did the same thing on the outsole, and we could see how the herringbone was moving on a pressure map. We have a generative software that designs the outsole pattern, so you put all of that information in, in terms of where you want it to grip most, and then the software generates a pattern.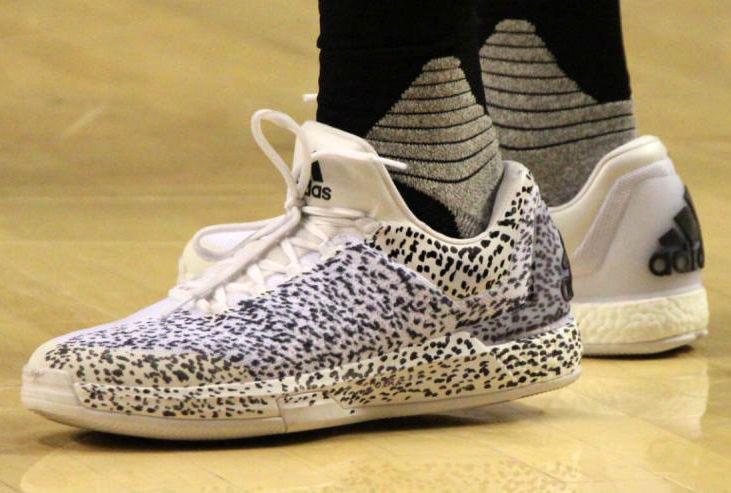 That's where this fractal pattern came from, and then we could adjust the variables from there. Early on, we found out that we had way too much traction in the toe. One of the reasons that the toe box is constructed the way it is, is because he stops faster than almost anyone in the game. When he hits the breaks, you can see guys stumbling past him. He's in the 98th percentile of athletes in terms of quickness when he breaks, so we had to get the toe box right for him. You play the game, so you know what that's like.
NDP: Well, I'm probably in the 20th percentile, and that's at 24 Hour Fitness.
[laughs]
BF: So maybe you're not as fast, but a lot of players have issues when they're slamming into the toe box. We had to ease the grip a little, so that when he started to stop, he didn't stutter too much on his toe. You can see the pattern break apart and then re-build through the toe. Then, the way it's designed through the midfoot and into the heel is completely designed around his gait. The software is amazing, and the more data you enter into it, the more detail you'll get.
CA: One of the cool things from a design aesthetic is that in our earliest meetings with James, before we got to materials and details, we were talking about music he was into and artwork he liked. Some of the art that he was referencing ended up being close to what the ending aesthetic of the outsole looked like. The shoe definitely has a casual look, but then when you start to break down every component and every item, it's all very thoughtful and was done for a reason.
BF: When we started to design the toe, we knew that almost every player faces issues in the toe box when they're slamming against the shoe. James had issues with the footwear he was wearing in the past, but we didn't know how quickly he was stopping until we got him into the lab. We built the toe box first by padding it down, and then we did simple things like not stitching the toe cap down, so you don't get that pressure point across the top where the toe flexes. As he slams on the breaks, the toe and the outsole work together to help him stop but not crash into the toe.
The lacing also moves away from the flex area and is clean. When you watch him, he brings his foot up and slides on his back foot, so by bringing the laces out to the side, it allows us to have the tongue wrap around to the medial side and into the collar. On the TPU midsole, there's a slightly thicker layer on the forefoot for more of an outrigger, and then it thins out in the heel as it goes around and you want more of the Boost feel. The back of the tongue was all about taking that foam package and making it comfortable, but also take away any pressure from the laces and let it breathe with the foot.
What I really liked, was every time we'd sit down with him, he'd say, "Oh, that's really cool. Have I seen that before?" If you said yes, then it was gone, because he always wanted to push the process and try to do different things and keep pushing it. There's a great synergy between brand and athlete when you're comfortable enough go at it and figure out how to make it better.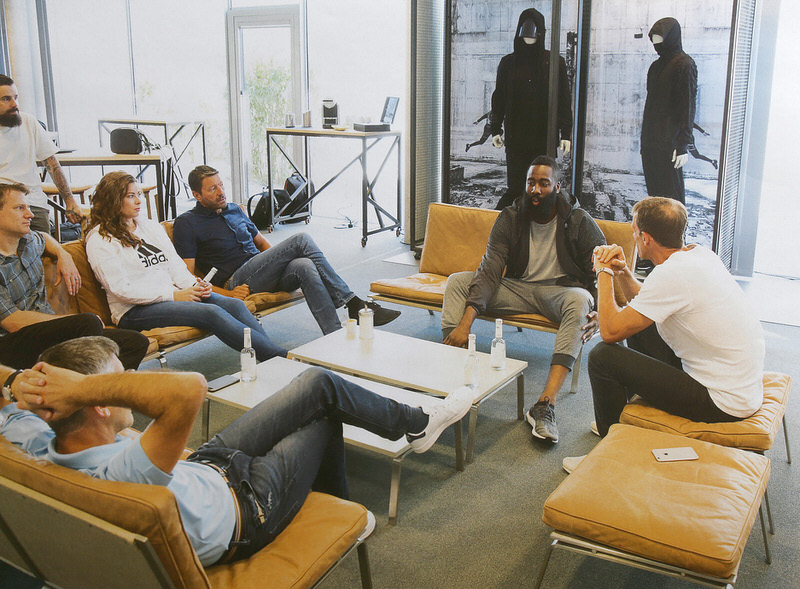 WORKING WITH JAMES ///
NDP: How many times did you guys meet throughout the process early on, and were there any fun team-building type things you did to get to know James along the way?
BF: Well, we had to grow beards. [laughs]
CA: We're still working on getting it to his level. [laughs] I don't know the exact amount of times that we met, but the access that he provided was unbelievable. We'd be at his house or on FaceTime and there were no limits. He understood how much we needed to talk in order to hit timelines.
It's the non-cool part of it, but we have to hit factory timelines throughout, and he was super on board to help us. He's just a real friendly guy, so it was an easy process. Usually, you get guys when they're rookies and they come in and you grow with them. With James, he came to us as an All-NBA player and Olympian, but he acted like a rookie and was super excited the whole experience.
BF: He's on the bus or in the hotel room talking to us, and any time we need to interact with him, he's been great. Part of it is that you need some time to get to know eachother to get beyond the niceties of building product. There was one meeting, where we had shown him an option that we had spent a lot of time working on. We left the meeting, and he was a little quiet.
An hour or so later, the phone rang, and he had this tone where it was like, "I don't know if I should say this or not." So he said, "I love the shoe, I'm really into it, but I want to push harder. Can you do one more option?" In a way, he really wanted to know if we could try to still push it, so that he'd know he'd tried everything. Most people dread those phone calls, but we were excited and welcomed that. There was another shoe that was a little too far, but it informed what became the final shoe.
CA: The great thing is, sometimes athletes are a little shy to say that they don't like something. We were always very clear, and said, "If you say No to all of this, that still informs the next one." We wanted him to be as honest as possible, and so there were some things where he'd say, "I don't like this at all." That was great, and we got to a place where he was 100% on board.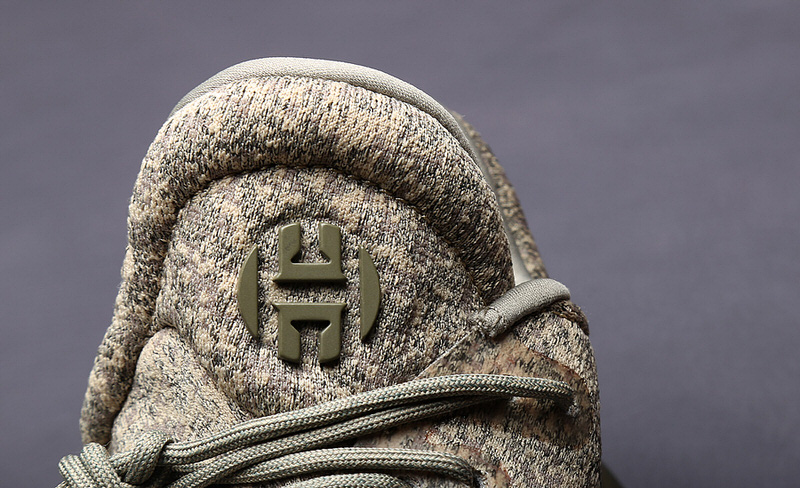 THE LOGO ///
NDP: Can you walk me through the logo? It's more subtle than some other signature logos, so what were some of the key ideas behind it?
CA: When you get into the design of it, we didn't want it to be identical to other things or just a JH13 so overtly. It speaks to James and how he wants to be different. He doesn't set out necessarily to be different, but he just wakes up every day and has confidence in himself. He doesn't have a stylist and goes off his moods and vibes for that day.
BF: At one point too, he was talking about how he thought that was antiquated, and he wanted people to know it was his product without even seeing the logo on it. For a long time, we talked about whether or not we even needed a logo, and just doing something that honors that insight. When we went into designing it, we looked at a basketball court and how we could take inspiration from that. We looked at that center circle, and we ran three stripes down it. Then, we said how he was always shifting the perspective, so we put a square in the middle of the circle and rotated it. It's essentially three stripes, but rotated to create the H. We wanted to find a space between him and the brand. Since we're going to be doing this for awhile, we wanted to have something that could live year after year.
NDP: The three stripes on some signatures has been more in your face in the midfoot, but here it's more subtle in the heel.
BF: When we updated the stripes, you can see it with Dame, DRose and across our whole line, the stripes are really being used in a more dynamic manner. The toe box or the heel really allow it to cascade the eye around the shape of the shoe. If we're doing things that are shifting and asymmetrical, then lets use the stripes to accent that.
PROGRESSIVE APPAREL ///
NDP: What was he looking for in the apparel, so that it was more unique than your typical shorts, tee, hoody and socks assortment?
BF: Since we eventually ended up living with James, [laughs] which requires a lot of energy since he never really stops, we liked this idea of going through the whole day with it. Everything has to meet the sweat test and perform, but we also wanted to develop something that was progressive in silhouette and still inspired by sport and pushes those expectations. On his signature short, there's a long zipper down the side that reveals a pocket, but when you're playing, you can zip that back up. On the funnel hood, he was telling us how he goes to Target all the time, and it'd be nice if he could just zip up and just be another guy and try to hide. He wanted it to be a way to blend in.
NDP: Even though he's 6'5" and clearly still James Harden.
[laughs]
BF: We also took all kinds of images from New York Fashion Week and handed him this big stack of images. He was on the plane to China for a tour with the Rockets, and he wrote notes onto all of the pages and then took pictures with his phone and emailed them to us.
@PROJECTHARDEN MARKETING ///
NDP: What was the idea behind the Project Harden Instagram page, the virtual reality pop-ups and also the quirkiness of the whole marketing approach for the shoe?
CA: We've all been in workshops and group meetings with everyone working on the Project Harden, well, project. From top to bottom, we talked about "Never Follow" and changing the game up in terms of what's expected. If you followed the account, there was always a little bit of confusion or chaos, and that was intentional. We were seeing comments on social media about "When is Harden's shoe coming out?" We wanted to talk about that, but also confuse you and have people asking questions about it. We let people into the creation process earlier than ever before with our footwear.
BF: What I liked about it is we could share that experience with consumers in person, whether it was at an event or at a mall. There's that personal connection where you're putting on the headset and interacting with the brand. The footwear game has gotten real predictable in terms of what it means to bring product to market, and we didn't want to do that and wanted to do something a little different.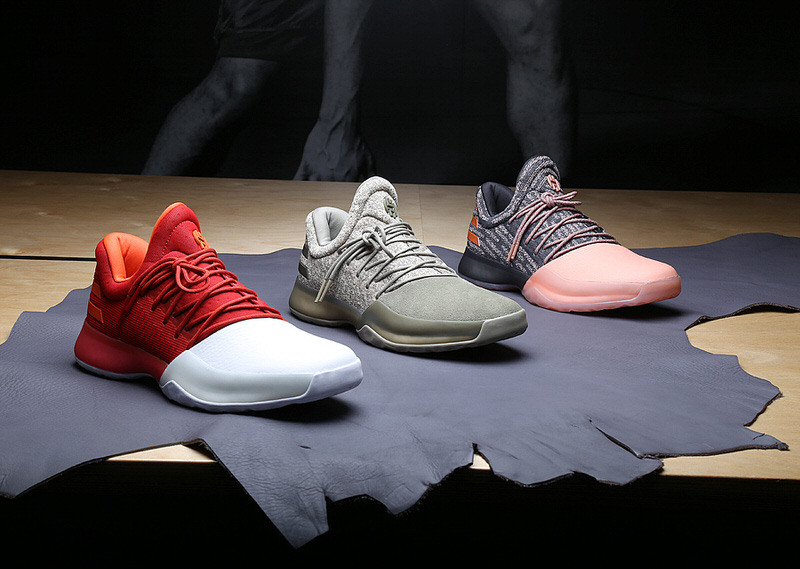 THEMES & COLORS ///
NDP: Were there any themes or color stories he was looking for?
CA: Bringing James in and starting the signature process and getting to know him was a thing in its own right. He told the team a variety of colorways and things that he would like to see, and being that this is the first signature and we have a ways to go, you'll see more and more stories come to life. Even with the naming of the shoe being Volume 1, it lends itself to being able to tell stories and different chapters.
BF: He was talking about his time at Arizona and the level of development that he got there. We thought, ok, well we can just do an ASU feel, or we could do something different. In Arizona, there's a gila monster, which is a pink and grey lizard.
We had been working on a pink colorway around fashion week, but we didn't really think it fit. Then, we showed him the Gila Monster concept and he really liked how that connected. We wanted to take his time in college, but also inspire something entirely different.
CA: One thing he talked to us about his style, was how he has different approaches. He might go more simple from head to toe, and then throw on some flashy shoes. Or, vice versa, where he's simple down low and then something crazy with his hats. We were trying to come up with a blend of making something iconic that also matched his style, that you could also dress it up or dress it down, depending on what mood he's in.
BF: We were going through his wardrobe, and he's got these three wardrobe closets with just a footwear collection that's massive. All of the clothing is all out of pocket and things that he's into. There was this Versace shirt that I pulled out, and there's this leather hunter's patch across the front. He's worn it when he's walked into a few games, and I was like, "What's that all about?" He just goes, "I'm a pure shooter." [laughs]
That was it. But it's pretty funny, because it looks like he's just pushing fashion, but he's also sending a message. He doesn't take himself too seriously off the court, but it speaks to his approach heading to the game. He takes it very seriously, and he hates losing. You can imagine how focused he's been this summer.