words & interview // Nick DePaula:
Known during his playing days for his endless trash talk and non-stop conversations with literally anyone else on the court, Hall Of Fame point guard Gary Payton might be retired from the NBA for close to a decade, but he's still got no problem sharing his thoughts on the league.
Nice Kicks recently caught up with GP over the phone this past weekend, as Payton was in Los Angeles serving as an ambassador for Mountain Dew's cross-country series of "Dew NBA 3x" tournaments. Read ahead for a fun and candid Q&A with The Glove, as he sounds off on signature shoes, who he'd pick for his ideal 3-on-3 team, the superteam era currently overtaking the league, and how proud he is of today's players for their ongoing efforts to increase health benefits and protections for retired players.
Nick DePaula: Since you're on site at Mountain Dew's 3-on-3 tournament, if you were to pick your own 3-on-3 team from the era you played in, who would you have wanted to play with?
Gary Payton: I'd put myself at the point guard, Reggie Miller at the 2 for a shooter, and then big Shaq in the middle. My sleeper that'd come off the bench is Scottie Pippen.
NDP: Oh man, I like that. That's a tough team. And what about your lineup if you played with today's players?
GP: I'd still have to start out with myself, and then I always have to have a shooter. I'd go with Stephen Curry, cause he can shoot the ball. For the big man, you know, it's not too many big men in the NBA right now. That's kind of hard, and I always want a dominant big man in the middle, so either one of the Lopez brothers from Brooklyn or Chicago – that'd be a good one – or I'd go with Boogie Cousins down in Sacramento. He can score and do it all. Then, I'd bring LeBron off the bench.
NDP: LeBron off the bench – I don't know how he'd take that.
GP: He would have to, and he's gonna have to run with it. [laughs]
NDP: Obviously, the Glove was your first signature shoe and a huge deal back in the day. Do you remember what it was like when Nike told you you were going to get your own shoe?
GP: Any time someone comes to you and says, "I'm going to give you a signature shoe and I want your name to be on the shoe," that means that you did hard work and you did what you had to do out there on the basketball court and you made a name for yourself. It's a big, big thing for you to personally have that. You should be proud of yourself for someone to say, "Let me give you a shoe named after you," and then it goes to stores and a lot of people go out and buy it. It was really shocking to me, and just a real honor for Nike to come to me and decide to give me my own shoe.
NDP: We've seen the Glove and Hawk Flight be retroed, and then the Sonic Flight was created too as a new model. Have you guys talked about bringing back any other models from your signature series?
GP: What we're trying to do is almost like what Michael Jordan did early on. You don't want to bring out a shoe all the time. If you bring out a shoe all the time or give a fan access to it all the time, then it fizzles out. You want people to always want it. If they miss a certain shoe, then they'll say, "Oh shoot, we missed it." Two or three years down the road, the Glove came back out and that was one of the hottest shoes when I was young.
What we're going to try to do is to make it more hip-hop, and maybe make it almost like a Kobe and bring it to a half-cut. Maybe bring it down a little lower, make it a little lighter and these kids now want fashion too. They want to be out here rockin' and roll up their pants with these little tight sweatsuits they got now. [laughs] But they look good! So you gotta give them something to look good with. You don't want kids to go to the store and not want to rock your shoe with the way they wear their pants now.
NDP: How much do you still pay attention to all of the signature shoes that Nike is still bringing out, whether it's Kyrie, Kobe, KD or all of the other guys?
GP: You know what, I don't pay attention that much, but I'm really into the Jordan stuff still, because I was with Brand Jordan for a little bit there. I love the Kobes, LeBrons and the KDs, and I'm saying that because my kids wear those a lot. I'm not into checking out all the shoes all the time, but them three right there are really rocking. I think LeBron is selling almost $300 Million a year in product with Nike. KD is trying to get to that level, and you know Jordan is off the cuff and he's almost worth a billion himself. These dudes are still changing the game of tennis shoes in the market. Then, you have Damian Lillard with adidas that has his own shoe too. Adidas is trying to move up in the shoe game. But, you don't see a lot of signature shoes no more, the way you did back in my day. They don't just give these kids a signature shoe no more.
NDP: I remember how back in 1998, there was close to 15 signature shoes, and 4 of them were WNBA players.
GP: Right, and Nike is cutting it down. They don't give everybody a signature shoe, and they put people in shoes now. You have to really be elite now to get a shoe. In '98, I think we had a lot more elite basketball players on different teams. You can go from Utah to Phoenix, to Sacramento, the Sonics and the Lakers. A lot of those teams had as many as three guys that could've been an All-Star and maybe had their own signature shoe. Now, you get all of these superteams, and then you only have maybe one or two guys that could be an All-Star on all of the other teams. Now, there might be four All-Stars on one team.
In my day, we didn't have that. We had Sam Perkins, myself, Shawn Kemp, Hersey Hawkins and Detlef Schrempf. But hey, most of those guys could've made an All-Star game, so maybe we had a superteam too. [laughs] Michael Jordan, Scottie Pippen, Dennis and Ron Harper – who in his day was really good – all of those guys made an All-Star game. There were a lot of teams that maybe you could've called a superteam back then, but it's different now.
NDP: You mentioned superteams, and I'm here in Oakland this weekend. With you being a hometown guy from here, you grew up loving the Warriors. What was your reaction when you saw KD go to the Warriors, and what did you think that team could be?
GP: You know what, today in basketball, these kids want to do that. My era, I never would've went to a basketball team that I was trying to beat. Especially if I was up 3-1 and I could beat 'em. That'd be like telling me in 1996, when the Chicago Bulls beat me 4-2 and my contract was up, that I should've went to the Chicago Bulls. Would never happen!! I wanted to play against Michael Jordan and beat him. I chose to go back to my team. But, this is not our era, and it's a different era where these kids are always together and with eachother. They hang out with eachother, and that's just what they do.
I don't knock KD for doing what he did, because he's like a little brother to me. If that's what he feels he wants to do – then do it. That's what he did. Right now, he made a choice, and I hope that he gets a championship like how LeBron did in Miami. If they're still in their prime, which is a big factor to me, and you want to win about five or six championships that way, then go ahead. More power to you.
NDP: Obviously, your prime was in the 90s, and by the time you went to the Lakers for the '03-'04 season, it was later in your career. How would you compare the two, in terms of how you decided to go to the Lakers with all of the big names then?
GP: Yeah, that's a different aspect. When I went to the Lakers, I was fourteen years in the league, and I was coming to the end of my career and only played like three more years after that. But, if you compared me in '96 and in my prime, and I decided to go to Sacramento, Utah or Chicago in the late 90s, I wouldn't have done it. I was trying to build my own legacy in Seattle, which is where we built our legacy winning basketball games. That's not a comparison to me, just because I was at the tail end of my career.
I still didn't have to do that, but I just felt it was time to not put so much weight on my shoulders and go and get some other players that I could just help. I finally won a championship in Miami in 2006, and that was it. That's just the way the game goes. I wish I could be like LeBron. I went to the championship three times, but only won once. These guys are going seven or eight times and winning three of four, and that's a luxury. If they can do that, hey, why not try!?
NDP: A fellow Oakland guy that you've been real supportive of through the years is of course Damian Lillard. I know you were up in Portland at his concert earlier this summer to show some support. What'd you think of how he released his album last week and how he's been approaching his music stuff?
GP: Damian is like a little brother to me, and I grew up with his father when I was little. What he's doing right now is a passion that he loves. He loved it when he was in college, and he grew up around a lot of rapping in California. Now, I would say to go away from it if he wasn't good. But he's good, and he's doing it the right way. He's not trying to be a superstar rapper, he's just trying to do something that he's able to do in the offseason. He's a basketball player, and he's a superstar basketball player. To me, he could be a superstar in rap, if he wants to, and that would be a first. Shaquille O'Neal tried it, so why not? His album "Letter O" is gonna be a big hit and he's going to sell a lot. He's spent a lot of time and has a passion for it, and I'm with it, I'm supportive. I downloaded it for my car, and I'm going to be supporting him all day long.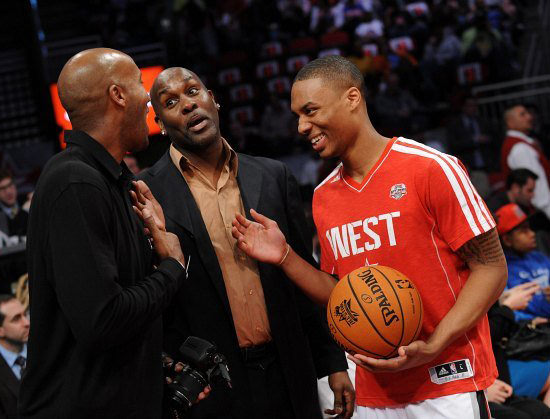 NDP: You tried rapping too, so is there any chance we're gonna get a "Livin' Legal & Large" remix with Dame at some point?
GP: You know what, I ain't tryin to do that! [laughs] Dame is pretty good and he's going into a room and writing lyrics off the dome. I had to get somebody to help me write them lyrics, you know, I'm not going to mess with you. I'll just keep going to the concerts and clapping my hands, and tell him "Good job buddy!" when he comes out to the back. [laughs]
NDP: You went through a lockout in 1998, and there was another one in 2011, but it sounds like the league and the Player's Association are going to come to an agreement on a new CBA here soon. Is that something you still pay attention to a lot, and have you noticed how the current players are really looking to improve the health benefits and pensions for retired guys like you?
GP: I'm proud of them stepping up for the retired players, because we really need that. We see a lot of retired players in every sport that have grey hair now and are broke. Some become homeless, or you see a guy like Earl Campbell, and he can barely walk. We don't need to have that, with the way that these players paved the way for us. When you look at them, they didn't make the money in their day that these kids are making, or the money that I made. So we have to help them out, because they paved the way. We were watching them when we were little kids, and saying, "I want to be like them!" The money wasn't like that then, and I'm very proud of these young kids that are stepping up. We need to give them benefits.
We should also credit Adam Silver on this. We got a commissioner that's stepping in and saying, "We've got to realize that we don't want a strike. We don't want to mess up our basketball, and be so hard on players. We're going to come to an agreement." For us, we have to give credit to Michelle Roberts, our representative for the Player's Association. She's doing a great job too. We're coming together, and we're not fighting now. Before, we'd wait to call for a couple days, and then they'd wait, and we don't want to give our sport a bad look when it comes to the fans. We have two great leaders who are preventing that. A lot of people thought we were going to strike at the end of the season, and now, look what's happened. We have an agreement almost settled in writing and we're not going to have that. Everybody is happy!