words & interview // Nick DePaula:
When Miami Heat star Dwyane Wade initially signed with Chinese brand Li-Ning back in 2012, the news caught everyone by surprise. The Chicago native and lifelong Michael Jordan fan grew up idolizing His Airness, and by extension, naturally his Air Jordan sneakers.
Headlining the annual game shoe as the face of Jordan Brand would appear to have been a dream come true, but for Wade, he was also able to get an up close view at how Michael had built out a long-term business, guaranteeing a generational brand well after he had left the game.
"I was able to see how Michael went from being a great player to taking his legacy from what he's done in basketball and having it live on for so many years," Wade told me at the time. "I had an unbelievable opportunity here to try and follow in similar footsteps, but in a different capacity hopefully."
In China this week for his latest region-wide tour with Li-Ning, that opportunity and vision of Wade's has come to fruition all these years later, as the future Hall of Famer and company announced a new lifetime deal for the brand's defining basketball ambassador.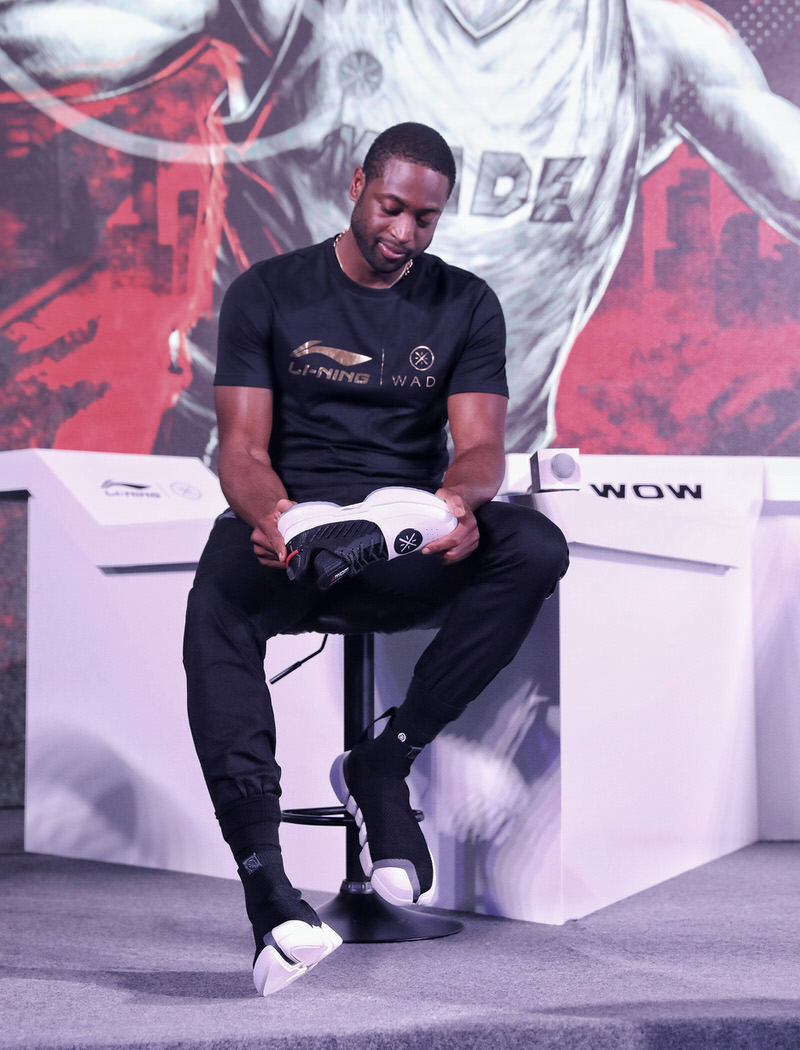 "We are excited to formally announce such a rare partnership with Dwyane Wade," said Li Ning, company CEO, founder and the brand's namesake. "With a lifetime of collaboration in front of us, we look forward to creating new ways to work with Dwyane to bring basketball to both China and around the world."
As Wade discussed over the phone just after the announcement, in addition to new products and stores throughout the region, a big focus going forward will also be launching basketball camps throughout China, passing on his knowledge of the game and sharpened skillset to a new generation of players.
Read ahead for thoughts from an understandably excited Wade, who was still taking it all in alongside his wife and son as they celebrated the news of the new lifetime Li-Ning partnership.
Nick DePaula: As you were closing in on finalizing this lifetime agreement, what were some of the biggest factors you were looking for?
Dwyane Wade: When I decided to make the move in 2012, that was the vision, to be able to go to China and build a brand that was lifetime worthy. I'm going on my 7th year with the brand, and to be at the press conference today and shaking hands with Mr. Li Ning, knowing that we're in our relationship and our partnership and the business has gone well and is headed in a direction that we're all excited for in the future, it was just so cool.
It just makes you feel good when someone believes in you. There are always times where we doubt ourselves, for whatever reason, and I've definitely had that doubt before. The Li-Ning company and Mr. Li Ning have definitely shown their belief in me and their vision for what my brand can become out here.
It's a really cool moment for my son, my wife and some of my friends to be here. I just hope to be able to inspire so many [players], so that if they one day have this same crossroads, where they have to decide, 'Should I or shouldn't I?' I'm glad to be one of the people that can say, 'I think you should.'
NDP: You have 11 Wade stores already in China – what is the plan to expand that even more, and will there also be more of a focus on the US market this time around?
DW: That's always in the works. We want to build more. For us, it becomes about doing even more. One of our goals is to also bring Wade camps all over and really touch kids at a younger age. Mr. Li Ning is very passionate about it, and I'm going to do my part in the community and be passionate about it as well. It's another opportunity to make sure that our brand is visible. We're looking to pass down the game over here. Some of the things that we're doing in the present, we couldn't even think about doing [in 2012.]
NDP: You're now launching your 7th shoe – what have been some of the biggest things you've learned during the process of building out your signature line – and what would you say are the hallmarks of the Way of Wade line?
DW: The hallmarks of our shoes are really doing it the way that I want to do it. Going back to day 1, it was not your typical basketball shoe. In China and everywhere I go, they can't wait for me to bring that first shoe back. Doing it our way, and the motto is "making my own way." Listening to our fanbase and seeing what is needed.
I'm excited, because when I signed the deal with Li-Ning seven years ago, this was going to possibly be my last sneaker as a basketball player at the time. The goal was always to get to the 7. It's always tough as you get older in the game, to keep it going and to keep playing. To be here at this shoe, sitting down and designing what I wanted in the shoe, was a pretty cool moment.
NDP: Any time the words "Lifetime Contract" come up, the first word a lot of sneaker fans think of is Retro. Have you guys started to build out a Way of Wade Retro plan? What should fans expect in terms of looking forward to some Retro models of the 1?
DW: That's crazy to say. [laughs] We definitely have talked about things, and we try to listen to our fans and listen to what they want. The 7 is a big shoe for us, because it was presented as potentially the last one [at one point]. We wanted to also take a look back, and we'll touch on a few things and do some cool stories with the WoW 7 and the Wow 1 this year. I can't wait for the fans to get an opportunity to see what we're going to do.
I had this thing in my mind, where I was saying, 'Well, when do I want to do it?' Then I realized, I don't have to wait until a certain year. I've done it my way, done my own thing and we definitely want to make sure that we spice a little bit in there. I think people will love what they see with the 7 and the 1.
NDP: Only a handful of players have had a true lifetime deal for after they retire – once you hang them up for good, what are your expectations of going to China – will it still be over the summers, or could we see you visit even more often?
DW: Definitely. Right now when I come over, we do 12 days each time. We really get after it in those 12 days. When I'm done playing the game of basketball, this is a big, big part of my brand, and something I'm really passionate about and something I really enjoy and love. To see the flower grow that we planted six years ago, to where it is now, it's something that keeps you getting out of bed. I definitely will spend a lot of time here, and we have things that we're planning for the kids and for the community, that I have to be here for. It's all happening at the right time.
NDP: A big part of setting up the Wade brand long term will be signing additional players to carry on wearing your sneakers in the NBA – what has Li-Ning's level of commitment been in terms of providing a budget to sign more players? What kind of players will fit the Wade Brand?
DW: We've talked about that over the years, and we've dabbled in that over the years, signing a lot of close friends and teammates of mine [like Udonis Haslem and Tyler Johnson]. Using that as a trial and error, and seeing what we need to get better at and what we need to do. It's definitely a conversation for us, and something we're looking into.
I think until it becomes real real, [laughs] and I'm not on the court wearing my shoes, then it really becomes a bigger conversation. Right now, we really are planning and looking to see what it'll mean to have other endorsers of the brand when I'm away from the game. I'm also building out my lifestyle brand and my everyday [products], that people know me for from a fashion standpoint. There's definitely a dual situation.
NDP: Whether it was getting your Chief Brand Officer company badge back in 2012 or opening the first Wade Store – do you have a favorite specific memory or business milestone so far with Li-Ning that sticks out for you?
DW: When I opened my first store, that was something that I wanted to do way earlier than before we should've. [laughs] When I first signed with the brand, we only had one sneaker, one silhouette, on the Wade side, which is what I wore on the court. We just said, 'Well lets see how it grows as a brand.' When we meet, it used to take an hour, and now we take five hours, because we have so many things to go over, look at and plan for.
Opening that first store for me, was BIG. I've watched certain guys and certain fashion brands have stores, and to be able to put myself right next to them all, has been pretty darn cool. I'm excited about it, because we're going to have even more stores across China, and even outside of that one day hopefully as well.