words // Nick DePaula:
For every footwear designer, being tasked with crafting a signature shoe from scratch is of course the ultimate goal. There's no greater challenge, and when it comes to namesake debuts, Paul George's PG1 immediately was placed amongst the greatest first models in hoops history by fans and players alike, in a tier alongside models like the Air Jordan 1, Reebok Question, Air Penny 1 and others.
As designer Tony Hardman tells us on the latest Nice Kicks podcast, following up the much-loved PG1 for Paul's second shoe was a challenge, not just because the consumer expectation had started out so high, but also because of the $110 price point, and the new way in which they tried to bring energy to the launch of the shoe with George's first collaboration.
Listen to the full episode with Tony Hardman on the latest Nice Kicks Cast below, and read ahead for insights into the process of designing Paul George's new PG2 signature model. Be sure to subscribe to the Podcast on iTunes for more designer interviews and footwear industry analysis.
Defining A PG Design Language
Tony Hardman: "As we evolve the line, it'll feel a little more Paul than it might've on the 1, stylistically. Functionally, we hit all of the things that Paul wanted on the 1, but I'm not sure that we defined his style yet. That will evolve. For him, he wanted that strap in the front for the 1, and that was key. We built on things that had worked for him in the past, and then drew inspiration from who he is as a guy on and off the court. The fishing thing was a big piece of inspiration for us last year, and some of that dictated the design of it. You'll see some of his style come into it as we develop his line down the road.
When we started the 2, he hadn't even worn the 1 yet. [laughs] That's one of the weird things about the signature process. It's hard to build on, 'Hey, what did you like? What didn't you like?' I had to do more of an evolutionary thing, where there were some things we knew from early testing when he wore it only once or twice, but not really in a game yet. There were some things that he definitely asked for. One being, he said, 'Hey, I don't want a strap on the 2.' That was one thing. We knew we wanted to continue his lineage in terms of having a Low, and having the consumer go back to that. The comfort was a big thing too for him, and maintaining some of that.
In terms of Swoosh placement, that's kind of iterative, and we figure that out as we go. It's not really a request from him, but there's a always been a nod. With the 1, there's a reverse and a forward Swoosh. That ties back to him being a two-way player, and is a nod back to that."
Working With Paul
Tony Hardman: "Working on a signature line for Nike Basketball wasn't something I took lightly. Basketball shoes are something I've wanted to design since I was in High School, so that was a great moment for me. To jump in on a new guy who was coming in fresh, was really cool. Me being a fan of Paul's, who he is as a person and who he is as a player, it was a good fit. Paul is a really chill guy and super easy to work with. I knew this was also a dream come true for him, and he's a super humble guy. He was excited to be part of the process, and I was the same way.
Paul is a family guy. He'll bring people in and treat them that way. He's super humble and easygoing. The first session we had, we just went out to his house in Indy. We spent the day digging through his closet, looking at his cars and we brought a bunch of shoes to get a feel for what he liked stylistically. What did he play in, and what did he like or didn't like. We set the groundwork with that, which was really cool to get to know him and build on that.
Throughout the process, we'll see him maybe four times a year. We'll check in with him and bring new samples, and a lot of time his family is there. His mom and dad, and his sisters, and they're giving their input. It's cool, and it's really Paul. You can see how close he is with his family, and that was a lot of what inspired the 2. It's really about the people that made him, how he's a family guy and how that keeps him grounded."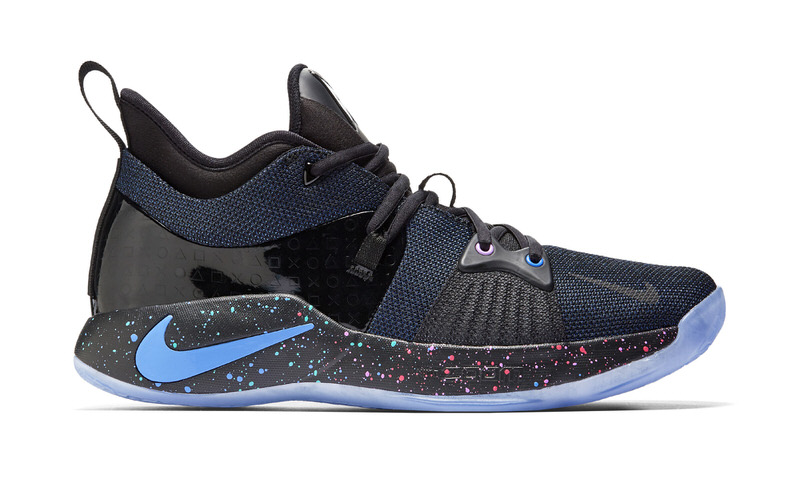 Designing Signature At $110
Tony Hardman: "That's the challenge. People expect a lot out of signature product. It's a challenge to have lots of technology, and obviously, Zoom bags cost money, Flywire costs money, and anything that is considered an innovation. You have to be a little craftier with how you do the design and how you're going to bring energy to it. On the 1, bringing some leather in brought some interest and some different character to it. On the 2, it's the same thing.
The kid wants everything. They want the $110 shoe to be just like the [$185] LeBron shoe. The reality is, it's not going to be. We had to make the best shoe we can. In terms of on-court performance, kids will really feel like the 2 is better than the 1 on-court. It's been amazing. Some people didn't feel the Zoom enough, so we increased it. In the 1, we had a 8mm bag that was bottom-loaded. For the 2, we've gone with 10, which basically means you're standing right on top of that bag and it goes all the way to the rubber.
For now, the current plan is to keep him at that price point. We like having a shoe that's accessible for kids, but they can still get that aspirational signature product, as long as we continue to push the design at that level. He's been happy with the footwear, and it's been super comfortable for him and hitting the mark in terms of what he's looking for on court. As long as we're doing that, for now, it looks like we're going to stay in that zone."
PG's Love For PlayStation
Tony Hardman: "It was actually quite a challenge and a bit of a scramble. To work with a company like that, that knows how to execute things, the communication was great between our teams. I already had a light in the works, based on asking Paul once, 'If you weren't a basketball player, what would you do?' He said something in electronics, because he loves TVs and he loves video games. I thought it would be cool to put something that could light up in his shoes, and I was already working on that on the side. But, I was getting a lot of eye rolls, and people saying, 'Are we really going to do this?' [laughs] People weren't on it and hustling on it until the PlayStation collab came along. I just said, "Yo, this is the perfect place to implement this."
I had already started, and then it was a matter of trying to finish it up and get it into the shoe. When it's a performance shoe, it's always a challenge to make sure that it's still working and no weird things or discomfort come up. We took the Playstation controller as inspiration, and just brought it to life on the foot.
He's a huge gamer. He loves 2K, obviously. He's also big on Madden and Call of Duty, and loves to play online gaming too. I would say he's one of the biggest gamers in the NBA. He's all about it and he takes his PlayStation with him on the road. That's why this PlayStation collab came together and felt so natural."