lead image by @jpgutta_
The phrase "Just Do It" is back at the forefront of sports and pop culture, but perhaps it's just as relevant in fashion and design.
For Mike Cherman, the mind behind the KITH logo, countless Nike Sportswear projects and the brand Chinatown Market, his JDI attitude toward creation is spreading with the intent of more DIY apparel and footwear on the market.
Teaming up with Converse, the Cali resident returned to his home of New York to disrupt the red carpets of Fashion Week to set up shop at the brand's NY flagship to create bootleg Chucks with his team of experimenters and the people of the Big Apple.
From lacing LeBron with 1 of 1s to having Erykah Badu slide into his DMs, hear why his bootlegging brand is changing the laws of collaboration and shifting the perspective on Do It Yourself style.
Nice Kicks: First off, how's it feel to be back in New York and tell us about the Converse event.
Mike Cherman: It's really good to be back in New York and we're excited to bring some of our customizations here for Fashion Week. We've got everything from airbrushing to rhinestones to glitter transfers to hand-painting to the printing gun. We brought almost our entire office out here, so I'm pretty much a little babysitter. [Laughs] We brought it all out so I'm super excited.
Nice Kicks: The bootleg Chucks have made a huge splash. How'd the idea first come about and how does this event see the next evolution of it?
Mike Cherman: You know, that whole thing came out of the idea of taking two of the most demanded things in pop culture and smashing them together. For us, constant experimentation takes place in our office and that experimentation led us to that. Obviously, that bootleg was such a strong idea but it's really about us continuing to tell the story of customization and the idea that Chucks can change all the time.
As consumers of the Chuck we know it's a longstanding staple that hasn't changed in years, but it's our job to show that they're so much more. You can really go crazy with them as a canvas. They're so perfect for us to play with.
Nice Kicks: Growing up in the 2000s whether it be gear or kicks, what was your relationship to both streetwear and bootleg gear?
Mike Cherman: From a young age, I used to go into New York City with my dad. We'd go to Chinatown after he got out of work and we'd go to dinner and buy toys. That left an impression on me as a kid.
But I think the bigger picture is that we're trying to take the whole DIY nature of what bootlegging really is and that's creating ideas that don't already exist and allowing them to happen. It's almost the idea of forced collaboration. It allows us to constantly create new ideas that maybe the powers that be don't want to see, but the idea for us is to show the consumer that the ideas are constantly coming.
Nice Kicks: The bootleg Chucks have been gifted and worn by the likes of LeBron James, Nigo and Erykah Badu. How did that interest come about and what's it like to see them sport your creative work?
Mike Cherman: You know man, the beauty for us is about the idea and less about the credit. It's beautiful when you see LeBron get those shoes and then Erykah Badu hops in your DM and says, 'I need them!' I've been growing up listening to her since I was a kid so it's amazing to see something like that happen.
It's the validation of the idea, you know? We're not out here to say Chinatown Market did this. It's more about can we inspire that DIY nature in the marketplace? After this event, you're gonna see hundreds of kids who went and made their own Converse and activated it themselves to create their own bootleg. To me, that's inspiring and our idea in the first place: DIY, make it yourself and go for it. That kind of spirit is what's going to lead the next generation of creators.
Nice Kicks: Irony and humor are at the heart of the brand. Is it perfect time to be printing a Swoosh on shoes or branding product as Nike when others are doing crazy stuff like cutting the logo off their socks?
Mike Cherman: Exactly, man. We'd like to have that statement to know that we're behind all those things [that Nike is doing]. We're not on the other side.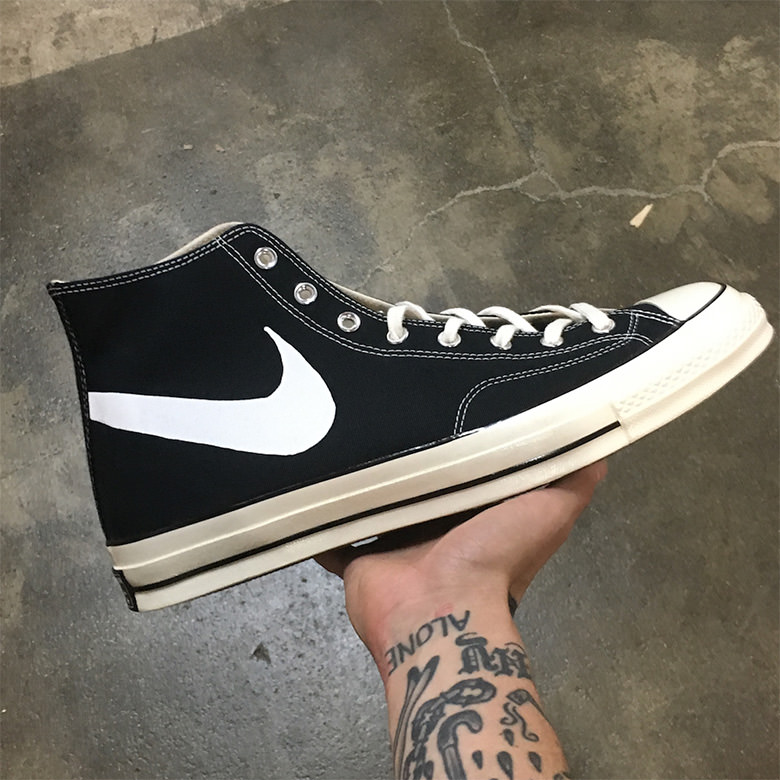 Nice Kicks: Lastly, what's next from Chinatown Market on the footwear tip?
Mike Cherman: Constant innovation on how we approach footwear projects. I think you're going to see some really interesting things from us over the next year. We look to just continue to build our relationship with Converse and try to make some interesting projects.
We want to shake up the industry in regards to how people look at collaborations and how they look at small brands and how they can shake up the bigger landscape of retail across the US and across the world.
*****