words & interview // Nick DePaula:
As the footwear industry has become increasingly competitive in recent years, adidas Basketball is still looking to find its way as it introduces both new designs and new endorsers to the market this fall with another NBA season getting underway. While Nike still dominates with more than 90% market share in the sport, the Brand with the Three Stripes has shifted its strategy to try and find more success at the pro level, hoping that'll ultimately trickle down to sales at the retail level.
At the helm of the brand's athlete partnership category is Michael Ladinig, its Director of Basketball Sports Marketing. In that role, he helps to lead adidas' initiatives in identifying and signing NBA endorsers for the brand, along with setting strategy for its High School and NCAA partnerships.
The company is in the midst of a huge shift across basketball, football and baseball, as it moves away from being an official league sponsor and outfitter of uniforms, and looks instead to directly sign more players as endorsers.
A major step of that shift could be seen earlier this summer, when adidas signed six of the top ten NBA Draft picks and added its deepest-ever roster of rookies. While they missed out on Ben Simmons and Buddy Hield, adidas was able to add several of the draft's most promising players, including Kris Dunn, Brandon Ingram and Jaylen Brown.
"I'm all about people playing the game of basketball," says Ladinig. "For a very long time, we have been talking to fans of the game. We'll be getting away from selling a jersey to a guy who's a fan of a player, but might not play."
Ladinig, a longtime marketing industry executive at Red Bull, joined adidas at the start of 2016, and is already looking to help amplify the ramped up efforts of the brand in marketing NBA players as endorsers. Read ahead for a candid Q&A with the brand's Basketball Director of Sports Marketing — which took place before yesterday's signing of Knicks star Kristaps Porzingis — touching on the category's addition of twelve rookies, how each will be marketed and what type of player could fill what he describes as an empty signature shoe void for the brand.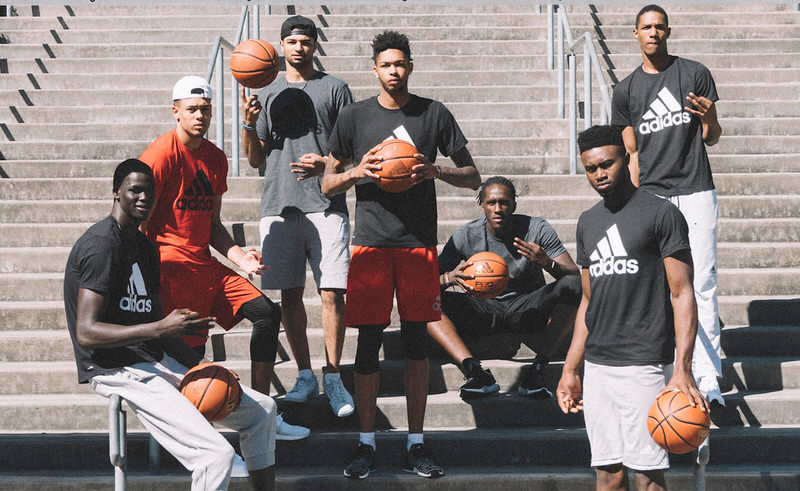 Nick DePaula: The brand signed 12 players in the Draft so far – 6 in the top 10 – which is more than any recent Draft I can think back on. Was it the strength of this draft in particular that sparked that increase, or a shift in strategy to try and sign more players?
Michael Ladinig: I think it's equal parts, Nick. There's several kids in this class that can be breakout stars, and I know that the strength of class was key. There was a lot of focus, of course, on the #1 pick, but I think that would also be pretty shortsighted, and we looked at it holistically. The bulk of these guys are going to be able to go in and have a pretty immediate impact on their team.
Obviously, Brandon [Ingram] will be with the Lakers and it might take a little bit more time to develop. That entire franchise isn't set up for success right away [this season], but there will be a development process there. Kris Dunn may be able to go in and have a real immediate impact, and Jaylen [Brown] as well. There's good diversity in the group and I think a massive amount of upside as we transition to a new phase for adidas Basketball. We're going away from focusing on fan apparel and licensed merchandise, to talking to the players.
NDP: What are some of the traits of the players that made them strong fits for the adidas brand?
ML: The guys that we got are really about wanting the ball in their hands. Not just so they can shoot, but because they want to create plays and create opportunities for their teammates. The biggest characteristic that we're looking for is guys that are hungry and want to be that difference maker.
NDP: In terms of the pitches to the players, what were some things that adidas really tried to convey in convincing them to join the brand?
ML: For us, it was really about how they reacted to the product. There's no connection unless they're feeling it on the product side. If they're iffy about which shoe they'd gravitate towards or weren't sure about having a favorite shoe or seeing themselves in the shoes, then that'd be a red flag. Truthfully, we didn't see that. Our product team has put some incredible products together, and we also gave the guys a sneak peak at the Harden shoe and the future established signatures like Dame [Lillard] and Derrick [Rose]. They really liked what they saw, and then they saw Crazy Light and Crazy Explosive, and that was the validator.
I had a chance to show the Explosive to a few of our veterans during the development process last spring before the season ended, and the reaction when we pulled the Crazy Explosive out of the bag was great. The conversation would stop, and they said, "Yeah, this is IT! This is fire and this is the shoe I want to be in." It really validated what the product guys are doing, and we saw a lot of that from the rookies. Truthfully, there were guys that didn't gravitate to the product that we pitched, and those guys are not guys that we brought on.
NDP: From what I was hearing, a lot of the players really liked the new models and where the category is headed. Then, the strength of Originals and the off-court offerings have been another element that really resonated with the players. How much impact has the lifestyle side had?
ML: I should also mention that when the Harden apparel line was brought out, the guys saw how much that that represents what they're about. They see that as their future on-court and also off-court as transitional apparel. They saw that as a complete package and not just us being footwear centric and then offering them only hoop shorts, a t-shirt and a shooting shirt. It's really looking at the entire line and reimagining it to be very progressive and forward thinking.
NDP: Sometimes, there can be a challenge when you sign this many guys at once to make sure you meet their expectations. How do you plan to activate so many guys at once? Will they all fit within a certain campaign, or will they each have their own individual support?
ML: They'll each have a little bit of support. It's important for any brand, but most certainly for a brand like adidas, to establish them and build them as local and regional entities, before we build them into national and then global guys. Those aren't steps that you can skip, so it's really important that we can activate them and have them be recognized in their local fanbases. We have partnerships with every NBA franchise to help us co-develop these guys. That comes from not only on-court, but from a marketing and community relations standpoint as well. They'll each be marketed in their markets, and then collectively, for whichever shoe they gravitate towards and end up in, we'll activate them around that too.
NDP: In the last decade, we've seen brands be pretty patient in awarding a signature shoe to a player. Obviously you guys have Derrick and Dame, and James around the corner. What are some of the thresholds that a player entering the league has to hit in order to get their own signature shoe?
ML: Good question! I think every one of these guys has an equal shot today at getting signature footwear. It's going to be a total package consideration. Obviously, the on-court performance element, so playing in the Rising Stars, being named Rookie of the Year and later making the All-Star game and getting votes, you can't skip those steps in a career trajectory. Then, there's the other intangibles and also the things that I like to evaluate, like their entire commitment to the process. Whether or not a player is putting in extra time at practice, putting in extra time in their community and also about what adidas is trying to do as a brand, beyond just what the category is doing. Their likelihood to get into signature product is going to be that much greater if they're able to do that.
NDP: Great, that makes a lot of sense, and we can see how each of the current signature guys hits on those qualities.
ML: I'll be very clear too, Nick. There's an icon shoe foot to be filled, so to speak.
NDP: That leads into my next question, actually. The former GM Chris Grancio had referenced how adidas really wanted to be known as the "house of guards." You have Derrick and Dame at point, and James is apparently also going to be playing point guard this year, and has the ball in his hands more often than most guys at the shooting guard position. Is that still the silo you guys will really go after, or is that wing scoring player an open signature window that you're alluding to?
ML: I agree with what Chris' statement was at the time, and I think it's evolved beyond that too. We need to represent the entire position universe to the consumers, and you have guys like James, Derrick and Dame that are very crafty and creative and can get to the rim. But, we also have someone in Andrew Wiggins who is really an above-the-rim style of player, and that style isn't necessarily represented enough in our current portfolio of players. That explosive, dominant and highly athletic player. James and Dame create opportunities for their teammates, but they're not necessarily looking for those dominant finishes in the lane and posterizing other guys. That's the space that Andrew represents for us going forward, and hopefully some of these rookies as well.
"There's a [signature] shoe foot to be filled." — Michael Ladinig
NDP: From a brand standpoint, in 2006 was of course when adidas signed the long 11-year deal with the NBA for $400 Million. After next season, you'll no longer have the official NBA sponsorship at your disposal. My math shakes that out to about $34 Million a year, in terms of the investment that you guys were spending for that deal. Is the plan to re-invest that money into basketball, and if so, how do you envision it breaking up between signing NBA assets and also grassroots investments?
ML: It will be a little bit of both, and that investment had the immediate return that made a lot of sense from a business standpoint. Obviously, the licensed merchandise volume and the profits fueled that investment. Not all of those resources will be allocated, but a healthy portion of it will be. I'm all about people playing the game of basketball. For a very long time, we have been talking to fans of the game. Now, we are very much about talking to players. It's in everyone's best interest to help the health of the sport to ensure that future generations of kids are playing the game of basketball and have the opportunity to do so.
A lot of our initiatives in grassroots will be to bring a focus on the kids in cities that are playing the game for the love of the game, and not because they're on a career track. We want to be talking to them equally and making sure that they have the same types of opportunities to enjoy playing the game of basketball. We'll be getting away from selling a jersey to a guy who's a fan of a player, but might not play.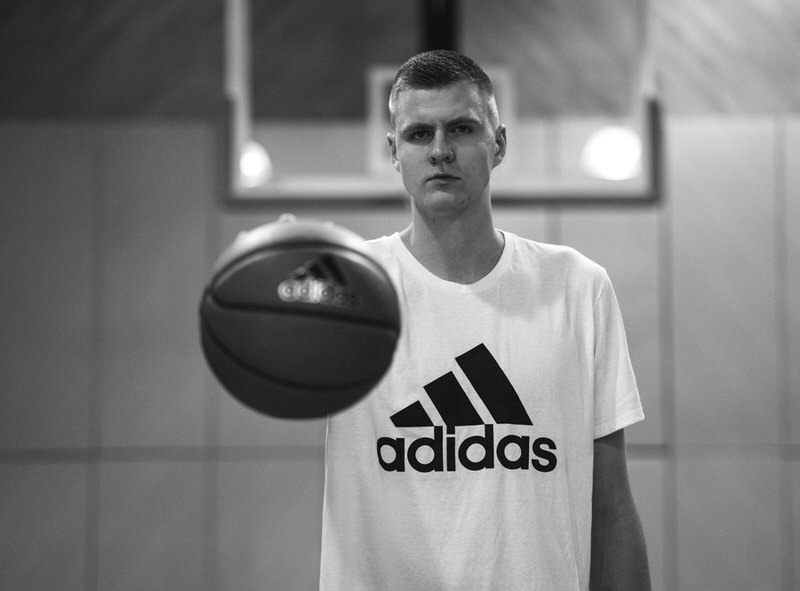 NDP: This summer, the NBA salary cap took a big jump that everyone noticed. How do you think that's going to impact the way that brands offer shoe deals? Do you see shoe deal money similarly rising now, since it might take higher offers to truly get a player's attention now that the team contracts are skyrocketing so much?
ML: You know what, I don't think so Nick. I could be wrong, but I really feel as though the team contracts were really a byproduct of the NBA Player's Association and the league in the last collective bargaining agreement having that revenue from the new TV deal really go to where it should with the players. Shoe deals, in my mind, will continue to be tied towards volume and brand drivers. That dynamic hasn't changed. The audience that we're talking to is still the same. Until that pie grows, then the value of shoe deals will remain where they are. Guys that are going to be lightning bolts are still going to command the top deals, but for the median deals, those should all stay relatively status quo and tied to the economy.
NDP: Lastly, the "Creator" word has really been a key buzzword and tagline for all categories from the brand. Is that something that we'll continue to see drive the vision of the Basketball category going forward, or will you guys be staking out a new strategy from a lens standpoint?
ML: Anything that you see from the brand will still resonate around Creators. That has not changed. The sport of basketball is compelling to people because it is such a lifestyle influenced sport. There's so much immediacy behind basketball. You'll see something on the court one day and on the street the next. That's what's so compelling and so great about the sport, and that interplay between sport and lifestyle is constantly evolving and ongoing.
Fortunately, players can be themselves and be individuals. Unlike the NFL, where they put a premium on conforming. The NBA puts a premium on individuality, and that's refreshing and something we really value too, the way that the players can share their personality by what they do on the court and the way they carry themselves off of it. We really value that, and highlighting Creators will continue to be something that we focus on bringing to life through our athletes. As a brand, adidas has enjoyed some good healthy growth over the last few quarters here. Our intention on the basketball side is for basketball to be a catalyst for even more growth in the future. Hopefully, that's sooner than later. [laughs] That's the intention behind all of the activity in signing guys in the space of basketball.