This week, the Motor City got turned up side down with the scavenger hunt launch of the Detroit Vs Everybody x adidas Originals Capsule Collection.
Taking place on Monday, Tuesday and Wednesday, Detroit residents caught clues each day at 3:13 PM on Instagram, scouring their city to collect each piece of the three-part special edition medallion to celebrate both their home and fresh gear.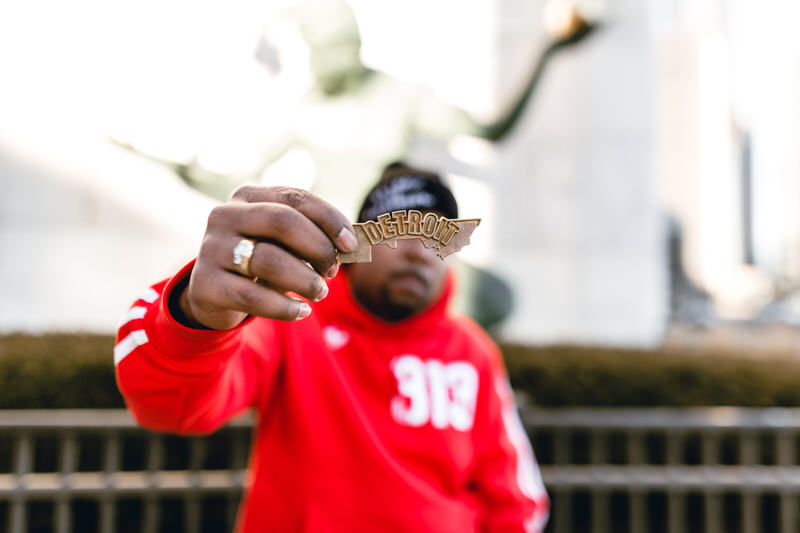 Starting on Day 1, fans found DvE Principal Tommey Walker posted up in the adidas branded special edition hoodie right by The Spirit of Detroit. Fans swarmed Tommey to get the first part of the medallion.
On Day 2, fans found a girl wearing the DvE adidas hockey jersey fittingly in front of the team's arena. Making a run, fans scored the second part of the medallion.
By Day 3, the last part of the medallion was limited to only 13 pieces so things were getting intense. With fans clued to head towards Eastern Market, Tommey Walker handed a pair of the DvE x adidas Top Ten to a young kid wearing the collaborative red hoodie. The kid then ran to a mural – which his Aunt Sydney James (who was part of the clue) painted. The first 13 then claimed the final piece, completing their 3 piece medallion, earning them a spot at the final ceremony.
With 13 winners solidified, everyone headed towards Eastern Market Shed 5 where the 313 Day ceremony kicked off. All winners opened their special boxes with one grand prize winner randomly opening up a box with the one-and-only red medallion. The grand prize? The entire DvE x adidas Originals collection and tickets to all four major sporting events in Detroit!
Big ups to Tommey Walker, Detroit Vs Everybody and adidas Originals for making 313 Day so memorable this year. Peep shots from the festivities below.