words & interview // Nick DePaula:
The charge from Stephen was direct from the start: "Sleek and fast."
For Under Armour designer Kort Neumann, he'd worked with Curry on the much-debated third model of the line on a rushed timeline, and luckily, the process heading into the Curry 4 would be entirely different. They had a full eighteen months ahead of them to get after it, and the 2-time MVP was not only more familiar with the (extensive) process of creating a signature shoe from scratch — he was also more prideful than ever to be more hands on and more engaged along the way.
Curry wanted to follow through on delivering something both he and his fans would be proud and excited to wear around the clock, but also bring a sneaker to life that could bring a new audience to his signature series. While the process originally began a year and a half ago in advance of the current 2017-18 NBA season, as we saw earlier this spring, the Warriors sharpshooter was so excited about his latest sneaker that he debuted them a full six months early for the NBA Finals.
"Every time I look at this shoe, I can remember winning a ring – it's special," beams Curry.  "If you look at the hype around the shoe, and for me, the way it makes you feel on the court, I think we accomplished a lot."
To hear all about the meetings, inspiration and design cues that went into Stephen's Curry 4 model, Nice Kicks caught up with designer Kort Neumann for a deep dive into the shoe. The "More Dimes" colorway is hitting both UA.com and retailers this weekend, once again celebrating Stephen's second title and his rise to the pinnacle of the sport.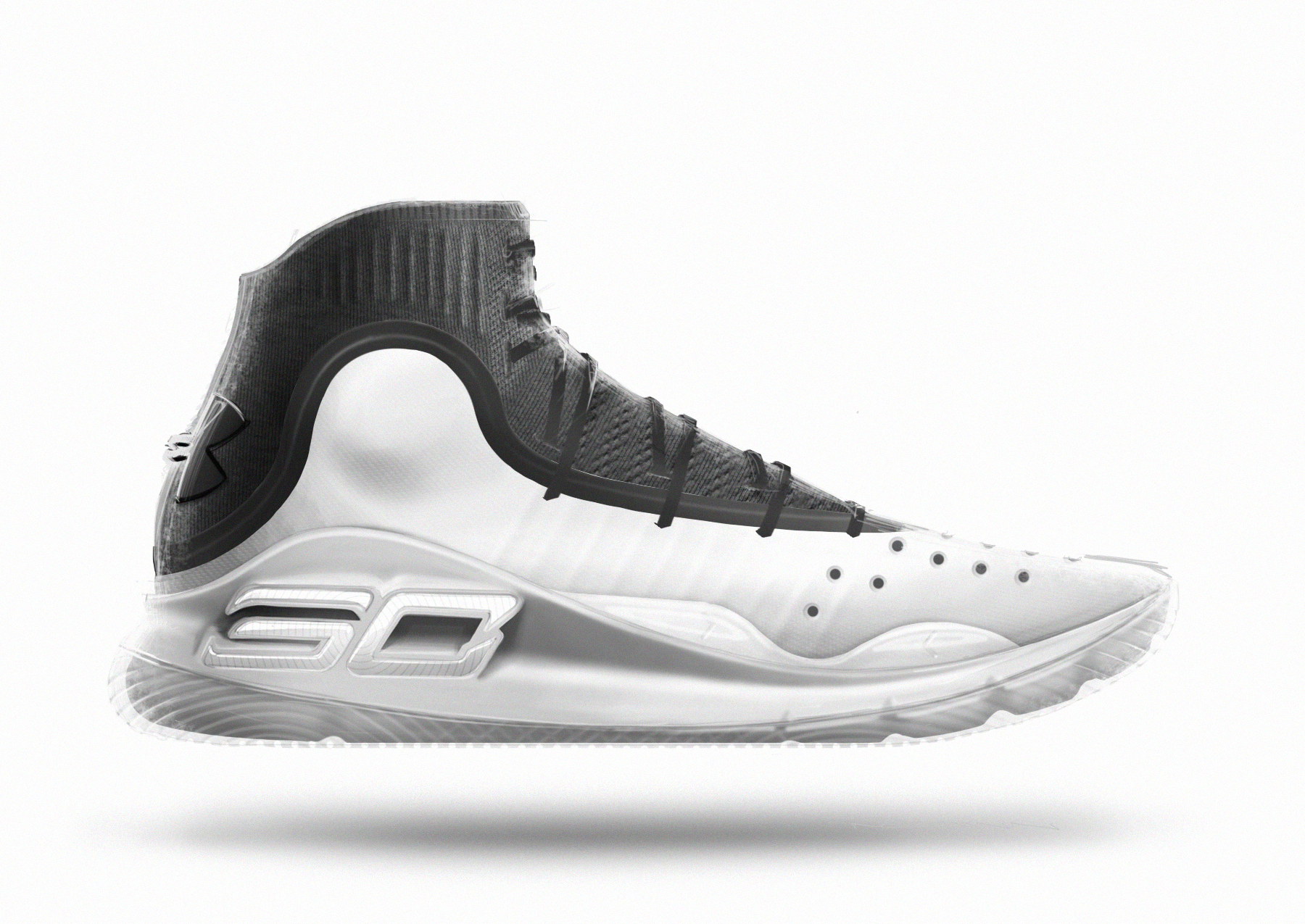 Nick DePaula: You had worked on the 3 and spent time with Stephen then. How far back did the process for the 4 start, and what were some of those early conversations like?
Kort Neumann: The team and I went out to go see Steph, and I wanted to take a new approach and start from square one. I wanted him to be as involved as he wanted to be. We asked him what some of the things he was looking for were. What did he like from some of the prior shoes, and what were some things that we could possibly improve on. From there, I took that information, did a sketch round and interjected some of my own ideas of what I thought could be solutions for some of the issues that he was having.
I asked him to go through a sketch page and see if there were any ideas that he liked. I literally gave him a red pen and said, 'Circle the ones you like, and X out the ones that you really don't like.' He was more than willing. [laughs] It was pretty awesome, and he went to town. It was funny, because the ones that he circled, it was very much what the shoe looks like currently and was an extension of that. It was very collaborative, and for me, it was a different take on getting the athlete to jump in and get his ideas, put them on paper and then hone in on what he really liked.
NDP: Coming off of the 3 – which most everyone liked the performance of, but of course, it had its own section of naysayers outside of that – was there anything that Stephen was really pushing for or wanting to improve upon?
KN: On the 3, we wanted to make it extremely comfortable, as did we want to on this one. But he wanted it to be sleeker, and a bit more holistic. Essentially, he wanted it to be an extension of his foot, and to make it as minimal as possible. We started exploring what that could be, and just trying to get it as close to the foot as possible. Automatically, that directed it away from the Curry 3 aesthetic. That was a little more cush, and a little more built up. It was a performer, but there were different requirements from that shoe to the 4.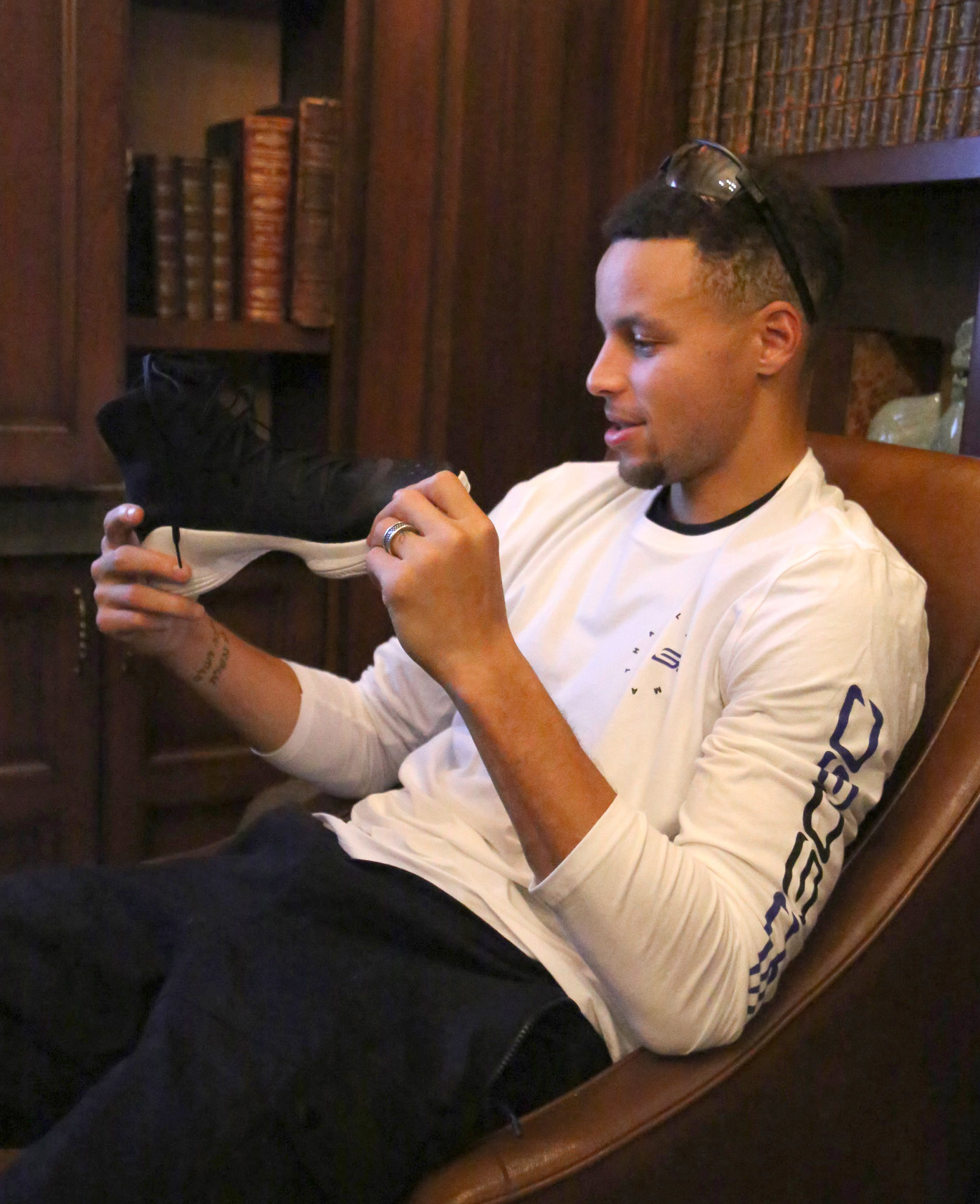 NDP: With sleek being a concept that probably drove you down the path of doing a knit shoe, was that something you guys were looking to do all along, or was it more of a solution based on the form he was looking for?
KN: Actually, no. Initially, he said he had wanted to look at that seamless extension of his foot, and he was basically wanting a moderator between his foot and his ankle brace. We felt like the thing that would hug his foot the most would be a sock [collar.] With our innovation team, we engineered some structures and some stretch to really have it hug the foot well. We added structure and limited stretch into the midfoot to really contain you. Really, we just engineered all of the zones that we felt were most appropriate for his style of play.
NDP: What was it like as a designer doing a knit shoe? Had you done any prior to this one, or was it a bit of a new process?
KN: I've worked on knit shoes prior, but this was the one where we really started with Steph's needs and pure functionality in mind. My school of thought was function first, and then the design will follow. I really wanted to contain his midfoot, and we also wanted for the forefoot to be locked, but not as much as the midfoot. Ultimately, we have a high stretch in the collar area, so that he can get his foot in there and the brace. That was really the biggest engineering issue – getting the collar to stretch enough, while also containing your foot. He also wears an item on his ankle with the brace that's large. That was the biggest solution, and our innovation team was able to come up with an idea and a structure that works. This was probably the most technical shoe we've done.
NDP: As I was zooming in and looking through some of your sketches, I noticed in your notes that you wrote "Strong SC branding" – how far back did that come into play and how did those conversations go?
KN: Funny enough, that was one of the sketches that he really circled heavily. To the point that he almost ripped the paper. [laughs] He wanted to have that strong SC logo. He liked it in the tool and that it was in the lateral heel. It was one of those things that I knew was going to be a must, just due to the way that he circled it. That was always part of the design from the get go. On the 3, you had the large SC in the heel. He wanted it to be slightly smaller, and not as overstated. We wanted to have it be SC first, and then the UA "heartbeat" logo second. We put the UA in the heel, and put the SC on the lateral.
NDP: There's also the <> icon and the family names along the outsole. What are some of the other personal details and touches throughout the shoe?
KN: On the 4, we have his initials on the inner collar strip, and we have the IV that's running through. It's more subtle, but we tried to tie in concentric circles with the outsole design. He happens to share his birthday with Einstein, which is Pi Day. Taking the theory of relativity, and addressing that with Stephen being a genius on the court. We wanted to have those concentric circles on the traction, and tie that back to his connection with Einstein. We thought that'd be a fun story. It's subtle, but it's there. [laughs]
NDP: How does the shank and plate work?
KN: We have a speed plate here, that acts as a moderator and provides some stiffness to propel you forward, but also some lateral containment and forefoot flexibility. That was a really big thing that we wanted to push on this shoe, to really sculpt out that midfoot to expose the shank and give you a visual that it's lightweight. The plate wraps around and is exposed on the lateral forefoot, where it really contains you.
NDP: How did the concept of him debuting the 4 early in the Finals come up?
KN: From the get go, he wanted to wear it early. We gave him a sample in his size last December, and he wanted to wear them all the time. That was kind of an indicator for us that he really liked the shoe. When it came to practice, he wanted to keep playing it in, and then wear it outside of practice.
NDP: What was it like to see your shoe worn on that stage or for that moment?
KN: Oh man, I was super excited. I was at home, hanging out with the family and some friends. First and foremost, I was super nervous, because I just wanted the shoe to perform. Him putting it on, and seeing the feedback on Instagram from people that were interested in it, that got me excited. The fact that he played well in it, from the first game and all the way through, I couldn't ask for more. That was kind of the perfect introduction.
NDP: Did you have a favorite colorway among the ones he wore? For me, I really like the black suede one with the white midsole.
KN: You know what man, I really liked the white with the gold speckles. I'm not usually a huge fan of that, but that one came out phenomenal.
NDP: What's your process like for checking out feedback? Whether it was the "Chef Curry" 2 Low or the Curry 3 – we've seen people sometimes have no shame in making it known how they feel.
KN: As a designer, I just brush it off. I'm trying to address Steph's needs and create shoes to the highest level. Ultimately, I'm trying to make the most beautiful product that represents Under Armour's DNA and also Steph's. I think people will catch on. There's a lot of haters regardless, and I think there's going to be a pivotal shift, where it's not going to be an easy target anymore to just kind of dismiss and rip on Under Armour basketball shoes. I think that's happening with the 4.
"I think there's going to be a pivotal shift, where it's not going to be an easy target anymore." — Kort Neumann
NDP: Definitely. And we've seen from both our Nice Kicks audience and also on Twitter that this has been kind of new territory for Stephen in the line. I was also noticing that Steph has worn a 4 Low at media day, a few pre-game warmups and just to kick around. How did the design of the Low differ from the Mid, and what's the timeline for those to release?
KN: We wanted to keep that same knit structure and construction, but we created a leather molded heel that folds in on itself and creates an inner cage. You're lacing through the inner cage, but it's part of the heel itself, so the whole thing can compress and hug your foot. There's also some molding in the heel that locks it into place and give you a nice feel. The construction is slightly different. It's not a full knit, I'd say it's more of a three-quarter knit. It's really more about how the lacing interacts with that heel piece to lock you in.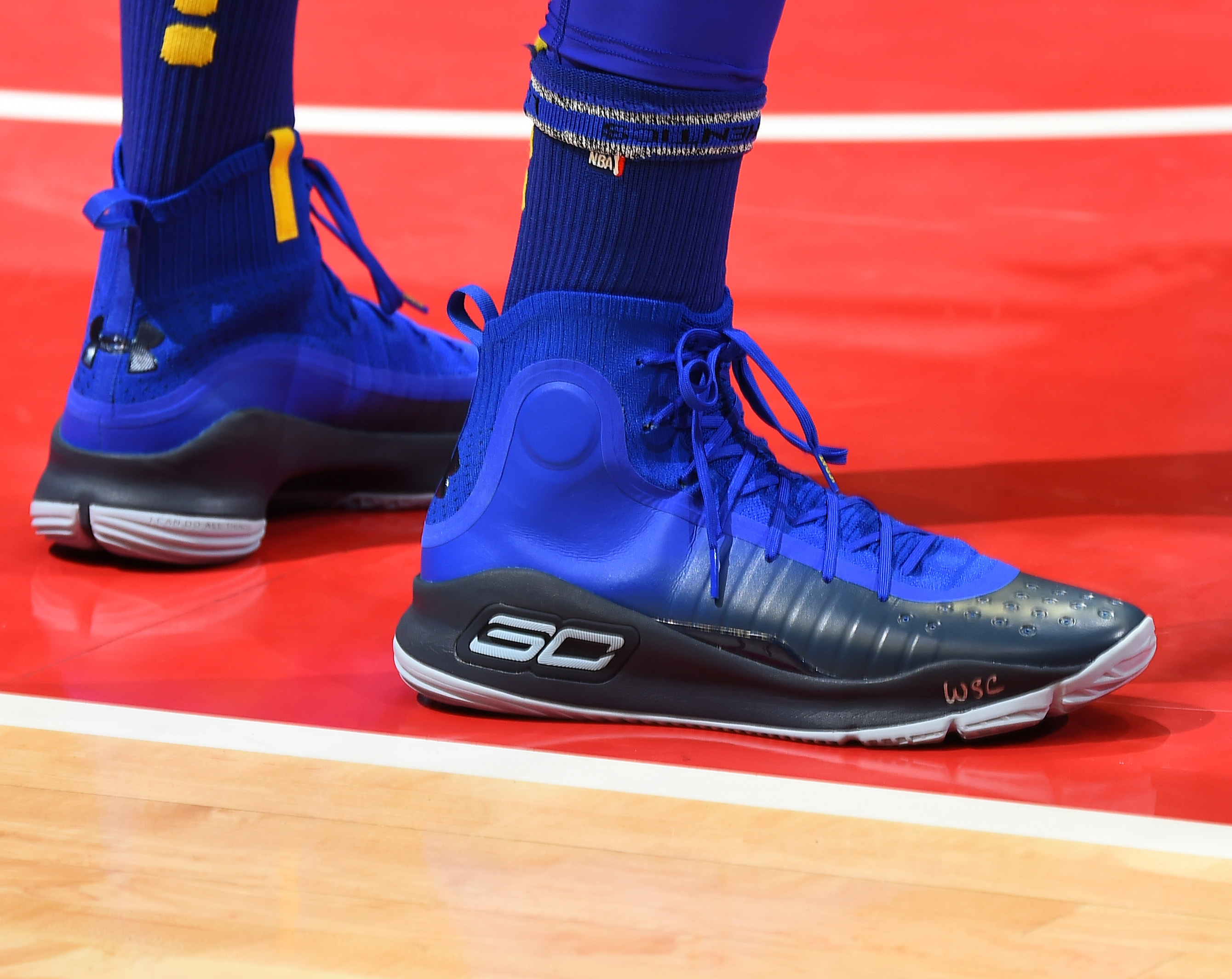 NDP: People liked the all yellow one that he wore at Media Day, and I really liked the royal and gold Low, along with just the black and white pair. Another thing I noticed when I was looking through your sketches – and I'm not great with cars – but I think it was a Porsche Panamera, which I know Stephen has.
KN: That was my ill-attempt at drawing his GT3 actually – he has both. [laughs] It's low and wide, and I thought there were some interesting lines in terms of the softer gestures that were there, and that we could apply some of that aesthetic into the shoe to get to a different place than the Curry 3.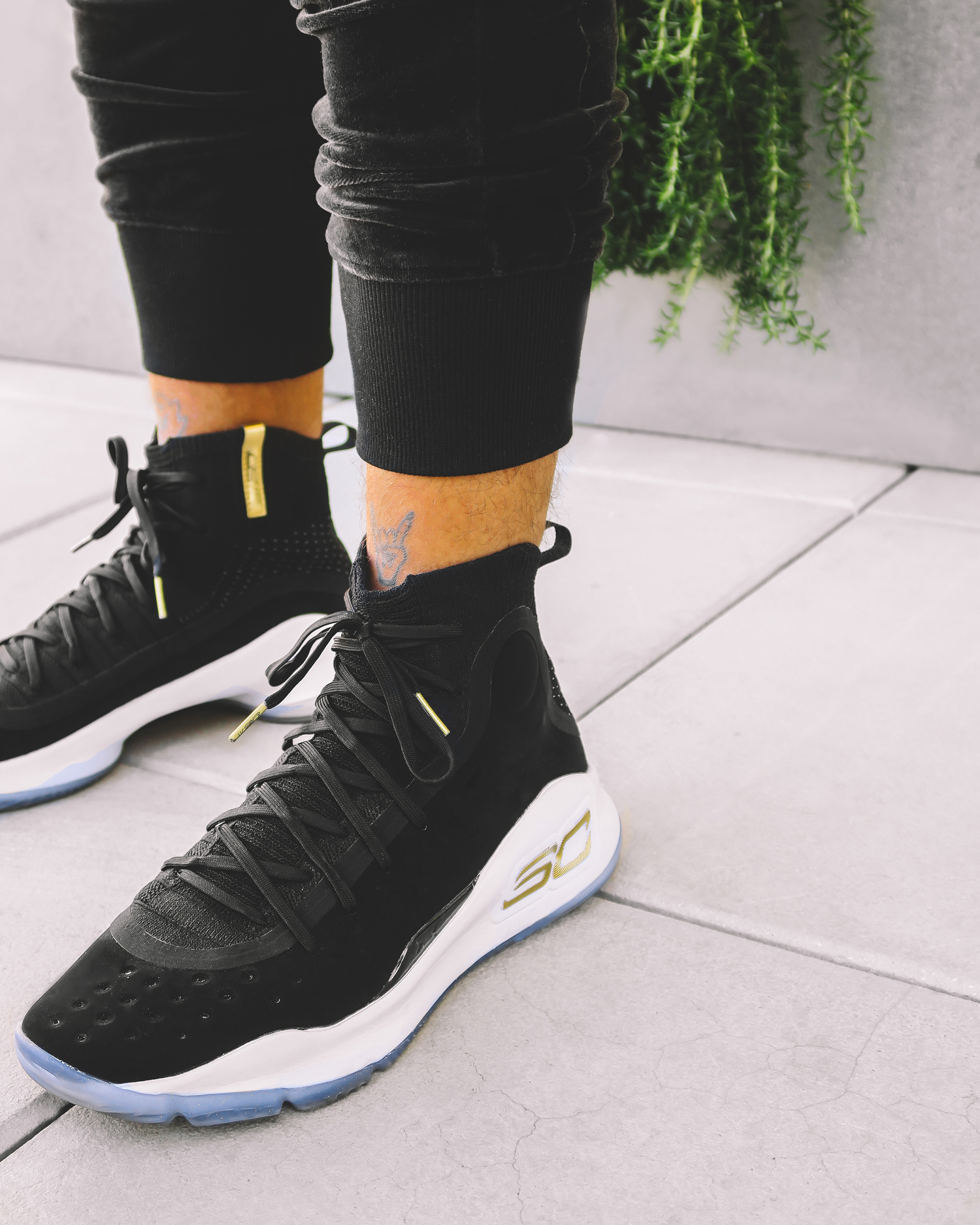 NDP: Historically in signature shoes, guys have looked to cars or different objects for inspiration. Was there anything else in addition to that GT3 that you and Stephen talked about?
KN: Absolutely. Something as simple as the car he drives, or little things that he's really vibing on that we can apply to the shoes. It can stem from anywhere. Anything that he's interested in, we should be able to take that information and apply it to a tangible form. The car is an easy extension of that, and that was more about taking the gesture of it and applying some of those lines to the shoe. It was something that we could do to help make it more personalized to him.
NDP: On that same note, through the years of Stephen being in the league, we've seen him evolve from more of a track pants and running shoe or slides look, to now a more stylish look with different jackets and considered outfits. How much did that play into the fact that yes, this shoe is built for the court, but he's also probably looking to incorporate it into his entire off-the-court world as well.
KN: That was a huge part for Steph. He wanted the shoe to be wearable on and off the court. Prior to this one, we were really focused on on-court performance and making a total performance shoe. With the 4, we still wanted to do utter performance, but also make it wearable. The style aspect of it is huge, and that definitely was a big part of this shoe. Keeping in mind that we wanted it to be more wearable.
NDP: Just in thumbing through all of the comments that we get, that was probably the biggest thing that that I noticed these last few weeks. This year's "DubNation" still has that same nickname, but it's more subtle with the blue to navy fade, and not as overt as the royal, yellow and black versions we've come to expect. How much did that insight to be more wearable also impact your approach to color?
KN: When it comes to color and color story, we've got my man Tom Spence on that, and he crushes it with his color, his stories and his different takes on application. Taking it away from more of a conservative viewpoint of what signature shoe color used to be, he's really pushing the boundaries. Personally, I love it. His "DubNation" colorway is amazing. Applying more of that street-able and off-court vibe to the color so you can wear it on or off has been big.
For a look at the "More Dimes" Curry 4 on-foot, be sure to check out our detailed feature.