While the chunky runner and technical running shoe movements are both among the popular footwear styles in the marketplace for 2019, there's another wave that's also gaining momentum. This trend is as simple as it sounds – running shoes.
These offerings aren't the retro offerings from the late '80s and early '90s. Nor are they the futuristic styles with GORE-TEX uppers and speed lacing systems. Plain and simple, they're standard performance running shoes. While these silhouettes have transcended onto the feet of runners around the globe, they've also been spotted all over streetwear lately.
Since street style today is also being created with a performance twist amongst the heavy-hitting streetwear and luxury brands, it's become a no-brainer for running brands to bridge the gap between their running and fashion focused audiences. While it's their latest and greatest aesthetics in the market that have gained traction, it's also a newer variation of retro, as an assortment of companies, like Nike and adidas have even brought back silhouettes from the early '00s.
While 2019 and beyond might seem like an "It's everything goes kind of trend," it's also worthy to mention the shift that's beginning to take shape in footwear and how people are wearing these styles.
Here are some of the most relevant performance running offerings spotted throughout street style.
Nike Zoom Vomero 5
Performance apparel has become a go-to move for streetwear and luxury brands alike for 2019. And it doesn't seem to be slowing down anytime soon.
That being said, the key component to performance styling is functionality, applying practical components to clothing that incorporates various design nuances, like sleek side pockets, hidden zippers, and technical fabrics that make it easy to pair with the athletic makeup of Nike's Zoom Vomero 5.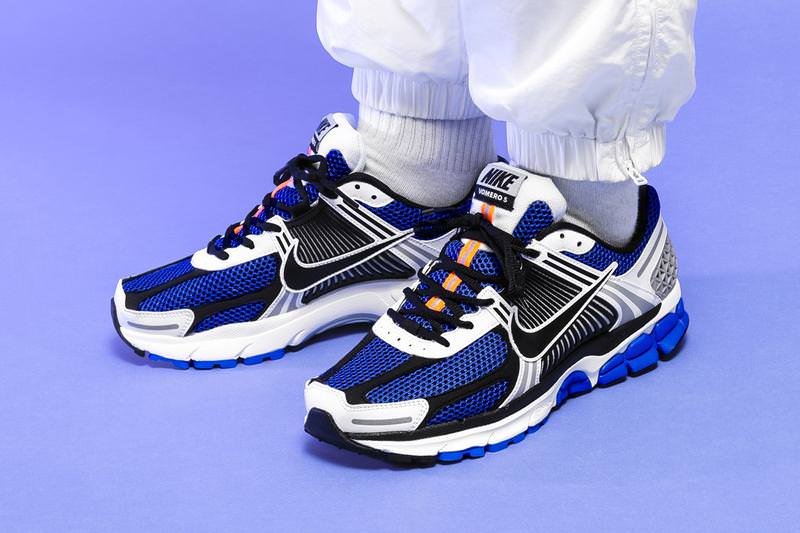 From 2012-2015, brands were taking a more fitted approach when it came to creating basics. Sweats and tees were sleeker with a more tailored fit.
But in 2019, its back to baggier and looser fitting silhouettes that have a relaxed feel, which makes sense as shoes, like the Zoom Vomero 5 have a chunkier aesthetic to begin with.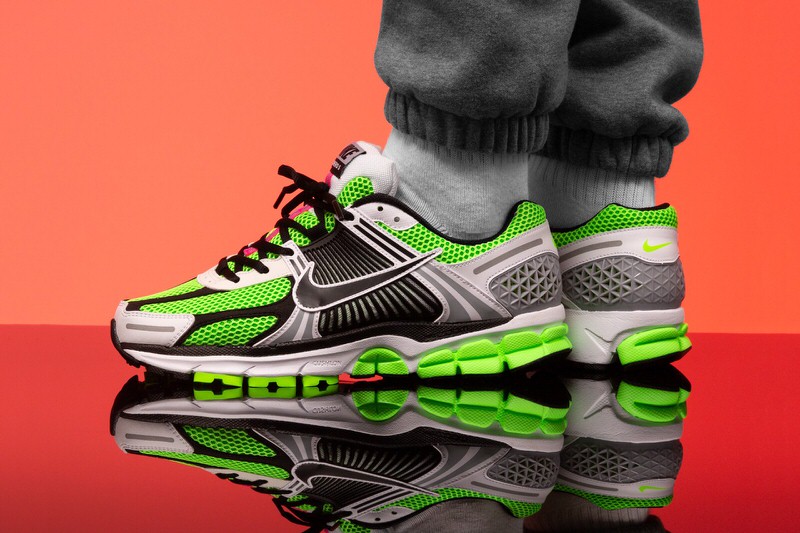 Technical pants and utilitarian styles have become an easy pairing with Zoom Vomero 5s because of their performance geared designs, but there's a less conventional styling method that's starting to speed up – suits and cropped trousers.
During LeBron's injury stint this past season, he wasn't letting that stop him from showing up in a big way, pairing his A-COLD-WALL Zoom Vomero 5s with Thom Browne suits and cropped slacks throughout the season.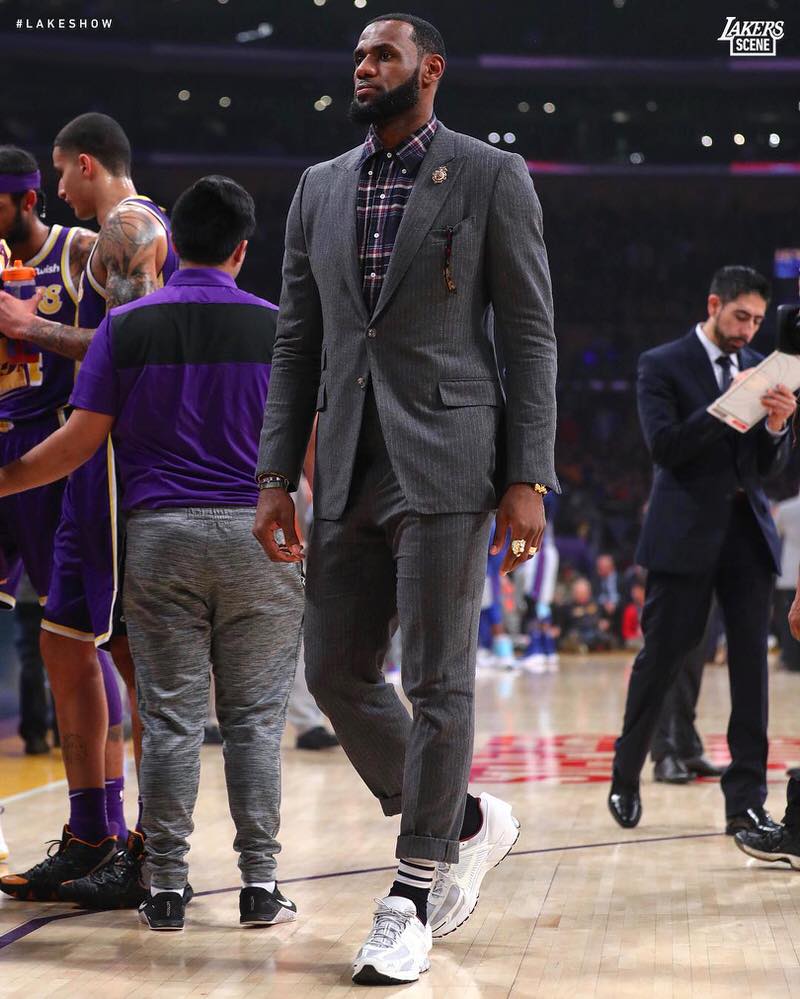 Shortly after, street style savants around the globe were also applying the same method – even loosening it up with just a pair of  cropped chinos with white Nike socks showing.
The Nike Zoom Vomero 5 is now available at select retailers, like Asphalt Gold.
Nike Zoom Fly SP
While adidas' UltraBoost series was catching the limelight on the Three Stripes front, it was the Zoom Fly SP that was turning heads from the Swoosh.
Technical, yet fairly minimal, this silhouette is easy to style beyond a runner's perspective. Just as well it paired well with functional apparel styles, it was also versatile with sophisticated silhouettes, ranging from tailored slacks and wide legged trousers to cargo pants and oversized sweats.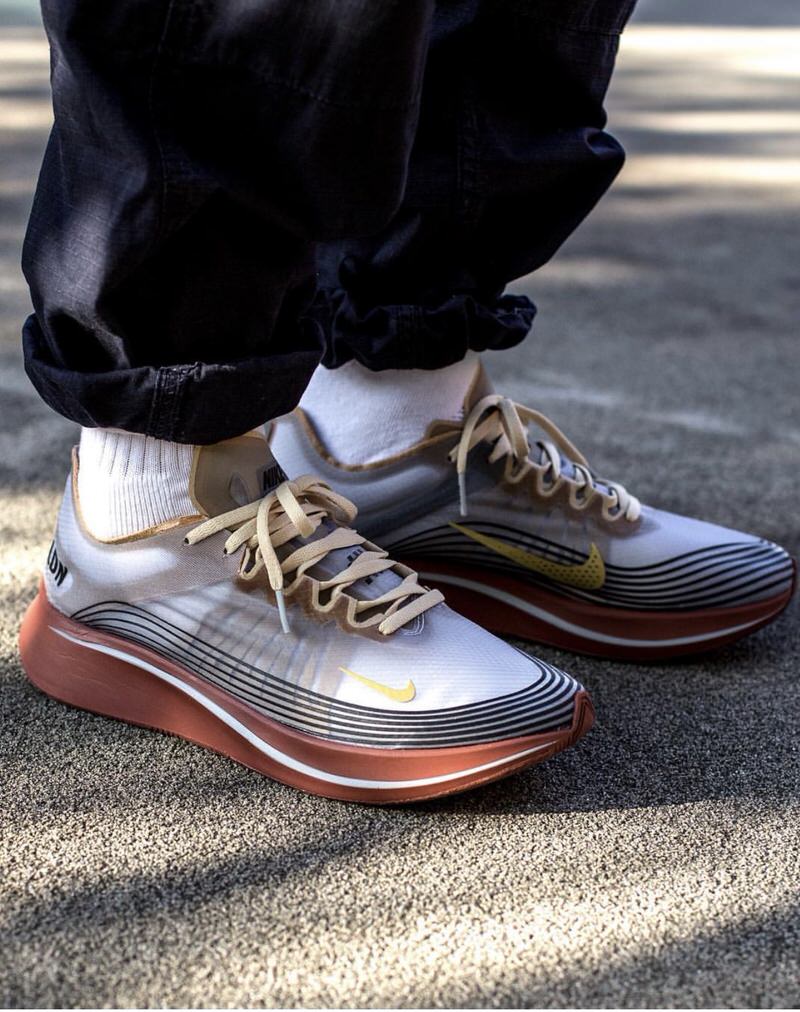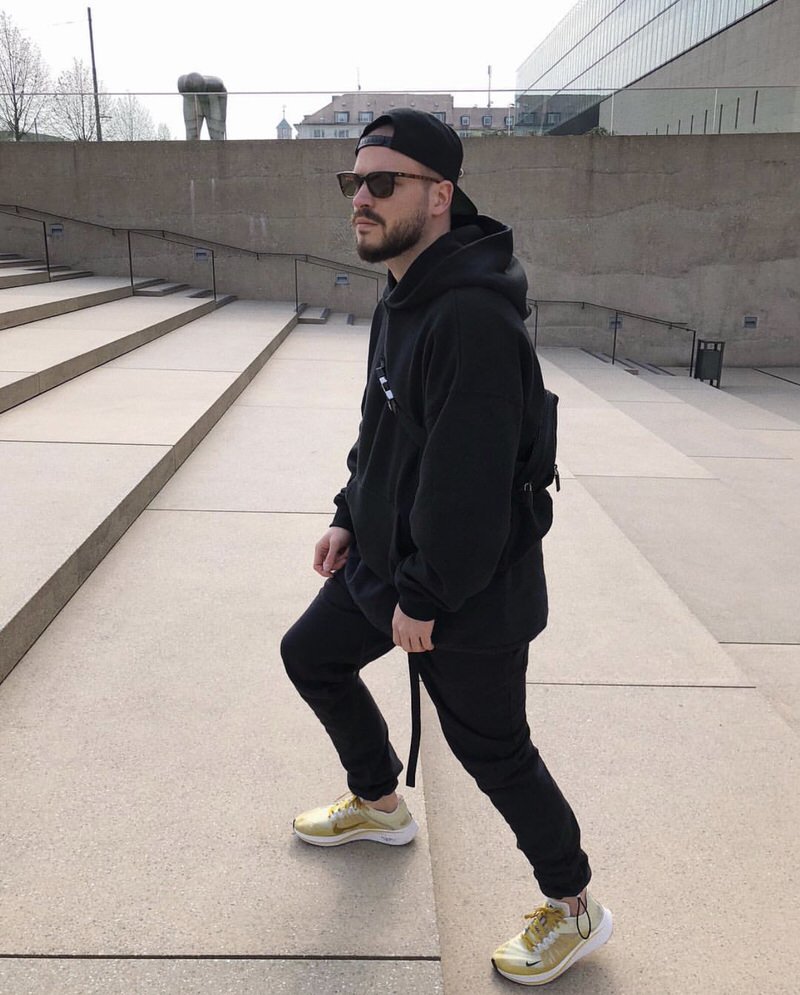 Like most shoes that gain popularity in the sneaker community, it's usually because someone of influence put them in front of the public eye.
While several colorways had already released, the OFF-WHITE offerings were another reason the shoe started building more momentum. Its "inside-out" reworking was still toned down enough that made it compelling for both minimalist and maximalist wardrobes.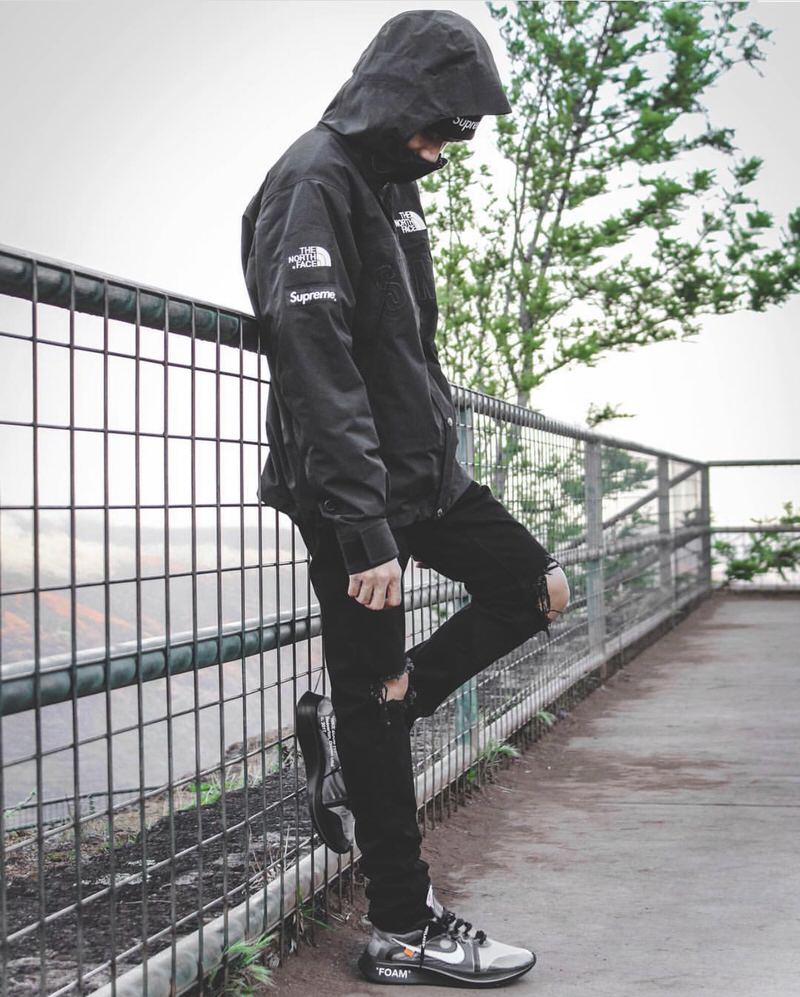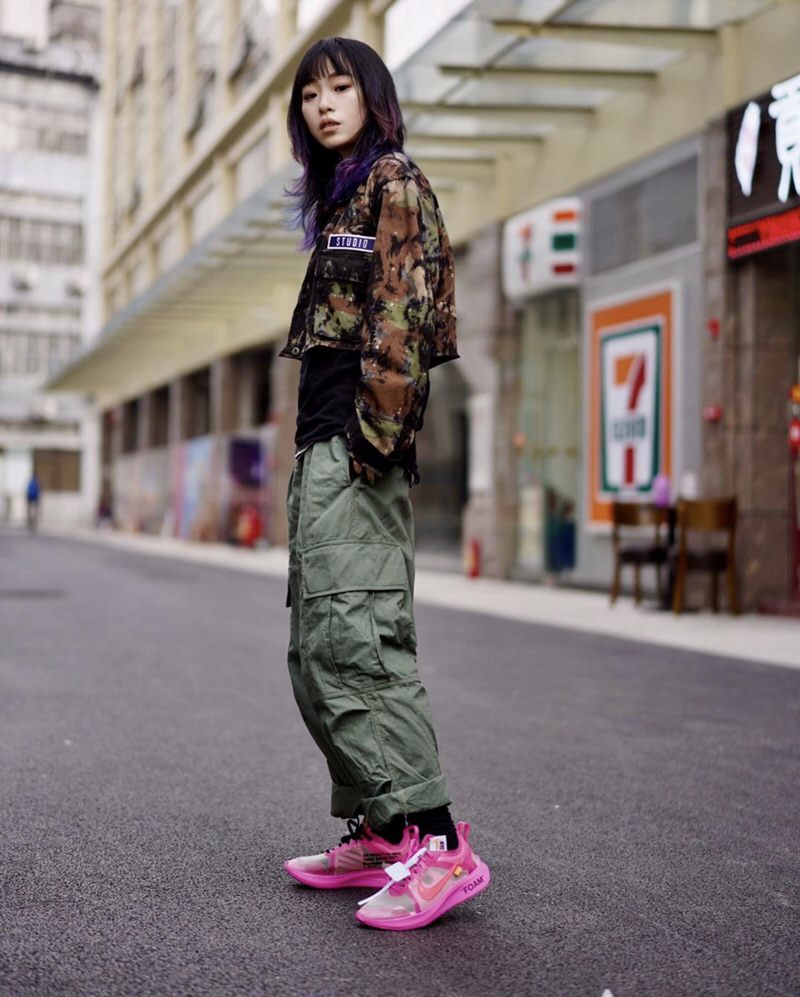 Nike P-6000
While the general makeup of running shoes focuses on brand technology that's designed to maximize performance, the P-6000 keeps the high-tech components fairly concealed – meaning technical/athletic apparel isn't always required to style.
For a street style aesthetic, these shoes pair well with oversized denim jackets, cuffed wide-leg trousers and boxy crewneck sweatshirts. That being said, they also work with sweats, rain jackets, and joggers if a more technical look is desired.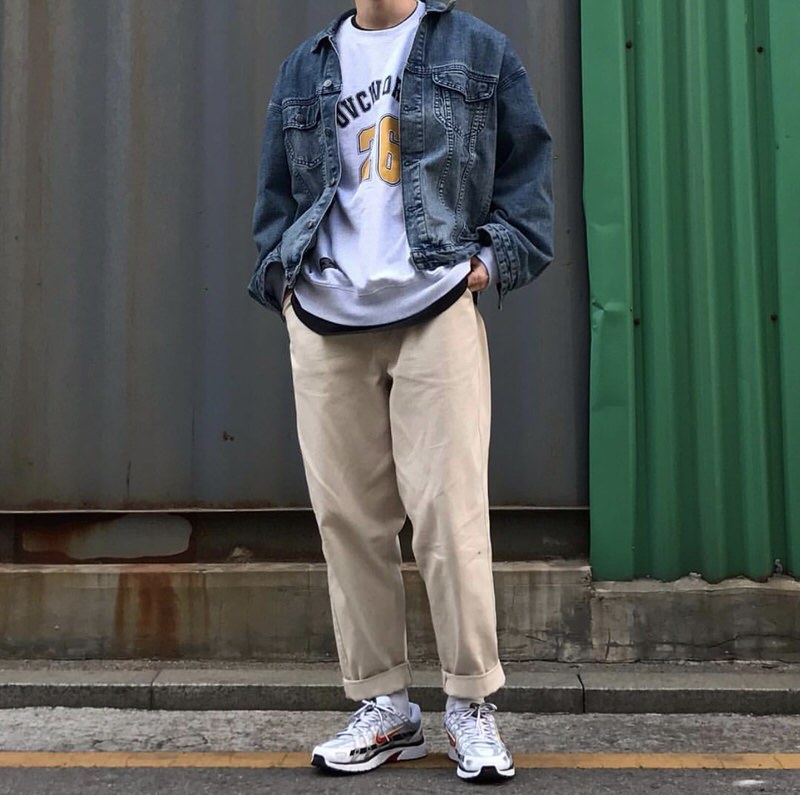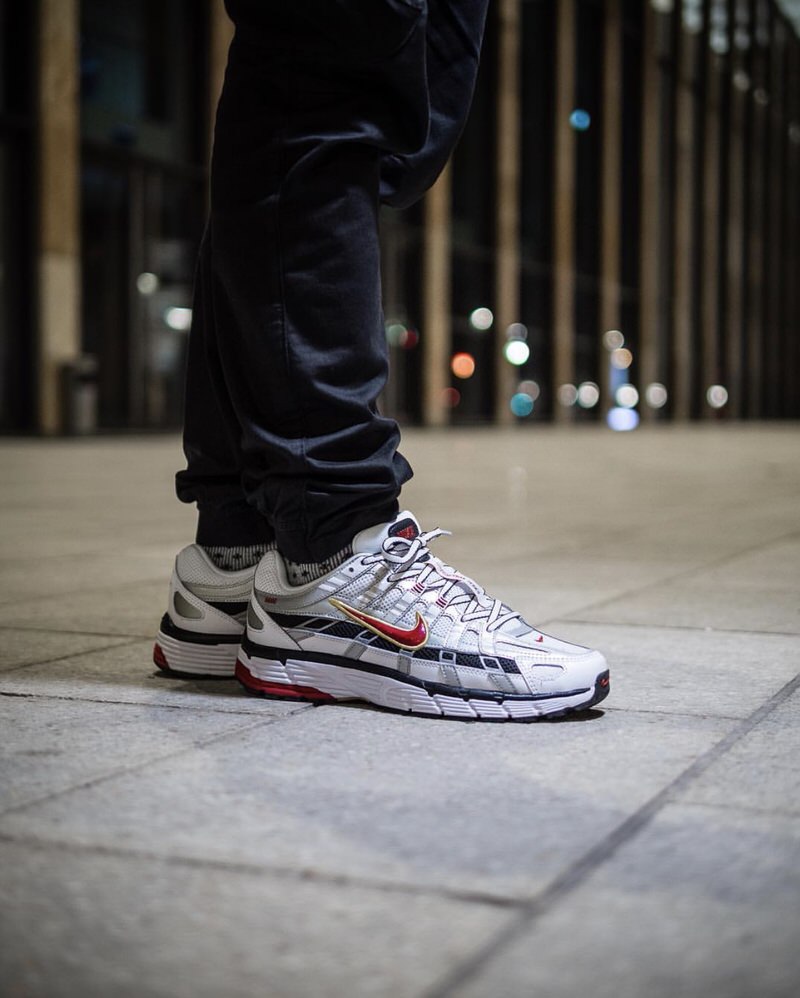 adidas UltraBoost
The UltraBoost wave hit hard shortly after musicians like Kanye and Pharrell joined the Three Stripes force.
But it wasn't until that iconic photo where Kanye was wearing the UltraBoost 1.0s during his BBMA performance in 2015 that they really took off.
Since then, streetwear fanatics, sneakerheads, and high-fashion icons alike have found all sorts of creative ways to style the performance runner.
Whether that's thrashed Fear of God jeans and boxy fitting sweatshirts, like Jerry Lorenzo was predominantly wearing in 2016 or a technical pair of running pants and a bomber jacket that Ye wore on stage the year prior, there have since become an assortment of wardrobe pairings that match the UB aesthetic.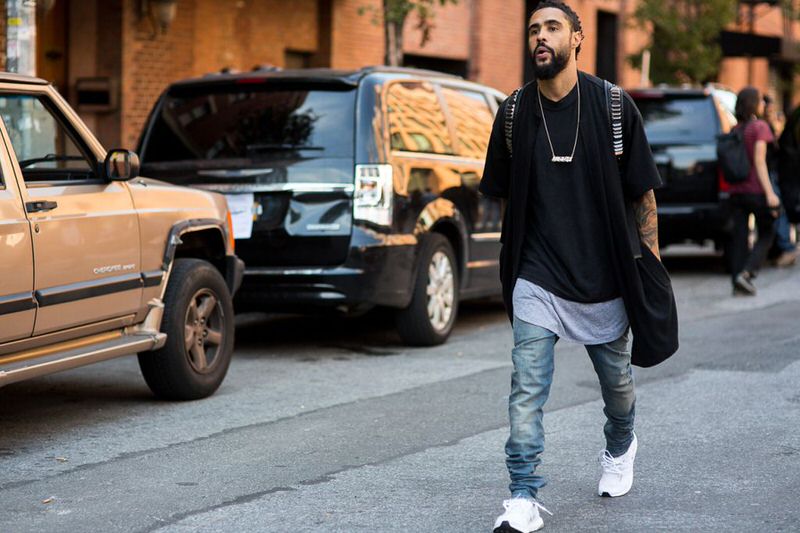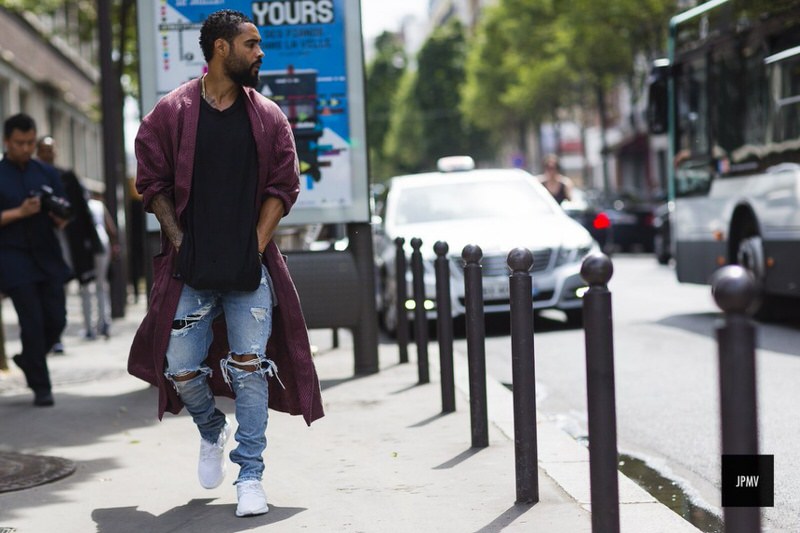 adidas 4D Futurecraft
The adidas 4D Futurecraft was initially unveiled in extremely limited quantities and was instantly spotted on the feet of dedicated sneakerheads around the globe.
Today it's still extremely limited, but a few more colorways and iterations from the flagship line have been released. Its technical makeup makes it an ideal companion for cinch tie nylon pants or running pants with plenty of zipper applications. The more minimal colorways on the other hand are quite simple to team with cropped trousers, long sleeves, and sideline coaches jackets.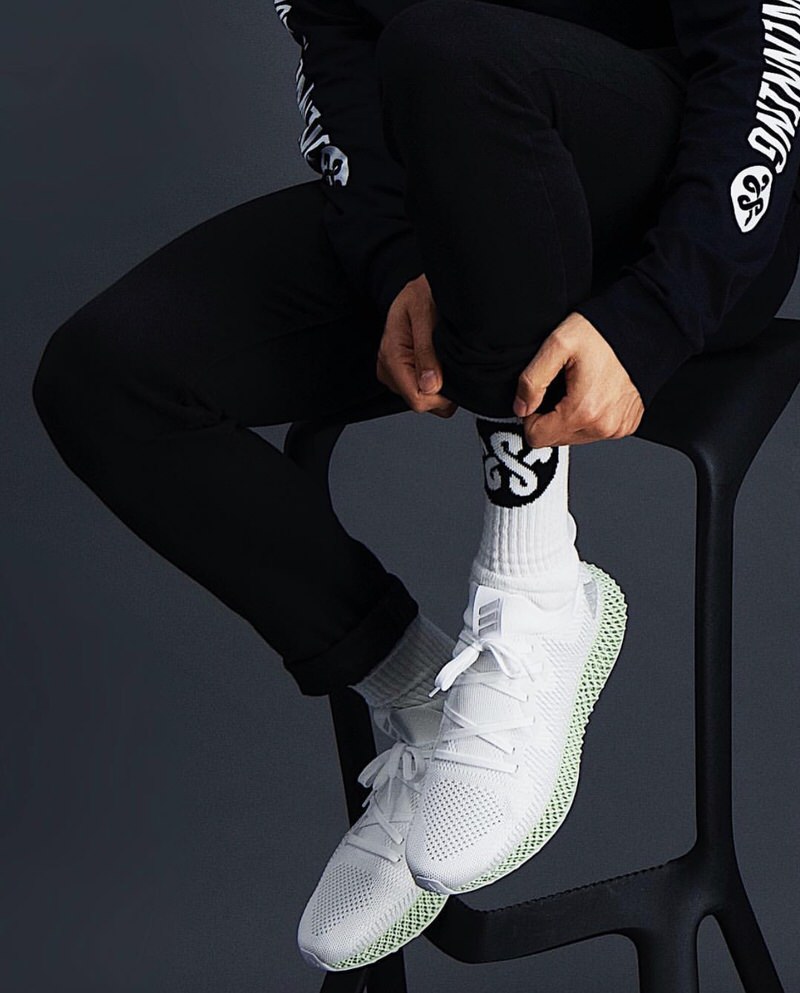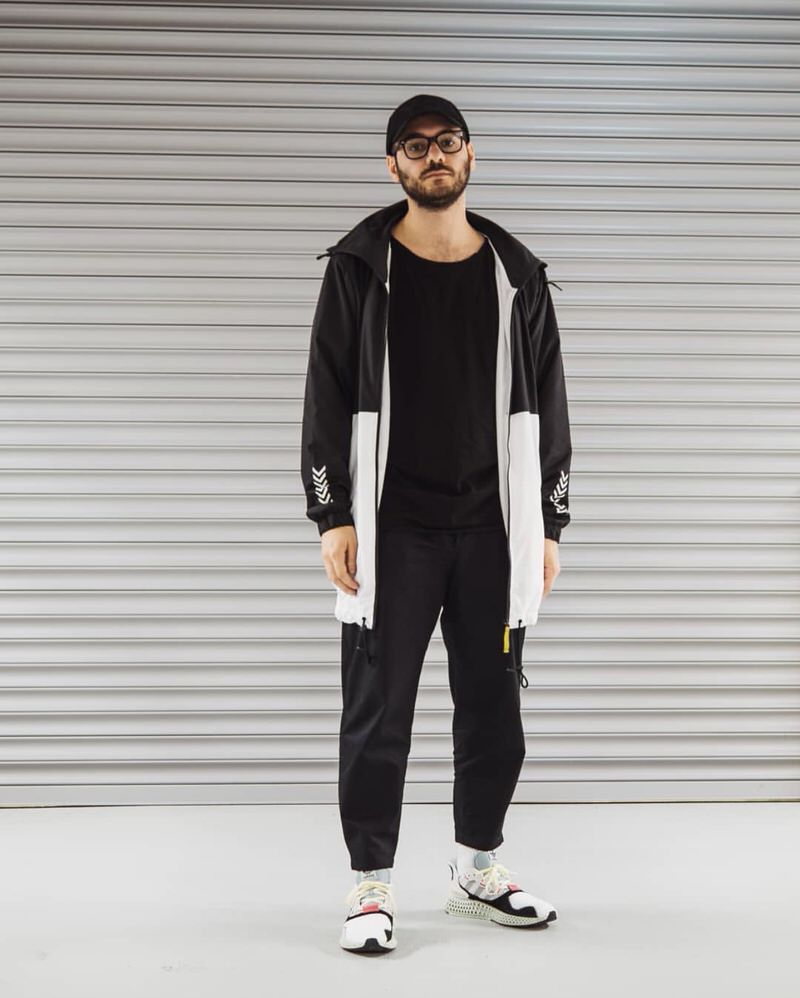 adidas Solar Hu Glide
Not too long ago, adidas introduced three new silhouettes to their running collection – the SolarBoost, the Solar Glide ST, and the Solar Drive ST.
Each of these styles build off the UltraBoost aesthetic, incorporating a full-length Boost midsole and Primeknit accents on the upper. Its similarity to the UltraBoost is what makes it simpler to style beyond a runner's wardrobe.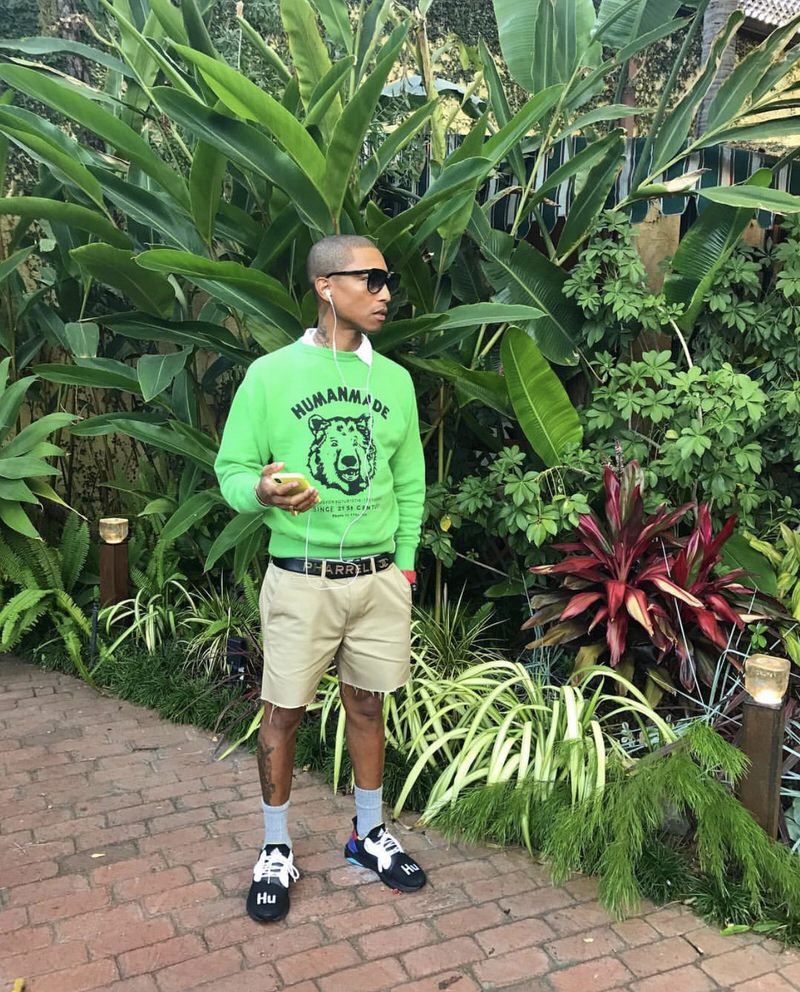 Recently, co-founder of BAPE, Nigo teamed up with adidas and Pharrell for the Human Made x adidas Solar Hu Glide. Made to celebrate the opening of Human Made's first retail store in Kyoto, Japan, the silhouette also sparked inspiration for how it could be styled beyond a performance focus.
Gifted to the likes of style influencers, like Poggy, this silhouette was quickly show that it could be paired with suits and indigo shirts.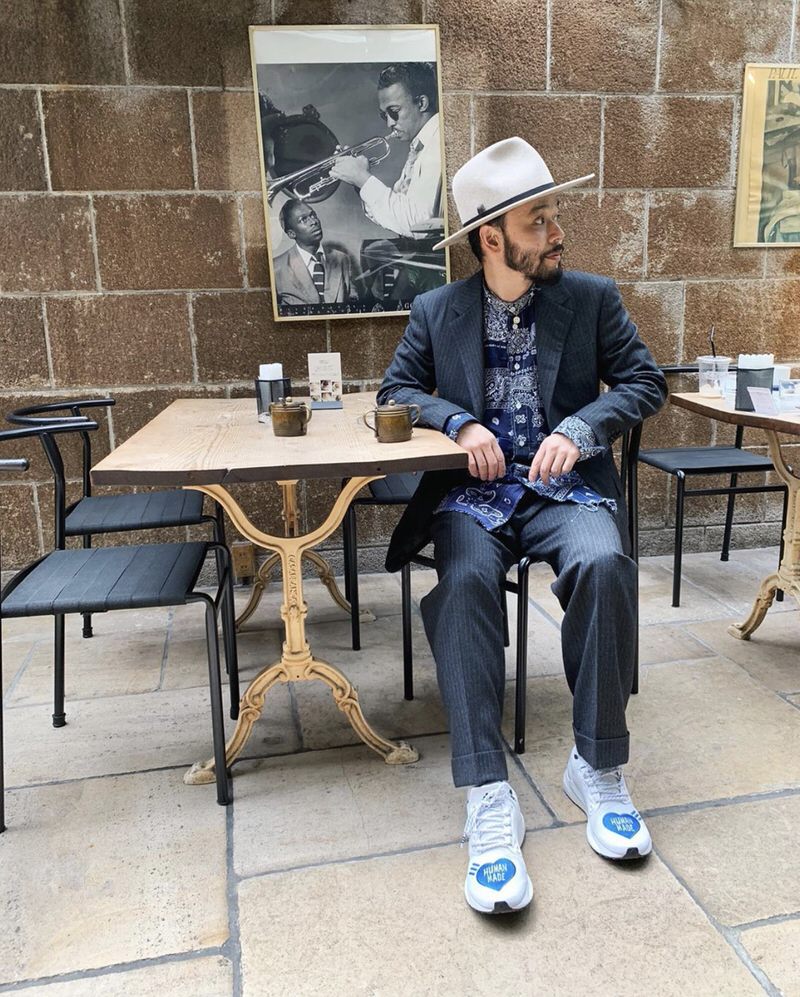 Kiko Kostadinov x ASICS
Whether it's sneaker enthusiasts with unparalleled collections or street style aficionados who are ahead of the curve, it appears that each mindset could agree on the rising popularity of the performance running trend. If not, then at least a current spot in a regular footwear rotation.
While performance running sneakers are indeed ASICS' bread and butter, some of their latest projects have tapped the ingenuity of fashion designer, Kiko Kostadinov.
While these silhouettes borrow the tooling of one silhouette or the upper from another in the ASICS running line, each shoe appears with a reworked aesthetic that's coherent with fashionable performance apparel.
ASICS GEL-Venture 6
ASICS tapped their GEL-Venture 6 to be one of the cross-overs for fashion and running at the tail-end of 2018. The silhouette steers away from ASICS' generally vibrant renderings for a minimalist makeup that blends technical mesh underlays with melded leather paneling throughout the rest of the upper, while the reworked midsole is packed with mesh cushioning.
Because of the shoe's low-profile design, this sneaker makes it easy to pair with just about any utilitarian or minimalist wardrobe. Try it with a pair of ripped black jeans and a vibrant flannel for contrast.