Everything happens in waves.
The good, the bad, the indifferent.
History has taught us with remarkable accuracy that all things come and go. Then, with that same consistency, come again. Sneaker culture doesn't deviate from this pattern. In fact, like fashion, its cycles can often be anticipated. This stands as one of the primary reasons why the Converse Chuck 70 is not-so-quietly representative of everything trending in sneaker culture this year.
When the Chuck 70 was first introduced back in 2013, to some, the seemingly uninteresting update left them unmoved. But the materials were richer, the rubber foxing was at its best; its nuance was palpable. It was a refresher that the Chuck desperately needed, yet didn't seem revelatory to its detractors. What many (initially) failed to realize was that we were staring in the face the very essence of sneaker design; the very foundation of the basketball sneaker, remastered.
Like the Air Jordan 1 with far less fanfare — considering its origins are senior to even the earliest moments of "sneaker culture" by decades — the Chuck Taylor All-Star holds within its high arching frame the bottom floor of our sub-genre. What's now a contemporary skyscraper visible to countless onlookers was once a minimal one-story structure with room for growth. We were somewhat overdue for a look back at those humble beginnings. There were also compounding factors that steered our gaze in the direction of the Chuck 70.
Contemporary Styling
Back in 2013 — and the years that immediately followed — a punk aesthetic primarily guided our sartorial standards. Everything was rail thin. Skinny jeans were central to, well, everything. Wears were extremely close to the body, hugging our frames and primarily our legs. Chucks look best when paired with loose tailoring which leans sharply into our style sensibilities at the moment. Much of what we wear and how we wear it is far more relaxed. Denim isn't exactly oversized like it was in the '90s but it is looser than it's been in years. But maybe even more important, jeans aren't the only thing we're wearing these days.
Trousers (and chinos) are now a go-to bottom in a way that they haven't been in years. Streetwear has tilted into this trend and effectively made trousers — once considered primarily a suit pant — a casual item with effortless and transitional wearability. Pairing Chucks with something other than denim instantly made the slimmed silhouette more desirable. The days of heavy Japanese selvedge denim are on the verge of cycling back but have been absent in recent years. Too heavy and not the best commuter pant, most have turned their attention to classic or patterned trousers for a similar yet somewhat smarter look.
Keeping with the theme of dressing cleaner, two revolving trends of today were completely nonexistent in 2013 when the Chuck 70 first released: tucked shirts and cropped trousers. The formers importance is simple: it's much easier and far better looking to tuck your shirt into trousers as opposed to jeans. Then, flowing into the latter, cropped trousers/chinos allow a high-arching shoe to breathe better. Sure, some prefer their pants to lay over their sneakers but most desire a stylish break — where the pant stops, the socks show, and the top of the sneaker starts.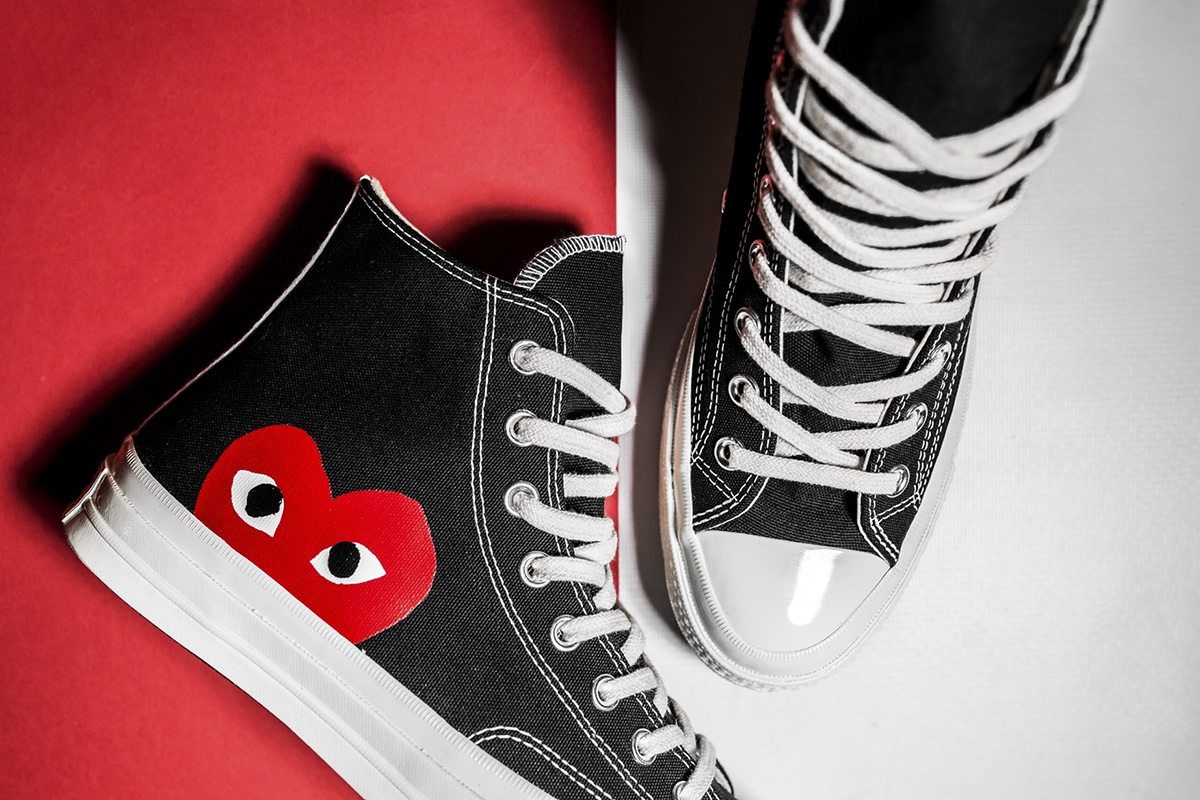 Collaborations
Often a driver of both trends and sales is collaboration. It can be argued that no shoe has been a better creative platform over the past two years that the Chuck 70. Rei Kawakubo, the luminary founder of COMME des GARÇONS, is the foremost trailblazer in this Chuck rebirth. With the help of her famed PLAY heart logo, Chucks have been seen and felt more than almost any other shoe. And, even more, across a wider demographic. Kawakubo's Chuck is worn far outside of sneaker culture while remarkably revolving within its confines.
Kawakubo's male contemporary, Virgil Abloh, made the single biggest splash last year with his OFF WHITE x Converse Chuck Taylor. Subsequently followed by his OFF WHITE x Converse Chuck 70 this week, the Louis Vuitton creative lead sent the shoe into a higher stratosphere with his culturally absorbent collaborations. And while the first wasn't actually the Chuck 70, it lends to the overall allure of the shoe and, again, how it can and should be styled.
Other fashion thought leaders have also experimented with the Chuck 70. British designer J.W. Anderson's "Glitter Gutter" pair was seen on everyone from Frank Ocean to LeBron James. James just the same also brought light to Mike Cherman/Chinatown Market's "BOOTLEG" Chucks. Jun Takahashi's UNDERCOVER label recently released a stellar Chuck 70, as did Shane Gonzales' Midnight Studios. Jerry Lorenzo's cult-like Fear of God imprint will release a Chuck 70 later this season.
The common denominator with many of these designers and the celebrities that adore their work is that they aren't afraid to wear what they create. Kanye West, arguably the best example of a sneaker designer wearing his work to ensure everyone else will, in turn, want a chance to lace them up too, is the epitome of what a collaborator can do for a sneaker's relevance. On a much richer level, it's the people involved and the stories they collectively tell. However, on the surface, the magic resides in the palpable social influence and the road it paves. With the aid of these collaborators, and Converse's willingness to allow them to create without limits, the heritage sneaker is new again to a generation removed.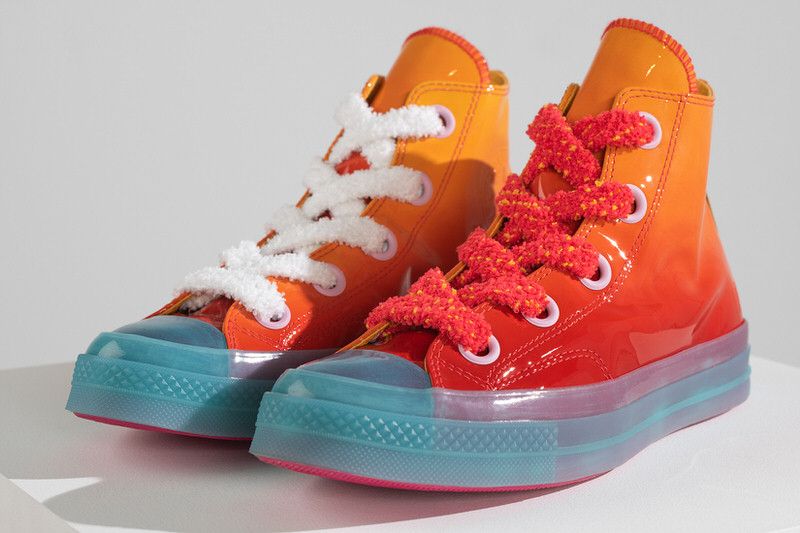 Decreased Spending/Creativity
As is the same with fashion, economic downturns are also fairly easy to predict. They often come in 10-year rotations and revolve around election cycles. Many experts believe that a financial tailspin is expected in 2019 leading into 2020, just outside the 10-year marker of the 2008 financial crisis.
In correlation to sneaker culture, the once-booming resale market has settled substantially. Grails that once went for thousands now go for hundreds. Resellers that once raked in large sums have been brought back down to earth. The resale market — like the housing and stock markets often do — has balanced out. And while there are many reasons that the once choppy waters have calmed, primarily, we as a culture are spending less.
Monthly and annual sneaker budgets have decreased across the board. Make no mistake, we're still spending heavily on kicks, yet our allowances are far lesser. One caveat to that is we're buying cheaper sneakers and pairs that are on sale. A Chuck 70 for $85 USD is perfect. It's expectedly easy to flex in a $250 retail pair or a $500 pair that you can land on any number of resale sites, but there's a much richer (and more fun) challenge in styling an inexpensive heritage sneaker.
As a culture, we've become far more ambitious in our styling choices. We're not looking for the easiest route to sartorial flexes. In part, our sneakers have become a companion piece to the whole, when in the past they were the be-all-end-all for our approach to getting dressed. The Chuck 70 fits tightly within that space. They can seamlessly blend or shine as a staple piece. The challenge in styling them orbits the need to create new themes that surround the shoe with purpose. Your wardrobe may need to shift or expand. Better yet, mature.
The Chuck 70's authenticity is without question its greatest selling point. Every man, woman, and child should own a pair of Chucks. It's become a right of passage, an experience no one should be robbed of. Now, with the refinement of the Chuck 70, the heritage shoe is standing at its highest height. Glasses up in a toast to sneaker culture for, in 2018, recognizing and supporting that.