The Houston Rockets are going to be very, very exciting this season.
On the court, the addition of Russell Westbrook gives Space City perhaps the most explosive scoring backcourt ever, placing The Brodie back with The Beard following their individual MVP accolades in a loaded league and top-heavy West.
Off the court, the team will be just as explosive in the tunnel as Big Drippers James Harden and PJ Tucker will be entering the arena with Westbrook who is arguably the most fashionable player the game has ever seen.
So, how does The Brodie do it and how does he do it so often? Appropriately, he told us out in Paris over Fashion Week at the Jordan Brand House.
"I wear something different every day," Russ told us. "Before I wear it, I love it anyway. I got a dope hockey jersey that I haven't even worn yet that's very nice that I'll wear soon. I've literally been keeping it on ice."
While Russ' West Coast wave has spanned many sports and continents in regards to inspiration, it's his vintage Air Jordan shirt he's rocking in Paris that has us asking questions.
Mainly, does Mike give him access to the Jordan archive?
"This vintage Jordan shirt I had on ice," Russ says with a smile. "I don't [get access to Jordan archive], but I know somebody who does. Mike's an inspiration. I'm always inspired. Seeing everything inspires me to be like MJ just like any kid. He's the best that's ever played. You never take that for granted. I definitely don't."
So, custom hockey jerseys and vintage Jordan gear aside, what can we expect Russ to rock in the tunnel this fall in H-Town?
"I always wear whatever I'm feeling at the time," reflects Russ. "I've been big on wearing baggie sweatpants. I just grab a pair of sweats and a top. That's it."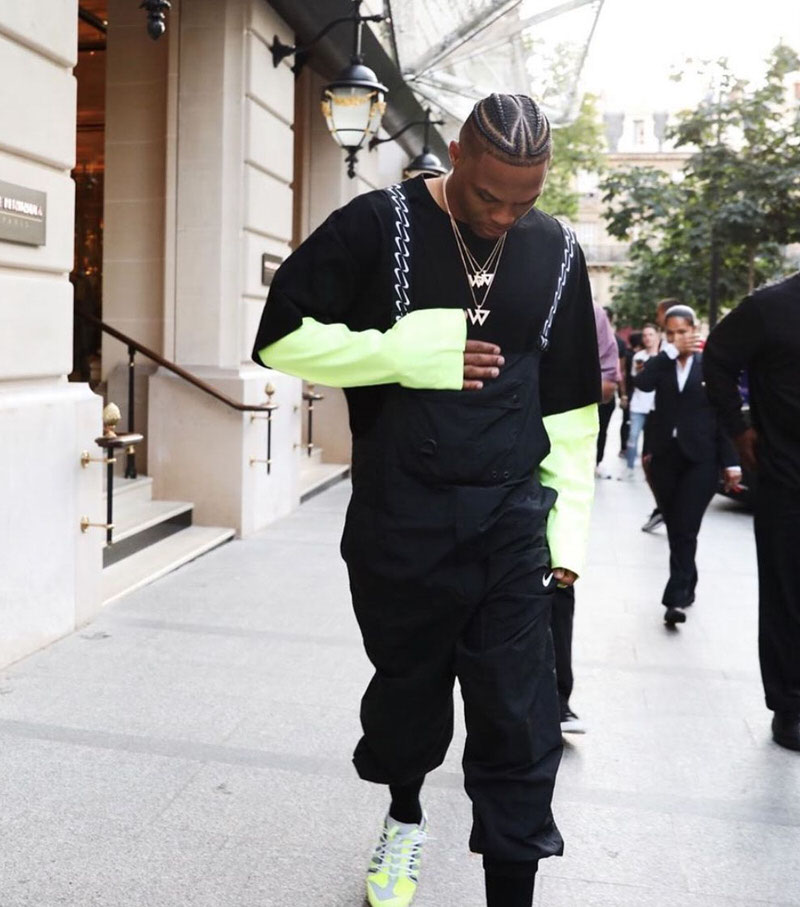 Easy does it.
Expect Russ to remain effortlessly fresh all season down south and hold his title of PE King.