Like it or not, the way we buy shoes is changing.
Malls are dying, only the best boutiques still carry that barbershop feel and phones are becoming the point of contact for copping kicks.
Less personal, but less work, it could be worse. Perhaps the biggest issue with buying digitally? You can't try product on.
Nike is looking to change that with Nike Fit.
An industry first, Nike Fit is an addition to the Nike app that offers digital foot measurement. Because most people buy shoes online these days, it's stated that 60% of the population is walking around in the wrong shoe size and half a million residents of North America alone complain about buying the wrong shoe size each year.
Doing away with the foot ruler, this new-age solution scans your foot with computer vision that recommends the best size for you when buying from the Swoosh.
When shopping in the Nike App, the Fit function will appear when selecting your shoe size. Using your smartphone's camera, your foot will be scanned in a matter of seconds, mapping your foot and selecting the right size based on your foot's dimensions. NikePlus members will have said data stored in their member profile so you shouldn't be slowed down when trying to cop a hot release on SNKRS.
Perhaps the best part is that it's all case sensitive based on your individual foot. Say you're a 10 in your Air Force 1s you wear around town but are about to buy some Kyries for the hardwood. Nike knows your foot and will suggest your best size. It could be a 10 still, but it might be a 9.5. Much like Bo, Nike Fit knows.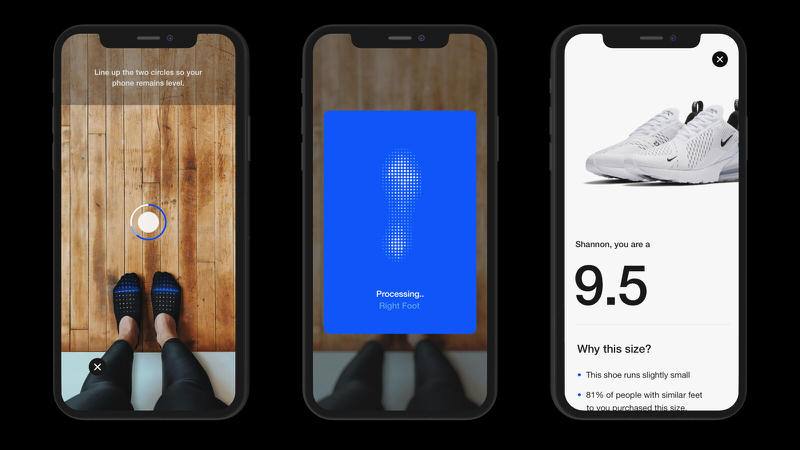 Your own size or sizes aside, the service extends to guest mode, allowing parents to measure their kid's feet or friends being able to buy for each other.
Not an online shopper? No problem. Nike Fit will be available at Nike retail stores, with a Nike Fit map and employee help assisting shoppers in buying their best size.
Likened to less returns or purer performance, keep it locked to Nike Kicks for updates on the evolution of Nike Fit.