words by Robbie Falchi
For over two decades, Nike Basketball has cranked out some killer kicks with carbon fiber tooling as a key component.
What makes carbon fiber so special is its weird strength ratio. Carbon fiber is extremely lightweight while being incredibly strong — stronger than steel! It excels at providing support without adding bulk, as some of the most common uses of carbon fiber are applied underfoot. It can be used as lateral support, too.
Need a durable arch support platform? Then carbon fiber has you covered. Need a heel clip that maintains a low profile without sacrificing fortitude? Then say no more, fam, carbon fiber again.
Let's take a look back at the basketball shoes carbon fiber has impacted and why it's been so important to Nike and Jordan's hoops divisions over time.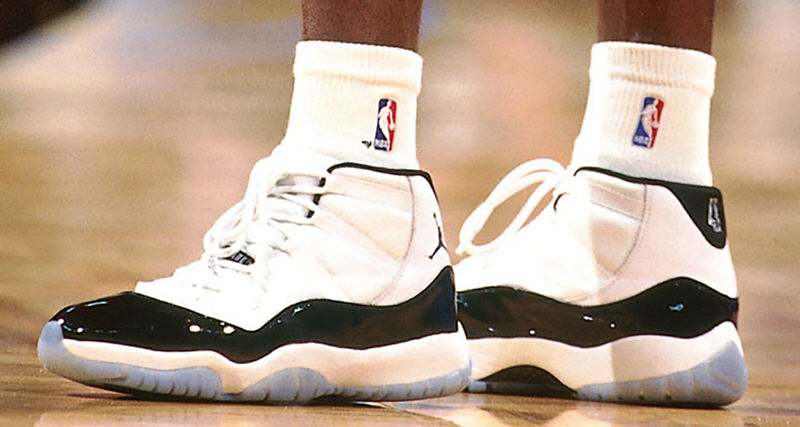 Like so many Nike innovations, using carbon fiber on a shoe was a Tinker Hatfield idea. Tinker never stopped tinkering during Michael Jordan's first retirement, and he was convinced that MJ wouldn't stay away from the game forever. He kept working on the next innovation for Jordan's inevitable return.
In a Frankenstein-like experiment, Tinker married patent leather (an upper material commonly found on dress shoes) and carbon fiber (a composite typically found within a plane's wings or a car's parts). The result birthed one of the most elegant, timeless shoes in existence, the Air Jordan 11.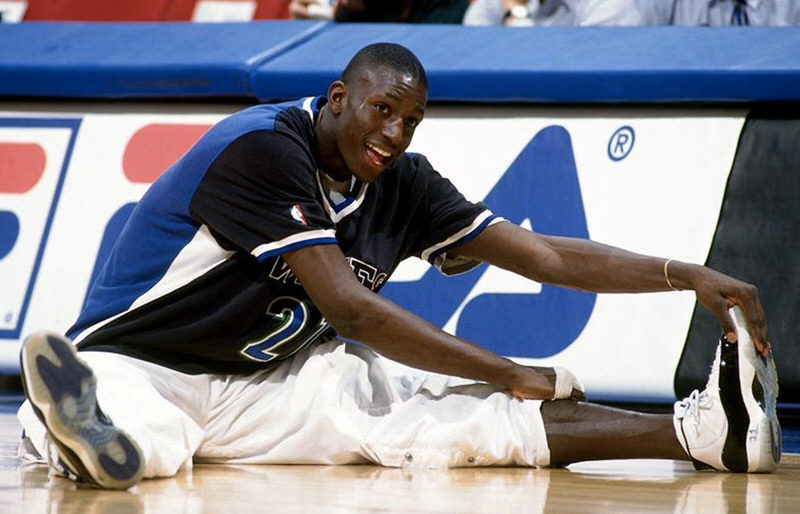 From a looks perspective, the two materials Tinker chose played off of each other perfectly – the shininess of the patent leather and black/grey pattern of the carbon fiber add depth to an upper that's a lot more simplistic than most people notice. Looks aside, the carbon fiber shank within the midsole of the 11 provided a lightweight and sturdy accent to the shoe's enlarged Air units. The carbon fiber experiment worked so well that it was brought back for the 12, 13 and many others (we'll come back to the Jordan line later).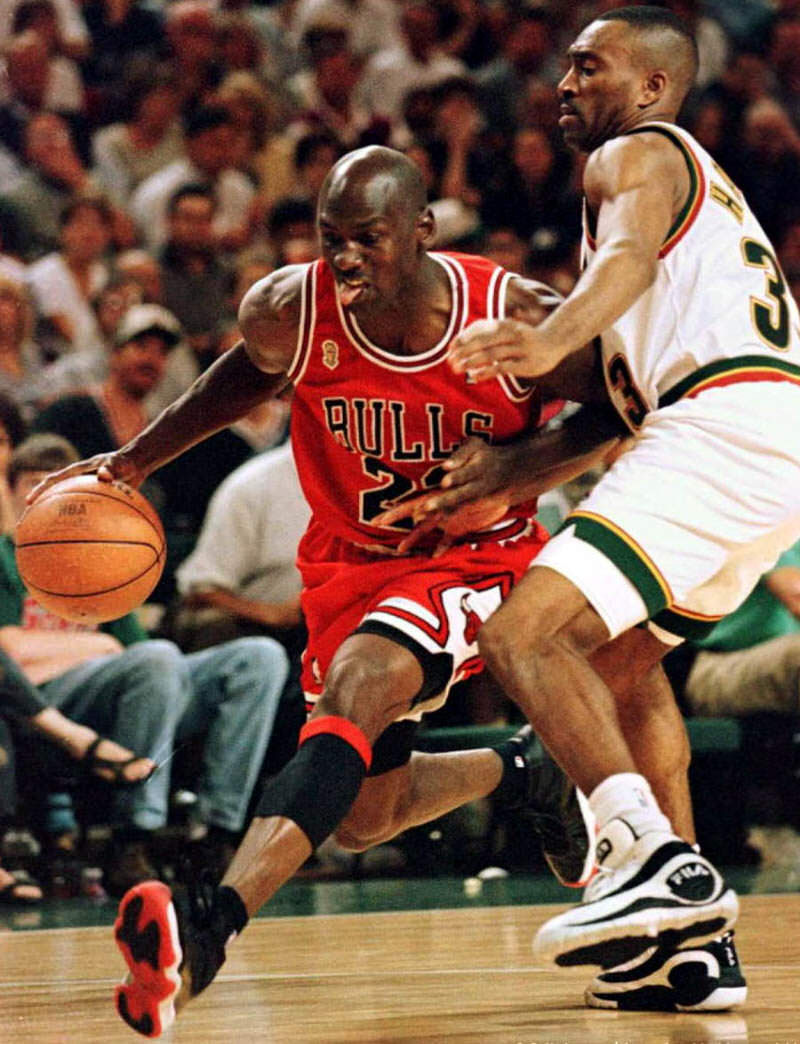 At Nike, when something works, they tend to translate onto other models. Jason Kidd's Zoom Flight 95 took the practical application of carbon fiber and multiplied it by 100 by mixing a woven synthetic directly into the upper.
Not only did it influence the Zoom Flight 95's upper with its jaw-dropping pattern, but carbon fiber also made its way onto the lateral midsole, instead of being tucked away under foam. The carbon fiber 'pods' looked completely unique and serves the practical purpose of strengthening lateral support, too.
The following year's Zoom Flight 96, made popular by Penny Hardaway in the 1996 Summer Olympics, vastly changed the upper's overall appearance but stayed consistent with the use of carbon fiber and Zoom Air, because it looked dope and worked great (no complex reasoning here). To this day, Nike uses those technologies in conjunction with one another.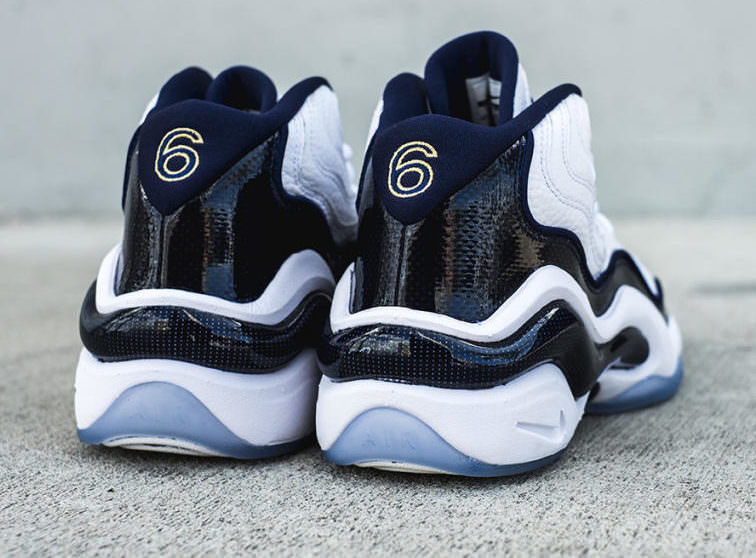 Nike continued to use carbon fiber to strip away shoe weight for their basketball shoes, incorporating a full-length plate into the iconic Foamposite in 1997. Imagine how much heavier the Foamposite One, Pro and Flightposite would have been without carbon fiber!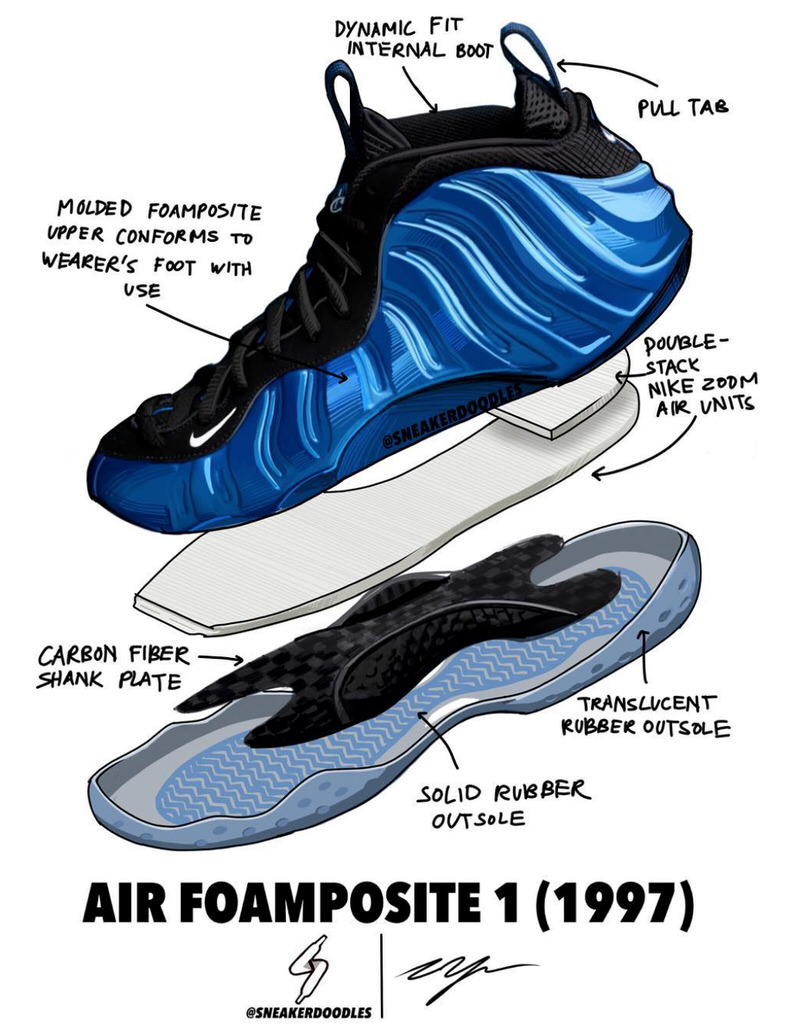 The Kobe line's most cherished models (IV – IX) bank on carbon fiber's properties to keep them light, low and safe to play in. Because of their minimalistic uppers, various Kobes needed carbon fiber to make sure the shoes remained structurally sound on the court.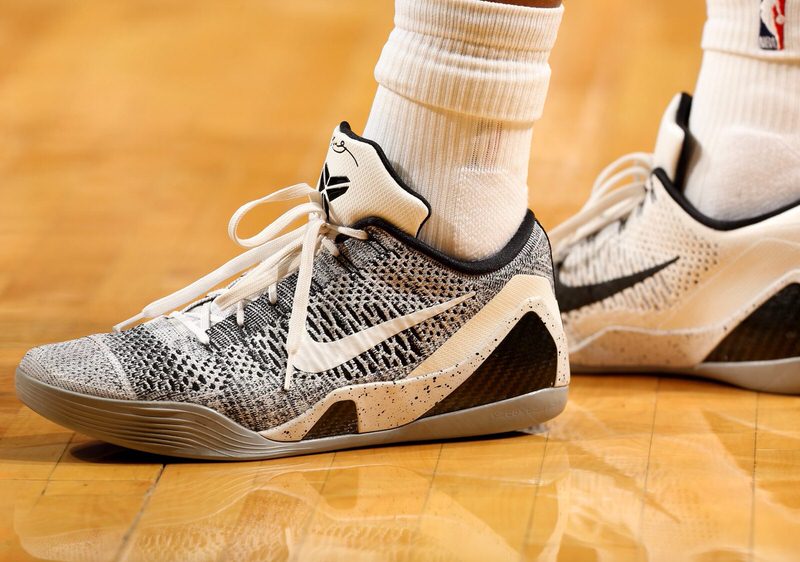 The durability of carbon fiber let Jordan Brand ditch all traditional upper designs with shoes like the Air Jordan XX8. Without carbon fiber, the shoe's perfect dual heel counter system couldn't be as effective, and the groundbreaking FlightPlate system wouldn't exist to be used on future Js either.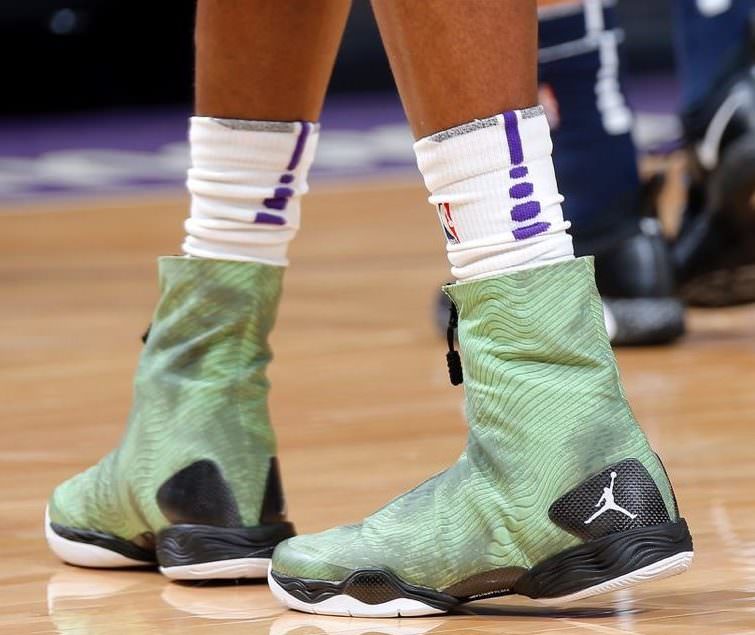 There are so many Nike Basketball kicks with carbon fiber that we'd be foolish trying to list what each of them brought to the table. The material's practical and cosmetic traits have ensured its place in the hoops game permanently, or until we discover Vibranium in real life.
Try using today's knowledge to describe your Concord Air Jordan 11s to your friends this weekend when you pick up a pair – you'll sound like a sneaker whiz kid!