Back in the early days of the blog, Jordan Brand had an Air Jordan 1 double-drop dubbed the Old Love/New Love Pack.
This stacked box set of AJ1s featured the first retro release of the Black Toes representing the "Old Love" Mike had of the game of basketball paired with a Black/Yellow colorway that was said to represent his "New Love" of motorcycle racing with a nod to Jordan Motorsports.
Over the last almost four decades, Michael Jordan has impacted thoughts generated around naming and branding globally.
I am definitely one who has looked back at a few defining moments in my life and asked myself what it would take to be legendary and strive to be the greatest of all time even if it was at cleaning my place before a business trip.
For anyone who has had as many years in a career as I have (17 of my 34 on this planet), what drives passion and interest is bound to change, adapt, and adjust. What I love doing today in my job didn't exist when I started.
My love in the beginning that got me into sneakers enough to hunt for a job as a teenager selling shoes at a mall still hasn't been retroed. Knowing what our love is and what drives us is essential no matter what our passion or career may be – especially when they're both.
photo by Allsport
Talking about the history of Michael Jordan and sharing the many stories of the man, myth, and legend was something that I woke up every day to do for so many years. Researching and reading every possible news article, interview, watching every video was something that was what drove me in the early days of blogging.
And of course, the shoes Michael Jordan accomplished the most incredible things in were of my highest level of interest.
But in 2019, my love for shoes has changed dramatically from what it used to be and what I look for in products has dramatically changed as well. I will always have the greatest respect for my childhood sports heroes, but what they accomplished decades ago in a shoe aren't as important to me as they once were.
In 2019, I need more use from my products. The shoes need to perform. I appreciate what someone might have done in them, but I am looking for shoes that I can have my great moments and memories.
The Jordan Proto-React was a shoe that immediately caught my attention when I saw images shared from a media preview a few months ago.
Nike React had already been a foam that I was a big fan of in my running shoes with the Nike Pegasus Turbo, so I knew the comfort beneath the foot was set.
The upper of the Proto-React has everything that I want in a casual shoe and nothing that I don't. I live life very much on the go when I'm traveling and when I'm in Austin. The parachute nylon upper is flexible, lightweight, and very easy to pack.
The huarache style interior provides a great fit around the foot. Hockey style laces, button snaps, rear velcro strap, and aeronautically inspired branding add some great visual elements without overpowering the design with anything unnecessary.
I took a few shots of the shoes at the start of the day when I was at the office this morning.
Following a few tasks and meetings, I returned to edit the photos captured a few hours earlier when I saw a pair of the Concords sitting in the middle of the conference table where many great shoes rotate as a sneaker lovers centerpiece.
It was then that I caught another old love/new love moment of reflection.
The history, the legacy, and all of the significant accomplishments that Michael Jordan had in his Air Jordans was my old love.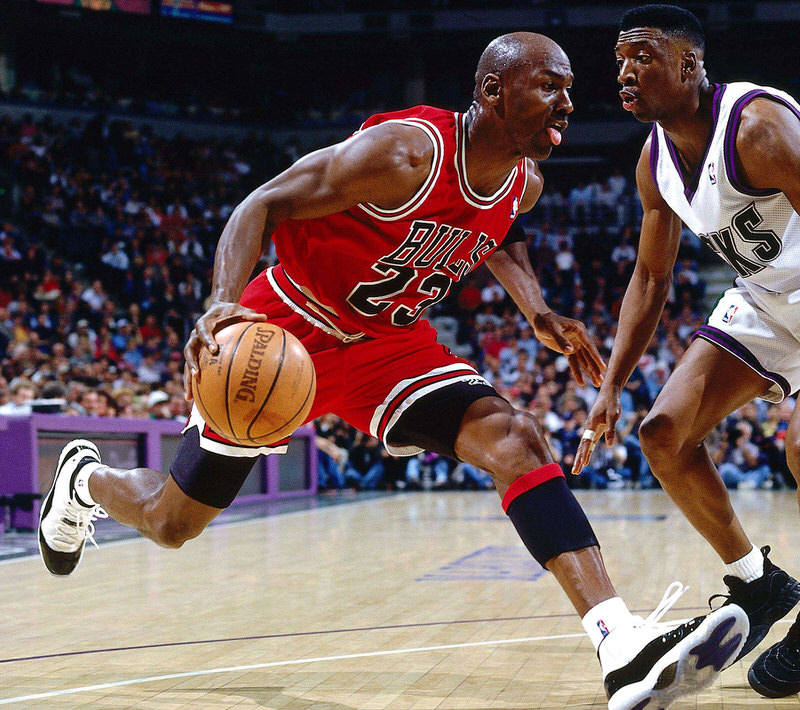 This is what brought me here.
But today there is a new love that I have, and it is for the new designs, the latest technology, and the new memories and moments that I get to experience with the shoes that I wear.
For years people in the industry have asked if Jordan Brand can sustain the "life after Mike."
It's pretty clear Jordan is here to stay and that the brand's best days are ahead of them if they can keep creating new products like this one that becomes the New Love for the Old Heads.