interview by Matt Halfhill
photos by Phil Chang
Air Force 1s and pizza are to NYC what blue jeans and apple pie are to America.
For Scarr Pimentel of Scarr's Pizza, the pie is the passion that's literally and figuratively fed his family for generations. Growing up in NYC, the Air Force 1 was the go-to shoe for not just the city as a whole but for Scarr since his childhood.
Teaming up with Nike thanks to the great DJ Clark Kent, Scarr's Pizza cooked up their own AF1 Low that's dripping with cultural flavor and big on taste.
We caught up with Scarr to find out how the project came about, what the Air Force 1 meant growing up to him and the details that make this collab a true homage to the icon.
Matt Halfhill: To start, tell us about yourself and what the Air Force 1 has meant to you in your life.
Scarr Pimentel: I was born and raised in NYC and the Air Force 1 has been as much a part of my life and the city itself. Growing up, Nike Air Force 1s were the only shoe I could really afford. Of course there were others that I would want, but I could only afford to get the Air Force 1s.
When I started making money and even though I could afford more expensive kicks, I still wanted to just wear Airs. I would get a new pair, wear them just 1 or 2 times, and then hand them off to a kid or someone else who couldn't afford shoes.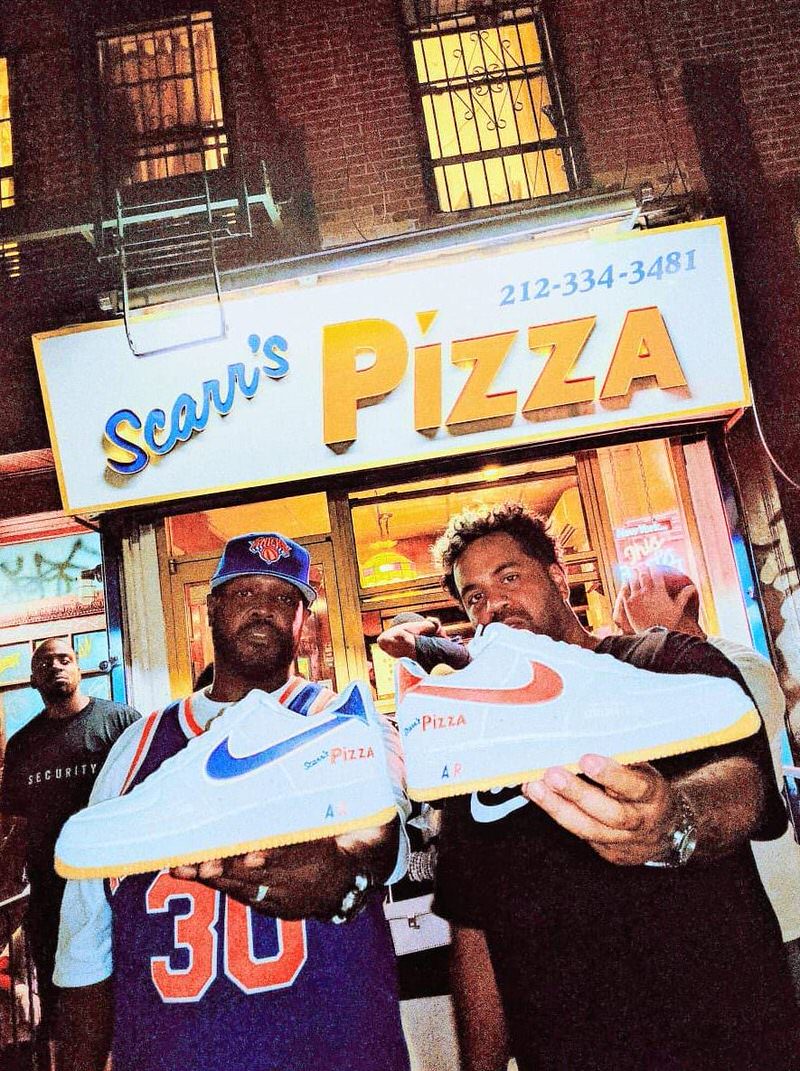 Matt Halfhill: How did this project come about?
Scarr Pimentel: Being a friend of Clark, we really wanted to do something together and what better than an Air Force 1.
In the beginning I thought there was no way that a company as large as Nike would do a project with us, but like many things in life I just took that leap of faith and went for it to see if it could happen and I owe so much thanks to Clark for helping this happen.
We started working on the project about a year and a half ago. Myself, Clark, and Audie worked up the design and did some back and forth collaborating with Nike to create the shoe that really came out great.
Matt Halfhill: I noticed there were many one of a kind details on the shoe.
Scarr Pimentel: There are so many details that went into the shoes.
They put the Scarr's Pizza logo on the rear heel panel like the back in the day special editions, the flag on the back tab, alternating dual layer swooshes, embroidery on the tongue inside and out, and even down the too insole.
Matt Halfhill: And no Nike logos on there either.
Scarr Pimentel: Yup.
Matt Halfhill: The Air Force 1 is the most recognizable shoe worldwide. You know its Nike and you know its the Air Force 1.
Scarr Pimentel: It was really an honor to get to do this project with Nike since the Air Force 1 has been such a big part of my life and to many people like myself in NYC.
Most collabs you see done on the Air Force 1 today aren't with people who grew up wearing the Air Force 1 day in and day out. Most aren't real AF1 junkies like myself. To get the opportunity to do this was really special.
Matt Halfhill: I'm sure I'm not the first person to ask you this, but why pizza?
Scarr Pimentel: March 1, 2016 we opened our doors, but I have worked in pizza and food runs in my blood.
My grandmother was a waitress, my father once owned a diner, and I really have always enjoyed the atmosphere and the way food brings people together.
When I opened the shop, I wanted to create real NY style pizza done the right way with the really good ingredients that make the best kind of pizza you can get.
For a while the pizza by the slice business has been trash and I wanted to bring a fix to that. Make a good quality pizza the New York way.
Matt Halfhill: Pizza, Air Force 1s. In your eyes, what are other staple New York icons?
Scarr Pimentel: Oh, basketball without question. That goes hand in hand with NYC as does hip hop.
Matt Halfhill: But I would say that opportunity is another icon.
Scarr Pimentel: NYC is the land of opportunities. I'm a high school dropout that hustled his way to seeing a dream come true of having his own pizza shop and his own sneaker.
Matt Halfhill: Some things like that just can't be overlooked.