words // Nick DePaula:
While he may have traded in his sneakers for suits these days, Jeron Smith has been working towards making his own mark in the athletic industry ever since he first fell in love with the game of basketball in Chino Hills, California.
In his current dual roles as both CMO of SC30 Inc. and CEO of Unanimous Media, Smith works with two-time MVP Stephen Curry on a wide range of the hoop star's business portfolio. Working in tandem with SC30 Inc. President Bryant Barr, he helps to craft a brand marketing strategy for Curry for his endless batch of endorsements. In partnering with longtime creative Erick Peyton to guide Curry's Sony Pictures-partnered Unanimous Media efforts, the trio is looking to launch a variety of film, content and television projects in the coming years.
As he tells it, his bendy and at-times bumpy early path began as a freshman at UCLA to soon heading east, where he played as a rotational D1 basketball player at Howard University. As he often stresses, his dedication to his education along the way shouldn't go unnoticed or underemphasized.
During his three seasons on the Bisons basketball team, he first earned a bachelor's degree from Howard's School of Business. Then, he got to tallying on a Master's degree in digital resource management from Columbia University, and yet another's Master's degree in sports marketing from Georgetown.
It was that blend of athletics, higher learning and networking along the way that helped fuel Jeron's start in the industry.
He likes to call it relentless ambition.
Even after interning for Nike while in college, he struggled to break through at first.
"It would take me two Master's degrees, two years and 50 job applications to have an opportunity to interview for a position," he reveals.
Once at Nike, he looked to make an imprint on the marketing world early, attacking an entry level role as an EKIN and later landing brand marketing roles for both Nike Basketball and Jordan Brand that encompassed campaign launches, product marketing and asset activation.
(A hooper at heart, he still tries to show off the old bounce every once in awhile.)
His standout campaign was undoubtedly the Basketball Never Stops slogan, which the brand activated throughout the NBA's extended lockout in 2011, and for seasons thereafter across the college and high school basketball landscape, by simply adding a team's name to the front end of the tagline.
From there, Smith never looked back, elevating through the company during a six-year tenure, before landing one of the proudest roles of his career, Deputy Director of Digital Initiatives at the White House for the remainder of President Barack Obama's term.
In addition to helping guide Stephen Curry's marketing and media efforts, Smith can often be seen looking to give back, whether at seminars and speeches back at his beloved Howard University, at tech panels during South by Southwest, or through mentorship of aspiring students looking to follow his path.
As part of the Pensole x Nice Kicks FUTURE 50, Smith is looking to shape the future of the athletic and entertainment industry through his passion for storytelling, his building out of Curry's platform and reach, and a drive to impact others through their collective projects. Read ahead for more from Jeron on his journey through the industry, as he answers a series of questions from Pensole founder D'Wayne Edwards.
Hometown: Chino Hills, CA
Job Title: President/CEO Unanimous Media + SC30 Inc. Brand Strategist
Company: Unanimous Media & SC30 Inc.
Location: Oakland, CA
Education: BBA Howard University + MS Georgetown + MS Columbia University
Instagram: @JeronSmith
D'Wayne Edwards: What is your earliest or most memorable sneaker moment in your life?
Jeron Smith: Growing up with a father in finance and mother in accounting, my parents weren't as convinced by limited release basketball footwear as my peers. I was left to buy cool and performance once a year at my local Nike Outlet. The highlight of my high school footwear career was when my unassuming Nike Outlet on that one day a year had a pair of Team Jordans in size 13.
What are you most passionate about in footwear?
I am a storyteller. Beyond the technology, beyond the aesthetic — my connection and passion for sneakers comes from the entire product creation cycle, starting from inspiration to completion. You can sell a pair of black and red Jordan 12s, or you can sell the story of the "Flu Game" 12s.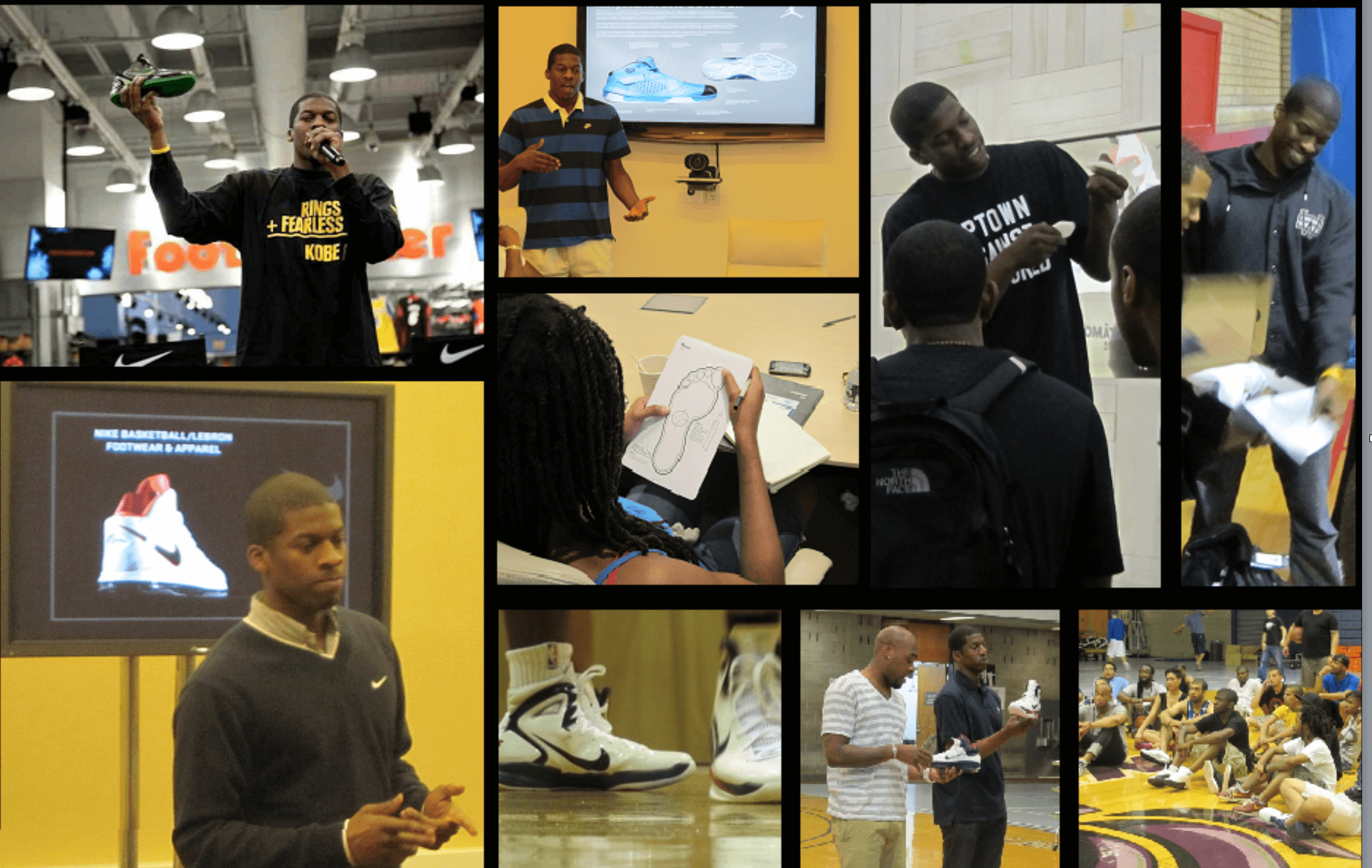 What was the turning point of your career?
The 2011 NBA Lockout took place a few years into my career at Nike. With a boss on sabbatical, an undecided executive leadership team, and our platform for launching signature footwear on pause, I had an authentic consumer insight and a vision.
Within one week of the lockout, with very loose permission, a digital strategy, some screen printed t-shirts, and a loose production schedule, I was on a plane from Portland, OR to one of the first NBA lockout games, where All-Star players were selling out gyms.
I adorned those players with my freshly made t-shirts, and it was the beginning of one of the most successful marketing campaigns in recent Nike Basketball history — Basketball Never Stops. Launching the Basketball Never Stops campaign taught me that the consumer decides, to trust my instincts, and sometimes a little risk is required for a big reward.
What is your biggest struggle with the footwear industry as a person of color?
My dream of a career in the footwear industry was solidified when I got a taste of it at the age of 21 as a part of Nike's Adrenaline Marketing Internship Program. I had no ties to the industry, and very little guidance. At every step of the way, I have felt the lack of allies and champions to provide exposure and guidance, given there are so few people who look like me, and the few who do are penalized for lifting whilst they climb. In an industry where it behooves you to be part of the inner circle, the biggest struggle was not being part of the "crew."
What is your biggest accomplishment or legacy you'd like to leave in the industry?
Despite interning at Nike the summer after my junior year, it would take me two masters degrees, two years and 50 job applications to have an opportunity to interview for a position. My goal has been, and will continue to be, to help provide equitable access to those passionate about learning about and working in this industry.
Read more about THE FUTURE 50 here: NiceKicks.com/Future50