words & interview // Nick DePaula:
All-Star Weekend has become an expected celebration every February, not just for the game's biggest names to show off their explosive talents, but also for the footwear companies looking to launch new statement level products and themed collections at the league's annual showcase event.
Typically, that means signature stars like Stephen Curry, LeBron James and Kobe Bryant will all debut sneakers with special backstories and detailing inspired by the game's host city. For Washington Wizards All-Star point guard John Wall, he found himself in a unique situation this past February in Toronto, as he's currently in between shoe deals. Not since Ron Artest wore multiple shoes throughout the 2004 All-Star Game have we seen a sneaker free agent in the game.
"What's a better stage to introduce a shoe than during the All-Star Game?"
— Jon Buscemi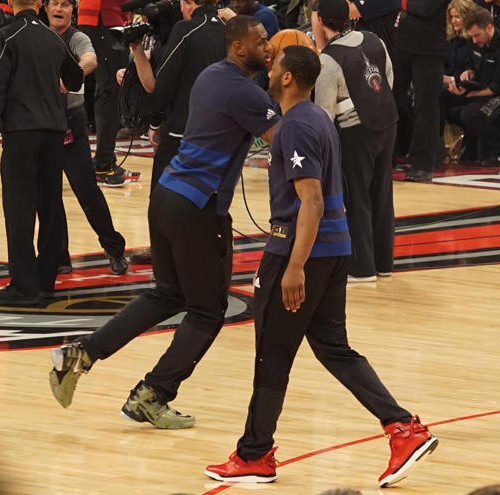 If you were paying close attention, you would've noticed that Wall actually took the floor for warmups in a pair of red Italian leather Buscemi sneakers. That caught our interest because the Buscemi brand is known for their made-in-Italy "obnoxiously high quality" casual sneakers, namely its 100 MM model, which incorporates metal clasps and molded handles drafting off of none other than high fashion handbags.
According to the brand's founder and head designer, Jon Buscemi, they seeded Wall with an early pair of the new B-Court sneaker, as a token of appreciation for one of their longtime proponents and unofficial ambassadors of the brand.
"What's a better stage to introduce a shoe than during the All-Star Game?" Buscemi recently said over the phone. "That's traditionally when the biggest brands introduce something. We didn't promote it at all. All we did was send them to John, he loved it and then he wore them in the warmups before the game. He wanted to wear it in the game, but he wasn't allowed to because of the hardware in it."
The hardware Buscemi is referring to would be the 18K gold lock, loop and buckle found along the shoe's high-cut collar. In addition to prohibiting sneakers that might provide a player with a competitive advantage, the league also simply has a common rule barring extra embellishments or metal objects on footwear. Even though it's an exhibition game, Wall's kicks weren't approved for play by the league.
"John has been a fan of the brand and a pseudo brand ambassador for awhile," Buscemi continues. "He's one of our biggest customers, and we've built a relationship. We thought it would be really amazing to get him a shoe for All-Star Weekend."
With Wall in between sneaker deals, opting to play this season out and become a shoe free agent in June, rather than sign a new extension with adidas, the opportunity for Buscemi to crash the All-Star Weekend with its newest basketball-inspired silhouette couldn't have been better timing. Over the last few years since launching, the company's 100 MM sneaker has been spotted on the likes of LeBron James, Kevin Durant, Damian Lillard, James Harden and many others off the court, and now, the brand is more directly tying into the sport's sneaker heritage.
The B-Court, short for "Ball Court," represents a new departure for the Buscemi brand, drifting to hoops culture for the first time, while still retaining some classic styling elements and the trademark Buscemi gold hardware.
"We wanted to take sports and the finest Italian leather shoes and bring them together," says Jon. "It's the first eleven-hundred dollar shoe that's seen the floor of an NBA court."
The shoe will be officially launching later this Spring / Summer season — and yes — the B-Court will be made in Italy and priced at $1150. While not specifically made to be played in, the glorified pickup setting at All-Star Weekend served as the perfect platform for Wall to try and debut the new sneaker.
"The shoe wasn't engineered for the court like a performance shoe, but he loved the way it fit and the way it felt on the court," reveals Buscemi. "His feedback was really positive, but at the end of the day, it was more about stunting on people. We have some photos of other players staring at him, and basically going, 'Hey, what the fuck are those?'"
"At the end of the day, it was more about stunting on people."
— Jon Buscemi
Ultimately, Wall wasn't able to suit up for the actual All-Star Game in the B-Court, and after being introduced in Kobe Xs, he eventually opted for the hardware-less, then-unreleased "French Blue" Air Jordan XII. Buscemi says the brand still felt the added visibility to the new model across a fleet of sneaker blogs, and is looking forward to continuing the brand's friendship with Wall.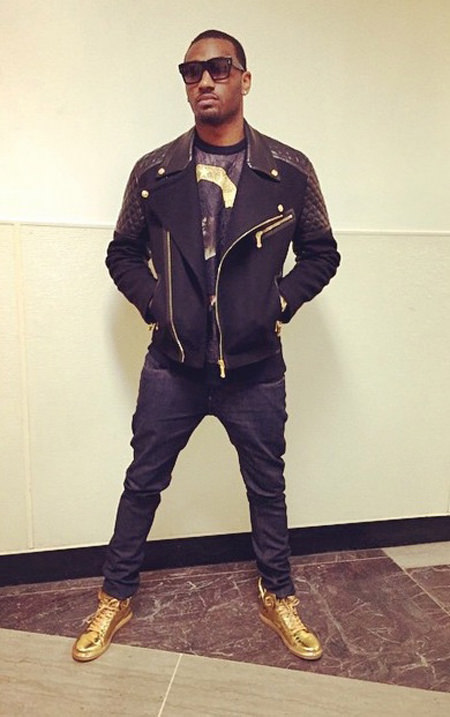 "His style is really aligned with what we do," begins Buscemi. "We take a luxury approach, but also have a classic design aesthetic. You'll see gold, the ornate hardware and the finest leather in the world, but it's not over the top. It really rides that classic line. That's how John dresses and that's why I think he's attracted to the brand. In the future, we'll probably work on some fun customs for him."
The brand's sneakers will continue to offer a stylized twist on industry staples, with a focus on hand-made quality and construction.
"We're not trying to reinvent the wheel or come up with the next god's gift to technology side of footwear," jokes Buscemi. "It's more about taking things that we loved as kids and teenagers, and looking at that now as classic footwear and flipping them."
As the Buscemi brand recently added a slide to the line, and expands to hoops-inspired sneakers this Spring / Summer with the B-Court, you can also expect to see new silos ahead as the company widens its portfolio of products.
"We make a really beautifully made slide now, because we all love slides from growing up. After we'd get off the field or court from playing, we'd throw on slides. It's more of a lifestyle approach," says Buscemi.
"In the fall, we'll also be making a boot. We're making one of the finest made Italian work boots that you'll ever see in the market. We'll have Goodyear welds, buffalo leather and real rubber soles to make these things indestructible. We're taking a boot and elevating it into being an elegant work boot. We're taking the best of what's out there and making it our own."
While the B-Court's debut was almost one of the great marketing crashes in All-Star Weekend history, the shoe first worn by John Wall will finally be making its way to Buscemi.com and its lengthy list of stockists in the coming months. Check out the $1150 sneaker in detail below.