As Web3 continues to takeover, the internet and life as we know it are changing right in front of eyes. Now more than ever before, tech meets at the intersection of art and experience in a way that hasn't existed until now.
As a next-generation experience platform, onlife Inc. knew that they had to design a game that balanced life both online and offline. With intentions to create an augmented, digitally-enhanced version of reality, onlife Inc. developed Aglet — a first of its kind gaming app that encourages people to wear their sneakers, explore their cities, and grow their virtual sneaker shelf to become the ultimate Sneaker Don.
The Aglet app converts your real-life steps into in-game currency that allows you to obtain virtual sneakers. Since the app launched, users could wear anything from beaters to holy grails, but now, for the first time ever, users will be able to purchase a real-life pair of the Aglet One sneakers, which is launching alongside a matching NFT.
The lead illustrator at Aglet is Dan Freebairn, who spearheaded the development of the Aglet One sneaker. Dan is a longtime professional within the sneaker industry that has worked with Puma, Reebok, and Saucony. Most notably, Dan worked for adidas where he grew his portfolio by creating artwork for a multitude of products. As far as passion projects go, Dan is also the creator of KickPosters, a series of sneaker illustrations and limited edition posters. With the looming presence of Web3 on the horizon, Dan decided to transform his art into NFTs by creating 777 unique sneaker illustrations — all of which sold out in only 13 minutes.
Learn more about Dan and the development of the Aglet One as we talk to him about how he got started, understanding NFTs, and what's up next for Aglet.
Nice Kicks: How did you get introduced to art and design? Have you ever designed a sneaker before?
Dan Freebairn: "I loved drawing as a kid and went on to study art and graphic design in school, so I guess it's always been in me. But as far as sneakers go, I've been illustrating sneakers for just over eight years now. I've created a ton of concepts and mockups over the years, and I've been lucky enough to work with Adidas on its miadidas projects, as well as create a prototype at a Makers Lab pop-up. However, I've never designed my own shoe from the ground up until Aglet gave me that opportunity."
What was the inspiration for the Aglet One? Were there any specific sneaker moments or design elements that you were trying to emulate?
"I prefer clean and/or minimal design, so when I started sketching out ideas for the Aglet One I was looking at the classics… adidas Superstar, Stan Smith, Nike Air Force One, Dunks etc. I wanted to create something with a timeless look, rather than a crazy looking chunky runner or futuristic sock sneaker."
Has data from Aglet users influenced the Aglet One design at all?
"The design? Not this time around, to be honest. When myself and Ryan (Onlife CEO and co-founder) decided we needed our own Aglet sneaker, our app was only 4-6 weeks old. But the reaction from players was instrumental in us selecting this as our first proper IRL sneaker. It is by far the most popular silhouette in the game, even compared with some of those bigger, famous brands."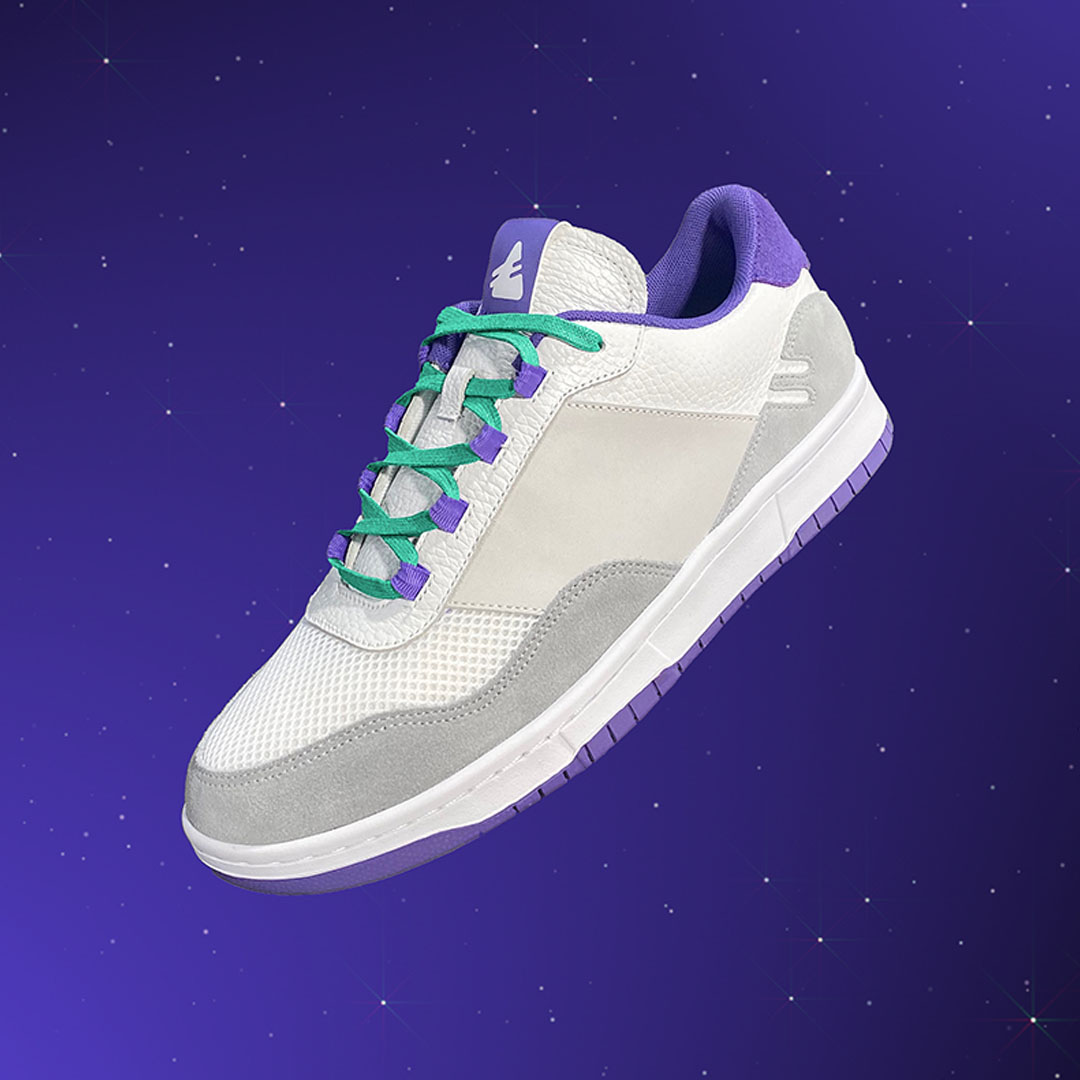 What was the process like when coming up with the colorway for the debut Aglet One? Is the colorway symbolic of anything?
"It was pretty straight forward really, as I said previously Aglet was only a few months old when the idea came about, so other than the launch itself we didn't have many significant milestones to highlight. It was just about coming up with something clean that featured our brand colors. Aglet's predominant color is purple, and I could have made the colorway predominantly purple as well. But going back to the idea of fitting into that 'timeless classic' category, I wanted to apply that to the color palette as well, so opted for white and used purple as the accent color."
How long did it take for the Aglet One to come to life?
"Well there's two answers to that question… From initial sketch to dropping the first colorway in Aglet, was roughly two weeks. At that point we didn't have any plans to make it a physical sneaker, so it's a lot easier to design a shoe in one angle for the game. But once we decided we wanted to bring them to life, there was a lot more work to do. You have to think more about materials, maybe tweak the shape, draw the shoe from additional angles and of course work with a manufacturer to develop the design and make samples. That process has taken us around 18 months."
Why did Aglet decide to partner with Garrixon to manufacture the Aglet One?
"I'd seen the work they had done with Mache, they helped him develop his own sneaker and from what I saw on their social media, they just looked like a great team who are passionate about their projects, while at the same time working to a high standard and producing quality sneakers."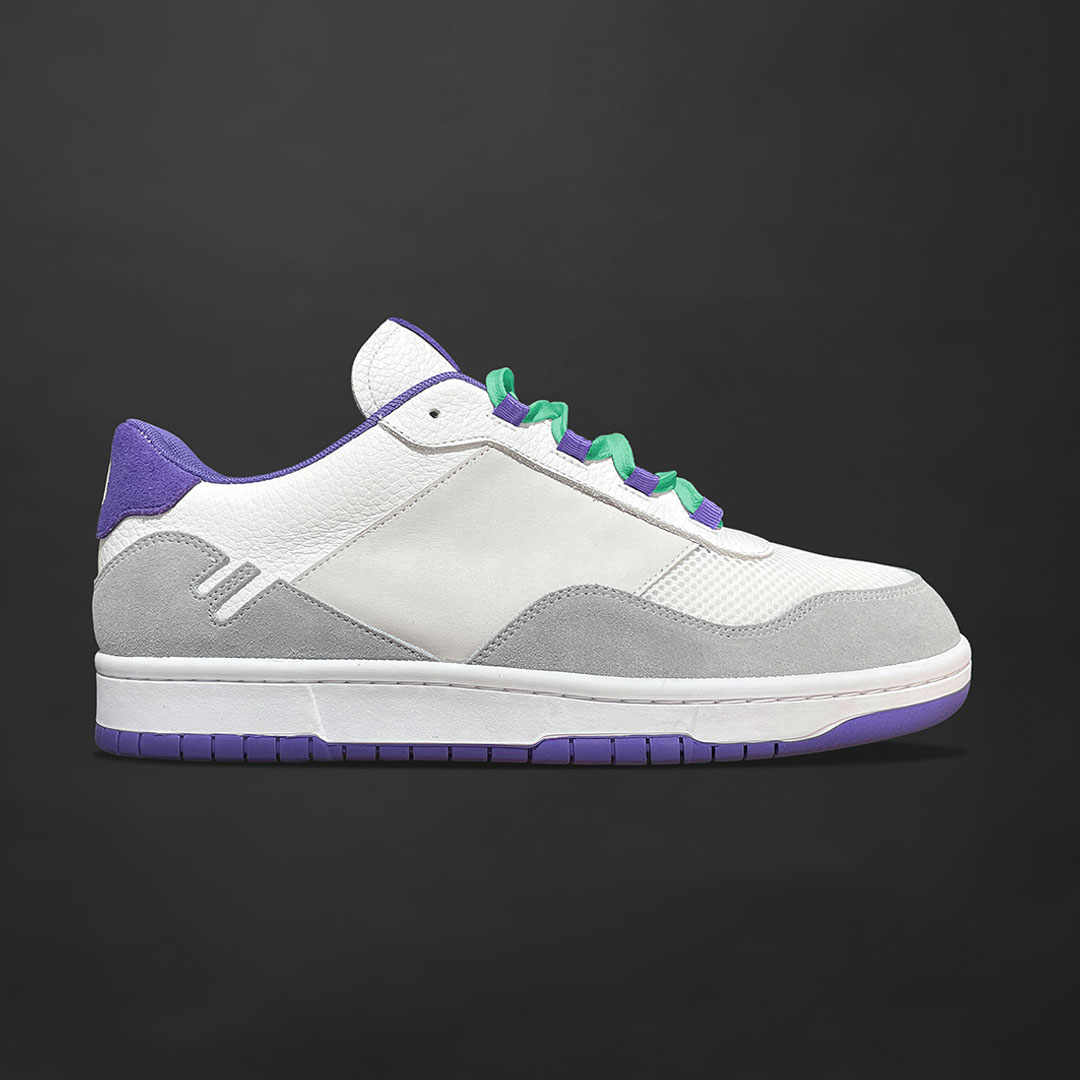 What was the most challenging part of designing the Aglet One?
"Tough question… With it being my first shoe, I think the most challenging thing was designing the individual panels of the sneaker, making it flow, creating something clean and simple, whilst being original and without directly copying some of those classics I mentioned earlier."
How does the Aglet One push sneaker culture forward?
"One of Aglet's goals is to become a platform for young creatives to design and launch both digital and physical products. It's expensive to manufacture your own shoe, or launch a clothing brand. We want to give designers a chance to have their own sneaker or clothing line without that high barrier to entry, by launching digital products first, then looking into the physical space. Aglet gave me that opportunity and I'm just the first. We have players submitting sneaker designs every day, both colorways and original silhouettes. We will give these young creators a chance, whereas normally you'd have to be a Kanye, a Virgil or Pharrell to get a shot."
How will Aglet's new NFT capabilities advance gameplay within the app?
"The initial gameplay that our current players know and love won't change, players can still play without having to buy NFTs as they wish. However, for those who are interested in NFTs and want to explore the web3 space, we now have that option. It will also bring true value to our digital game assets, later in the year our NFTs will be able to be bought and sold for both USDC and ETH (in our and other marketplaces), meaning players can make cold hard cash collecting and selling our digital sneakers. And while the point of collecting in Aglet isn't really flipping for profit, if players want to do the work and play that way they absolutely can."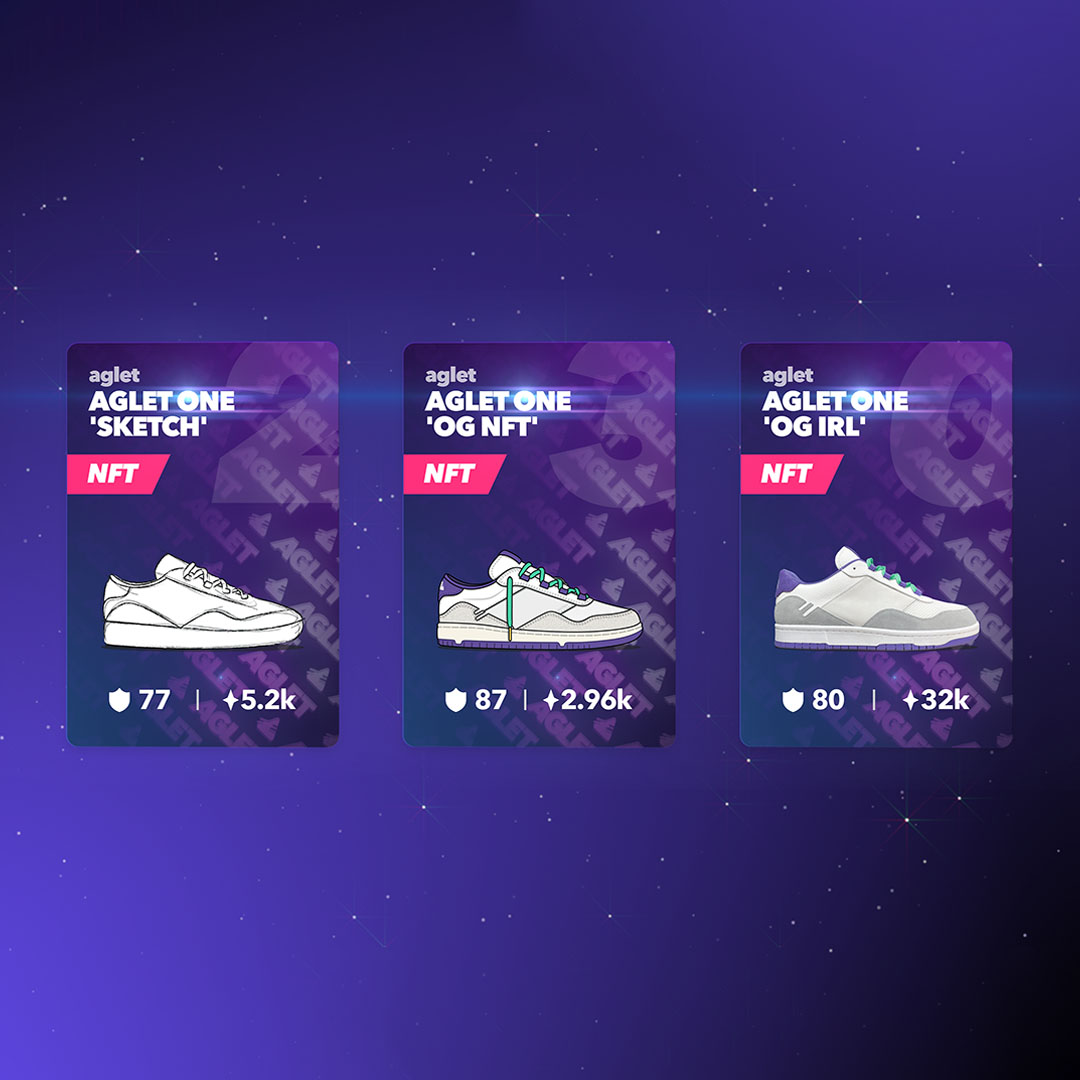 When first learning about NFTs, were you openly receptive to the concept or were you hesitant at first?
"I actually learnt about CryptoKitties and NFTs around the time we started building Aglet, we've always had NFTs in the back of our minds but wanted to focus on building a solid product/game first. It was early 2021, during the 'crypto art' boom, that's when I personally started to pay attention and started educating myself. I hadn't dived into crypto prior to that point, wallets, seed phrases and the complicated onboarding process is what put me off in the past. And funnily enough, that's something that we're now looking to fix with Aglet NFTs."
Will Aglet's NFTs continue to be original silhouettes? Or can users expect to see other NFT sneakers from Nike, Adidas, New Balance, etc.
"Initially they will be Aglet Originals… But we're already looking at collaborations and potential partnerships where we can introduce other brands into the Aglet NFT ecosystem."
What's next for Aglet? Will there be more real-life releases?
"100%… the second colorway is already in the works and we have plans for more."
—