Dipping out from Houndstooth Coffee after a productive morning of #content, I stepped up the stairs of my complex to get my keys and get lunch at my sister's crib. On the way to my spot, I noticed my good friend and next door neighbor Anthony (who writes our weekly Supreme feature) had a box at his door.
"Aw shit it's fucking lit…" I thought as I saw the package.
Not trying to get too excited as I'd been let down before, I brought to mind my Headspace meditation of being present, before I turned the corner to the hallway to my spot to see if I too had a package.
To my delight I had three.
Slow-mo high-stepping, while pushing the floor ala Nick Van Exel — but at the pace of Kyle Anderson — I scooped up the three boxes and unlocked the bat cave.
Box 1? A gift card from Under Armour to make some custom kicks on their site. Thank you much Tara and Co, will definitely make up some Curry 1s or Drive 4s for bball league and the culture.
Box 2? What I had been waiting for: the adidas Yeezy Boost 700 — my first pair of Yeezys ever.
This may come as a surprise to anyone who knows me from this job or anyone who knows me from ten years ago as a junior at Michigan State with a pink G Shock and my barber's best attempt at the white guy version of Kanye's 808s era afro mullet, but no, I've never bought or received Yeezys.
Looking back to the time of college, that was in '08 when the Nike Yeezys were dropping. Before I had a gig at NK — or any internship for that matter — the only plug to speak of was my friend Cliff, who worked at Burn Rubber. He'd helped me get the Robot EQT B-Balls, but I respected Cliff and myself far too much to ask for any favors on the Yeezys. Plus, other than very light college cash from my job at Johnny Mac's and my folks taking care of my school, I sure didn't have the bread to cop aftermarket, nor did I have anything to offer of value to any of the good people at Burn Rubber.
While some lined up for days to cop Kanye's kicks — my favorite artist teaming with my favorite brand — I was still more interested in going to a party, playing hoops at the IM or taking care of my homework than lose two days and $200 for a pair of shoes. Loved 'em, just different priorities. Still the same, same, same.
So if you're getting the gist here, these Yeezys were a pretty big deal to me. When the Wave Runner 700 hit Yeezy.Supply a few months back, I was at Neiman Marcus Last Call with my mom and sister. (Funny enough, "Last Call" is my favorite Kanye song, actually listened to it this AM…)
I did the launch post for Nice Kicks from my iPhone, while standing at the store. Since they hadn't sold out and I really, really liked them, dating back to January when they leaked while we were at Agenda Long Beach, I bought them for $300 (the most I have ever paid for shoes, topping '07 Foyal Foamposites and Nike ½ Cents of the same scheme in '09 off Pick Your Shoes). To me, the Yeezy 700 looked like how "Head Like a Hole" by Nine Inch Nails sounded — aggressive, retro inspired but still left and ahead of its time.
When buying them, I was a bit weary of how they looked in the photo and the heavy price tag. Still, shoes are fun, and it's good to treat yourself (and take care of yourself) — so I got them. Fast forward to the present — and I finally opened them up.
Honest first reaction? Disappointed.
I'd been waiting for these for a minute and similar to the pics on Yeezy.Supply, they looked 'flatter' unworn than they did on the feet of Kanye at his Calabasas office. My favorite part of the shoe — the aggressive midsole — was painted poorly and the multi-panel toe box didn't show the depth I was hoping for.
Make no mistake: I like these shoes, but for $300 I was expecting something nicer in hand on first reaction.
The first thing that impressed me about the shoe however was the first thing I hadn't yet seen — the outsole. For somebody that had Antoine Walker Feet You Wear signatures from Marshall's back in the day, the wavy two-tone black and white finish really reminded me of that and old Kobe stuff. The best part? You can see the Boost through it, making for an ill visual and also proving full-length cushioning, which was somewhat in question upon their web leak.
Like any millennial doucher, but also one with reverence from the first Yeezys and fellow Michigan native Big Sean and his photo where he looks like he's motorboating them, I grabbed my phone and attempted said shot, as well as the 'Can you hear me now? I'm pretending my shoe is actually a phone' pose. Not sure who I was trying to impress, but I eventually shot a few shots of the shoe-sans-selfie to my homie CJ, who writes opinion pieces, as well as the Nice Kicks group chat that's Ray, D, NDP, Jeff and Matt, as well as my boy Luis, who DJs and got 'em too.
Opinions were skewed on the shoe visually, but the consensus from the group — which I agree with — is these are more of a $180 to $250 shoe than a $300 shoe or the $600-something they're reselling for. Had I spent that lower amount on them, I think my initial reaction would've been better. I'm not at all into reselling, save charging my boy B-Rad $40 for a pair of "Triple Black" Air Operates our senior year, cuz 11.5 was too big for me to hoop in and he needed a practice shoe for our high school's (shoutout Okemos) state playoff run and near undefeated season.
Aside from that, most seeded stuff goes to homies because I'm blessed beyond belief with shoes (thank you Matt and Allison) and if my money or space is tight, I'll get some cheap change from Buffalo Exchange for 'em. Don't feel great saying that, but everybody's got bills.
In other irony, I uploaded a Snapchat video of me with them that really could've just gone to my cousin Ty and friends Will, J Howie, Brett and Brendan who like Boosts (my bad Gabe, Matt B and Cleto, y'all been asking about 'em too). I tagged it "A-hole" as a bit of a self deprecating thing for "stunting" and also a pun off the Virgil irony — a reference surely lost on most and based on feedback an upload that won't get me any dates. Still, good lighting and fun shoe.
Following that, Ty texted me and Matt gave me a call to ask me my honest reaction on the shoe and suggested a piece like this, which is fun. I showed them to my sis, who designs, once I got over for lunch and she had pretty much the same reaction: cool design and colors but for sure they look cheaper than a $300 shoe, noting the midsole painting in particular.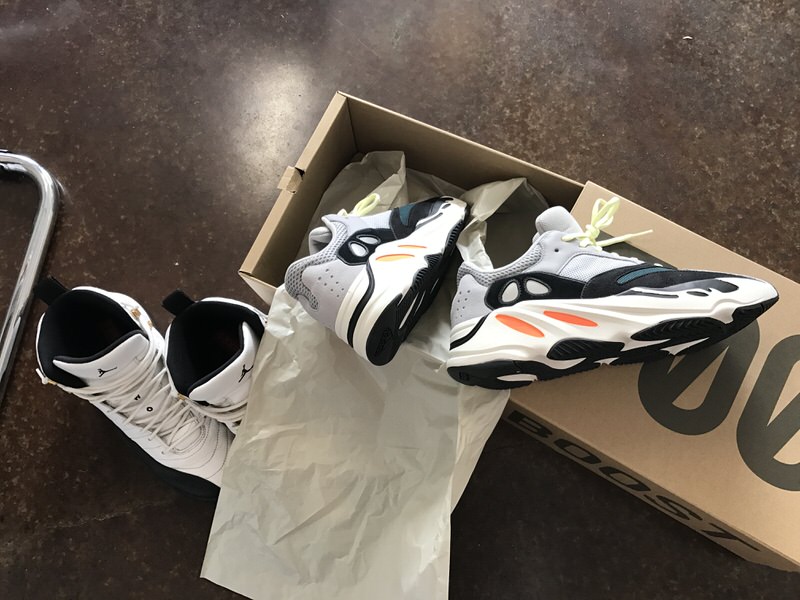 Ultimately, one doesn't buy a Yeezy to look at it as a museum piece or dissect it like a science project. They buy it to resell it (which I think is lame) or to wear it (which I think is cool). To say this shoe or any shoe is worth the $300 price tag or $600 resell tag, I would suggest money is better spent on a vacation. My friend Gregory recently showed me the new Google Flights feature where you can get pretty much the best deal ever and maybe fly to Paris for the price of this shoe depending on which city you live in — no joke.
All that said, as I actually try these on for the first time and look at them in the mirror, they look and feel really fucking good (pardon my French, though I've never been to Paris). A Kanye shoe definitely has a level of excitement to it that can't be priced, and hopefully I meet some cool people in real life who ask me about 'em. That's for sure my favorite thing with clothes and sneakers.
So while I won't resell them, and I probably won't hoop in them as I was once thinking, these are a dope shoe. If they ran a relatively less steep $180 to $250? Well you or I wouldn't have gotten this piece, but I think we both would've got a better deal.
To put it bluntly, shoes are too much right now, and it's not just Yeezys. This is most every brand (save a Dame 4 or PG1), and it's even worse at resale. In the spirit of stream of conscious writing with an opinion layered over — RIP Gary Warnett, who would've done an ill job on something like this. Peep his work here and feel free to see my Yeezys below. Are you happy with your Yeezy 700s? Let us know on social, in the comments section on Instagram or anytime in real life.
**Spoiler: Box 3 was the Champs NMDs, which are wool and in my high school colors. The best part? They tapped Tory Lanez for the campaign. Shoutout Sascha and the whole Scoremore team.**