All of our journeys are different…
For some, it's seeing your older brothers ever-fresh sneaker rotation or getting into the '90s and '00s skate scene, for others it's watching the man Michael Jordan or following interests in the fashion.
There are so many different angles and outer influences that have brought each one of us into this world of sneakers. As the culture evolves and grows to reach an even wider audience, the female population is one that I can't help but notice appear more and more, both online and at events/releases.
I want to explore how and why so many of my female peers got into sneakers and what the future of our demographic looks like.
To do so, I headed to one of the UK's largest sneaker events and spoke with ladies from different walks about their journey and what they want to see happen in the sneaker space.
How did you get into sneakers and what was your first memory of it all?
@crown_juelzz: I was about 5 years old and I had just moved to Clapham Junction. I was window shopping with my mum on the high street and I saw this dude walking out of Foot Locker with JD Sports and Foot Locker bags rocking some Air Max 95s. I wanted to go in but my mum gave me that 'no' look. From then on I knew I loved sneakers. From Js to Air Max, to Kobes, LeBrons, David Beckham's Predators, Total 90s and more.
I knew my mum would never buy me sneakers that expensive, but my luck changed on my 11th birthday when I got to pick my present. I chose some blue and gold BWs. A week later my mum got the same pair in a different colourway… I was not happy!
How have you seen the sneaker culture evolve?
@crown_juelzz: I love the sneaker culture because as someone who is quite shy and not the best at expressing myself, the sneakers people wear make a statement and I like that. I also like the performance aspect of sneakers, eg. playing football with blades or studs, playing basketball with high tops or low tops. What I really like is the merging of the two: great performance shoes that are stylish at the same time and allow you to do both. But recently due to the whole increase in reselling, raffles and social media flexing, the sneaker culture is no longer about making a statement with what's on your feet. It's about who someone one is, it feels like everyone wants to show how much money they have, the newer younger collectors/sellers are creating a different type of culture in the sneaker community. Let's not forget the huge influence sneakers have had on high street and high-end fashion.
What's your favourite silhouette?
@crown_juelzz: I can't just pick one! Here's five… The Kobe 8, the most comfortable kicks I have played in and the colourways are super dope. The Jordan 1, simple but they have a way of making outfits effortlessly cool. The Air More Uptempo, the air bubble unit is beautiful and I love the bulky design. The Air Max 95, I literally love everything about the shoe! The Jeremy Scott x adidas line, I would have loved to own any of the animal pairs. The design was so unique.
What do and don't you like about female releases?
@crown_juelzz: The female sneaker scene felt really Air Max and running heavy, then there was a lot of pink and pastel coloured releases. And then the Jordan 1s of late have been fire and also the Vogue 3s. What I don't like is the product alignment with public figures like Kylie Jenner and other online influencers. Females are exposed to social media more than ever and body image is becoming of increasing importance to women and it is having huge effects on the younger generation. I believe we should be using more positive role models from the female sneaker community over the rich and famous you'll find on the Instagram 'Most Popular' page.
If you were in a room with brands, what would you tell them? What's missing?
@crown_juelzz: I want to be excited again! Off-White and Yeezys? It's getting a little boring. I also want good quality, too! In the UK especially, let's see more of a creative link between female sportswomen and brands, working with people like Drew Spence (Chelsea pro footballer) who loves Nike and would be a great face for a Nike lifestyle/performance campaign. Let's get more females into sport through these collaborations. Some have been well executed eg. Candice Parker and Adidas, Maya Moore and Jordan, Sky Diggs and Puma and Serena Williams and Off White.
Why are you into sneakers?
@emlgzhng: Me and my mum used to go to Leeds quite a lot, to the outlets there and I'd use my pocket money to buy my own sneakers at discounted prices. The first pair I ever bought were some pink and silver Dunks. I used to wear them everywhere and my friends would bug out asking me what I was wearing. When I was like 13, I used to be one of those Tumblr kids and I saw an image of those iridescent Raf Simmons velcro shoes but they were a men's only release. I went looking for them everywhere, I was on a mission but while trying to hunt them down I came across loads of other pairs I really liked. From there my sneaker knowledge got broader and broader and I've always been in love with Nike. I really love sale shopping, I'll never buy pairs for retail. They always have to be discounted or on eBay, I don't mind wearing worn shoes.
What is it about copping discounted kicks you love so much?
@emlgzhng: Well they go on sale because people don't like them, they've forgotten about them and I like that because they're the rejects that tend to be quite ugly — and I really like ugly shoes. So, sneakers like Footscapes, because my feet are so small, and releases from four or five years ago. I have this policy where if I don't love it, I shouldn't buy it. If it costs £90, I need to be able to wear it 90 times.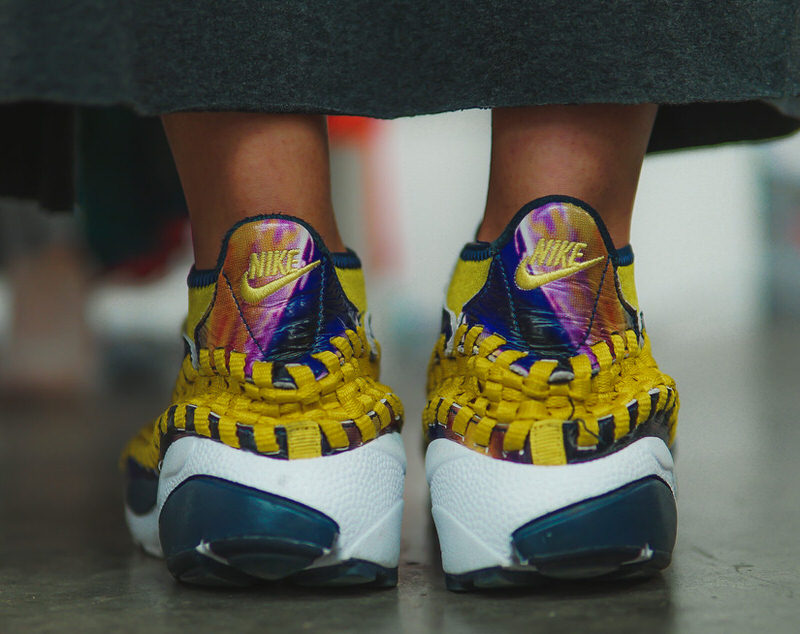 What's your favourite silhouette?
@emlgzhng: I really really love Flyknit Racers because they're so comfortable, lightweight and breathable. Footscapes, because they hardly ever come in my size so it's rare for me to find a pair. I like them because they're ugly and quite wide and also Mowabbs which never came in my size, too. I'd always watch them because I saw a few pairs by ACG and I absolutely loved the colours!
What would you like to see more of in the sneaker culture for women and from brands? What are they not doing?
@emlgzhng: I know Nike has made a conscious effort to include women in exclusive collections but at the same time I don't think they are good silhouettes or nice models. Another example is Puma, they released so many shoes with Rihanna for Fenty, and it seemed like they had a quota to fill, which she has done but they're not decent and not shoes I think people want to wear. A lot of my female sneakerhead friends, we love all the kicks the guys wear because they're exclusive but they don't come in our size so we've always strived for these kinds of releases — the more masculine shapes like Air Max 1s and 90s.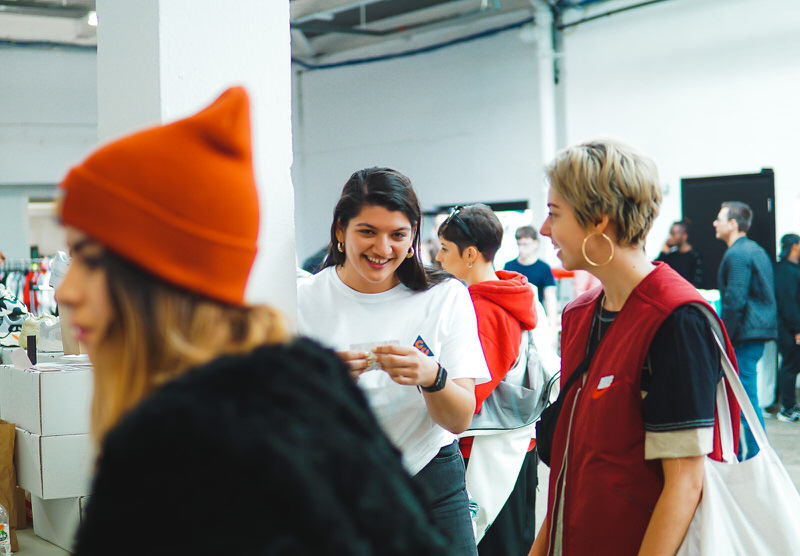 Why and how did you get into sneakers?
@betttencourt: When I was young around 10, I was a tom-boy so I used to wear boys clothes like tracksuit bottoms and trainers. As I got older, around 15-16 you start getting your own money from part-time jobs and then moving up into university and working. That's how I got into collecting trainers. I'd always liked them and had them but it wasn't like collectors type pairs or hype.
Has your collection or taste in sneakers evolved over that time?
@betttencourt: When I first started buying my own pairs, I didn't really know what were the hype trainers were back then but as I got more involved and started coming to sneaker events like Crepe City, then I saw all these crazy crepes. Now that I'm more exposed to them, I'm more interested and I buy more pairs. There are different things you can afford being 18 and 24/25 you know?
What are your thoughts on females in the sneaker culture and where we're at right now?
@betttencourt: Brands are making a conscious effort to involve women in sneakers, but I don't feel like the sportswear brands have driven that. In that last 10 years, we've seen women wearing sneakers more with their daily outfits and I don't feel like the brands have driven that, they've capitalized on that. They're doing a better job, but I see these exclusive female collections which I think a lot of girls don't really rock with. Genuinely, I don't think women want something that's very different to what men want. We actually want the same thing, so I don't know why they're going out their way to make these overly female releases that no one really wants. Just make the men's releases in all sizes, for women and men. Don't segregate people on dope sneaker releases.
Are there any women's releases over the past year that you've enjoyed?
@betttencourt: I did like the Nike Reimagined campaign, I messed with the Jester from that pack. I have that pair and I quite liked the Explorer too. I thought the spin they took on those silhouettes was really cool. I messed with the Satin Shattered Backboards too but I'm not sure why that was a women's only release.
*****
Granted, I only spoke to a handful of women here but taking into consideration all the ladies I know and converse within the community, our origins are no different to the guys. We all found our way here traveling the same roads and even our desires for change are the same, too.
Brands are beginning to recognize and value the female presence and they are starting to align on projects and with the types of industry figures that we want to see. There are still areas of segregation on the issue of sizes, every female I speak to just wants the be able to buy the same releases as the guys but in their size. We can't understand why that is such a difficult thing to answer. There's an entire generation of consumers and enthusiasts who get left disappointed on a monthly basis because the sneakers they want were only made in a size 6 and above – this summer's Flyknit Jordan 3s hardly released in any of the smaller men's sizes.
Looking forward, I expect more ladies to come into the fold of the sneaker scene through this influx of mainstream marketing. Whether or not they become saturated to the point of a full-blown sneakerhead who find passion in its history and diversity is hard to say, but whether you like it or not, the Yeezy/Off-White wave will be a moment we look back on where people started their journey and that can't be discounted.
Thank you to the ladies for their time speaking to me and sharing their thoughts, and to any other ladies reading, do hit me up and connect! I love to meet fellow female 'heads', we're responsible for making our culture react and take the course we desire it, too.