Last summer, E'Twaun Moore signed a four-year deal with the New Orleans Pelicans. Somewhat similarly, Moore signed another deal this past summer with Q4 Sports as one of their signature athletes.
Q4 Sports is relatively new to the basketball sneaker game, which is why they gave Moore a hard sell at the beginning of the summer. Moore was receptive to their pitch and after training and playing in the Q4 495 over the summer, he decided to make it official.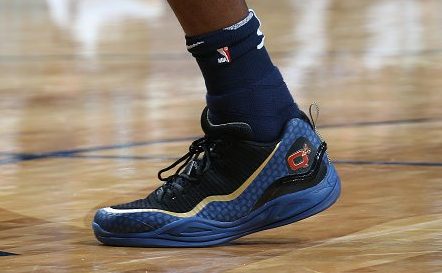 "They told me all of the great plans they have for the company," Moore told Nice Kicks. "So I got to wear them for the whole summer and they were very comfortable. And after that experience, I signed with them."
Aside from the technical aspects and comfortability of the 495, signing with Q4 Sports appealed to Moore because the company gave him total control of his player exclusive colorways. Moore was able to be hands-on throughout the design process and is quite happy with how his Q4 495 Lo "Mardi Gras" PE turned out.
"I'm the only one [that] designed and created the whole model," Moore said. "The colors, the shoe, I made the whole shoe. It was a very creative and fun process and something I look forward to doing again in the future."
Moore's eye for style has been drawing rave reviews from his teammates. And because of those compliments, Moore is hoping his teammates and other NBA players follow his lead and sign with Q4.
"My teammates are like, 'What's those, what's those?'" Moore said. "I've been getting a lot of good response so hopefully we can get some more people on board."
Q4 495 Lo "Mardi Gras" PE
Select imagery via Zimbio