This weekend, sneakerheads from around the globe shared in the experience of celebrating Air Max Day. This year's annual celebration of Air included some special activations and live events in multiple cities including the highly anticipated Air Max Con that took place in Tokyo, Hong Kong, and New York City.
Hailing for Las Vegas, Angela, known to most as Ellaesco since the NikeTalk days, was featured in the latest Masters of Air video by Nike, and also was on hand at Air Max Con in New York City.
We caught up with Ellaesco quickly this weekend for a little bit of information about the event and what it was like to be featured in Nike's mini-series of hardcore heads.
---
How and when did you find out you had been selected to be part of something this special?
Honestly, it was really confusing. [laughs] You know how Nike keeps you guessing. I was originally asked if I knew any crazy-dope Air Max heads, and that is like a niche within a niche. I think it was a couple weeks later I received a call asking about one of my Nike tattoos, specifically my 95 inspired tattoo. I described the story and they were like, "Great! Let you know if there are any more questions." I want to say a couple days after, a different person called with the same questions. I started to suspect or rather, hope, that I would get selected for what they were doing.
I received a call asking about one of my Nike tattoos…
I knew whatever it was, it was going to be amazing. Maybe a week or so later I was asked to participate in a conference call. Still, I really had no clue, so I was just spewing everything I knew (and loved) about Air Max and the heritage. At the end of the call, they did tell me I was selected for the film, Masters of Air, and we started filming four days later.
I still kept holding my breath, however, because I still couldn't believe it was true. I was totally geeked. As the con was approaching announcement I was asked to join with another awesome collector, Iceberg, and later we found out that we would feature our top choices at the NYC Air Max Con. Never would I have imagined that those phone calls would have turned into reality – which still feels oh, surreal, by the way.
How did you narrow down the list of shoes you wanted included?
[sighs] Ok. This was not easy. At first I was thinking I'd just do all Air Max 95's. But, then I started thinking about how much I love my Navigation 90's and my OG 96's (a gift from Tommy Rebel years ago).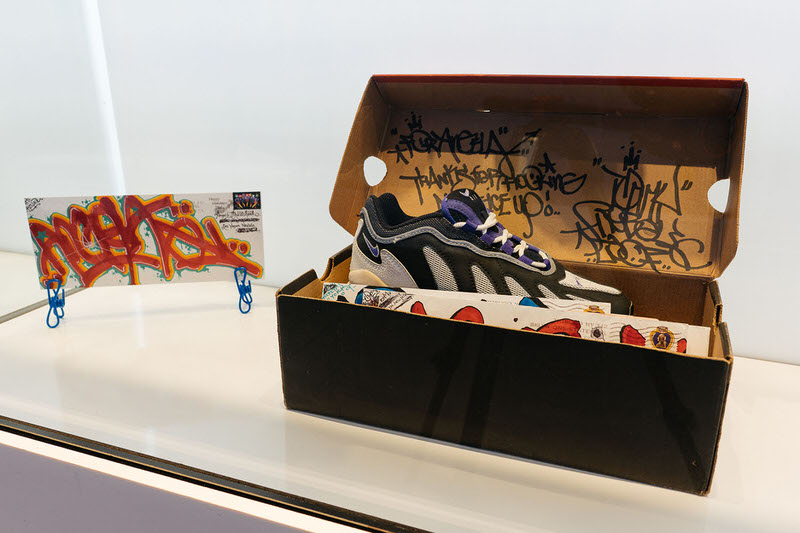 It became clear to me to just grab what I would normally choose for a rotation…and just keep building from there. Going by that train of thought I was able to incorporate some new sh*t too. I loved the 2015 print city pack. I couldn't use them all, so I chose Paris and Tokyo. It was really amazing sharing my love with Jeff Staple and Claw Money when they came to check out my collection.
I was really stoked on telling him why I'd been a fan all these years. He has always been honest and true in everything he does and in his interviews. That stuck with me. I didn't clean the pairs that were worn or super beat. I wanted it to illustrate that I actually wear my kicks.
I wanted it to illustrate that I actually wear my kicks.
What was the most surprising thing you learned about yourself throughout the process?
How organized I can be under pressure and deadlines! [laughs] Something else that was big for me was learning that I didn't need to compare myself or my collection to anyone else. I just let my passion fly and stayed true to myself.
One extra! How hard was it to keep it a secret?!
It was difficult in the beginning and then it became fun; knowing that I was going to surprise everyone. This whole thing almost came out of no where…like…air.