The debate for the greatest of all time, culturally referred to as the G.O.A.T., hinges upon a variety of things. Whether it's rings, statistics or legacy, a player must be polished in every and all aspects to be immortalized in the game of basketball.
But what happens when you have it all? Is a debate even necessary?
3x NCAAW Champion. 2x Naismith recipient. 4x Olympic gold-medalist. 6x Euroleague Champion. #1 pick in the 2004 WNBA Draft. 8x WNBA All-Star. 3x WNBA Champion. 2x WNBA Finals MVP. WNBA all-time leading scorer. One of four players (Klay Thompson, Steph Curry and Damian Lillard) in the history of basketball to hit 1,000 3-pointers in less than 400 career games.
The list goes on. No matter what you call Diana Taurasi, whether White Mamba, Dee, Champion, Husky, Icon, or even Sneakerhead, it's undisputed that Taurasi is the GOAT.
We caught up with the G.O.A.T. after a Phoenix Mercury practice at Talking Stick Resort Arena as the Mercury prepared to extend their current scorching win streak. Read what the Hall of Famer had to say below.
Diana on Playing for the Phoenix Mercury
Diana Taurasi: The Mercury took a chance on me in 2004 to be the number one pick, and I felt like it came with a lot of responsibility to come to the city to win and to do it the right way. They've been amazing. This is my home. I've been out here all my 20s and now entering my 30s.
Of all my memories I always say Game 5 in 2009 was special against Indiana. To be able to win it in front of your home fans and how much it meant to the city and how hard it was against a great team. The memory of that game is one of my best.
Diana on Her Time as a UCONN Husky
Diana Taurasi: It was huge. It was a different education on how to approach basketball. How to approach each practice. How to approach your teammates. I probably learned more in that four-year stint of my basketball career than probably any other. That has a lot to do with Coach Auriemma, Coach Dailey and just the standards that they put on you every day to compete at the highest level.
Diana on Being a Member of the Swoosh Family
Diana Taurasi: I've always been a huge Nike supporter from the Jordan and Barkley days. Being at Connecticut gave me a taste of how serious they are about their gear and their shoes. It was a perfect marriage coming out of college to sign with them. They've been one of my biggest supporters and vice versa.
Diana on Her Favorite LeBron PEs
Diana Taurasi: I still have the USA 7s. That is just a great shoe. I've worn them in so many different colorways. I wore those a lot when I was in Russia. My Spartak team's colors were white, red and black. That's a dope shoe right there.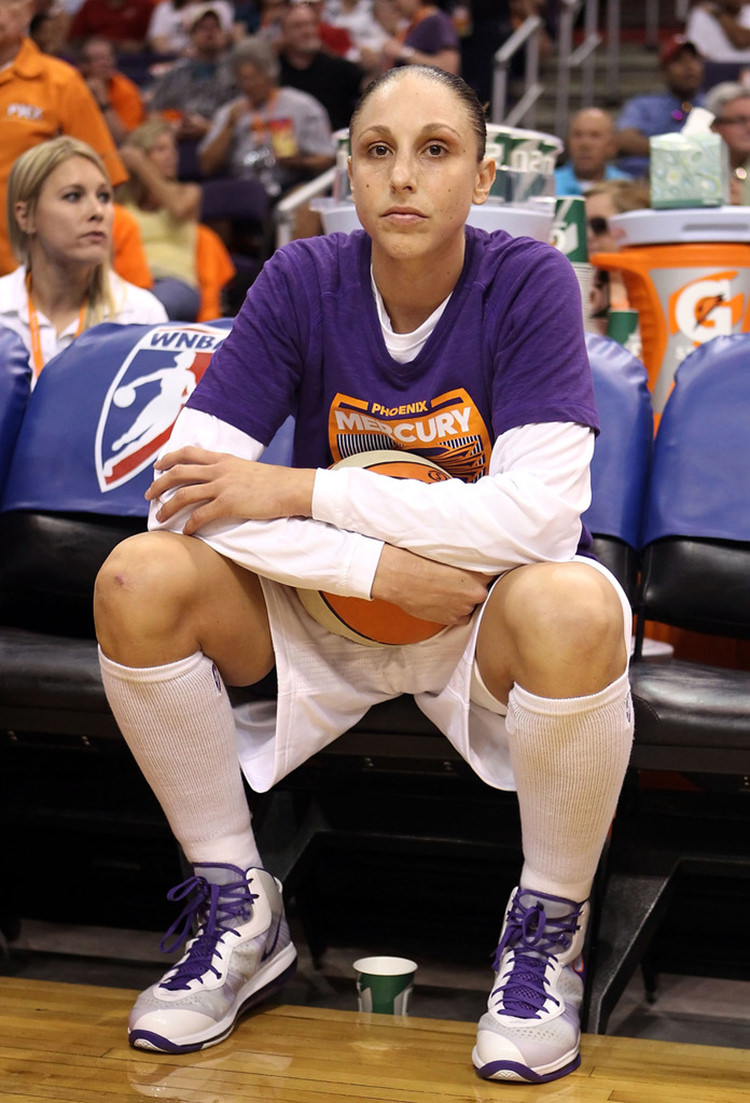 Diana Taurasi: The LeBron 8 is when I really started falling in love with the shoes that went full Air Max. I started wearing them when I played overseas in Russia. I wore a pink pair for the Breast Awareness game. That's a great shoe. I think we auctioned them off after the game for a good cause.
Diana Taurasi: He started going with Zoom Air with the 12 and 13. He kind of started going more into that lifestyle look, where you can wear it off the court as much as you can on the court. Just like the 15s. I think everyone is a big fan of the "Shoe Box" 15s. Obviously, for me, the 15s are the climax of Nike shoes as far as comfortability, flexibility and stability. They've come a long way. That's a great shoe.
Diana on Her Favorite LeBron Silhouette and Colorways 
Diana Taurasi: I could easily say the 15, because I'm in love with them right now. I'll stick with my 10s. The LeBron 10, at that point, was a lot of different shoe combinations all mixed into one — and made a great shoe. I'd always have the conversation with Nike. They're like, "Dee, we need to get you in the new LeBrons." I think I wore the 10s for a good five or six years. It's just a shoe I fell in love with. I felt like it was all the components that made me play at a high level. I really enjoyed those.
The Nike LeBron 15 "Griffeys" are pretty dope. I think those go a long way. I love the Nike LeBron 9 "Miami Vice" colorway. The USA 7s always ring a bell with me. The USA joints are my favorite.
You can follow Diana on Twitter as she and the Phoenix Mercury continue their quest for a fourth WNBA Championship.
Big thanks to both Dee and Bryce Marsee of the Phoenix Mercury for making this happen. Select imagery via Zimbio.