words & interview // Matt Halfhill
product photography // Ray Polanco Jr.
Before Russell Simmons had Phat Farm, before Diddy had Sean John, before Jay Z had Rocawear, there was a brand that was made for the culture, by the culture – FUBU.
Born in 1992 by Daymond John, J. Alexander Martin, Keith Perrin and Carlton Brown with a line of hats made in John's house in Hollis, Queens that were sold on the streets of New York for $10 each. When John sold $800 worth of FUBU hats in one day, he knew he was onto something.
Following the success of the hats, the crew began selling everything from shirts to jerseys with numerous music videos during the 90's and 2000's featuring artists wearing FUBU, thus giving the brand unmeasurable visibility and organic earned media.
Fast forward to 2018 and the brand is back and this time they're not alone. Partnering with PUMA, the FUBU bringback coincides with the 50th anniversary celebration of the Suede, proving the hallmark piece in a collaborative capsule collection for the ages.
We caught up with FUBU frontman turned Shark Tank titan Daymond John to discuss the birth of the brand, his reverence for PUMA and his advice for the next mogul in the making.
Nice Kicks: What did PUMA mean to you growing up in New York?
Daymond John: PUMA to me, as somebody who had aspirations as a breakdancer as a career, was the first official luxury sneaker as far as I was concerned. That's what I wore for my first eight years in hip-hop. When I was too young to go out, I would stay in on Friday and Saturday nights listening to rap music and dye all my PUMA sneakers in different colors. I was obsessed with PUMA.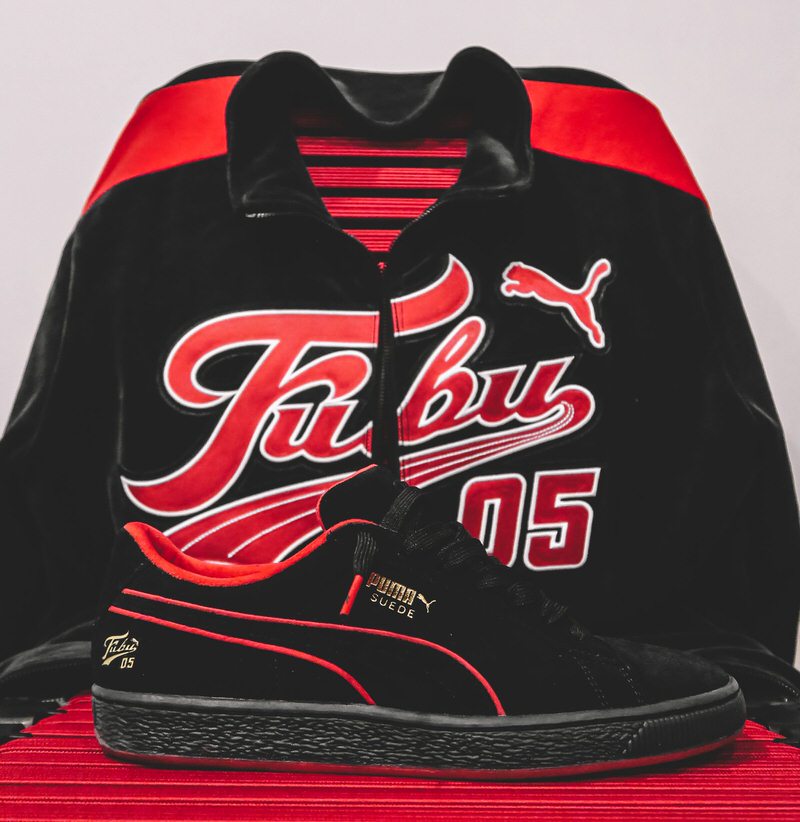 Nice Kicks: Were you always hands on in regards to creating?
Daymond John: I was always hands on from a young age. I would dip skinny laces in water and iron them until they were fat laces.
"When I was too young to go out, I would stay in on Friday and Saturday nights listening to rap music and dye all my PUMA sneakers in different colors. I was obsessed with PUMA."
Nice Kicks: The Suede is considered a classic in sneaker culture, what drew you to that model then and what makes it still matter to you now?
Daymond John: A bit of everything. Obviously it's 50 years of the Suede, but also the Olympic athletes wearing PUMA and what it meant to me then — with that we had our own version of taking a knee at that time. In addition, the suits were also part of break dance culture. I was a fan of PUMA all around and that's what drew me to that collaboration.
It was working with a company that inspired us. The brand's longevity and how it spoke to many different communities was important to us. Even with the ups and downs at FUBU, PUMA has been consistent through out and we're just happy to be associated with that.
Nice Kicks: From the original caps to the Muhammad Ali line to the Fat Albert collection, FUBU had hits over many years. What pieces standout to you as the essential FUBU designs/moments and why?
Daymond John: You definitely hit some of it. Being able to grow globally, having every single artist wanting to be part of it, having LL Cool J rap about us in GAP commercials, and then President Nelson Mandela calling us to come to our store when we opened in South Africa because of what he thought we did for the culture. Mandela calling us, are you kidding me?! Even me being on Shark Tank now, it's that FUBU really told people you could go out in the culture and own your own brand and showing how you can grow your own brand.
Nice Kicks: We've seen artists start their own brands but now we're seeing athletes do it. What's your take on that?
Daymond John: I think it's about time. We got inspired by Karl Kani and Cross Colours and they got inspired by the PUMAs of the world. But when Puffy and Jay Z decided to get involved in fashion and make their own clothes, we got excited about that. They were fashionable, so why shouldn't they make their own clothes? Now I think athletes are taking all those same steps. They're starting to empower the people that work for them and those that support them. Only 2% will make it to some place because of all the business behind it, but still it's only a good thing.
Nice Kicks: Speaking to the next generation of entrepreneurs looking to build their own brand, what is your advice?
Daymond John: You have to have a clear vision of what your brand is and stay true to that. You also have to know your consumer and who supports them and be true to them. You have to change and grow with them but also keep the DNA of your brand. You have to be on top of what your brand looks like today, tomorrow and the next day.
You could be Macintosh and suddenly you're Apple and it's all about putting your music on an iPod. You're still Macintosh but you knew in advance where the brand was going and now you're making phones. It's all about that healthy balance. You're thinking for your customers so they want to be part of your brand moving forward.
Nice Kicks: For you personally, which piece in this collection is your favorite and why?
Daymond John: Of course it's going to be the Suede. I grew up on it and I never thought anything I did would be associated with such a legendary piece. On the other hand, I grew up on the jackets and I get to see my own logo on it. Then again, I'm getting a couple of Suedes and I'm framing them in the office, so there you go.
The FUBU x PUMA Suede releases on January 26th at select PUMA retailers.