Last weekend, the NFL season that was ended in ultra dramatic fashion as the New England Patriots came back to defeat the Atlanta Falcons. On the field and on feet, the year had plenty of storylines with rookies like Dak Prescott becoming the face of a franchise and models like the Yeezy 750 Cleat and Ultra Boost Cleat changing the way we look at gridiron footwear.
At the axis of much of the attention was adidas Football. Signing stars and crafting customs, the Three Stripes made a lot of noise on both Sundays and on social. In town for Super Bowl LI, the adi team hosted a media and gifting suite in Houston that saw their athletes on hand to talk with the press as well as cameo appearances by the likes of Tim Tebow, Ludacris and Chad Johnson, just to name a few famous faces. Talking to some of the game's biggest and brightest young stars, hear what it's like to lace up Yeezys while tossing the pigskin and the best perks of having a shoe deal in the conversations below.
Nice Kicks: You guys have all been members of the adidas Family for at least a year now. What have been some of the best perks since signing with them?
Eric Berry: The best perk is the conversations with everybody. Getting the input from them, bouncing off ideas, just talking and them asking me my perspective on things. I think that's what it's all about: human interaction. Especially in a time right now where everybody is so into their phone and computers, just sitting down, collaborating and getting down to the things that matter is cool. Then a lot of their stuff has a message behind it, like the Pharrell Human Race NMDs. We stand for originality and that's what we do. Let's be original and let's push humankind to the right direction.
Dak Prescott: Man, adidas is great just all around. I love wearing the gear. To me, their street fashion is better than any brand out there. Getting to wear the Yeezys on the field and getting all the Yeezys sent to me is just great.
DeMarco Murray: The gear! I love the sweatpants, the shoes, anything. They're just very comfortable and working with the brand is always easy.
Jordan Howard: Just getting all the gear for free! They stay hooking me up with the newest things. The gear is just real comfortable and so are the shoes. Just being with Indiana in school, we were adidas Football. I wanted to keep the tradition of wearing adidas and felt very comfortable with them in college.
Nice Kicks: Last year was crazy for adidas Football with customs and Yeezy cleats. What do you all look for in a cleat and what were your favorite models?
Dak Prescott: [When I wore the Yeezys] everybody loved them! People were jealous. Dez wanted a pair — don't tell Jordan I said that — but he wanted a pair signed by me. It's a beautiful cleat.
Jordan Howard: I'm more of a simple guy, but I think in the future I might try to go for some custom cleats to wear during pregame.
DeMarco Murray: I've been wearing the same model for five years! They always want me to upgrade but I stick with the old school high tops I've been wearing for the last five years. That's what's great about adidas: they want you to be comfortable and where whatever's going to make you perform the best.
Nice Kicks: Just the same, next season should be huge for the Ultra Boost cleat. Can we expect to see you guys lacing them up on Sundays?
Jordan Howard: If they make a Chicago Bears colorway!
Eric Berry: I believe so. I'm gonna break 'em in this offseason just to get comfortable with them and get that symbiotic relationship with my shoe like I always do. Hopefully it works out to where we get on the field and make some plays.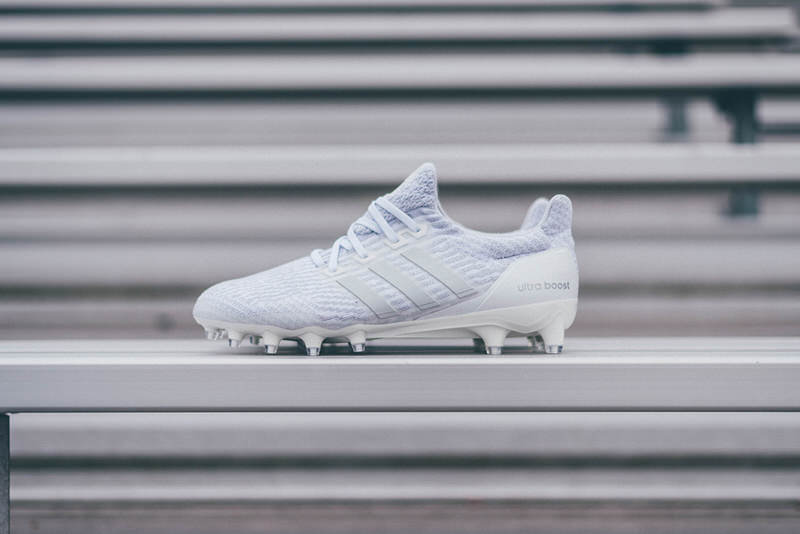 Keep it locked to Nice Kicks for more adidas Football coverage.