Back in 1917, when Converse first introduced the All Star to an unsuspecting basketball world, they helped pioneer an industry that now generates billions in revenue and provides countless jobs. The All Star was designed and subsequently reworked as a performance basketball shoe to be worn by the very best players of its time, which included the likes of Julius "Dr. J" Erving, Wilt Chamberlin, Jerry West and Oscar Robinson.
Trailing monumental success and cultural transcendence, Converse followed-up the Chuck Taylor with supporting silhouettes like the Converse Pro Leather and Weapon, two formidable styles in their own right. They were donned by all-time greats Magic Johnson, Larry Bird, Bernard King and others.
Converse cemented a basketball legacy that now spans almost a century. But what most don't realize is that the American brand has their footprint in running history, too.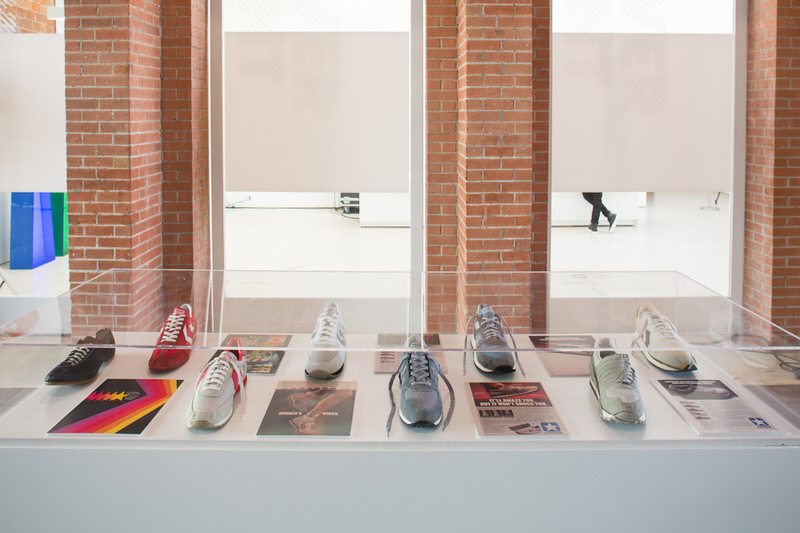 That vignette stands as the centermost point of the all-new Auckland Modern – a contemporary design inspired by Converse's influential running heritage – and our education at the shoe's launch event in Toronto last week.
For years Converse's running heritage has been a secondary tale to their overarching success in basketball. But as we learned in Toronto, their running history isn't simply a lost plot detail in a much larger story.
In the late 1950's, Converse began producing quality runners for consumers, elite athletes and coaches. Some of those earlier styles include the foundational Racer, Arizona Racer and, of course, the Star Chevron. Later they'd debut the asymmetrical-laced Odessa, which was followed by their early 80's biomechanics lab revelation that aided the Force 5 design. Each of these historic releases culminate to lend to the progressive style and performance elements noted in the Auckland Modern.
Fusing knit technologies with Nike's Hyperfuse and Phylon construction, the lightweight style bears traditional inspiration from the Star Chevron, which Bryan Cioffi, Vice President/Creative Director of Converse Global Footwear, clearly identifies as the shoe's ultimate generational vessel. "The Star Chevron is [sort of] the soul of our running space." Cioffi expressed. "I like the idea of taking the two different knits, meeting them up, and using the Chevron as a way to connect them. It's very rich construction. It closes over the seams and it's also the logo and just done in a super innovative way."
Converse's Modern series, in its second installment following the All Star Modern release earlier this summer, is poised to redefine the brand's presence in the lifestyle market through sporting designs that double as functional style statements. "Right now we're not aiming things at [professional] athletes. I think the unique thing that only Converse can give you is the combination of authentic heritage that comes from sport," Cioffi continued, "but built specifically for lifestyle. I believe that Converse can be the off-court choice for athletes. I think that's how we'll interact with all athletes."
Lightweight and aesthetically pleasing, the Auckland Modern rests in a space where other popular lifestyle staples like the adidas NMD and the Nike Roshe Run hold residence. Converse is supremely confident that this shoe, and the future of the Modern series, can shift the course of their trajectory much like those aforementioned styles did for their respective brands. "We really wanted to present engaging and fun details with a story behind them. That's what has helped us with the Modern collection. As we go forward and expand Modern, that's what we're going to hone in on."
The Converse Auckland Modern is available now for $110 in five colorways at Converse.com.