This story originally ran in 2012 during our Olympic Diaries series. Today, we revisit it to celebrate Gary Payton's birthday. Happy bday, GP!
The Glove had his fair share of moments in front of the camera, and it wasn't always basketball related. During the prime of his career and signature shoe line, Nike featured Gary Payton in a few, unforgettable commercials that are, to this day, some of the best television promotions produced by The Swoosh.
Gary was versatile – he dressed up as an investigator, a boxer, and he stepped on dwarfs – first and foremost, but his candid and extroverted attitude is probably what attracted Nike's promotional team.
In this Olympic Diaries excerpt, Gary Payton reflects on some of his memorable Nike commercials and details untold stories that happened on set. Gary also discusses his appearance in one of the most noteworthy basketball movies ever made.
RELATED: Olympic Diaries (1996): Gary Payton Details Creation of the Nike Air Zoom Flight "The Glove"
Alpha Project Commercial – "Dwarfs"
Gary Payton: "It was really fun filming the Alpha Project commercials. When Nike came out with that concept, I was really impressed. I was like, 'Yeah, this is going to do it.' I was playing really good at the time, so my fans started to catch onto it. It was really fun to participate in those commercials. One of my favorite commercials is when they had me stepping on the dwarfs. Nike always comes up with great concepts, and they were great at incorporating your personality, so you couldn't say, 'This doesn't fit me, or that doesn't fit me.' Nike's concepts are great. Another big shoe of the Alpha Project was the Presto. I remember that one being super popular, but I didn't really get into that one like everybody else did."
Alpha Project Commercial – "Evander Holyfield Fight"
Gary Payton: "It was really a pleasure for me to work with Evander. He was the world champion at the time, and he had just finished dealing with Mike Tyson and the whole situation. There's a really funny story with that commercial. It was kind of hard at first because, you know, he was the champion, and he didn't like the concept of getting knocked out. So, Nike came back and told him, 'We really want you in this because it's going to be a great commercial.' So, they changed the commercial up. Instead of me just beating him and wearing him down, Nike ended up adding another part to commercial that featured him boxing me in my Zoom GP shoes. So, the added part was when you see me look down and see him in my shoes before him knocking me out."
Fun Police
Gary Payton: "The Fun Police commercials were before any of my signature shoes released. It was me, Jason Kidd, Damon Stoudamire, Moses Malone and Kevin Garnett. It was fun doing those commercials, too. We were investigators, and we had the stylish yellow coats on. Those were the days. It was a great moment for us because that was before we all had our own signature shoes."
Bonus: White Men Can't Jump Appearance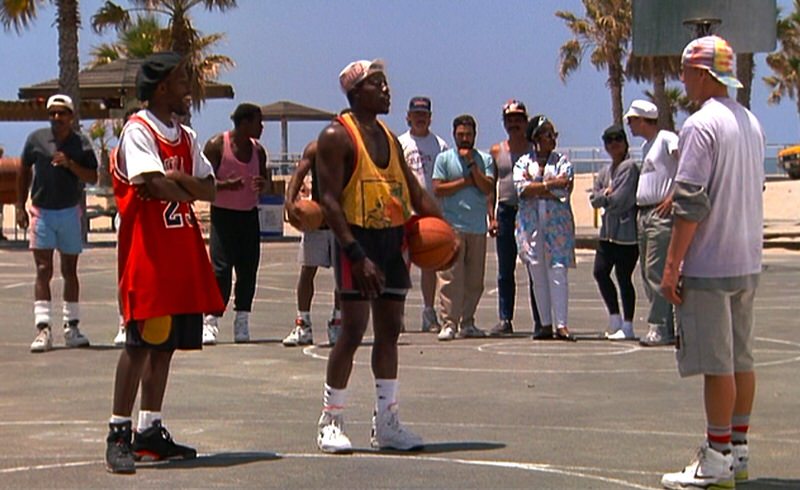 Gary Payton: "They wanted me in that movie because I wasn't a dunker. I liked to lay it up. They used to call me The Lay Up King when I was growing up. It was really nice to be in that movie because it just made a statement, and I could relate to the message of the movie. I didn't have to get up above the rim. I could tear drop you, or I could lay you up, and when White Men Can't Jump came out, Woody Harrelson did the same thing. He couldn't dunk the ball or jump high, but he made it happen the way he could."
Throughout the Olympic Diaries series, follow author George Kiel III on Twitter at @geokthree for updates.