words // Darren Griffin:
Back in 1969, in the hallways of Portland State University's Graphic Design department, a chance encounter helped shape the very nature of branding forever, and for the better.
Carolyn Davidson, then a student at the university, was speaking about a particular course and unfortunately, why she couldn't take it. An assistant professor in the department overheard her saddening tale and grew intrigued. He approached her to inquire further. That assistant professor's name was Phil Knight.
The student in question was Carolyn Davidson, a designer whose work would eventually change the course of sportswear.
Knight, at the time was also running Blue Ribbon Sports, the West Coast distributor for Tiger shoes, made by Onitsuka Co. LTD. He asked Davidson about what he had overheard, which was that the particular course was too much for her to afford at the time. In turn, he offered her a job as his assistant, creating graphs and charts in preparation for his meetings with Onitsuka Tiger in Japan, for which he had grown too busy to do himself. Davidson accepted his offer and began working for Knight at a rate of $2 an hour.
The partnership between Davidson and Knight continued throughout her time at Portland State. But somewhere around 1970, tensions began to mount between Knight and Onitsuka. Ever ready, Knight had an exit strategy in motion. He had designs for cleated football and soccer shoes ready and waiting, with a production factory in Guadalajara, Mexico on stand-by. What he didn't have, however, was a fluid logo that would speak for his soon-to-be-named brand just as well as its products would. That's where Carolyn comes in.
A graphic design student already producing such work for Knight as his assistant, Davidson was tasked with creating a logo for the then-unnamed brand. It had to be better than that of adidas, PUMA and Onitsuka Tiger, and, of course, look nothing like those by comparison. It had to resemble motion, fluidity and sport, all while remaining static in its stillness. So, in 1971, with those instructions in mind, Davidson began working on potential logos for what would become Nike.
Carolyn worked feverishly in her studio to capture the lifeblood of the budding company. She'd sketch pictures of shoes first, then a logo, only to lay the logo over the sneaker to see how the two would work in matrimony. Most didn't work at all — but Davidson kept working. Roughly three weeks later, she presented her work to Knight, Jeff Johnson, and Bob Woodell at the Blue Ribbon offices in Plaza Southwest.
Five, maybe six designs made the final cut. Immediately, it was clear which ones did and didn't work for Knight, Johnson, and Woodell. They all agreed, in part, that the curved checkmark design was their favorite. Knight didn't love it initially, but felt as though it would grow on him.
Davidson, being the true professional that she was, asked for more time to refine her work. Knight declined. He didn't want Carolyn "cleaning up" her work for another week. But more than that, they had production deadlines to meet and time was of the essence. Davidson submitted a bill for her services. She invoiced $35 for roughly 17.5 hours of work, in line with her prior pay.
The U.S. Patent Office recorded the logo on June 18, 1971. Weeks later, the brand would be named Nike, after the Greek goddess of victory.
Davidson graduated from Portland State University in 1971, with a bachelor's in graphic design and stayed on with Nike through 1975. A year later in 1976, Nike hired its first full-time advertising agency — John Brown & Partners.
Davidson's design work was masterful in its simplicity and elegance. She captured the present and the forward in one curvy stroke, cementing not only a billion-dollar brand identity but a unifying signal for sport. She wears her triumphant accomplishment proudly, often quoted as saying she never grows tired of looking at her design. Ever.
More intimately, she physically wears it; a gold ring shaped as her signature Swoosh bearing an acute yet graceful diamond near the peak of the curve. The ring came as a gift from Knight and Waddell in 1983, along with a certificate for a hefty amount of well-deserved Nike stock. Davidson retired in 2000, but remains active with various hobbies and volunteer work at the Ronald McDonald House at Legacy Emanuel Hospital & Health Center in Oregon.
Today, on International Women's Day, we celebrate Carolyn Davidson and her contributions to a culture that would be nothing without her works and that of her peers.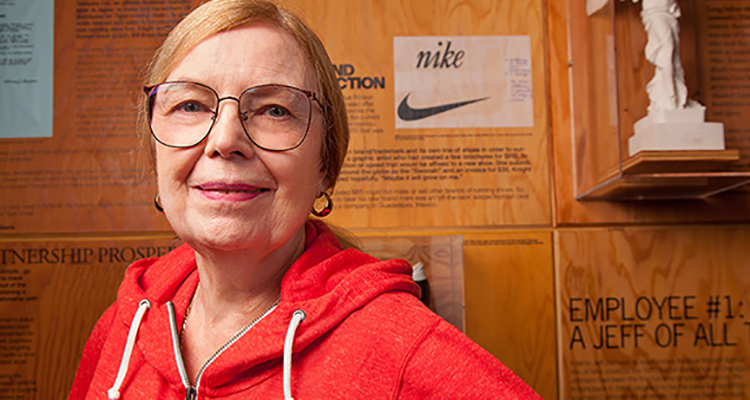 Images: PSU, Oregon Live