Luke Tadashi, co-founder and lead designer of Los Angeles based Bristol Studio, set course in fashion on a very familiar trajectory. Birthed in his adoration of basketball — a path that led many of us to sneakers — Tadashi connected with the soul of the game and the culture that encapsulates it. From there, the California born creative began to focus in on a particular moment, a time capsule of sorts that contained the style, fit, and sartorial sensibility that made the greatest impact on him.
Bristol Studio lives and breathes in that acute yet vastly referenced space. Beginning just before the turn of the century and spanning several years into the mid-2000s, Tadashi, to his credit, has tapped into that hoops juncture with a design language mute before him.
Delving into the intersection between sport and design through a lens true to his personal past and present — intimacies that include transcribing his Japanese grandfather's autobiography that explores his experiences in World War II and subsequent exploration to America through his fall 2018 collection — reversible garments with inverse hems and disclosed pocket construction are among the many aspects that set Bristol apart from the myriad of brands pulling from an era that predates David Stern's NBA dress code policy.
This past February, Bristol made its introduction to the sneaker community with a towering adidas Crazy BYW design. The collaborative shoe, one part of a larger Bristol x adidas partnership, was a jumping off point for a new capsule collection releasing later this year with others to follow. We talked to Tadashi about what's next for his adidas partnership, his upcoming New York Fashion Week: Men's presentation, Bristol's New Era collaboration, and his love for the adidas Basketball archive.
Nice Kicks: How did the Bristol partnership with adidas come about?
Luke Tadashi: It goes all the way back to the end of 2016 when I released the first capsule collection [for Bristol]. It was very much in the vein of what we're doing now, blending sportswear and performance with avant-garde designs. I was styling those collections with old Kobe sneakers from my childhood. The Crazy 1, Crazy 8, and those Moon Boot shoes. I was tagging adidas Originals on Instagram and, funny enough, someone from the team just slid into our DMs — as crazy as that sounds.
They loved the way we were interpreting that era of adidas Basketball. They thought it was really cool. It also just so happened we were doing a pop-up in Los Angeles around the same time, and their team was in town. They came to the pop-up and we chopped it up and just really vibed. From there, they started seeding sneakers with us for other shoots. This was when they were doing the Crazy ADV stuff. After that, in January 2017, they came to our first New York Fashion Week presentation and shortly after reached out and asked for us to officially work together. It was very exciting.
Nice Kicks: That's crazy how all that took shape. It was largely based on your love for old Kobe sneakers and it kind of manifested into this big thing.
Luke Tadashi: Yeah. To their credit, they saw it and thought it was really organic and authentic, which it was. There was no other reason than I had deep nostalgia for those shoes that I was styling in those shoots and they recognized that. Thankfully, no one else at the time had been blending high-fashion with Crazy 8 and Crazy 1s from my childhood. We stood out.
Nice Kicks: Following the popularity of the BYW sneaker you designed for All-Star Weekend, what's the creative process behind this multi-season partnership moving forward?
Luke Tadashi: All-Star Weekend was actually super rushed. We had to put it together last minute because the game was in LA and they wanted us to activate as an LA brand. We were designing that one-off sneaker as we were parallel designing the fall/winter 2018 part of our adidas collaboration. It was interesting to be thrown into the fire like that but it worked out really well.
In all honesty, the process has been truly collaborative. We went up to Portland in May 2017 and met with the whole team. We sat in a room and chopped it up about basketball, why we love the sport, what connects us it, and how we want to express that through product. That was how it all got started. Sometimes they would send me materials through text message or email and we'd get it approved like that. There was creative back and forth from there.
Nice Kicks: Even with the quick turn around of the Bristol BYW collaboration, it's certainly the most expressive iteration of that shoe that we've seen thus far. What is it about that shoe that someone can look at and recognize Bristol's design language?
Luke Tadashi: If you look at the inline model, they went with a very classic rendition of materials. Sportswear meshes and soft textures. We chose to really do it with more luxurious materials to elevate the shoe. We incorporated variations of suede. We used a hairy nubuck suede and then also a premium smooth suede so you get that contrast from the same material, which I think is really interesting. We put some leather accents on there, too. But I think the thing that separates ours the most is the lace toggle. Just the way that silhouette falls, a normal lacing system doesn't really do the sneaker justice. So with that particular silhouette, we wanted to find a way to switch it up — for both functional and aesthetic reasons. We thought the lace toggle was a good compromise.
Nice Kicks: With all the varied shaping and usage of unconventional materials, aside from some of those early Kobe models and '90s adidas hoops silhouettes, what are some of the other adidas silhouettes that you feel are in line with your design approach? What other matrimonies would you like to pursue?
Luke Tadashi: From a classic standpoint, I always loved the Stan Smith and the Samba. They're really sleek and classic. You can wear them with anything. Now from a more modern perspective, maybe the Twinstrike ADV. I really like that sneaker because it's in line with what we aim to do by juxtaposing different materials and throwing in some unconventional surprises that you wouldn't expect. Adidas does that really well with that sneaker. They'll have leather next to a hairy suede. But then also you'll find a bubbly mesh.
The construction is great. The seams all come together. They have this really cool visible narrow stitch that top stitches each seam together. I love that detail. That's definitely something we're incorporating into our collaborative design language.
Nice Kicks: So what can you tell us about the next capsule collection that you guys are working on?
Luke Tadashi: I can say that it goes beyond just the Crazy BYW. That was just a one-off for All-Star. This is a much larger, legitimate capsule collection. There's some apparel in there. There's the BYW silhouette that you're already familiar with and then there's also a newer BYW silhouette. It's definitely a more comprehensive collection. It paints a much fuller picture of this intersection between sports, culture, design, and performance wear — all these things that inspire us. It's a much fuller picture of that inspiration.
You also get all the adidas technical expertise and their ability to source any fabric possible. It's going to be really special. Any basketball fan is going to really enjoy it. That overlap point between culture, hoops and design is great.
Nice Kicks: Speaking of basketball, and you guys being an LA brand and you being a fan of old Kobes, is there something specific about this capsule that's inspired by Los Angeles?
Luke Tadashi: That was the question that we thought long and hard about leading into this collaboration. The conclusion that I came to is that I didn't what to do anything that hit the nail on the head in an obvious way. We went for a more subtle approach. I wanted to take the attitude and the vibe that represents Los Angeles [on the court]. That's a more fluid, laid-back way of playing the game of basketball; let the game come to you and don't force it. It's this effortless cool that guys play with in Los Angeles.
That vibe was what I was trying to capture with a lot of these pieces. So you're not going to see, like, bright purple and gold. It's much more subtle than that. Some of the fabrics we chose are super lightweight nylons which are really interesting for LA climate. They're perfect. And you don't necessarily see that a lot on hoops garments.
Nice Kicks: You also have a NYFWM presentation coming up. Can you talk about your approach towards that show?
Luke Tadashi: It's really interesting how fast we're growing. My hands have been so full with multiple projects that preparing for the show has been challenging. And I mean that in a good way. This is a very timely task to plan. So it's all still very much happening as we speak. But a lot of what you'll see is us continuing to explore that intersect of sport and design which we're already pretty known for. What I love about the fashion presentation is that it gives us a platform to incorporate a few more avant-garde pieces that you may not see in stores that stand as a really cool expression of what we do as a brand.
Right now we're working on this organdie trench coat which is pretty wild. Stuff like that is what I'm most excited about with regards to the presentation. Last season we played with some textured backdrops. We used this brown, crinkled almost antique paper because it spoke really well to the narrative of that collection. It was tied to my grandparents and specifically grandmother's life story. So that was a step outside of my comfort zone. This collection kind of gets back to what we do as a brand in terms of sportswear and avant-garde design. The textures will still be represented through backdrops that compliment the collection well.
Nice Kicks: Switching gears from sneakers and apparel but remaining in the realm of sport, you also have a New Era collaboration in the works.
Luke Tadashi: Yeah. So there's still a lot of overlap even though it's not as direct. Although, I think New Era and the MLB is synonymous. Whenever I think about the MLB, I think about the classic 59FIFTY fitted hats, which are actually going to be the centerpiece of our collaboration. Growing up in the late '90s and early 2000s, I just remember fitted hats being everywhere. On the streets, in every music video, every friend had a fitted on. Then whatever happened five years ago with the dad hat changed everything.
It's wild. I was talking to a kid the other day who didn't even know what a fitted was. So what I'm really excited about with the New Era collab is that it really puts the fitted hat back in the limelight. We took a really deconstructed approach to it. A lot like what we do with our terry sweatpants which have an inside-out detail that gives you a sense of what went into the garment to make it. I kind of wanted to show kids this is why a fitted is amazing. So we did an inside-out fitted [of sorts]. I think it'll be different than anything else we've done.
Nice Kicks: So outside of the fitted hat, what do you think Bristol can help bring back from that golden '90s era and restore in modern-day?
Luke Tadashi: There are certain silhouettes for me that will always be seared in my memory from that era. Breakaway pants. That's a key style that we'll consistently bring back season after season. Our upcoming adidas capsule definitely pays homage to that style. Also, everything in the past 10 years has been so fitted and slimed and tapered. Personally, I've always had such an affinity for baggier clothes; and not just because of the way they look. Generally, I find them more comfortable and I feel more confident in them and it's easier to move around. So, putting an emphasis on baggier silhouettes is another way that we're paying respect to that era.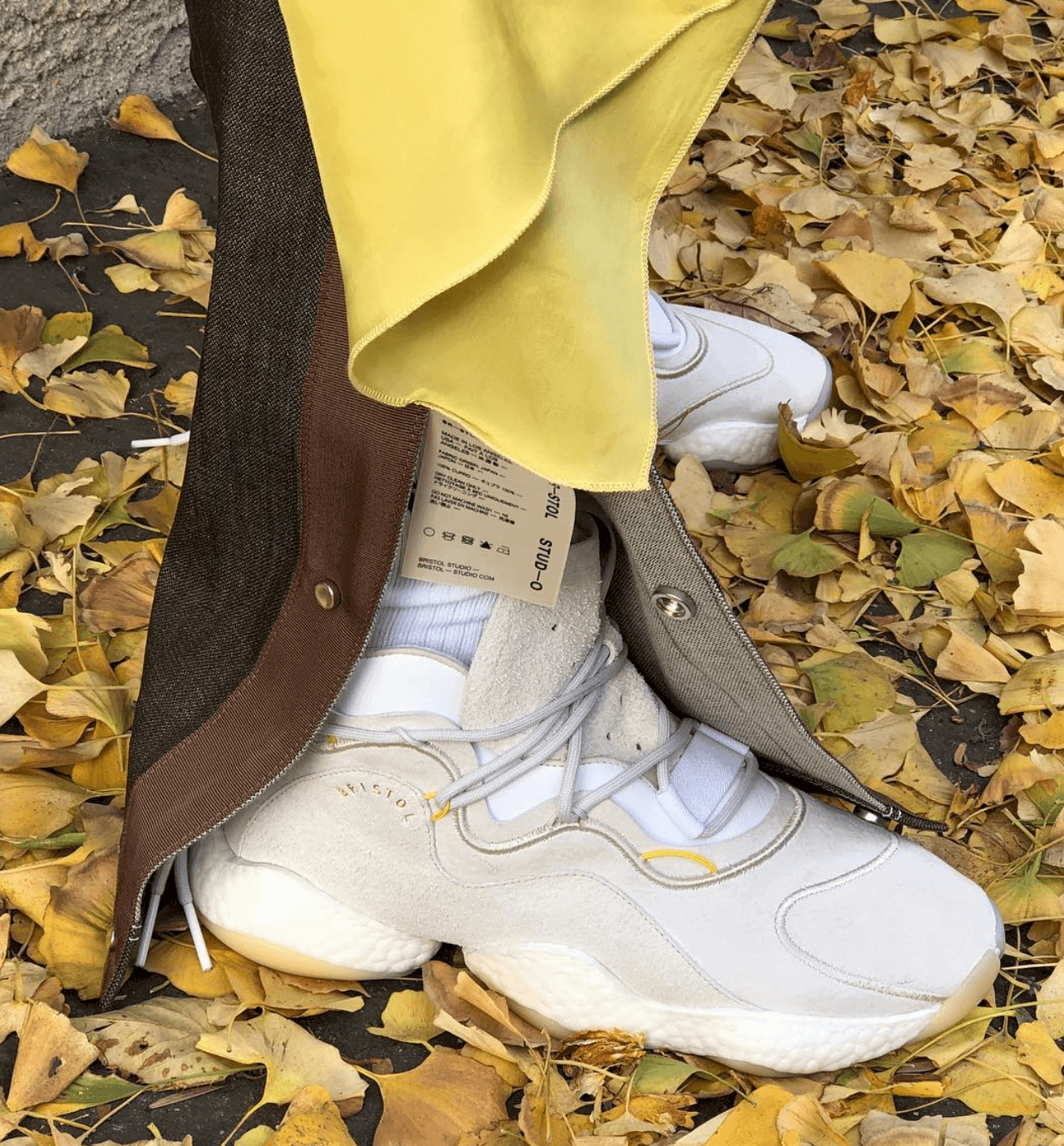 Nice Kicks: From an aspirational standpoint, for both yourself personally and the brand, in terms of the adidas archive, what's the one shoe you'd love to collaborate on?
Luke Tadashi: Man…that's tough. I think the most obvious one for me — but it's difficult because it was so unpopular in general — the Kobe Moon Boot. No one else liked that sneaker. I thought it was the most daring, boldest thing I'd ever seen.
Nice Kicks: Well, I don't think people didn't like the shoe. I think it was more the presentation of that shoe. The imagery surrounding it.
Luke Tadashi: Maybe, maybe…So maybe that's the answer right there. It would need to be marketed a little bit better. But to me, that jumps out as the first shoe. I have such a genuine personal attachment to it. I don't think I took that shoe off for like two years straight!
Nice Kicks: I take it your version wouldn't be very color-centric?
Luke Tadashi: It would be all about the materials. I'd probably want to do a white or black pair. But the story, for me, would have to be told through the materials. I don't even know what they used to make that shoe. I think they originally used this really heavy and durable nylon that gave it that shiny gloss. So for me with that model, it's all about the materials.
Shop Bristol's current collection here