In summer of 2021, Breanna Stewart and PUMA created a seismic shift in the footwear space as the prolific forward signed with PUMA, adding yet another star to the PUMA Hoops roster.
"I hope [this partnership] serves to raise the expectations and standards of the generations of basketball players who follow me," Stewart said when she signed.
Since joining the team, PUMA and Stewart have capitalized on the momentum with the release of the PUMA Stewie 1 — the first women's signature shoe in a decade and the tenth one overall.
"To be able to be in such a special group with the first signature shoe in over a decade and the tenth signature shoe, it's something I'm really proud of," Stewart said.
"[I'm] happy to be at this point with PUMA to continue to hopefully make signature shoes happen more often in in the women's basketball world and women's sports in general," she added. "We have female athletes who have a lot of push, say, and have a platform, and it's time for everyone else outside of our community to realize that."
As PUMA and Stewart continue to push the envelope, the PUMA Stewie 1 "Four-Time" ties back to her iconic championship run with UConn from 2013-2016.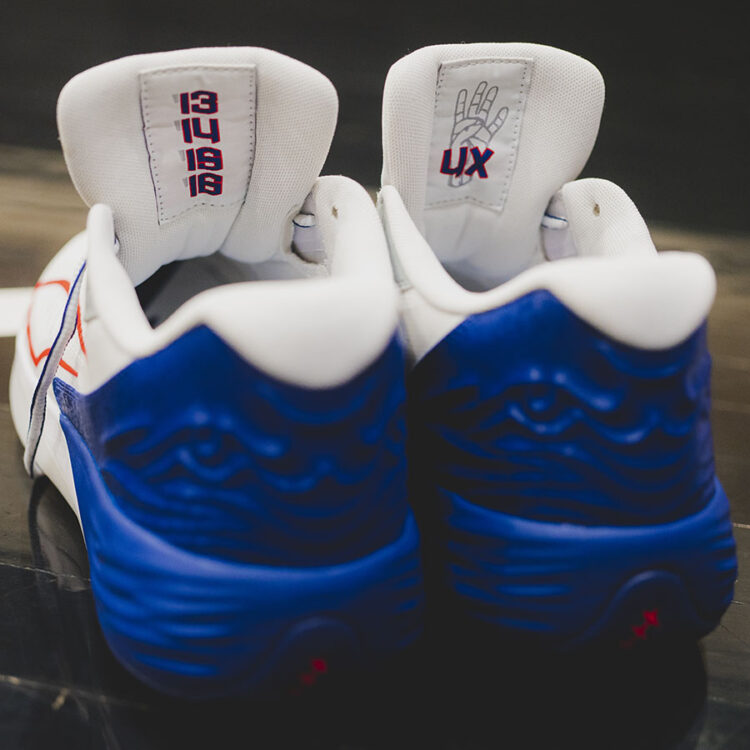 "It has so much meaning. It's picture perfect," Stewart said in regards to the latest colorway. "When I think about the shoe, it has the most details. The years I won, 'Four-Time' on the tongue, and having it on the laces, — there's a lot of representation and respect to UConn."
In addition to the obviously callouts to the dynasty Stewie spearheaded, a special detail is at the soul of the shoe and its story.
"You'll have to pay attention but on the insoles, it's an outline of a husky," Stewart said. "I was happy that we were able to add that."
"Those were some of the best years of my life and career; I can never go back to it, but I can remember it and push forward," she said.
For Stewart and her signature line, the latest colorway is another shining example of PUMA's commitment to its athletes but women's sports at large.
"PUMA does a great job of the storytelling aspect," she said. "They want it to not only be a shoe but be a shoe that resonates with me. Not only does it look good in but you're able to understand my path."
The path for Stewart has been that of trials and triumphs.
From being a top prospect to now one of the most decorated player in women's basketball, Stewie is now carving her name and legacy on a new, and even less traveled path — a signature shoe line that will continue to evolve, akin to her game.
"Everyone's followed my journey from high to college to pro and now it's going be about following the journey of the shoes and the change we're going to make," Stewart said.
The PUMA Stewie 1 "Four-Time" marks the end of the Stewie 1. As the WNBA season is right around the corner, Stewart and PUMA are planning to take New York by storm with the PUMA Stewie 2.
"'Four-Time' is closing the chapter for Stewie 1," she said. "I'm really excited for the first [PUMA Stewie 2] because it's something that I've been wanting for a while. We have a lot of colorways coming, some PEs that are tied to New York. I'm excited about it."
The significance of "Four-Time" releasing at the heart of March Madness and Women's History Month doesn't pass by Stewart as she reflects on how the colorway and its build up set the standard for women's signature shoe at not just PUMA but, hopefully, across the industry.
"When I think about PUMA, I'm so happy to be working with a company that wants to continue to be different, bold, wild, and not afraid to take risks," she said.
"My first meeting for the this shoe, I didn't know what to expect," she recalls. "I walk into this boardroom in Indianapolis and there's at least 15-20 people there. There's sketches taped on the wall, there's ability to see clothes, see shoes, touch foam; I never experienced [that] before," Stewart said.
"PUMA set this as the standard for me — this is the bar for female athletes."
---
The PUMA Stewie 1 "Four-Time" is available now at PUMA.com and select retailers.
Keep it locked on Nice Kicks on Instagram and the sneaker release dates page to stay on top of the latest news and releases.