The Nike ZoomX VaporFly NEXT% has revolutionized running as the model placed an emphasis on performance unlike anything prior. A multitude of components create the masterpiece that Nike Running cooked up.
From its all-new Vaporweave upper that is light and water-resistant to its extended ZoomX foam cushioning paired with a carbon fiber plate to reduce effort and maximize energy return. While these concepts aren't necessarily new to running, the ZoomX Vaporfly NEXT% elevated the aspects to new heights.
Nike ZoomX Vaporfly NEXT%
After having a chance to run in a pair, the NEXT% is no joke. The comfort and ease that the shoe provides has you feeling like you're flying and shattering personal bests.
The silhouette is no stranger to helping athletes reach their peak potential. Eliud Kipchoge proved that humans are capable of so much more as he and the Nike ZoomX Vaporfly NEXT% nearly broke the two hour marathon record on multiple occasions in the silhouette. After the model made headlines in the NYC Marathon, many opposing athletes have raised a question: should the shoe be banned in competitions?
Ahead of the 2020 Tokyo Olympics, The Guardian has reported that World Athletics (formerly the International Association of Athletics Federation) announced that the shoe (and similar shoes with a carbon fiber plate such as New Balance, Hoka One One and Saucony) won't be banned in upcoming competitions.
However, World Athletics announced that brands will not be allowed to debut new sneaker technologies prior to the summer games. In addition to that, World Athletics will  require brands to submit prototypes of upcoming footwear  as a way to screen and approve shoes prior to competition.
What are your thoughts? Should World Athletics ban shoes? How will this affect the future of technologically advanced running shoes? Let us know your thoughts.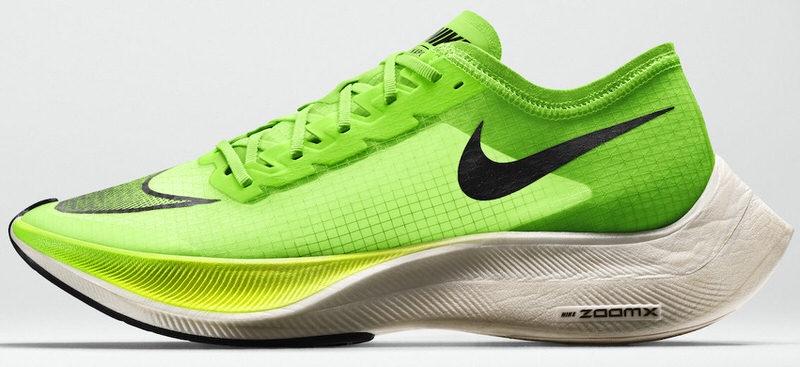 Nike ZoomX Vaporfly NEXT% Nike ZoomX Vaporfly NEXT% Nike ZoomX Vaporfly NEXT% Nike ZoomX Vaporfly NEXT% Nike ZoomX Vaporfly NEXT%