Need some good news to head into this weekend? Look no further. Recently, Nice Kicks got word from Chris "COSeezy" Strachan that his program Kick'n It For a Cause just gave back to youth in Africa in a big way. Strachan just returned from a 5-day trip to the continent, where he helped to personally deliver 30,000 pairs of shoes to local kids in need. They also got solid help from some famous friends.
"One of my best friends, Stephen Curry found out about the movement and donated 500 sneakers himself and got Under Amour to donate another 500," Chris tell us. "Nike jumped on board as well and pitched in 500 of their own. Over about 20,000 more sneakers in a 3-month span were donated from people around the world."
Focusing on those in the Republic of Congo, where kids are getting sick walking to school due to contracting parasites from going barefoot, the good friend of Steph and Seth Curry is already making a big difference. Strachan first got close to the family during his time as a student assistant at Liberty University for the basketball team. It was in school where he developed a close friendship with Seth, as the younger Curry brother played for the Flames and was the nation's top scoring freshman. An adopted brother of sorts, the trio has looked to spread awareness for the donation efforts over the past year, and Coseezy's #Kicknitforacause campaign has the potential to change the lives of millions.
"Uniting people through the love of sneakers, pop-culture and community service," proves to be the reason Chris made his program. "The sneaker culture means so much to me. My parents separated when I was very young. I spent most weekends with my pops and on the weekends, he would pick me up and our first stop was the sneaker store. It became a place that he and I developed a strong father-son bond, and it's where I really got to understand and experience the power of hip-hop culture. The love of sneakers brought people together from so many different racial and socioeconomic backgrounds and in a society where there are so many factors that separate people, sneakers and pop-culture unite. There is no better representation of that than the Kick'n It For a Cause: Cease Fire in Rwanda."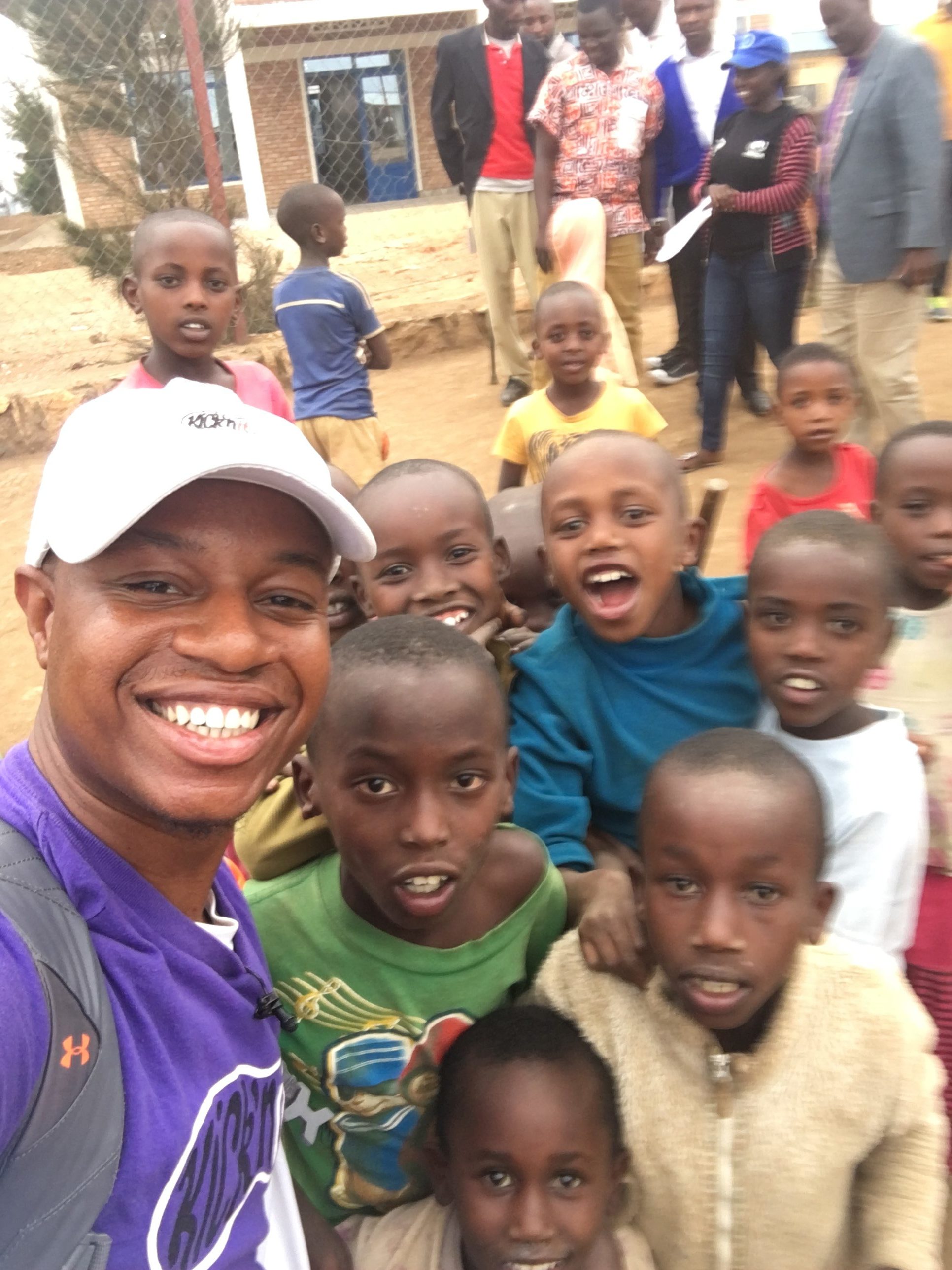 The idea blossomed during a visit last November when Chris was connected with Emmanuel Ntibonera, the founder of the Ntibonera Foundation by Liberty Pastor David Nasser. Chris was told about Emmanuel's Foundation that collected thousands of sneakers over a 2-year period, in order to combat the spread of diseases spread through contaminated soil due to lack of proper footwear in his native country, The Democratic Republic of Congo.
"If you know me, you know how much I love sneakers," says Chris. "But in America we forget that there are places in the world where sneakers are a necessity and not a luxury. I immediately knew I had to find a way to help. We all have a pair of sneakers collecting dust in our closets, so to do something as simple as give those to people who need them most was more incredible than I ever imagined."
What's next for them? "We want to raise 100,000 sneakers," says Chris. "To provide sneakers and resources like medical supplies, clean drinking water, food, educational resources and clothing. We want to expand our efforts into other African countries in need beyond the Republic of Congo. We want this event to get bigger and bigger every year. It's important to me that this isn't a thing we do once a year, and the next day things are the same for these people. We want to continue providing them with resources and following some of the kids to see that these resources are helping them have a better life."
To Donate to KIC, vist them at Kicknit.TV and hit the donate tab! Every dollar counts! To send sneakers, stay connected to @Kicknit_ on social media and they will provide you with an address to send sneakers soon!