Mall shopping, years ago, set course on a harsh downward spiral when the ease and convenience of online shopping became the cultural norm. Once a breeding ground for sneaker consumers to shop, congregate and ultimately foster community, is now often considered a last resort when searching for a fresh pair. But slowly, and certainly not without strife, traditional retailers are pulling sneakerheads away from their laptops and back into their densely stocked, well-lit footwear havens with exclusive products and worthwhile in-store experiences.
Champs Sports, in conjunction with Under Armour, offers a progressive intersection with The ARMOURY – an innovative space that focuses on a curated selection of Under Amour products and experiences through a bolstered Champs Sports brick and mortar. We visited the newest and second store opening in Dallas, Texas, this past weekend.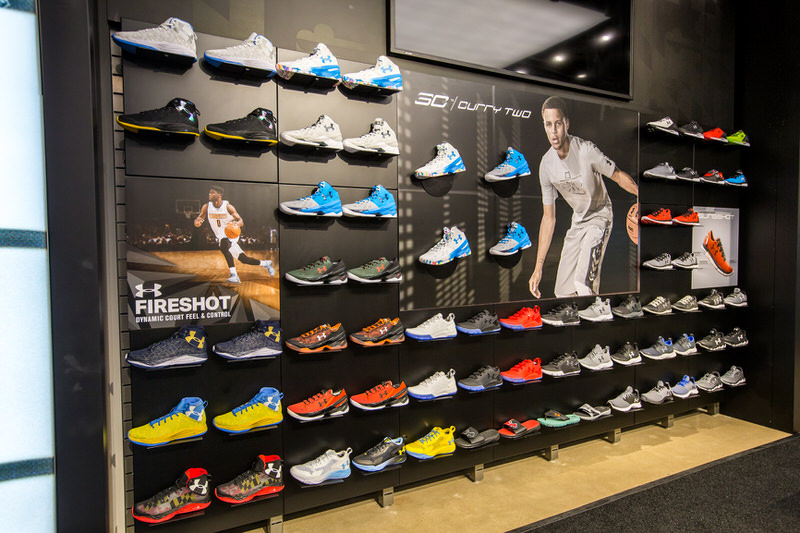 At its core, The ARMOURY represents the pulse of sporting culture through Under Armour's optimal lens. The space – which is adjoined with a more foundational Champs through an opening at each store's midsection – speaks both to the neutral walk-in or the savvy sports and product enthusiast.
Cleverly stocked with a wide assortment of footwear and apparel that you won't easily find anywhere else, The ARMORY immediately pleases with its curated assortment of goods and charming aesthetics. The store, located on the fourth floor of the Dallas Galleria, followed up an earlier soft opening this weekend with the exclusive launch of the Under Armour Curry Two Low. Youthful fans of the recently announced back-to-back NBA MVP lined up in droves to get their hands on the new shoe prior to the store's opening that morning.
Many of the excitable fans in attendance were also eagerly awaiting the arrival of both Raymond Felton of the hometown Dallas Mavericks, and Emmanuel Mudiay of the Denver Nuggets. Both Under Armour endorsed athletes were on-hand to sign autographs, interact with fans and celebrate the brand they both feel is perfectly aligned with where they are in their respective careers.
When speaking of the seamless comfort he feels playing in the Under Armour ClutchFit Drive 2 Low, with a brimming grin, Raymond Felton discussed foregoing reoccurring ankle injuries while shifting the framework of his on-court shoe. "I've wore hightops my whole life, my whole career. So to be able to wear a low-top shoe and feel comfortable and light on my feet, that speaks for itself. It's just a great feeling shoe."
"I've played in some shoes that just weren't working for me," Felton remarked on previous shoe contracts, "but at the time I had no choice." An NBA veteran who has been endorsed by many of the world's leading sportswear brands, Felton says he prefers Under Armour for their innovative products and organic rise to prominence. "It's just been a great experience. To see where they've come from to now, it's just amazing."
Emmanuel Mudiay, the 20-year old breakout star playing his ball in the Mile High City, champions the brand's inviting and forthright environment for what steered him their direction. "The family environment was great. I know a lot of people there and we're all close. I had to be comfortable with my surroundings. That played a big role."
With NBA stars all smiles and full of enthusiasm, the local radio station on sight spinning the latest and kids aplenty canvassing the store in awe of its concise texture, the exuberant energy surrounding Under Armour as a brand inherently found its way inside The ARMOURY. Thus, celebratory opening felt organic and appreciated, not forced and full of trepidation. This, essentially, represents an earnest respect for both entities, and their combined ability to enhance sneaker culture for reasons beyond just their bottom line.
"Through The ARMOURY at Champs Sports, we have created a fully immersive retail experience that honors everything Champs Sports fans love most about Under Armour," detailed Patrick Walsh, VP of Marketing for Champs Sports. "We have very deliberately created an in-shop experience that conveys the competitive culture of the brand in a way that's true to our We Know Game proposition."
The successful opening weekend in Dallas, which follows the inaugural ARMOURY storefront at The Mall in Columbia, looks to be just the beginning for this planned partnership. "We will be introducing The ARMOURY at Champs Sports experience to additional markets this year," says Walsh.
Sustainability, as it often is, may be the greatest challenge with this new initiative. The focus of fickle consumers is always difficult to navigate. But with a foothold already in the marketplace, matched with the influence and tenure required to maneuver such treachery, Champs Sports and Under Armour look to be well on their way to rendering a new sneaker experience with categorical staying power.