(Lead image by Mustafa Ahmed)
Coming by way of China, Anta is sportswear's silent giant that caused a commotion earlier this year when eight-time NBA All-Star Kyrie Irving signed a 5-year, $125 million contract with the company after parting ways with Nike in December 2022.
Anta's rise in sportswear has been a sly and steady climb to the top as the Fujian-based brand launched in 1991 when founder Ding Shizhong decided to grow his family's manufacturing business into its own homegrown brand and global holding company.
While 30 years in business might seem like a long time, Anta's ability to break into a $72 billion industry that has historically been dominated by heritage brands with decades-worth of experience and prestige is no easy feat.
Up until now, Anta has been a content competitor closing in on its opponents with no real clamor or buzz, which could be seen as a detrimental approach considering the sneaker industry has become its own sort of hype machine that rewards gimmicks and stunts as much as performance and innovation.
Learn all about Anta as Nice Kicks gathers some fast facts all about the rising Chinese sportswear company.
---
Anta is the fourth largest sporting goods company by market cap
Amongst the global sportswear leaderboard, Anta sits at the fourth largest sporting goods company by market cap. Anta is also one of the top five largest sportswear manufacturers in the world, with over 300 designers that launch over 8,000 SKUs per year. In 2019 alone, over 15 million Anta products were sold.
Anta has more than 9,000 retail locations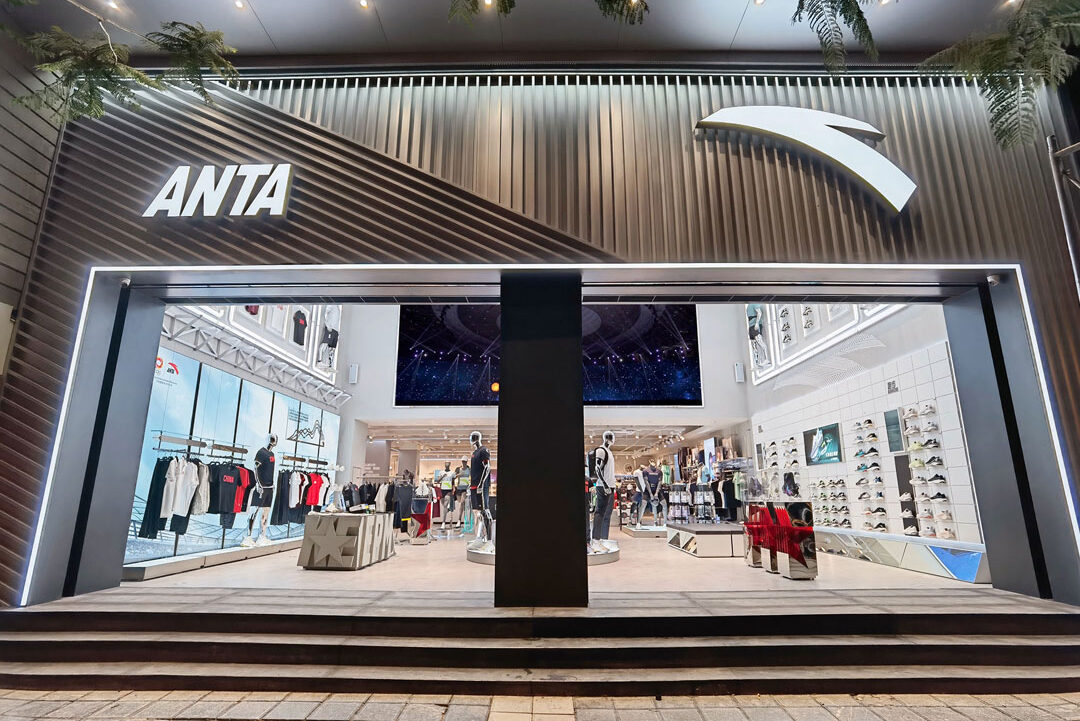 On the ground of mainland China and beyond, Anta has more than 9,000 retail locations, while competitors like Nike and Adidas each retain a little more than 1,000 stores globally. Anta offers sneakers for both men and women in running, basketball, lifestyle, sports gear, accessories, and apparel.
In 2022, Anta outsold Nike in China for the first time ever
Anta is already dominating on their home turf as Anta outsold Nike in China for the first time ever in 2022, per Yicai Global. That year, Anta reached $7.8 billion in revenue while Nike came up close behind at $7.6 billion. For the first time in more than a decade, Anta was the first Chinese sportswear brand to take the lead at home.
Luis Scola was the first NBA player to sign with Anta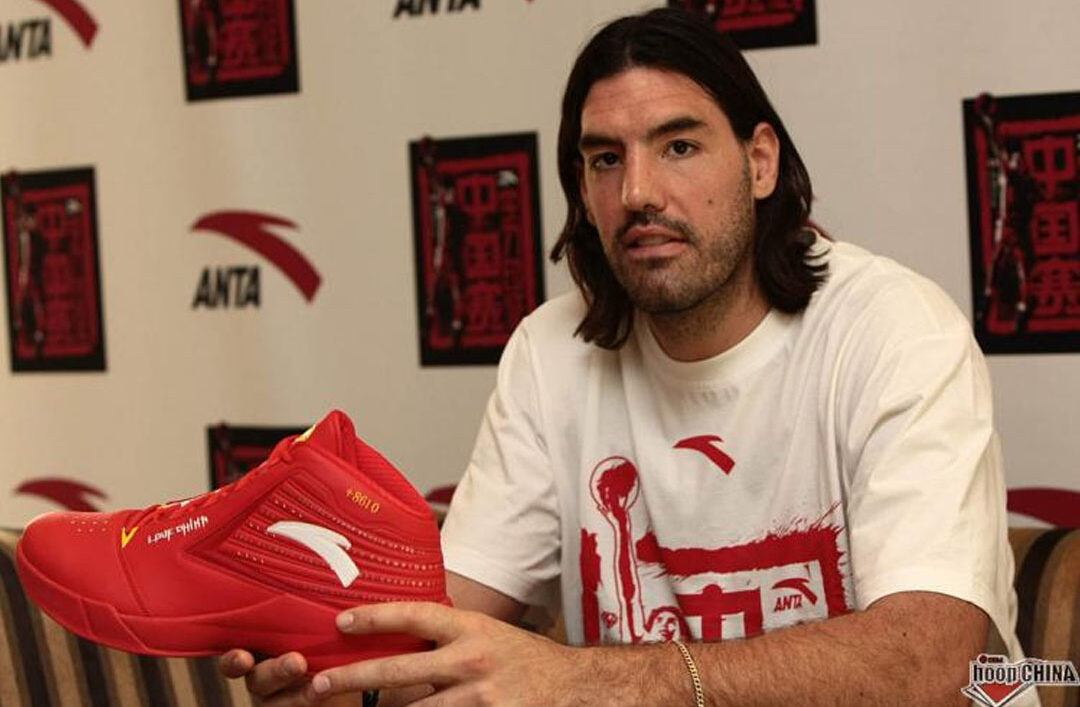 In 2007, Anta signed its first ever NBA player as former Houston Rockets power forward Luis Scola agreed to endorse the brand. Soon after, Anta had its first signature basketball shoe, the Anta LS1. Above, a "China" colorway is seen with Scola's career accomplishments on the ribbed panel and China's country calling code "+8610" on the other side.
Scola's co-sign led to more opportunities for other players including Kevin Garnett, who was the second NBA baller to sign with Anta in 2010. From there, Anta's roster of talent that that exclusively wear Anta on-court began to grow, with players like Rajon Rondo, Alex Caruso, Terrance Mann, Kevon Looney, and James Wiseman part of the crew.
Kyrie Irving is the Chief Creative Officer of Anta Basketball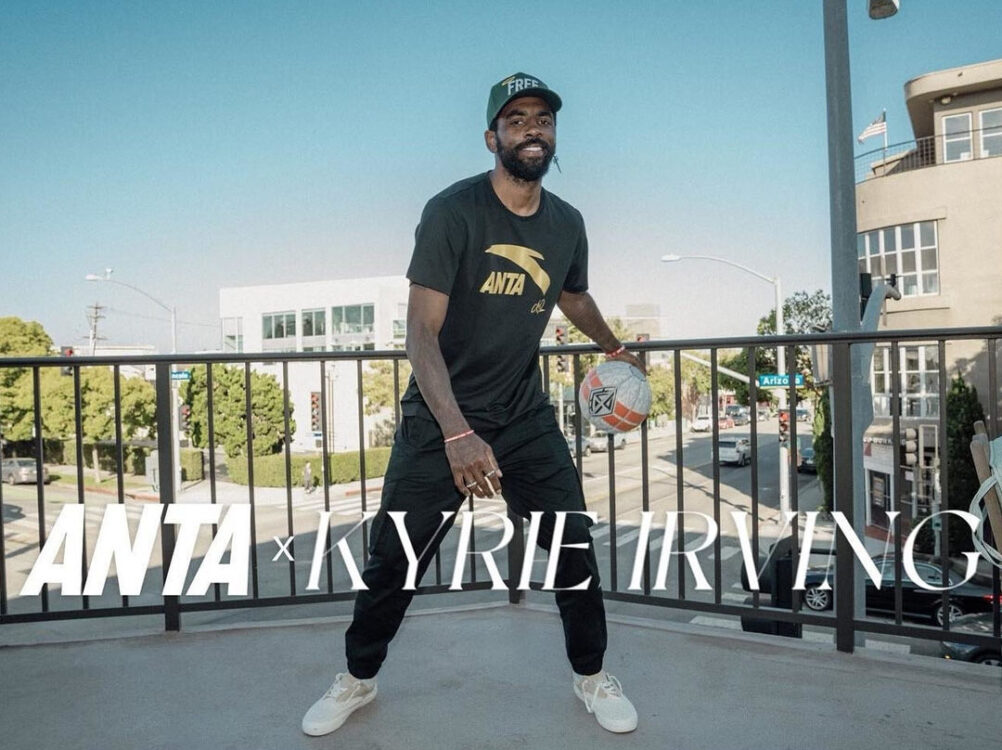 Kyrie Irving's decision to sign with Anta signifies a new era for the company and solidifies Anta's spot as a serious contender in sportswear as Irving previously partnered with the world's most popular shoe brand, Nike.
The public split between Nike and Irving marked the end of a nearly decade long partnership that began in 2014. Irving launched eight signature shoes with Nike and just before the split, Irving was gearing up to debut his ninth signature model, the Nike Kyrie 8, but the release was terminated following Irving's decision to share an anti-semitic film on his Instagram story in October 2022.
Irving's new contract with Anta not only promises a new signature model from the Dallas Mavericks point guard, but also appoints Irving to Chief Creative Officer of Anta Basketball. So in addition to creating signature collections with Anta, Irving will also have the power to recruit new athletes and curate a roster of creative collaborators.
At Nike, Irving was one of the brand's most successful signature athletes and made an estimated $11 million per year from the Swoosh. An industry insider reported to Boardroom that Irving's signature Nike products had reached up to $375 million in annual revenue.
Irving commented on his success at Nike saying, "My signature line made the previous brand I was with over 2.6 billion in revenue the past 7 years. I can safely say, I am one of them ones out here in the competitive shoe market, dominating."
With yearly triple-digit millions tallying up to a multi-billion dollar signature sneaker line, Anta is surely anticipating an impressive ROI with Irving on their side. This is undoubtedly one of Anta's biggest moves yet and could help catapult the Chinese company into a household name in the United States.
Kyrie Irving's first Anta collab, the Shock Wave 5 Pro "Debut," has already released in Asia
Ahead of the 2023-24 NBA season, Kyrie Irving is touring China, and to celebrate, Anta released the Shock Wave 5 Pro "Debut." This colorway is inspired by Irving's forthcoming season opener as a newly signed Anta athlete.
This sneaker is not a signature Kyrie model, but the point guard has regularly been playing in this sneaker throughout the off-season and already made history in the Anta Shock Wave 5 Pro as he became the first NBA player to tally a triple-double in a Drew League game.
Anta has sold more than 650,000 pairs of sneakers from Klay Thompson's signature line
Like Irving, Klay Thompson was previously with Nike before joining Anta. Thompson officially signed with Anta in 2014 and admittedly, at the time, didn't know much about the brand. Thompson decided to take a chance on Anta in effort to secure his own signature model, which he subsequently launched in 2015. Thompson's signature Anta KT was so popular that it prompted Anta to offer Thompson a 10-year, $80 million extension.
Since then, Thompson has managed to secure four NBA championships with the Golden State Warriors in his Anta KT sneakers. Thompson's current deal is guaranteed until 2026, but the partners are already coming up on a decade in business together, with sales of over 650,000 pairs of Anta KT sneakers.
Gordon Hayward has four signature sneakers with Anta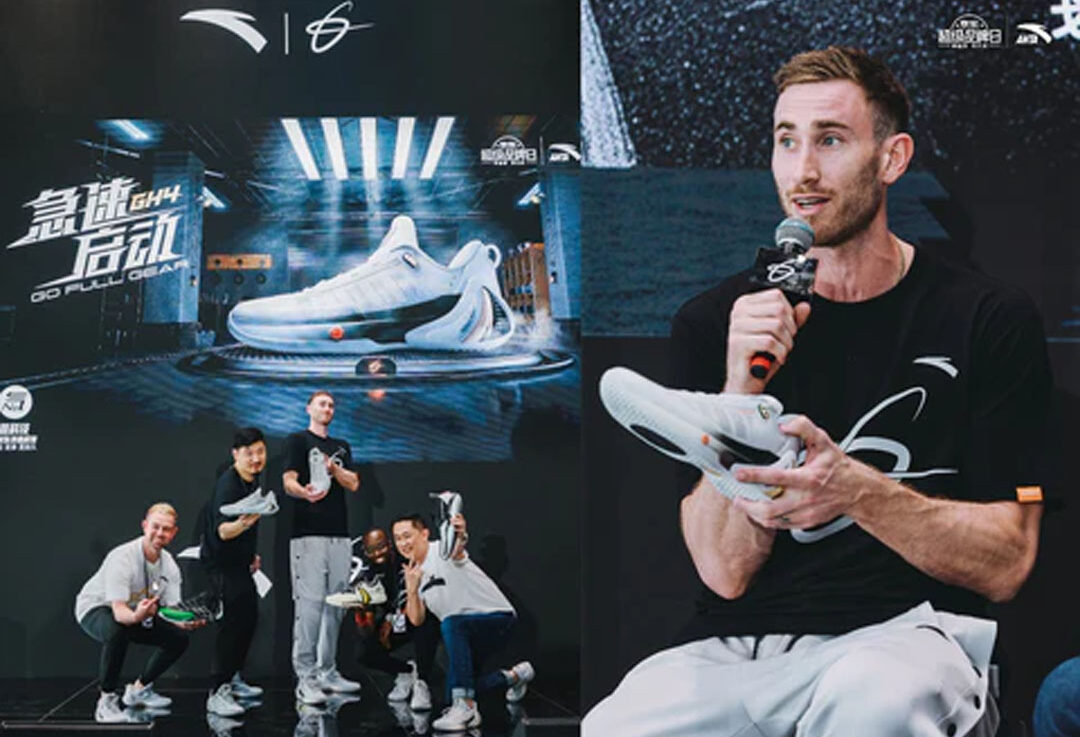 The signature basketball rivalry between Nike and Anta also touches Gordon Hayward, who had been with Nike for majority of his professional career before joining Anta in 2018. The four-year, $9 million shoe deal allowed for the release of his own Anta GH signature series, with the third generation of the sneaker releasing earlier this year. The Charlotte Hornets small forward will get to continue his signature Anta line as Hayward signed a 5-year, multi-million dollar extension with the company.
Majority of Anta's sales come from its basketball offerings
While Anta's basketball line isn't the biggest in its product catalog, it is the most popular category and the highest grossing in revenue. Anta plans to continue growing its basketball products, as well as its roster of hoopers, with Jordan Clarkson being the latest signee.
For $5.23 billion, Anta purchased Amer Sports and now owns Salomon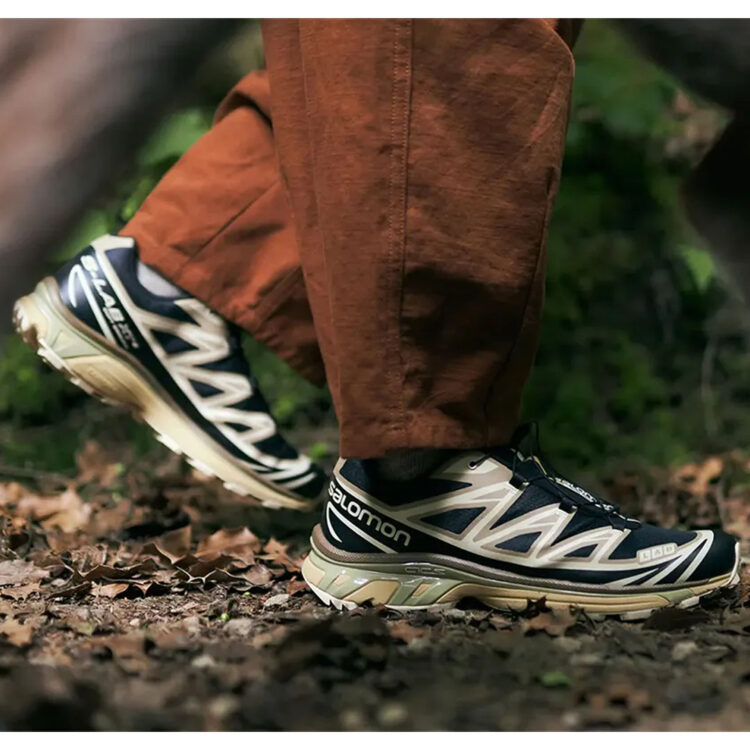 While Anta is still relatively new throughout the United States, the company's impact on sportswear runs deep as Anta acquired Finnish sporting goods corporation, Amer Sports, as an investor consortium in 2018 for $5.23 billion.
Through Amer Sports, Anta picked up a roster of impressive brands including Wilson, Arcteryx, and Salomon, which StockX reported as the fastest growing sneaker brand in 2022.
Anta also owns regional rights to Fila
Anta's multi-brand approach also includes the regional rights to Fila, which were purchased in 2009 after Anta was listed on the main board of the Hong Kong Stock Exchange in 2007. Other brands under the Fila umbrella include Descente, Sprandi, Kingkow, and Kolon Sport.
Anta is the official sports apparel partner of the Chinese Olympic Committee
Since 2009, Anta has been the official sports apparel partner of the Chinese Olympic Committee. Anta was also one of the sponsors of the 2008 Beijing Olympics, as well as the the 2022 Winter Olympic Games and Paralympics Winter Games. The International Olympic Committee (IOC) also previously appointed ANTA to the official sportswear uniform supplier, making Anta the first Chinese supplier of sportswear uniforms to the IOC.
In 2021, Anta pledged to invest $5.5 billion to improve its global research and development system
In 2021, Anta shared that the company planned to invest over 4 billion yuan ($5.5 billion USD) to improve its global research and development system. The company wants to pursue its proportion of high-end products in order to attract a wider, mainstream audience. This commitment is a continuation of past initiatives as Anta previously invested 5.2% of its sales into research and development in 2018. So far, Anta claims to have filed more than 1,500 patents.
Manny Pacquiao previously partnered with Anta
Outside of the United States, Anta is making its mark in the Philippines as the brand partnered with eight-division world boxing champion Manny Pacquiao in 2016, who was previously with Nike before then. As a former senator in the Philippines, Pacquiao has great influence over the country and is the owner of the Maharlika Pilipinas Basketball League, which hosts over 30 teams from different parts of the country.
Anta sponsors multiple university teams in the Philippines
In addition to its affiliation with Pacquiao, Anta is connected to the Philippines with its sponsorships of regional college basketball teams including the Adamson Soaring Falcons, UST Growling Tigers, St. Benilde Blazers, and San Beda Red Lions.
Kong Linghui was Anta's first ever signature athlete
Table-tennis world champion Kong Linghui was the first ever athlete to sign with Anta. CEO and founder Ding Shizhong believes that Linghui is a pivotal piece in Anta's success story, as the athelete propelled sales by six-times from 1999 to 2006. Linghui won gold at the 2000 Olympics in Sydney, which was the perfect touch to Anta's $3 million marketing campaign surrounding the global sports event.
---
For more sneaker news and release dates, follow Nice Kicks on Instagram.