"Count it plus the foul for Jordan!"
Welcome to today's episode of Nice Kicks' Throwback Thursday. This week, the basketball and sneaker community celebrates a number of milestone accomplishments in the career of Michael Jordan including the 30th anniversary of the 1988 Slam Dunk Contest and All-Star Game in Chicago, as well as the debut of the Air Jordan 3, the sneaker worn by MJ when he won his 2nd consecutive Slam Dunk title and first NBA All-Star Game MVP.
However, the 1988 All-Star Weekend is largely considered as one of the most popular moments in NBA All-Star competition history. Today's theme pays homage to yet another timeless and iconic All-Star Game anniversary moment in Jordan's legendary career, an event which took place exactly 20 years ago today.
On this day in February 1998, Jordan played his final All-Star Game as a member of the Bulls at Madison Square Garden while wearing a brand-new pair all-black Air Jordan 13s with white pods. Like each All-Star Game before, the entire basketball world collectively paused, glanced down at the floor, and admired MJ's newest kicks.
Like the Jordan 3 which preceded them a decade prior, the Jordan 13 is also highly regarded as one of the most popular and iconic sneakers in sneaker history. Designed by legendary sneaker designer Tinker Hatfield, the Jordan 13 possesses a rare, refined elegance infused with subtle aggressiveness. The standard of excellence in basketball footwear, the Jordan 13 featured full-length Zoom Air cushioning; "golf ball" dimple pattern along the upper; a carbon fiber spring plate; and an outsole that closely resembled a panther's paw. Also notable is the hologram on the lateral aspect of each sneaker much like that of a panther's eye, a tribute to MJ's nickname, Black Cat.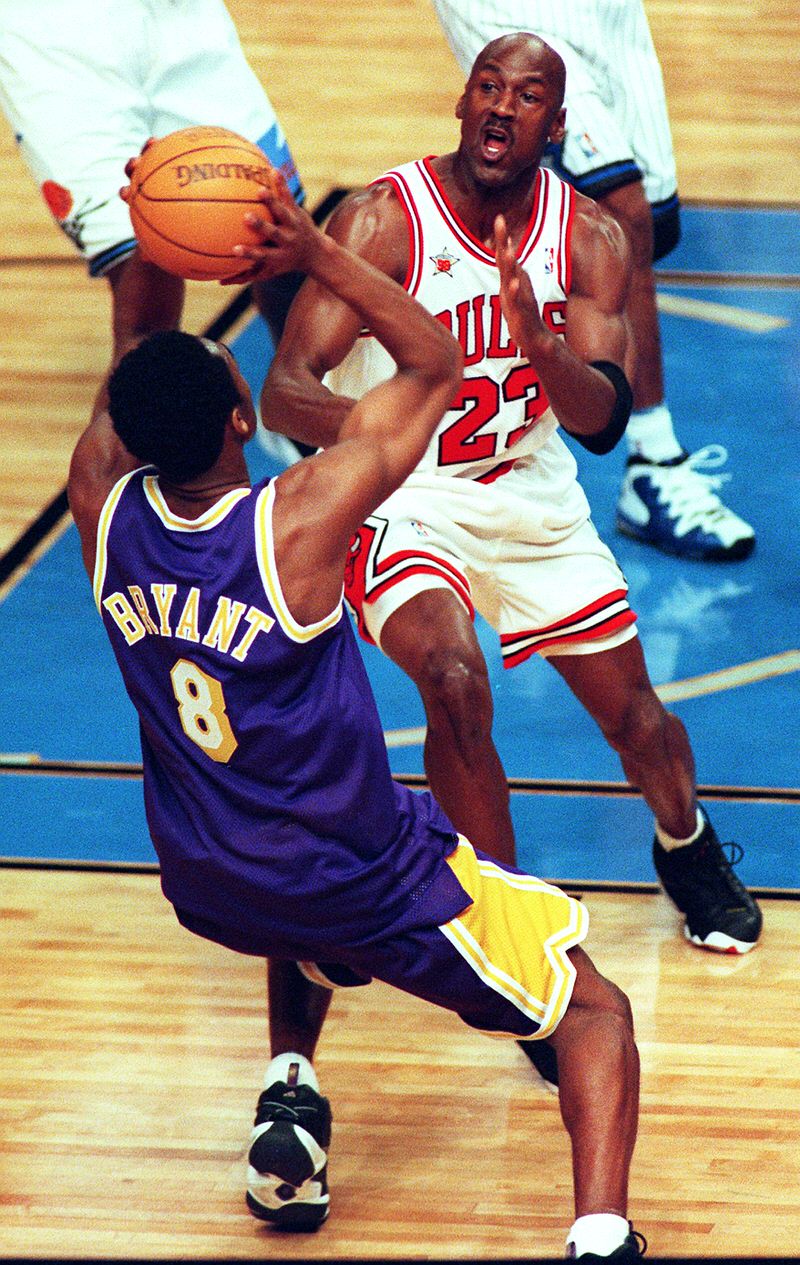 Equally impressive as his kicks was his stat line for the game: 23 points on 10/18 FG, six rebounds, eight assists, and three steals en route to his 3rd All-Star Game MVP award.

Despite also being remembered as the All-Star Game debut of Kobe Bryant, the night chiefly belonged to Jordan and his sneakers, serving as a fitting tribute and All-Star send-off for what was considered at the time to be his final NBA season and All-Star appearance.
Jordan would go on to wear the 13 in various OG colorways for the remainder of the season and playoffs.
Of note, MJ wore a custom black 13 PE Low with white pods against the Pacers in the Eastern Conference Finals followed by an all-black 13 PE Low with black pods in the 1998 NBA Finals against the Jazz illustrating MJ's affection for this particular silhouette.
Mars Blackmon once asked, "Is it the shoes?" 20 years later, the answer remains the same. Remember to bring your A-game, and eat your Wheaties.