Agenda Las Vegas has been treating us well. With all the brands and buyers present, there has been a handful of things that have caught our eyes. One of these brands belongs to Texas' own Deion Sanders Jr., titled "Forgive Me Father."
"Forgive Me Father, We're All Sinners, we're taking off man," says Deion Jr. "I was up at about 4AM one night — of course I was sinning — so I said, 'Forgive Me Father.' It's not a Christian brand, although I am Christian myself, I'm just displaying my beliefs and displaying my family too."
The brand's apparel maintains strong FMF branding throughout the collection, with a slight mix of vintage photo graphics and their signature triple crosses. The FMF team came strong for their Agenda Show debut, recruiting a team of ambassadors to circle the show in a way that made the logo impossible to ignore.
"My inspiration for FMF is that I want to do my own thing. In college I realized that my dream was to own the team, not play on it. I don't want to be Deion Sanders' son that plays football. My name is not Deion Sanders' Son. My name is Deion Sanders Jr., and they gon' feel me."
Take a look at which kicks Primetime Jr. is rocking these days in our latest take of My 5.
Vetements x Reebok Instapump Fury
Deion Sanders Jr.: Right now I'm in the Rick Owens, but my everyday sneaker is Reebok. We got a Reebok rep in Dallas that treats me well and I wear Reeboks everyday. Especially the Vetements collab — those are my favorites. Those are my big time, I love Reeboks.
The Vetements collab is kind of a A$AP Mob co-sign. I did that whole sharpie customization thing with my Vans a year and a half ago. I had some all white Vans and I drew on them. It turned out to be a wave! I didn't start it, but I thought of it first I'll say that. [Laughs]
Reebok Question "Red Toe"
Deion Sanders Jr: I've been on the Iverson' for a long time. Dawg I swear like three years ago I watched the Iverson documentary and I'm like 'bro I need to get these Iversons dawg.' I just forgot how great this guy was. But then, I couldn't find them anywhere. So I hit up Reebok Classics on Twitter, was like 'Dawg, I need some Iversons.' I might get in trouble for saying this, because I was in the NCAA at the time [Laughs], but they sent me like five pairs. I'm not in college football anymore so I really don't care. But they sent me like five pairs for free, so I shouted them out on my Twitter and my Instagram. That was about a year or a couple years before they dropped their big batch of Iversons. So I was on the Iversons wave before anything else.
Under Armour Threadborne Shift
Deion Sanders Jr: Under Armour actually has some heat coming out, too. They got those little low tops. They got Migos wearing them and everybody else wearing them too. So Under Armour is coming up. I don't know about the Currys [Laughs], they do the athletic stuff but they are also switching things up to make more of the everyday sneakers. Like, I can wear these Under Armours to the club. You know, my dad endorses Under Armour so we get a lot of Under Armour for free. It's all love.
Reebok Classic Leather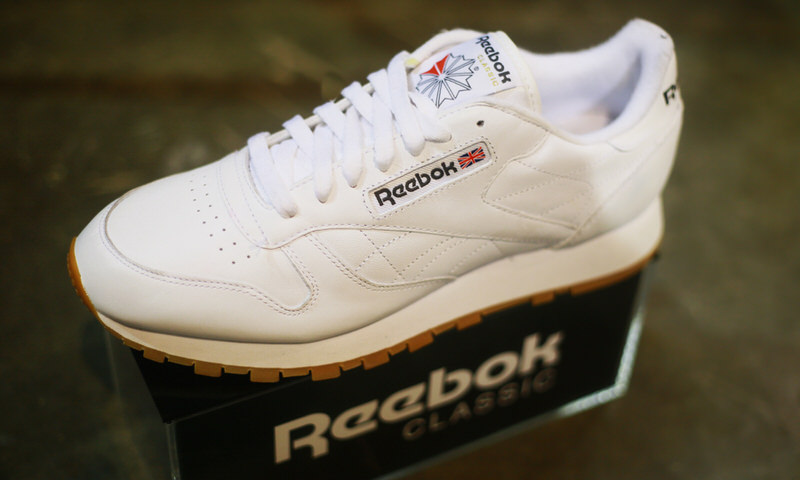 Deion Sanders Jr: Apart from the Instapumps and Iversons, I always stay with The Classics — all white with the gum bottom. I like solid colors, I wear solid colors. So the solid red and the solid white get a lot of play time from me.
Air Jordan 11 Low "University Blue"
Deion Sanders Jr: You wanna know something? I've never actually been into Jordan sneakers. I mean, I have every single pair [Laughs], I just don't really wear them. It's funny like if you go into my closet, I have 100-200 pairs of sneakers that I just can't find the time to wear. I do like the 11s and 12s though, that's my favorite pairs — but I don't go crazy over Mike. I know it's contradicting cause I have all of them and don't rock, but I really just have them cause I can get them.
Keep up with Deion Jr. on Instagram and Twitter, and keep an eye out for the ongoing growth of his brand Forgive Me Father.