Back in 2017, the adidas Yeezy Boost 700 OG marked both the dawn of the dad shoe for Kanye West and an aggressive departure from the typically tonal 350 and 750 launches.
In the time since its unveil, the Yeezy Boost 700 has released in a plethora of variations – both in regards to styling and tooling – as well as general releases/restocks of the OG in March 2018 and September 2018.
With Kanye earning big money with The Three Stripes in 2019, another restock of the famed Wave Runner could be adding to the bag.
Recent reports suggested the OG Yeezy Boost 700 could be returning to retail yet again.
Well, that just happened. On August 12, 2019 the OG 700 restocked in full family sizing on Yeezy Supply following a surprise email notification.
Lucky for fans still without a pair, it's happening again. In a recent email from adidas, it was announced a restock will take place on August 17th at select retailers. Peep the store list below.
KITH
233 FLATBUSH AVE.
BROOKLYN
WOODSTACK
190 EAST 98TH STREET
BROOKLYN
WOODSTACK
298 EAST 98TH STREET
BROOKLYN
WOODSTACK
742-44 MANHATTAN AVENUE
BROOKLYN
RSVP GALLERY
1753 N. DAMEN
CHICAGO
SAINT ALFRED
1531 N. MILWAUKEE AVE.
CHICAGO
NOTRE SHOP
5201 N CLARK ST.
CHICAGO
ADIDAS ORIGINALS CHICAGO
1532 N MILWAUKEE
CHICAGO
PACKER SHOES
382 MARIN BLVD.
JERSEY CITY
PROPER
425 E. 1ST ST.
LONG BEACH
DOVER STREET MARKET
608 IMPERIAL ST
LOS ANGELES
SNEAKERSNSTUFF
1011 OCENA FRONT WALK
LOS ANGELES
BAIT
7708 MELROSE AVE.
LOS ANGELES
BODEGA
1320 E 7TH ST
LOS ANGELES
COMMONWEALTH
2008 E 7TH ST
LOS ANGELES
KITH
8500 SUNSET BLVD
LOS ANGELES
RSVP GALLERY
905 S HILL ST
LOS ANGELES
UNDFTD
111 SOUTH LA BREA AVE.
LOS ANGELES
UNDFTD
3827 WEST SUNSET BLVD.
LOS ANGELES
OPENING CEREMONY
451 N. LA CIENEGA BLVD.
LOS ANGELES
BLENDS
725 S. LOS ANGELES ST.
LOS ANGELES
ADIDAS ORIGINALS MELROSE
8009 MELROSE AVE
LOS ANGELES
ADIDAS CENTURY CITY
102500 SANTA MONICA BLVD SUITE #2510
LOS ANGELES
HERSCHLIFERS
2080 NORTHERN BLVD.
MANHASSET
ALIFE
158 RIVINGTON ST.
NEW YORK
DOVER STREET MARKET
160 LEXINGTON AVE
NEW YORK
BBC
456 W BROADWAY
NEW YORK
CONCEPTS
225 HUDSON ST.
NEW YORK
KITH
337 LAYFAYETTE ST
NEW YORK
EXTRA BUTTER
125 ORCHARD ST.
NEW YORK
OPENING CEREMONY
35 HOWARD ST.
NEW YORK
OPENING CEREMONY
1190-1192 BROADWAY
NEW YORK
WEST
155 WEST 72 ST.
NEW YORK
RIME
167 EAST 87TH ST.
NEW YORK
ADIDAS FIFTH AVENUE
565 5TH AVE
NEW YORK
ADIDAS ORIGINALS SPRING STREET
115 SPRING STREET
NEW YORK
SNEAKERSNSTUFF
22 LITTLE W 12TH ST
NEW YORK CITY
WOODSTACK
79-01 LINDEN BLVD
QUEENS
INDEX
30-55 STEINWAY ST.
QUEENS
EXTRA BUTTER
266 MERRICK RD
ROCKVILLE CENTRE
OZNICO
103 WATER STREET
STATEN ISLAND
PACKER SHOES
941 TEANECK RD.
TEANECK
WOODSTACK
973 B STUYVESANT AVENUE
UNION
In the future, they might not be alone. In the video for Kanye's Forbes cover story, a slew of sample Yeezy Boost 700s were revealed with nods to the OG and familiar palettes.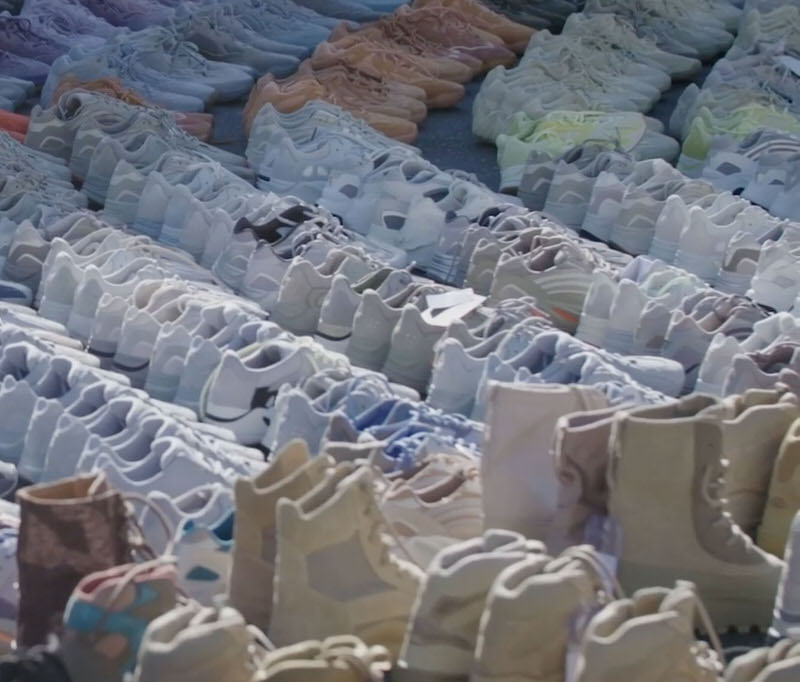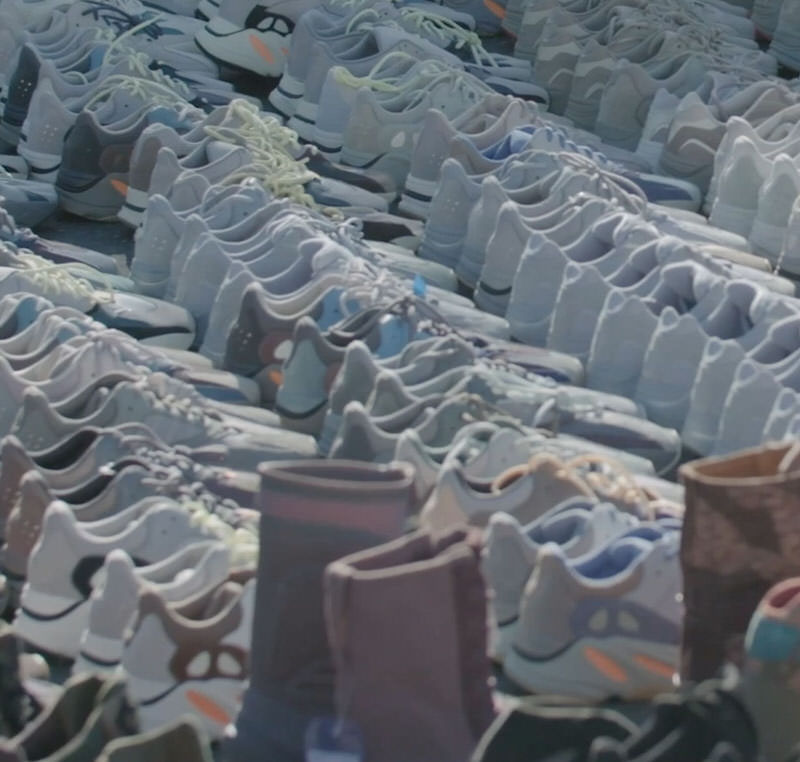 Particularly of note? An icy iteration similar to the "Blue Water" 700 V2, a tan take, a tennis ball style and even a boot build.
Peep those below.
For all Yeezy Boost 700 news, keep it locked to Nice Kicks for updates.