The Brief:
"There clearly are some comments [by Kanye West] we don't support." — Adidas CEO Kasper Rorsted
Adidas CEO Kasper Rorsted said he plans to speak with Kanye West about his recent comments.
When asked if Adidas plans to sever ties, Kasper Rorsted simply answered "no."
The Story:
Adidas AG CEO Kasper Rorsted recently spoke in an interview with Bloomberg where the basis of the conversation circled his company's recent earnings. Things, however, quickly shifted to Kanye West, the company's partner whose been all over the news lately for his inflammatory comments regarding "slavery being a choice," among other things.
Rorsted, adidas Chief Executive Officer, initially avoided commenting on West when probed by reporters. It wasn't until Bloomberg continued to engage Rorsted that he gave a response. "There clearly are some comments we don't support," he stated, likely alluding to West's TMZ interview where he stated 400 years of slavery seemed like a choice.
West has since walked back those comments. Yesterday on Twitter he clarified. "Of course I know that slaves did not get shackled and put on a boat by free will. My point is for us to have stayed in that position even though the numbers were on our side means that we were mentally enslaved."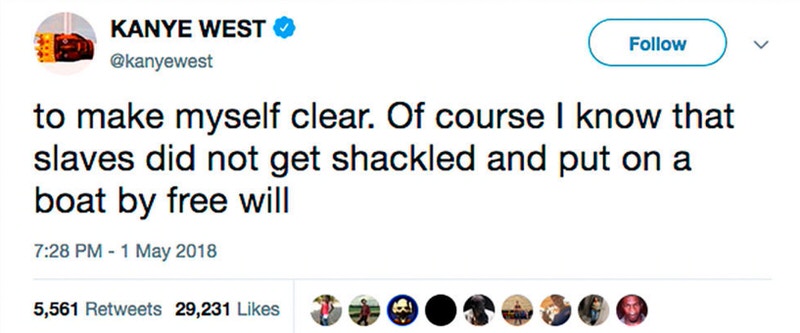 Rorsted stated that the company planned to speak with West about his comments. He didn't say when that would take place. But when asked if the company had any plans to part ways with West, the CEO simply stated "no."
Rorsted also alluded to the limited financial contribution West accounts for, but that West is critical where "brand heat" is concerned. That, of course, is spoken in very little context. West's influence absolutely translates into financial gain beyond Yeezy products. His ability — alongside Pharrell Williams and others — to bring attention to the brand has helped sales in other categories that West isn't even affiliated with.
The CEO was also questioned about Reebok, and if adidas had any plans to part ways with the struggling subsidiary. Rorsted answered that question that same way he answered the question about West, with a simple no.
With regards to the calls original intent, adidas is reporting its first-quarter sales are up 1.9 percent over 10 percent at a constant exchange rate. Adidas' goal in 2018 is to grow its revenue by 10 percent.