words:: Matt Halfhill
images:: Gabe Oshin
Over the weekend, adidas was in Atlanta to celebrate the 53rd edition of the football's biggest game – the Super Bowl. What originated as an exhibition game between the champions of two professional football leagues, the weekend that surrounds it has quickly become one that has a tremendous impact on culture.
With a massively captivated audience on TV around the country by the 1980s, the decade saw the rise of opportunity for creative television ads that gave companies a grand opportunity to reach over a hundred million people simultaneously.
By the 1990s the NFL's biggest stage also became the biggest stage for music with halftime shows becoming more elaborate as years went by with greater and greater acts and bigger and better shows for the world's biggest stars.
Brands caught onto the importance of both the advertisements and entertainment elements of the big game, and in a somewhat collaborative form you began to see bigger stars making cameos in commercials that lead to generating conversation outside of football, and that would last far longer than that Sunday evening.
This weekend adidas brought together sports, athletes, and entertainers, but in a much more creative way than what could be shown for 30 seconds on TV.
Thursday night, Adidas hosted a 7 v 7 tournament with the area's most celebrated high school talent. While the top 100 kids came here knowing that it would be for city bragging rights and a gold BAPE chain as the trophy, what they didn't know if that they would get outfitted head to toe in exclusive players only custom Bape gear, limited-edition Bape x Adidas SPEEDFACTORY cleats that were made just for kids at the tournament, and have the opportunity to create their own custom Bape x Adidas gear in a player's lounge.
A few surprise guests stopped by for the evening to hang out with the kids, including James Conner of the Pittsburgh Steelers, Emanuel Sanders and Courtland Sutton of the Denver Broncos, Chris Conley of the KC Chiefs and Shaquill Griffin of the Seattle Seahawks. And if all that wasn't' cool enough, which it was, the evening was topped off by a visit from hometown hero's Quavo of the Migos and 2017 NFL Rookie of the Year Alvin Kamara of the New Orleans Saints.
"What are you guys looking at? Pay attention!" says a coach trying to get his squad to plan for a critical third down.
"Coach, but that's Quavo!" responded a player from the field.
The team got into the end zone off a 30-yard pass, and both teams sprinted to their lockers to grab their phones for this moment with one of today's biggest stars in music.
The next game didn't immediately start during this time though.
Standing at midfield, Quavo proceeded to lace 50-yard bombs to the end zone to receivers running deep routes.
Despite the night hosting temps in the low 30s, the energy on the field was plenty to keep the young talent fueled.
While at the event on Thursday night, Friday's launch of the Bape x Adidas Football collection was already gearing up to be a good one as word got to us that a line began forming that evening outside of the Bape x Adidas pop-up.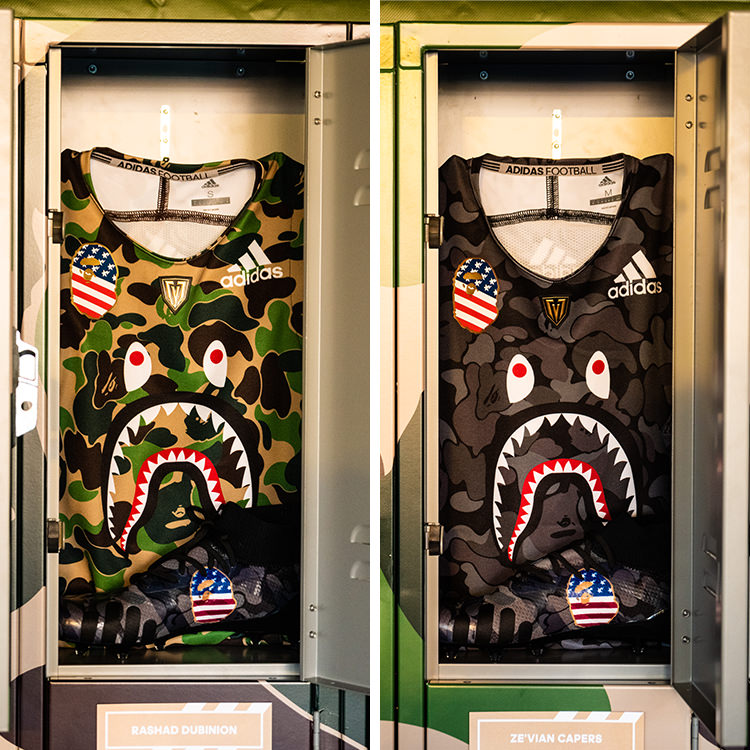 Built in collaboration with The Whitaker Group's Social Status, James Whitner gave a few of us the heads up to see one of the best retail build-outs to date. When we arrived on Friday morning, we saw first hand how true to his word he was.
A snaking line of a couple hundred stood outside of the event space that was built out most elaborately I personally have ever seen for a one-day pop-up. Signature Bape camo decorated the military-themed area complete with custom Bape camo ceiling patterns that mirrored the custom carpet made just for the one-day space.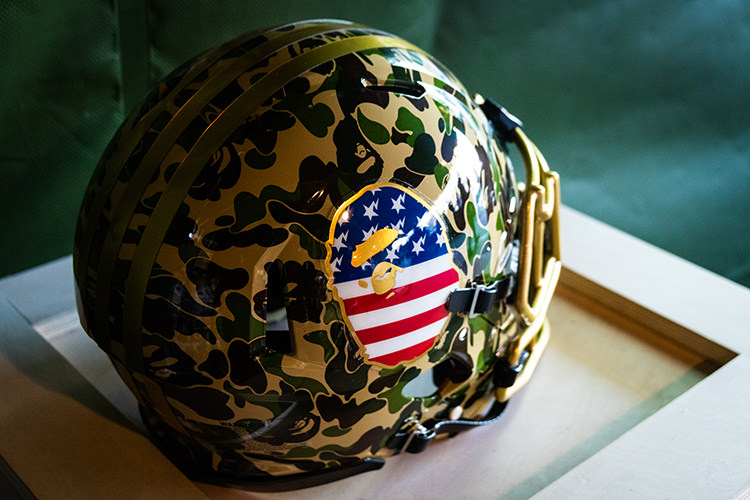 While heads were busy all day getting their gear, next door the Adidas VIP Suite played host to some of Adidas' top NFL athletes, music artists, and other celebrities in a completely casual and collaborative space. While standing outside of a room awaiting interview times, it was something special to see game greats like Dak Prescott and Von Miller greet each other with big smiles and hugs when on the gridiron it is anything but friendly between the lines. Other NFL players including Jaydon Smith and Stephon Diggs fired up some Madden while chilling on the Twitch couch live streaming with fans. Every time you looked up there was another adidas athlete rolling through… Bradley Chubb, Joey Bosa, Josh Norman, Adam Thielen, James Connor and more just kept coming through the doors.
A conversation that was something special to observe happened upstairs as the then reigning MVP Aaron Rodgers was casually leaning against the wall while talking to Patrick Mahomes who would receive the MVP honor the following evening. One could only imagine the conversation these two great QBs and leaders of their offenses were having, but witnessing the two together the day before the MVP crown would officially pass between them was something hard to put into words when looking back.
On this day in the Adidas VIP Suite did it finally sink in that the atmosphere of top athletes, entertainers, and celebrities hanging out with one another that this was like the real-life version of Adidas' 2018 Calling All Creators TV commercial interacting with one another like Adidas' 2006 House Party TV campaign.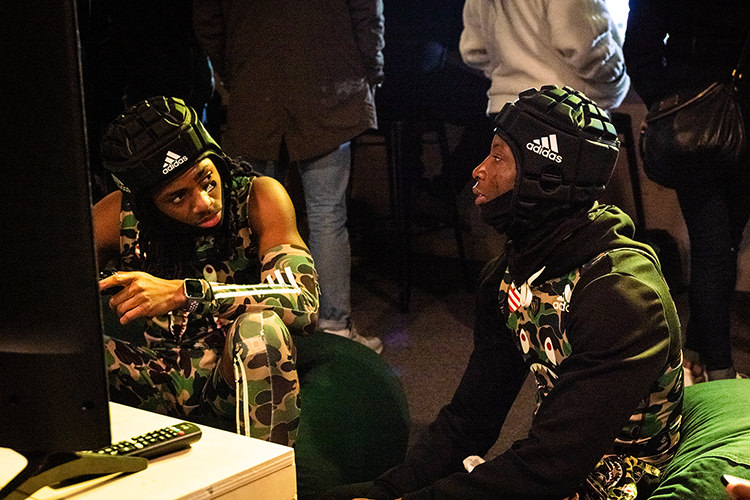 The next day we went back to Booker T Washington High School to check out a football camp for 100 underprivileged girls that was being run by the new signed adidas partner, Dr. Jen Welter. Jen was the first female NFL coach and newly named Defensive Specialist Coach for the Atlanta Legends in the Alliance of American Football (AAF). To welcome Jen to the adidas family, adidas Football created one-of-one custom SPEEDFACTORY AM4JEN cleats and shoes. Highlighting Dr. Welter's accomplishments on and off the field, the adidas Made For Jen Welter's are highlighted by a graphic representing the barriers which she continues to break on a daily basis is fused with the colorways of her current team, "The Atlanta Legends." Additional design details include Jen's handwritten, motivational coaching phrases to "coach from within" emblazoned onto the sock liners and Dr. Welter's signature and key dates commemorating times in both her playing and coaching career are laser-engraved on the rear quarter panel of the cleats.
While we there, we got to talk locker room drip with Jaylon Smith in between some football drills and scrimmages. To complete the day, we headed over the adidas VIP lounge again and we got to first #AllRise and then sit down with none other than Aaron Judge.
Super Bowl 53 will be remembered for many things like the lowest scoring on record, yet another ring for Brady and the Pats, but Adidas demonstrated that the collision of sport and culture takes doesn't just happen within a stadium.