The A Ma Maniere x Nike Air Force 1 was seen early on the feet of DJ Clark Kent. Thankfully for the rest of us, we'll all have a shot soon.
Even better? There are two styles in total.
Dubbed the A Ma Maniére x Nike Air Force 1 "Hand Wash Cold" by James Whitner himself, the shoe speaks to the evolving definition of luxury and the importance of giving back.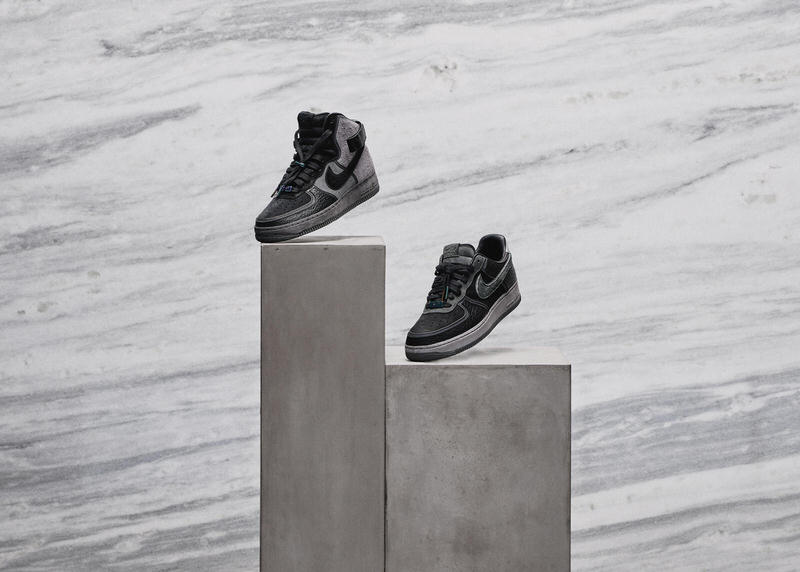 Releasing to the tune of 5914 pairs of the High and 5269 for the low, winter ready, cold washes of grey contrast an otherwise black base with bold tumbled leather and heavy seams making much more than expected from the calm palette.
It's all closed up by a suede wrapped midsole, but the depth extends past the mixed material choices.
"The shoe tells a story of giving and giving back," says Whitner. "Everything luxury should be taken care of, and lives in communities are delicate. What we do is all about youth culture and experiences. You always have to connect with the kids. If you aren't, you are not rooted in the culture."
What's this look like you ask? A Ma Maniére is focused on making change in all the cities they call home. In D.C., support is raised for child homelessness causes, in Houston they support the local food bank.
The old 'look good, feel good' mantra may have just been turned on its head.
"The AF1 was our choice of shoe before we found luxury," says Whitner. "We have to put a luxury expression on it, but do it in a way that feels uniquely ours. I wanted the shoe to look like it fits next to the brands in A Ma Maniére, but still feels natural and true to Air Force 1."
The A Ma Maniere x Nike Air Force 1 now has a confirmed release date of December 7th at AMA locations as well as on SNKRS. The low top pair will also launch at the accounts listed below.
A Ma Maniere x Nike Air Force 1
Release Date: December 7, 2019
Store List:
Social Status
APB
Concepts
Bodega
Creme
Shoe Gallery
UNKNWN
Trophy Room
Politics
Xhibition
Corporate
Oneness
Rooted
Sole Classics
Undefeated
Bait
Darkside Initiative
Feature
Likelihood
Livestock
Xclucity
Haven