Whether on or off the pitch, 2012 Olympic Gold Medalist and 2015 FIFA Women's World Cup Champion Megan Rapinoe is easily recognized for her crafty nature and her vibrant personality. While the winger is known for her unmatched contribution to the growth of soccer in the United States, she's also known for her advocacy for equality and equal pay/play. What you might not know about Rapinoe is her admiration for the shoe game. Sneakers, especially cleats, are a key component to any soccer player. Comfort, style and durability are crucial to a world class athlete such as Rapinoe.
We caught up with Rapinoe at the Scottsdale Museum of Contemporary Arts after giving a talk on the the trajectory of soccer in the U.S., her role in activism as a professional athlete, equality and much more. Take a look at the kicks Pinoe is rocking below in the latest My 5.
Nike Mercurial Vapors

Megan Rapinoe: Obviously one of them has to be my boots. I feel like I'm in them a lot right now. I like that I can always put them right on. They're super comfy right away. I keep them in a hydrocollator that has boiling water so it steams them and they're ready to go. They're really light, comfy and I feel like my touch on the ball is better with them on. They feel like second skin.
Nike Lunar Epic Flyknit Low

Megan Rapinoe: Super comfy. It's like there's a cushion on them. They're not the most aesthetically pleasing shoe, but they're so comfortable that I can't see myself working out in anything else. I can run in them and they're super durable. I even do agility workouts in them. They don't break down easily which helps whether I'm on grass, the treadmill or the track. They're like pillows.
Nike Air Zoom Mariah Flyknit Racer "Hyper Crimson"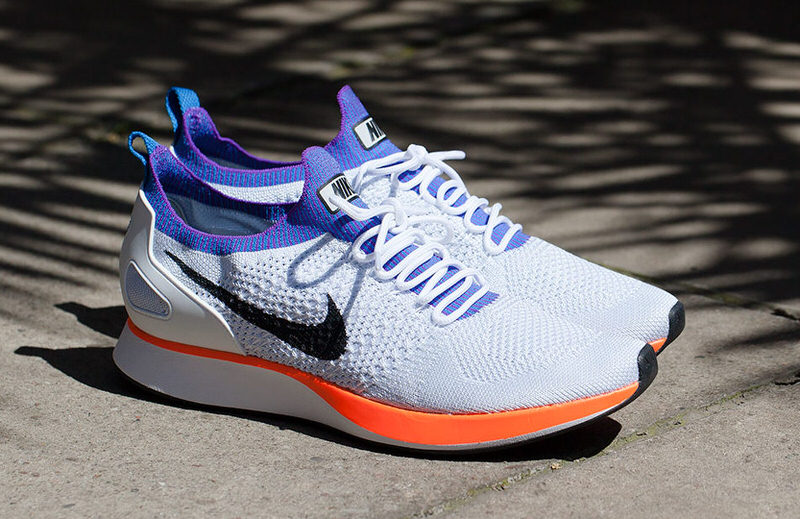 Megan Rapinoe: I love kicking around in these. Especially the white, blue and orange colorway. They look like a retro. They have a cool feel with the comfort. I wear them to the gym quite a bit so they're pretty stable and functional. They have that little pop of style, color that I can throw on jeans or sweats with.
Converse Chuck Taylor All-Star High Tops

Megan Rapinoe: Always have to have these in a rotation. I have an all-white pair that isn't so white anymore since they're getting a little worn in, but I like to have a little dirt on them maybe even a hole here or there. It's a classic shoe. I like to have them tight-laced all the way to the top and wrap the strings around my ankle. They're so versatile whether it be with a blazer or a leather jacket. You can mob around the city in them and be comfortable going out in them at night.
Nike Air Presto "Barley Green"
Megan Rapinoe: I don't wear them for anything super active, so I just slip them on — you don't really have to tie them. They're a bit wider so it feels like slippers with soles on the bottom. They're difficult to keep clean, but I try. I also have an all-black pair that I love, but I'm really trying to get my hands on the Off-White Prestos by Virgil.
Keep up with 'Pinoe on Twitter and Instagram.
Select imagery via Zimbio