Kanye West has been all over the news as of late and to many, all over the place. While comments regarding Donald Trump and slavery may have been more tied to empathy or free thought, it hasn't been felt that way by most. Perhaps it was the timing? Perhaps it was the tone? Perhaps it is what it is.
From an audience standpoint, what's for sure the easiest to digest and understand is his talk with Charlamagne. It's insightful, funny and offers some real perspective on his health, political friends — both Barack and Trump — and his ascent in fashion in a manner that's calm, candid and even charming.
Focusing on footwear, here are some of the takeways:
Kanye on Nike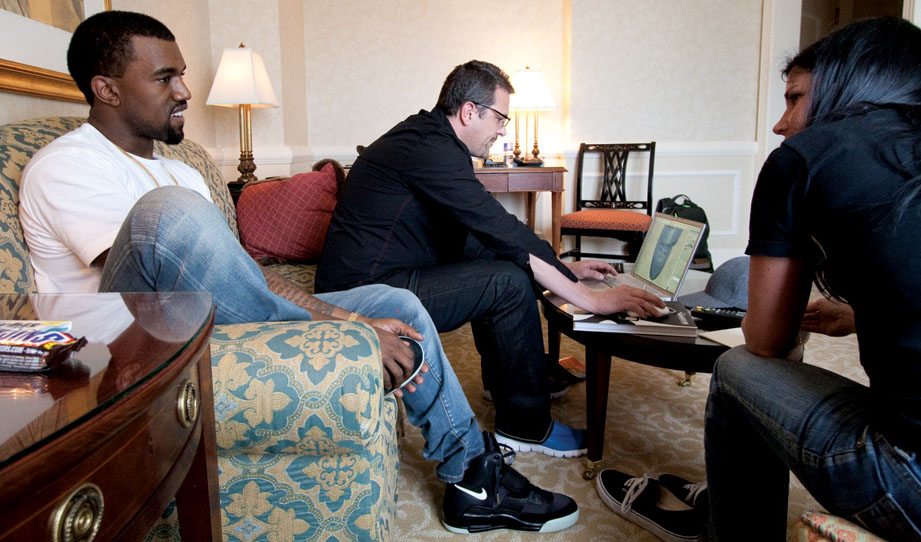 Around the 46 minute mark in the interview, Kanye begins to talk about footwear but from an unexpected angle. "I felt like Obama was perfect. He was almost like Nike," alluding to Nike being the pinnacle of perfection in a brand space. He then backtracks slightly saying, "Or Nike when I was at Nike — not Nike now," giving props to the brand but also aware of the more competitive current marketplace. He continues, emphasizing how disruptive ideas or characters can be a threat to perfection.
"If you have a rogue character like me that comes in and says, 'We need to do this for Chicago, we need to do this and that…' you're going to take it with a grain of salt. You're going be cordial and all that but you're not really going to change anything. When I was at Nike, they weren't willing to change anything," Kanye reflects.
Takeaway: Kanye's ideas and personality were too wild at the time for Nike to risk changing while on top. If you look at the graph on the right which shows just how ahead Nike was in the U.S. from 2010 to 2014, it speaks to the level of perceived perfection — or at least being on top — that Nike was. For reference, Kanye's first Yeezy with Nike released in 2009 while his first Yeezy with adidas released in 2015.
Next, he addresses the top people at Nike during his tenure, who he was very publically critical of during the time of his departure from the brand during the Yeezus Tour but has since apologized to.
"Phil Knight who I have the most respect for — and I have respect for everyone at Nike, too. These guys, like Mark Parker, who I just have to speak out as a parent and apologize to this man for ever speaking ill on his name and his company, because he gave me that shot when we did the original Yeezy at Nike. He was there on the plane with me and I was sketching and he said, 'Look at this sketch, I'm gonna give this guy a chance.' And he put me next to Tinker Hatfield. And it's me and Don C making the first Yeezy with Tinker Hatfield and Mark Parker. That was the squad that made the original Nike Yeezy. So, I always wanted to express that as a father you know and when my karma comes you know, I'll accept in real time," he states. "But I just wanted to express that because if Mark Parker hadn't have given me that moment then [in that moment] he helped turbocharge me. And the combination of Louis Vuitton. I had a Louis Vuitton sneaker and a Nike sneaker come out at the same time. They helped turbocharge me."
Takeaway: As a father, Kanye understands publicly talking down on others has the potential to take food off that family's table or change the perception of that person to their loved ones. He also realizes without the opportunity from Mark Parker and Nike combined with the opportunity from Marc Jacobs and Louis Vuitton at that time, he would never have the opportunity to do what he's doing today and working on for tomorrow.
"I love Nike. I loved Nike. I have to put the 'ed' on it for the stockholders. [Laughs] When I was young, I used to sketch the Swoosh, everything. It was heartbreaking for me to have to leave Nike, but they refused to allow me to get royalties on my shoe. And I knew I had the hottest shoe in the world, I knew Yeezy was the hottest brand in the world. But I couldn't get royalties. They just said, 'Look you can make 5,000 shoes or 10,000 shoes and we'll give some of the proceeds to your favorite charity.' But it was nothing to build and now we're building factories. They wouldn't let me build anything."
Takeaway: Kanye has always been a fan of Nike, so leaving them hurt. Just the same, they weren't going to allow him to build an empire that could create generational wealth for his family or allow him to put more ideas into the world as a creative.
He later addresses a conversation with a friend that led to him to his departure from the Swoosh. "My friend was at Chris' house and expressed to me that he had received a royalty because he was a store. I'm Yeezy and they wouldn't give me a royalty? That was like the final straw."
Leaving Nike & Exploring the Market
Kanye then speaks on the next part in his process from right around 2013 when he was considering different deals. "I was talking to Puma and talking to adidas. The dude that didn't sign me at Puma definitely needs to lose his job and stuff. [Laughs] I'm not going to say his name, but can you imagine? [Laughs] Because with that infrastructure, these ideas and this connection I have there wasn't no way it wasn't going to be a unicorn. Yeezy's a unicorn, it's a billion dollar company. We were at $15 million two years ago and we're going to hit a billion this year. It's never, ever been heard of."
Takeaway: We don't have the numbers to confirm or deny the actual value of the YEEZY brand, but he does follow-up his own brand's valuation with a valuation of his own influence. "If I really had some percentage that related to my actual influence I'd be a multi-trillionaire. So, that's fine." Pretty funny, but definitely part true. Laugh, agree, dismiss, he's definitely getting to make more and earn more post-Nike which is better for both him and his family.
Choosing adidas
As everyone knows, Kanye went to adidas. What may be less known was the decision was influenced by respect regarding communication and maybe in some form taste. "So I made the decision, I left and I went with someone that would allow me to build something. I can call the CEO of adidas directly, I have his cell phone. Mark Parker wouldn't even get on the phone with me. They'd say things like, 'I don't know why people like the Yeezys.'"
Takeaway: Nike was never fully invested or committed to the idea that a person who was not a professional athlete could influence and drive the footwear market like Kanye West. However, if the CEO of adidas is then that's a way better fit for any creative or Hypersensitive Person as Kanye describes himself and all artists over the course of the interview.
Nike Then Signing His Friends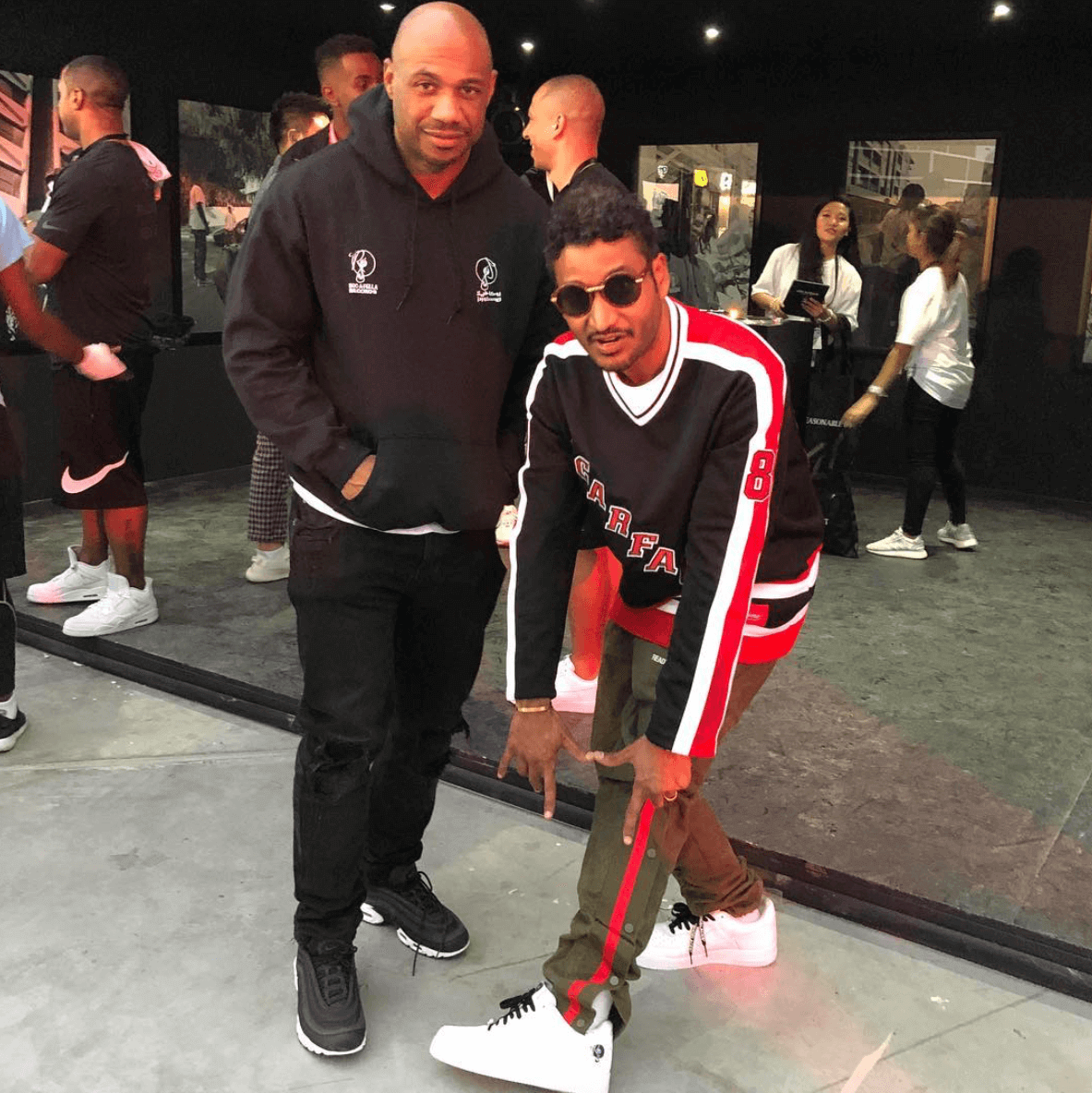 It's not lost on Kanye or culture that many of the most popular designers and influencers currently signed to the Swoosh hail from the Donda camp. "And the funny thing is look at Nike now," Kanye says. "Literally, all the people that ever worked with me are like the hottest people at Nike now. Like, they gave them the deals because we left and ripped their heads off." When asked why he didn't stop them from joining his former employer he sees a bigger picture. "They got families, bro. These corporations, they provide an opportunity. These are my friends, they have families and if I'm not going to provide them the same opportunity I'm not going to stand in their way either."
Takeaway: Kanye is very aware of his influence and that of his friends. Just the same, he views them as friends who have families to provide for rather than cogs in his business.
"If you're really close to me, it's just gonna be my brand. If people want to build their own brand they've actually got to get as far from me as possible to just get out of the shadow."
Takeaway: This is perhaps the most interesting revelation from Kanye because it seemed the most lost on him from the opposite perspective when choosing where to sign back in 2013. Essentially, Nike feared if they let Kanye grow in 2013 that Nike would become the Kanye brand. PUMA wanted to 'control' him if he signed there probably because they've been running a business since 1948 and knew aligning with the magnitude of someone like Kanye could for better or worse put their fate solely in his hands based on what he says or does. Some would say that's what adidas is experiencing on both sides right now.
Virgil Abloh
Of all the Donda disciples Virigl Abloh has seen the highest ascent as of late. While there's been talk over his "title" during his tenure with Ye, the working relationship is explained. "When I get on the phone with Virgil, that's my team, he's like the strategist. I'm the emoter, like Nikolai Tesla. I'm thinking of all these ideas and Virgil is able to take all of those ideas and then architect them because he is an architect. He went to school for architecture."
Takeaway: Kanye has always been a man of many ideas and many ambitions. During their time together, Virgil was the one that was able to both sort the ideas and put them into action — thus a creative collaborator rather than a creative director as stated in his most recent interview prior to this one. Perhaps the lack of synergy on some of Kanye's recent output is a lack of Virgil. Perhaps not. Regardless, the two are still friends and still talk.
Kanye then goes on to talk about the higher powers in fashion who helped pave the way for the designers — or artists — he likes the most. In addition, he talks about the biggest fashion schools that talent is recruited from then comparing his Donda collective as a new place to learn and grow which has been proven.
"The breakthrough with Virgil is now we have someone who has come from Donda, he's come from the school of Kanye West," notes Ye.
Takeaway: Maybe all the stream of conscious Donda tweets from years ago weren't so crazy. Maybe in some way shape or form, the new tweets won't read as so crazy years from now.
Honestly, it's a really good watch and puts a lot of the Tweets and hot takes into perspective. Fantstic interview by Charlamagne — this is one for the ages.
Takeaway: You should check it out below.